Essential Australia Tour

19-day Essential Australia starting at £3,995pp
Australia is a land of dreams, a land of world-famous landmarks and experiences, a land rich with Aboriginal culture. It's a land with an historic past that will always tie us closely together. For many, a holiday to Australia is a holiday of a lifetime.
Let Distant Journeys introduce you to this amazing country on our 19-day Essential Australia tour. Perfect for those who want to visit Australia but don't have the time to take one of our longer itineraries, this tour visits the colourful, cosmopolitan cities of Melbourne, Sydney and Perth; indulges in the beauty of tropical North Queensland with a leisurely 4 night stay in Cairns including an unforgettable day at the Great Barrier Reef; and takes you to the heart of Dreamtime in Australia's Red Centre with a memorable overnight visit to Uluru and a two night stay in the remote outback town of Alice Springs.
Throughout your tour, you'll enjoy high-quality accommodation, daily breakfast and many included activities and sightseeing tours, plus Freedom Days to explore and relax as you wish.  Accompanied throughout by a friendly, knowledgeable Tour Manager and offering great value for money, you will make new friends, enjoy unmissable experiences and take home many unforgettable memories of Essential Australia.
SPECIAL OFFER: SAVE up to £632 per couple! Book by 30th June 2021 on any tour to Australia departing after September 2021 and choose an amazing homebound stopover from only £29 per person.
Essential Australia itinerary
Our 19-day Essential Australia holiday is the perfect choice for those who are short on time but want to see Australia's must-see attractions.
19-day Essential Australia, from £3,995
Day 1: Depart UK
Day 2: Melbourne, 3 nights
Day 3: Melbourne
Day 4: Melbourne
Day 5: Sydney, 3 nights
Day 6: Sydney
Day 7: Sydney
Day 8: Cairns, 4 nights
Day 9: Great Barrier Reef
Day 10: Cairns
Day 11: Cairns
Day 12: Uluru, Overnight
Day 13: Alice Springs, 2 nights
Day 14: Alice Springs
Day 15: Perth, 3 nights
Day 16: Perth
Day 17: Perth
Day 18: Depart Perth
Day 19: Arrive UK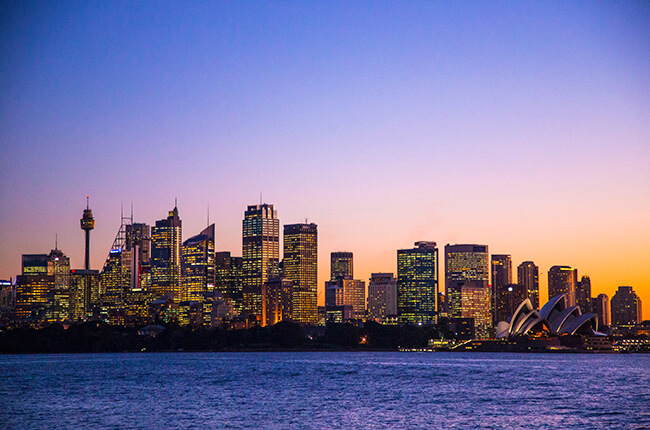 Day 1: Depart UK
Fly with Qantas & Emirates from the most convenient UK airport for you, for no extra cost. Our tours currently depart from these UK airports: Birmingham, Glasgow, London Heathrow, Manchester and Newcastle.
Included meals: In-flight meals and drinks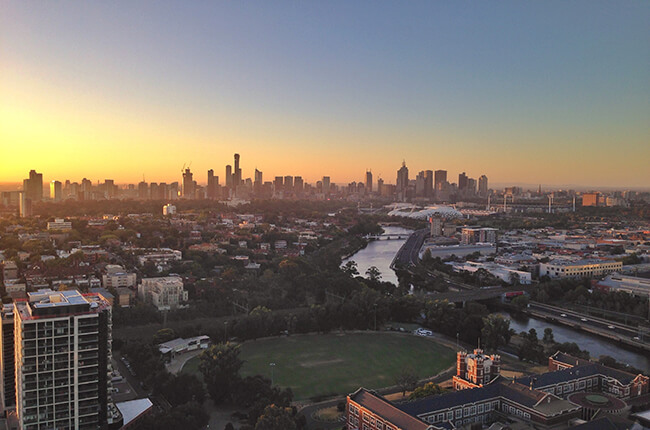 Day 2: Melbourne, 3 nights
All flights with Qantas & Emirates to Melbourne travel via Dubai. After clearing customs and collecting our luggage we board our waiting coach and transfer to the four-star  View Hotel Melbourne.
Included meals: In-flight meals and drinks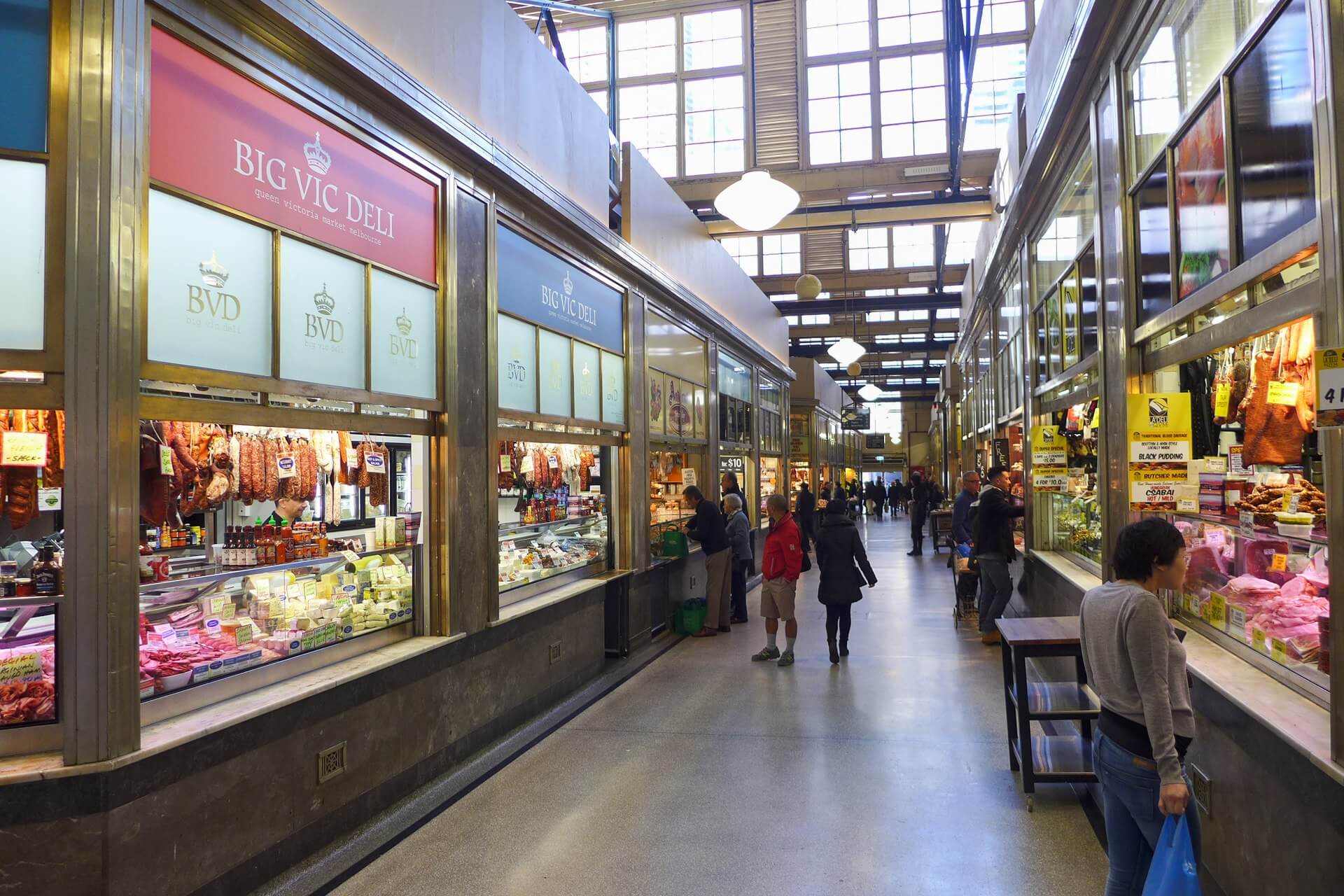 Day 3: Melbourne
Our first day in Melbourne starts with a sightseeing tour, taking in the city's most notable sights and places of interest. Among the places our tour visits are Federation Square, the Victoria Markets, Captain Cook's Cottage, the Rod Laver Arena and the Melbourne Cricket Ground. After exploring the heart of the city, we also head to the scenic waterside suburbs of Port Melbourne and St Kilda.
Included meals: Breakfast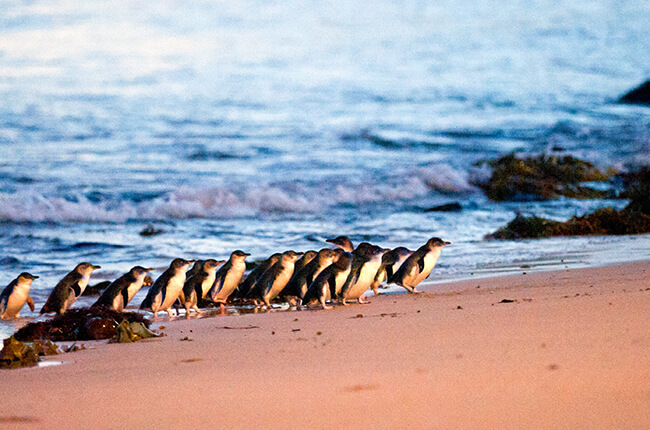 Day 4: Melbourne Freedom Day
This is the first Freedom Day of our tour, where you're free to do as you please and discover Melbourne at your own pace. If you need any advice, our Distant Journeys Tour Manager will be there to recommend the best things to do and places to eat in Melbourne, as well as to help book excursions and make any other arrangements you may need. Alternatively, why not take advantage of our Freedom Days optional tours, to experience even more of Victoria. The first is a tour along the Great Ocean Road, one of the most spectacular road trips in the road. This tour sets off from Torquay, where you'll find the iconic surfing beach of Bells Beach, following the road along the stunning coastline to the end destination of the Twelve Apostles. Or, why not visit the world's largest colony of little penguins? They can be found on Philip Island, where you can watch the Penguin Parade.
Included meals: Breakfast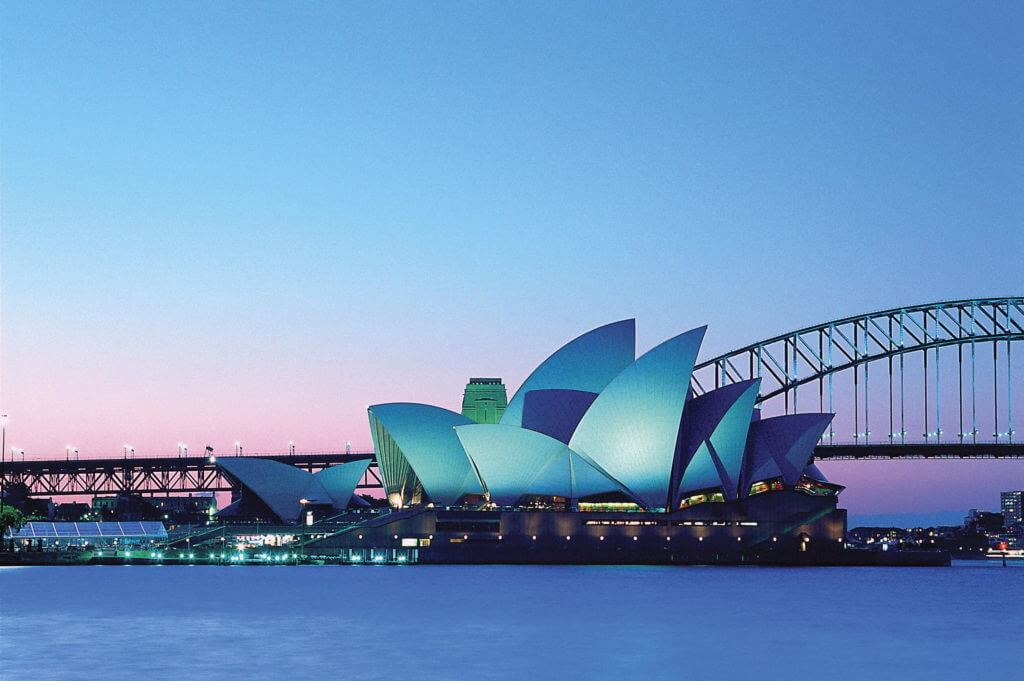 Day 5: Sydney, 3 nights
Tour Highlight
This morning we say goodbye to Melbourne, heading to the airport to fly to Sydney. Once we've arrived, we start our tour of Sydney in style with a luncheon cruise around the city's beautiful harbour. The cruise offers some truly magnificent views over to the iconic Opera House and Harbour Bridge, as well as to the many gorgeous waterside houses. Following the cruise, our tour takes us around many of the city's trendy suburbs, taking in Bondi Beach, Double Bay and Rushcutters Bay before returning to the city centre. As we head into the heart of the city, we'll see Hyde Park, Parliament House and the unique Mrs Macquarie's Chair. A sandstone rock carved into a bench by convicts in 1810 as a gift to Governor Macquarie's wife, Mrs Macquarie's Chair is not only an incredible sight, but also offers the perfect photo opportunity for Harbour Bridge and Sydney Opera House. Our first day in Sydney ends at the Novotel Sydney Central, where we will stay for the next three nights.
Included meals: Breakfast and lunch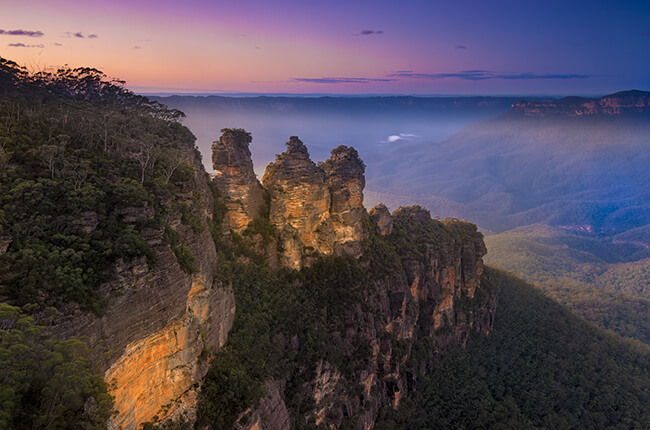 Day 6: Sydney Freedom Day
This is your first of two Freedom Days in Sydney, where you're free to enjoy Sydney as you wish, or join us on our optional excursion to the Blue Mountains, a UNESCO World Heritage Site. This rugged National Park west of Sydney is a perfect example of native Australian bushland, characterised by its towering peaks, dramatic cliffs, eucalyptus forests and stunning waterfalls. During our tour you'll be able to soak up the scenery from a variety of vantage points, including Echo Point, the best place from which you can see the Three Sisters, an unusual rock formation. Among the other landmarks you'll get to visit are Wentworth Falls, an incredible three-tiered waterfall, and the pretty village of Leura, a hub for local art and culture, famous for its annual garden festivals.
Included meals: Breakfast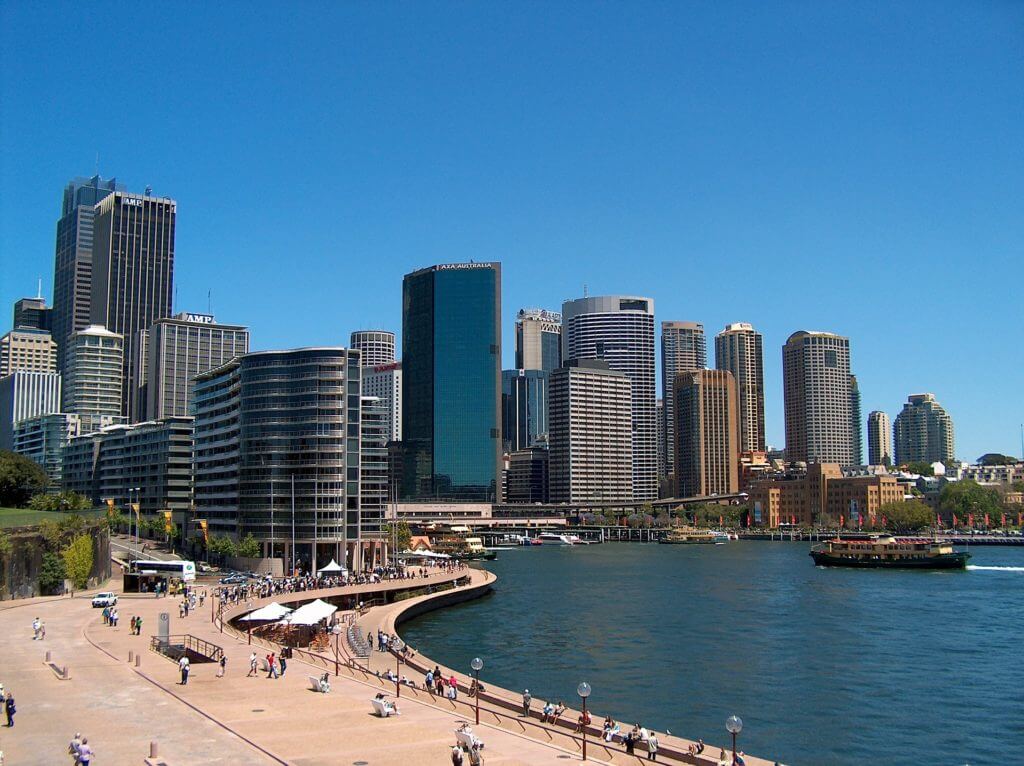 Day 7: Sydney Freedom Day
A second Freedom Day in Sydney to further explore this wonderful city. Sydney is a city that takes full advantage of its natural setting – its sparkling harbour is host to the world-famous Sydney Harbour Bridge and the spectacular Sydney Opera House. Sydney's suburbs are blessed with lush native bushland and pristine sandy beaches. Add to this the excellent restaurants and cafes, endless shopping opportunities and vibrant culture and it's very easy to understand why Sydney is one of the world's favourite cities. Enjoy!
Included meals: Breakfast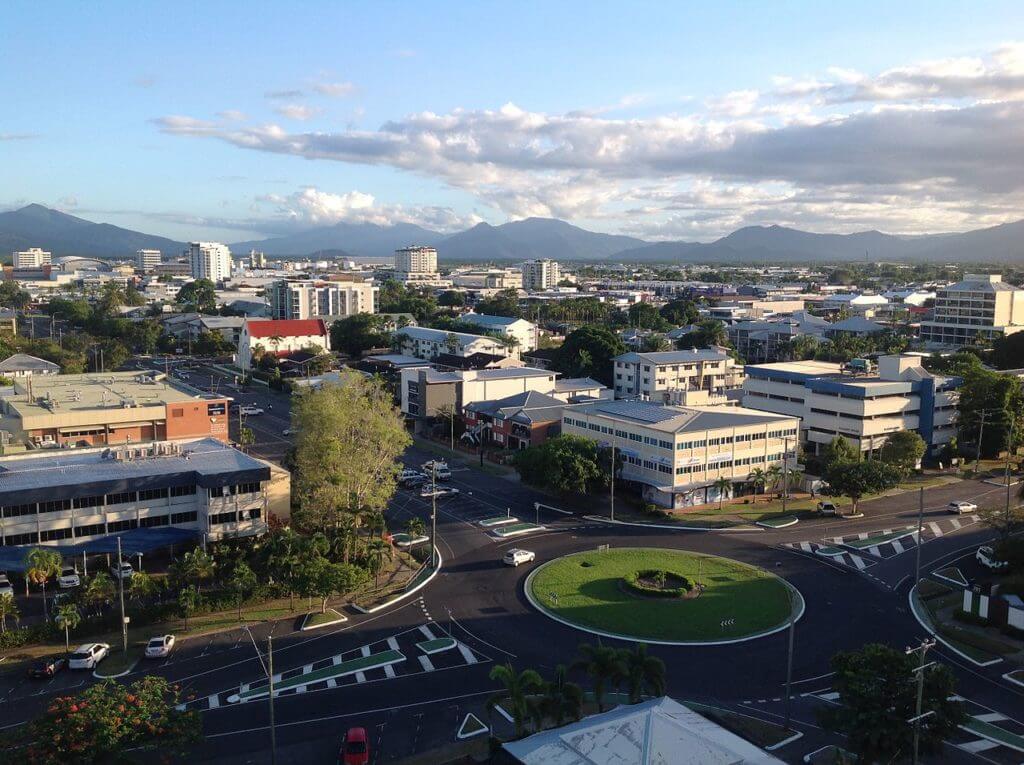 Day 8: Cairns, 4 nights
Sadly, we must say goodbye to Sydney, but our sadness is short-lived as we know the beauty of tropical Queensland awaits. We return to Sydney Airport in time for our flight to Cairns. Upon arrival we shall transfer to the DoubleTree by Hilton, which will be our home for the next four nights.
Included meals: Breakfast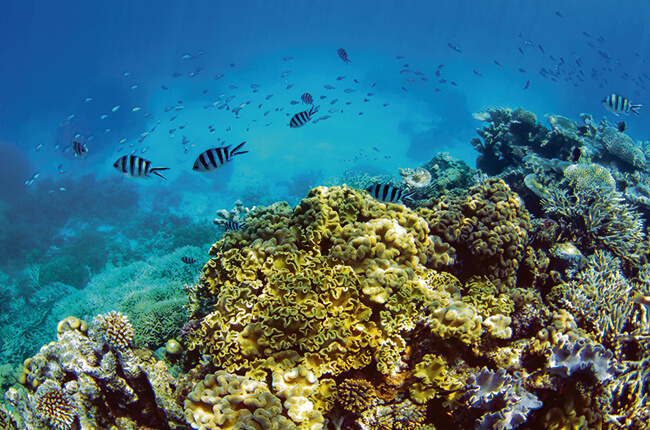 Day 9: The Great Barrier Reef
Tour Highlight
A holiday to Australia would not be complete without a visit to the Great Barrier Reef. Its vibrantly coloured marine life and breathtakingly beautiful coral make this World Heritage site a must see for all visitors. During our full-day Great Barrier Reef excursion, we board our high-speed catamaran and journey out to the Marine World platform located on the Outer Reef. Snorkel in the sheltered coral lagoon, or if you prefer to stay dry, view the reef from the semi-submersible reef viewer, glass-bottomed boat or underwater observatory. With five hours at the reef, there is plenty of time to do it all. For the more adventurous, there are a number of activities available at an additional cost, including scuba diving (no experience necessary), joining the marine biologist on a guided snorkel safari, or soaring above the reef on a spectacular scenic helicopter flight.
Included meals: Breakfast and lunch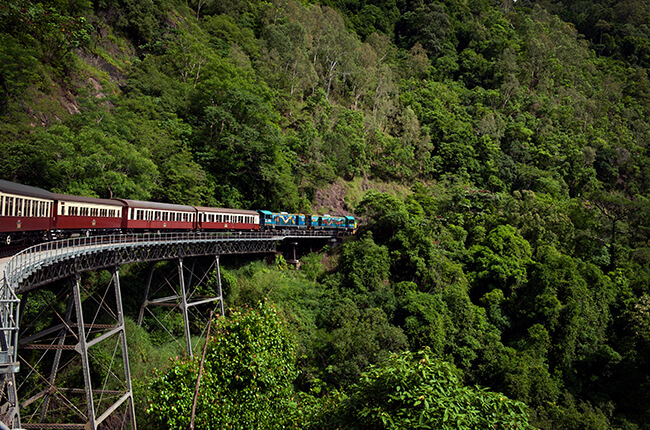 Day 10: Cairns Freedom Day
Although today has been left free you may wish to take an optional trip to Kuranda. Our tour begins with traditional Tjapukai aboriginal culture including authentic music, dance and storytelling by the Tjapukai people. We ascend to Kuranda by the Skyrail Rainforest Cableway, a beautiful experience gliding over the rainforest canopy. 'The village in the rainforest' Kuranda awaits. It's a lovely place to while away a few hours visiting the markets, butterfly sanctuary or the Koala Gardens. Travel back to Cairns along one of the most unique rail journeys in Australia, the Kuranda Scenic Railway. See how the track clings to the rockface along a narrow coastal strip. During our journey we encounter no fewer than 40 bridges and 15 tunnels as we make our way back to Cairns.
Included meals: Breakfast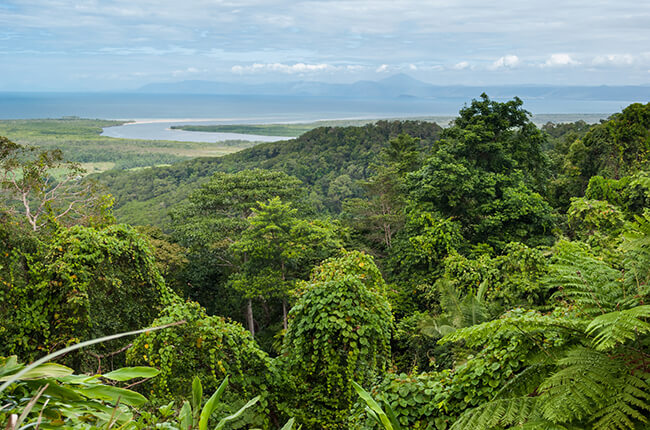 Day 11: Cairns Freedom Day
Another Freedom Day to enjoy in tropical northern Queensland. Surrounded by rainforest and mountains, Cairns boasts over 200 walking tracks; there are also numerous interesting museums and art galleries to explore. If you prefer to venture further afield, we suggest a day trip to the nearby Daintree Rainforest, where the oldest rainforest in the world meets the reef at the World Heritage-listed Cape Tribulation. The tour gives a wonderful insight into rainforest's unique flora and fauna, including a walk with an aboriginal guide and a cruise spotting saltwater crocodiles.
Included meals: Breakfast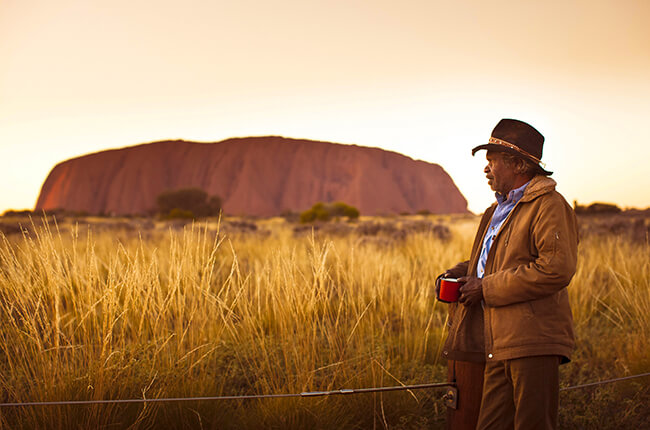 Day 12: Uluru, Overnight
Tour Highlight
An early start today as we make our way to Cairns Airport in time for our flight to Australia's Red Centre and the next leg of our exciting journey. Upon arrival, we visit the impressive series of rounded sandstone domes known as the Olgas. Later in the day we travel to Uluru where we can enjoy a glass of sparkling wine whilst witnessing the changing colours as the sun begins to set. It's truly a photographer's delight. Overnight at the Outback Pioneer.
Included meals: Breakfast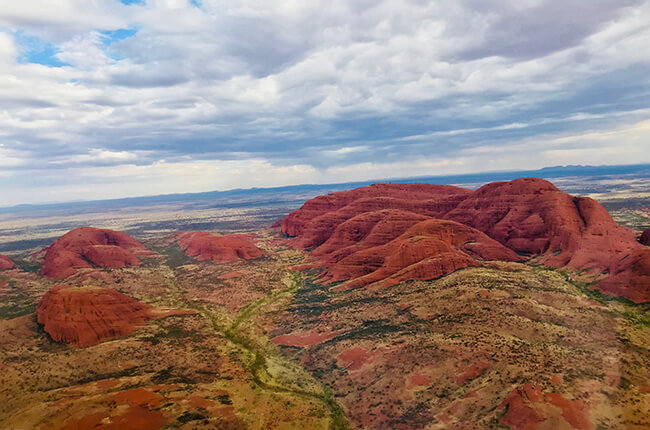 Day 13: Alice Springs, 2 nights
Uluru is the icon of Australia's outback, and the world's largest monolith. For early risers, a dawn visit to the rock has been arranged. Seeing Uluru at sunrise, from a different position and a different light, offers a totally new perspective on the ever-changing colours and character of the rock. This afternoon we travel east through amazing landscapes as we journey along the scenic Lasseter and Stuart Highways and make our way to the outback town of Alice Springs. Upon arrival, we shall transfer to the four-star DoubleTree by Hilton.
Included meals: Breakfast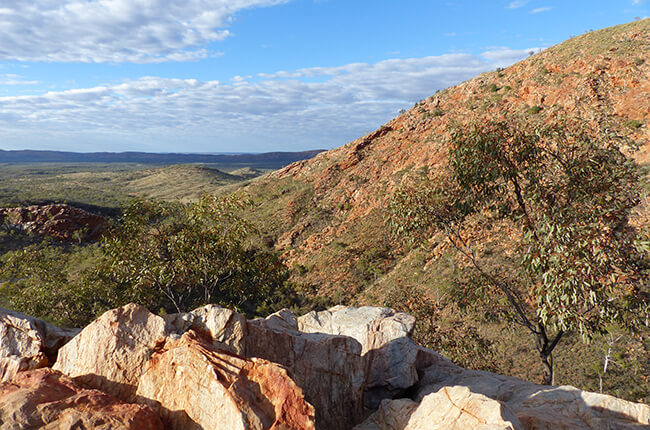 Day 14: Alice Springs Freedom Day
Nestled within the MacDonnell Ranges, Alice is the geographical centre of Australia, made famous by its rich pioneering history and ancient indigenous culture. This morning you may wish to take an adventure in slow motion with an optional hot air balloon trip over the outback landscapes. After breakfast, there is a choice of optional tours available. Perhaps join a half-day sightseeing tour of this 'Town Called Alice'. Visits include the Royal Flying Doctor Service, the School of the Air, and the Old Telegraph Station, now a museum and the site of the old springs from which Alice gets its name. Alternatively, you may wish to take a trip to the Western MacDonnell Ranges; an excellent opportunity to get a real picture of life in the outback. The full-day excursion takes us through the wondrous and picturesque scenery of Simpson's Gap and the towering granite walls of Standley Chasm.
Included meals: Breakfast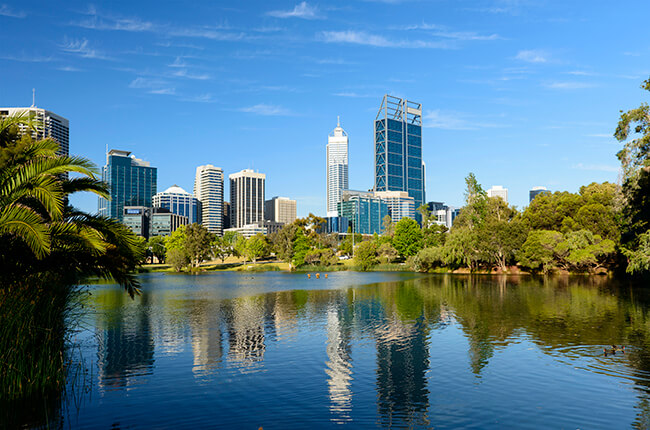 Day 15: Perth, 3 nights
This morning we make our way to Alice Springs Airport in time for our flight to Perth, the capital of Western Australia. Upon our arrival we shall transfer to the Crowne Plaza Hotel. This afternoon take a stroll by the river and get yourself acquainted with this stunning city.
Included meals: Breakfast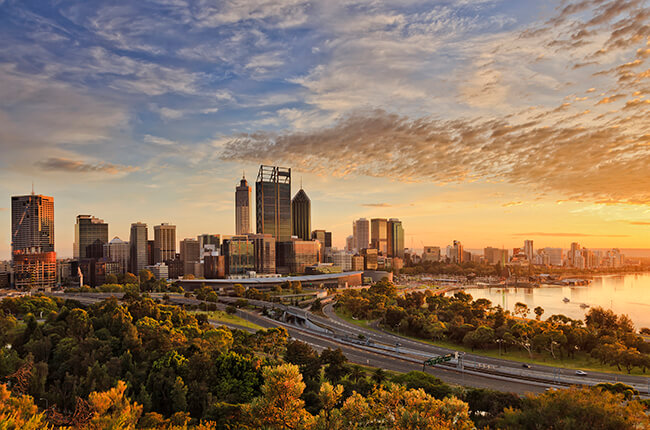 Day 16: Perth
Nicknamed the 'friendly city', Perth is Australia's sunniest capital and the world's most isolated city. Today we take a tour of this coastal city and explore the variety of sights it has to offer. During our tour we will visit King's Park, where there are wonderful views over the city as well as the park's own flowers and bushland. We also head to Fremantle, a nearby port town, where we'll discover more about the many ships that have wrecked off the coast of Western Australia at the Shipwreck Galleries. As we return from Fremantle, we'll see the Millionaire Mansions before embarking on a cruise along the Swan River, ready for an evening of relaxation at the hotel.
Included meals: Breakfast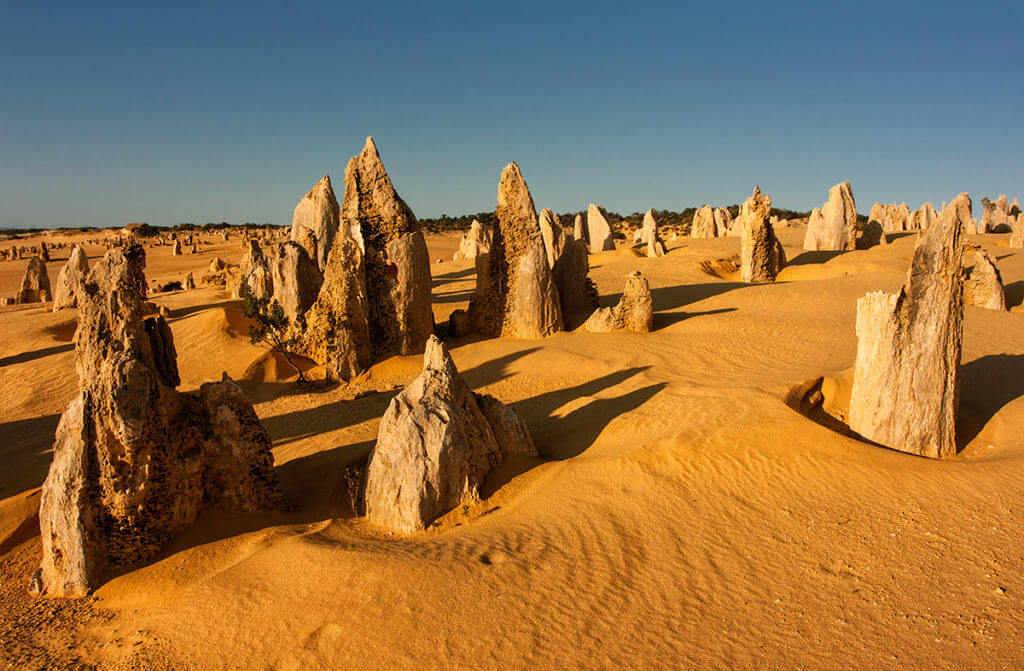 Day 17: Perth Freedom Day
Your final full day in Australia gives you the chance to spend the day as you please. We also offer two optional tours so you can take advantage of the remainder of your time in Perth. The first tour takes you to the nearby Nambung National Park, highly regarded for its beautiful beaches, towering sand dunes and the truly unique Pinnacles Desert, where thousands of limestone pillars known as Pinnacles rise out of the ground. Alternatively, you can take a short trip to the protected nature reserve of Rottnest Island. Here you will find secluded coves, unspoilt white sandy beaches and fascinating wildlife, such as the quokka, a small marsupial.
Included meals: Breakfast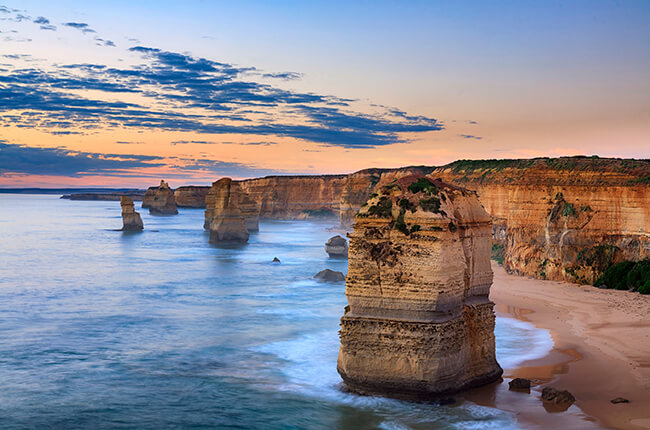 Day 18: Depart Perth
The day is your own until it's time to depart for the airport. Our flights to our chosen UK airport operate via Dubai where there will be a change of aircraft. London Heathrow passengers may be able to take advantage of the non-stop Qantas flight from Perth.
Included meals: Breakfast and in-flight meals & drinks
SPECIAL OFFER: SAVE up to £632 per couple!
If you would like to stopover on your way home we have an amazing stopover offer available from £29 per person for a stay in Singapore or Dubai. All you need to do to take advantage of this amazing offer is select a departure travelling from September 2021 onwards and book by 30th June 2021.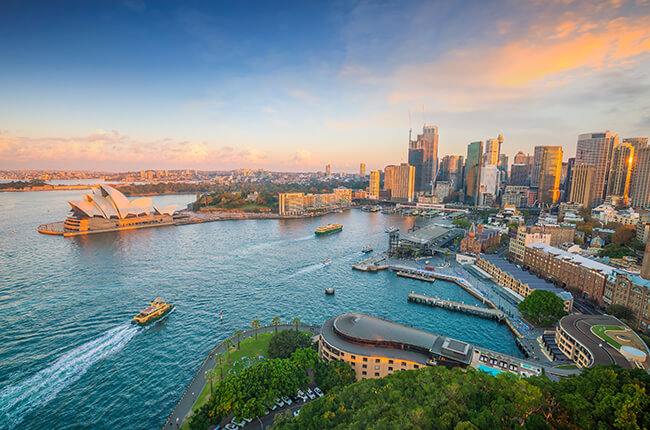 Day 19: Arrive UK
We bring an end to our unforgettable Australian adventure, arriving into the airport of your choice out of Birmingham, Glasgow, London Heathrow, Manchester or Newcastle.
Included meals: In-flight meals and drinks
Departure dates & prices
Don't forget, you can SAVE up to £632 per couple on a homebound stopover, if you take a tour departing after September 2021. Just make sure you book by 30th June 2021. Choose a two night homebound stopover in Dubai or Singapore for only £29 per person (£58 for single occupancy). The stopover includes return airport transfers, two nights in a four star hotel and full daily breakfast.
Essential Australia departures
 Departure date
 Price (pp)
 Availability
 Offer
 2021
 7 November
 £4,295
 ONLY 6 ROOMS LEFT
 SAVE up to £632 Per Couple
 2022
 20 February
 £4,295
 ONLY 9 ROOMS LEFT
 SAVE up to £632 Per Couple
 24 April
 £3,995
 HALF FULL
 SAVE up to £632 Per Couple
Prices: Prices are per person based on two people sharing a twin or double room.
Single occupancy supplement: £1,195  for 14th February 2021 and 11th April 2021 departures.  All other departures £795
Deposit: £1,000 per person if travelling in economy class, £1,950 per person if travelling in premium economy, and £3,750 per person for business class.
Visa: To enter Australia, you need an ETA (electronic travel authority).We will obtain this on your behalf and the £25 per person processing fee will be added to your confirmation invoice.
Terms and conditions: Holiday prices are subject to the availability of flights in the lowest fare booking class and may change, however the correct price will always be confirmed before you book. For full terms and conditions see our terms and conditions page.
Exceptional value inclusions
Our escorted holidays to Australia are designed to include must-see sights and memorable experiences in your tour price. And our Essential Australia tour is no exception as so much of what you will experience is already included in the price. That's all your scheduled international flights, overseas transfers, expertly chosen hotels, daily breakfast and several other meals too, experienced local Tour Manager and several amazing excursions, already paid for.
Flights with leading scheduled airlines
Return economy class flights
Fly with Qantas & Emirates from London Heathrow, Manchester, Birmingham, Newcastle or Glasgow
All domestic flights within Australia
All airport charges, security charges and any applicable fuel surcharges
UK Air Passenger Duty
Carefully selected hotels
Superior hotels in great locations
All hotel porterage
Applicable hotel taxes
Many meals
Daily breakfast, worth £297 per person
Buffet lunch on the Great Barrier Reef
Lunch cruise around Sydney Harbour
Unforgettable experiences
Sightseeing tours in Melbourne, Sydney and Perth
Experience Uluru at sunset and sunrise
Full day on the Great Barrier Reef
On the ground
Services of an experienced local Tour Manager
All overseas transfers
Modern, air-conditioned coaches throughout
100% confidence
Your holiday is covered by our Price Promise
Your holiday is fully ATOL protected
Your holiday is covered by our Covid Guarantee
Hand-picked hotels
At distant journeys we understand the importance of a good hotel on a touring holiday and we take great pride in choosing the hotels and accommodation you will be staying in during your Australia group tour. Our Directors personally take charge of finding the hotels that have a great location and are high quality too – the two most important considerations on any touring holiday to Australia. These are the hotels we've chosen for you.
ALL HOTELS
Essential Australia – Freedom Days
Throughout your Australia tour holiday, We want you to enjoy a good mix of visits to must-see landmarks and leisure time to experience your destinations in a way that suits you. For example, you might like to try an adventurous activity like climbing Sydney Harbour Bridge or a hot air balloon ride over Alice Springs. or if you prefer a more relaxing experience. perhaps take a cruise to the wineries along the lovely Swan River. Thanks to our freedom Days. You'll have the change to choose an experience to enjoy depending on what interest you most.
Find out more about the excursions available by clicking on the descriptions below.
The majority of the optional excursions will be booked locally with your Tour Manager, but there are some that must be pre-booked before you depart the UK due to limited space and we suggest these are pre- booked at least 3 months prior to departure and no later than 30 days prior.  Any requests later than 30 days will be subject to a 5% surcharge when confirmed. Correct prices will be advised at the time of booking.
Stopover – Freedom Days
If you've taken advantage of one of our two-night stopovers on your journey home from Australia you may want to make the most of your short stay in these exciting destinations by taking an optional excursion or two.
After all, who could visit Singapore without a trip to the world-famous and historic Raffles Hotel for afternoon tea or a Singapore Sling? Or if you're in Dubai for the last two nights of your holiday, why not enjoy one of them feasting Bedouin-style on a Desert Safari?
Click on any of the descriptions below to find out more about any of the optional excursions in Dubai or Singapore.
Special Offer
Book now and SAVE up to £632 per couple!
Our most popular Special Offer – a two-night homebound stopover is available for only £29 per person (£58 for single occupancy) – on all our Australia tours. Choose from either Singapore or Dubai  for your £29 stopover.
These stopovers normally cost as much as £690 per couple for two nights accommodation in a deluxe four star hotel, with full daily breakfast and airport transfers. So it really does pay to book early with Distant Journeys.
Special Offers: terms and conditions
Special Offer is £29pp in twin / double room, £58 for single occupancy and is subject to the availability of flights and accommodation. The saving of up to £632 per couple is available on tours departing from September 2021 and is on the price of the homebound stopover.
---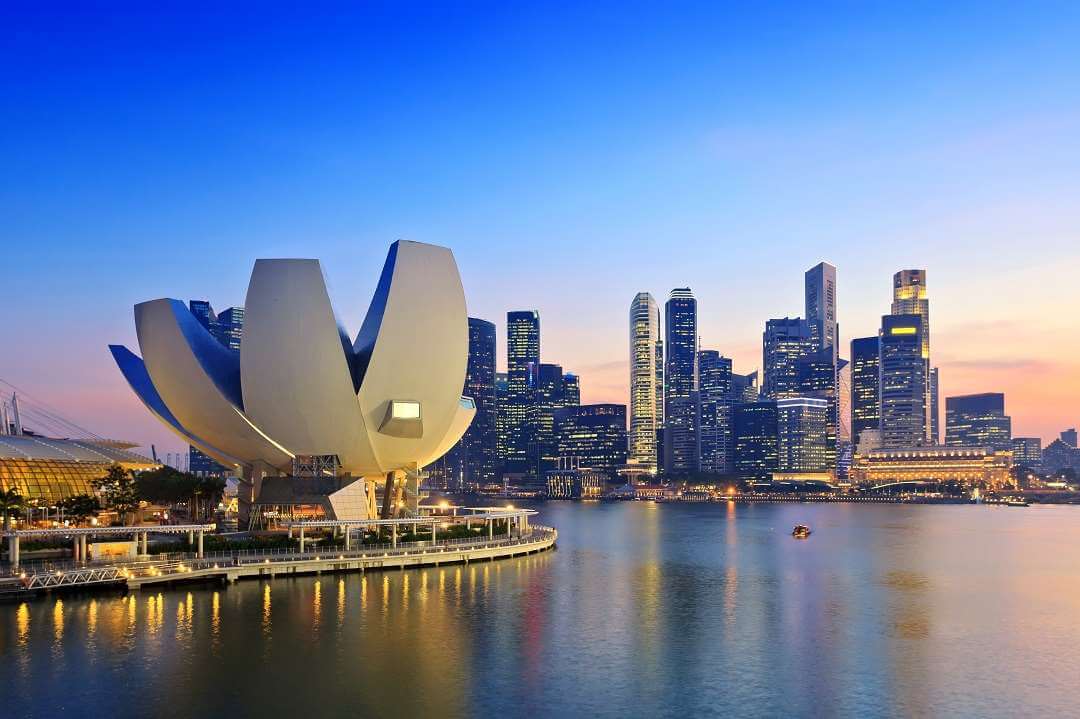 Singapore Offer, Copthorne Kings Hotel
There's just so much to do and see in Singapore, that no matter how many times you visit, you'll always find yourself wanting to go back again. Maybe it's the myriad of cultures coming together to create such a unique…
Official rating Stars
Distant Journeys rating Stars
---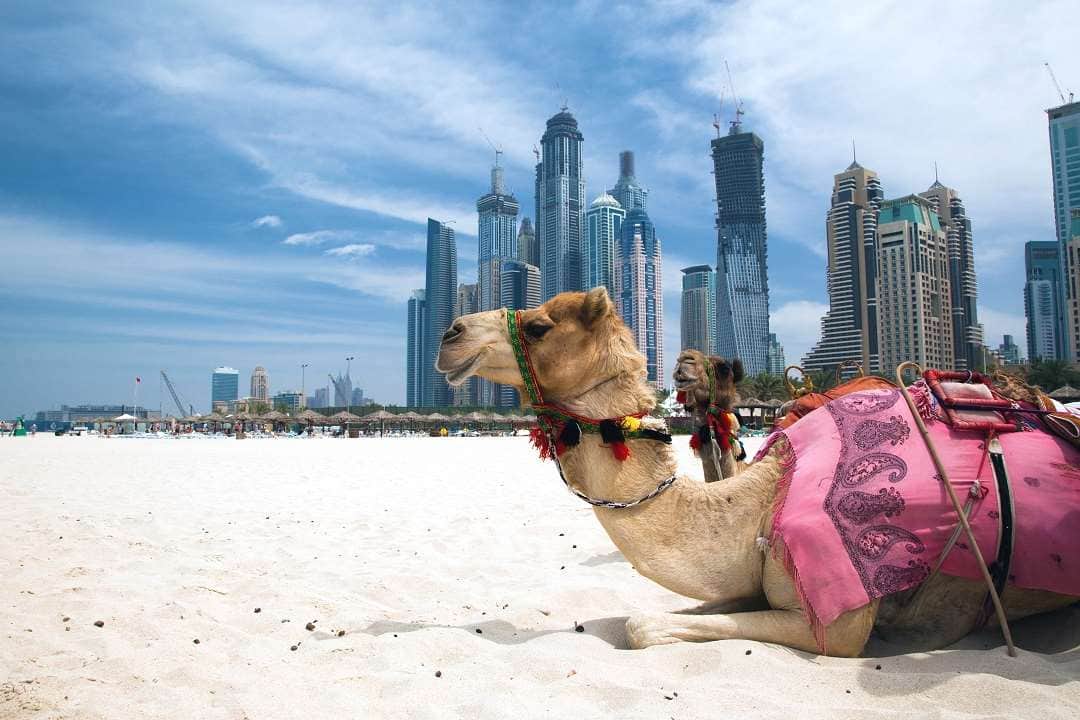 Dubai Offer, Marriott al Jaddaf Hotel
Stay in style at the five star Marriott al Jaddaf when you visit the gateway to Arabia. The numerous malls and labyrinth-like souks are enchanting to explore. And you really can't complain about the year round sunshine, which you can make…
Official rating Stars
Distant Journeys rating Stars
---
Customer reviews  
These reviews are from Distant Journeys guests, and have been verified by the independent reviews company Feefo.