The Very Best of Sri Lanka, 17 days from only £2,495 per person
With so many unmissable sights and activities, including the elephants of Minneriya National Park and the cave frescoes of Dambulla, Distant Journeys' brand new 17-day escorted tour of The Very Best of Sri Lanka is a must for anyone wanting to explore this beautiful country. Read more below.
Itinerary
Day 1: Depart UK
Day 2: Colombo, 2 nights
Day 3: Colombo
Day 4: Habarana, 3 nights
Day 5: Polonnaruwa and Minneriya National Park
Day 6: Sigiriya
Day 7: Kandy, 3 nights
Day 8: Kandy
Day 9: Kandy
Day 10: Nuwara Eliya, 2 nights
Day 11: Nuwara Eliya
Day 12: Yala, 2 nights
Day 13: Yala
Day 14: Galle, 2 nights
Day 15: Galle
Day 16: Depart Sri Lanka
Day 17: Arrive UK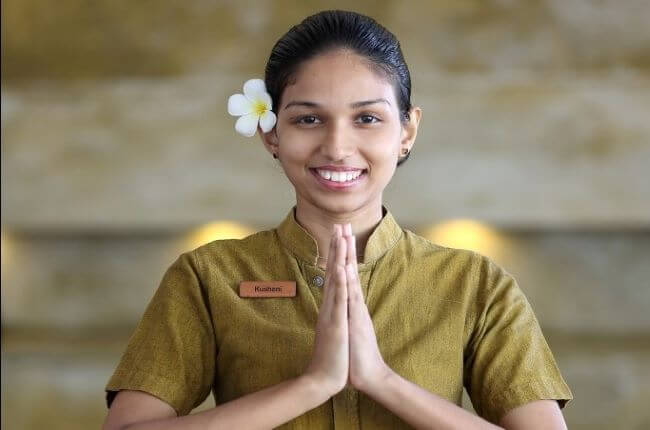 Day 1: Depart London Heathrow or Manchester with Etihad Airways.
All flights travel via Abu Dhabi, and no matter which airport you choose, there is no extra cost.
Included meals: In-flight meals and drinks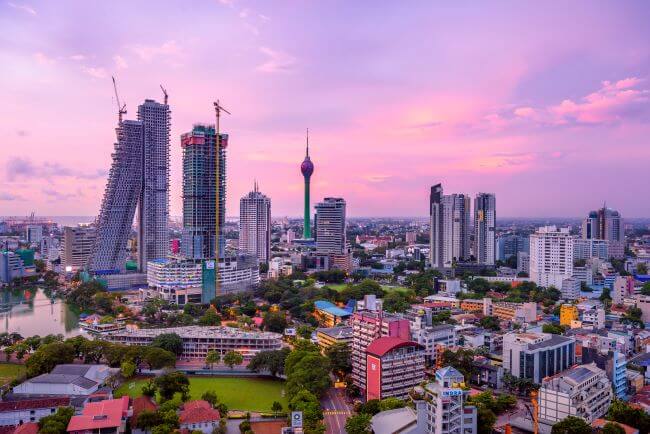 Day 2: Colombo, 2 nights
On arrival we transfer to the iconic Kingsbury Hotel in Colombo, for our first two nights in Sri Lanka. This afternoon will be ours to spend at our leisure. Later, enjoy a welcome drink with our Tour Manager and fellow travellers, where we become better acquainted with our forthcoming adventures ahead.
Included meals: In-flight meals and drinks and dinner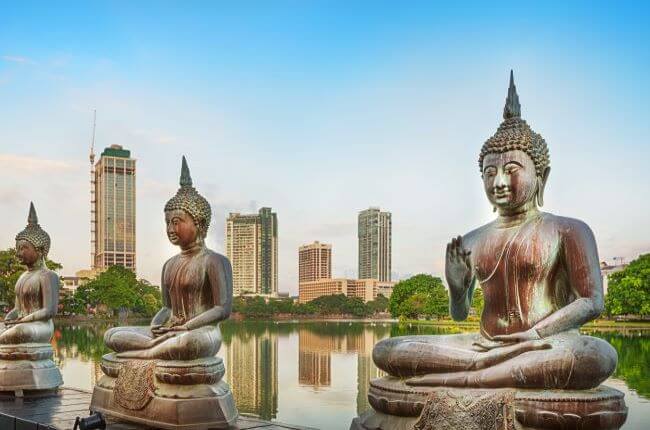 Day 3: Colombo
Following breakfast, we take a sightseeing tour of Colombo, with its fascinating mix of cultures, religions and colonial influences. Visits this morning include the stately New and Old Parliament and Independence Square. We also visit the Pettah, a neighbourhood famed for open-air bazaars and markets, and the captivating architecture of Gangaramaya Temple. The remainder of our day is free to do as we please.
Included meals: Breakfast and dinner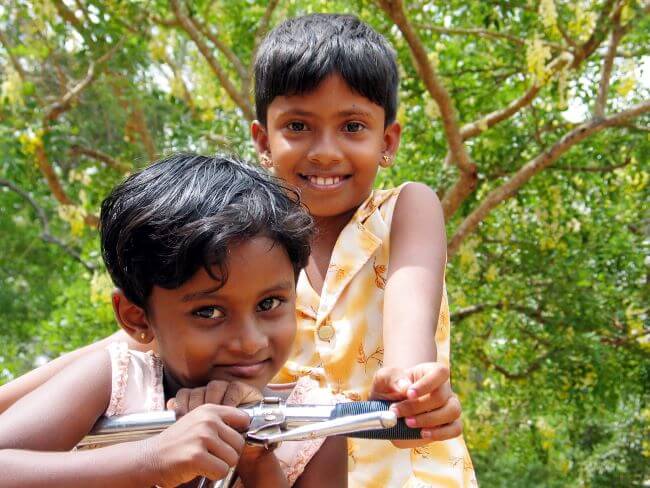 Day 4: Habarana, 3 nights
We travel inland to Habarana where, on arrival, we visit an inspiring school project, which was established using charitable donations, and engage with the local school children. Afterwards, we travel to the Cinnamon Lodge Hotel, our home for the next three nights. Our fabulous hotel is surrounded by over 2000 trees that provide a home to serpent eagles, kingfishers and monkeys.
Included meals: Breakfast and dinner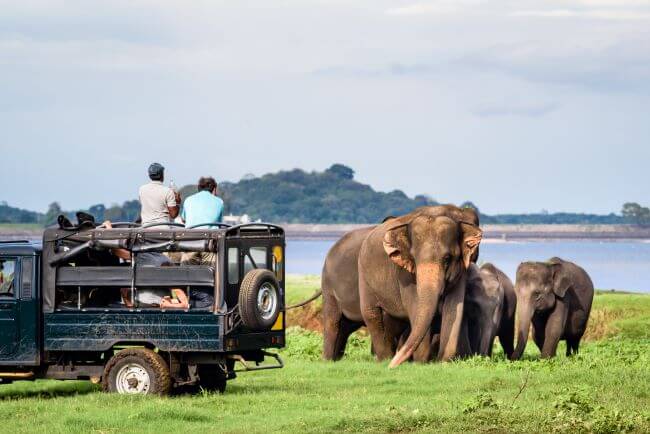 Day 5: Polonnaruwa and Minneriya National Park
This morning, we explore the medieval city of Polonnaruwa, a UNESCO World Heritage site. See the grand Royal Palace complex, including the majestic Kings Palace and Audience Hall. Also witness the spectacular Gal Vihare complex featuring four gigantic images of Buddha, cut from a single slab of granite – a dramatic highlight of ancient Sri Lankan rock carving. This afternoon, experience a game drive in either Minneriya or Kaudulla National Parks, both set in captivating Sri Lankan countryside, where wild Asian elephants roam in abundance.
Included meals: Breakfast and Dinner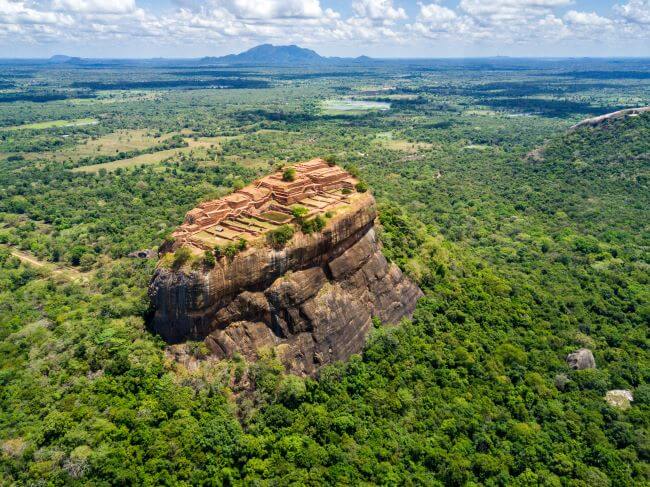 Day 6: Sigiriya
Tour Highlight
We take an early breakfast before visiting the famous site of Sigiriya to discover its fascinating history. Surrounded by the remains of an extensive network of gardens, the most celebrated site is Sigiriya Rock with its flat-topped summit, some 200 metres above sea level, that contains the ruins of an ancient civilisation. The more adventurous and energetic amongst us will have the opportunity to climb to the summit, passing remarkable frescos and the famous 'Lion's Paws' along the way. On our free afternoon, we have the option to visit the ancient, Buddhist Mihntale Temple and the Isurumuniya Temple, visit a local village and community, or simply relax in the surroundings of our hotel.
Included meals: Breakfast and dinner
This morning, we embark on our journey to the Last Kingdom of Sri Lanka, Kandy. En route we visit the Cave Temple of Dambulla, a UNESCO World Heritage Site. This amazing complex of magnificent caves dates back to the 1st century BC. Later, we stop at the Sri Lankan Garden in the rural village of Matale, a working spice and fruit farm, to learn about the local trees and crops in the company of our host. Enjoy a traditionally-prepared rice and curry lunch, and continue to Kandy and the charming Cinnamon Citadel Hotel for our next three nights.