Throughout the seven days you'll enjoy a number of unmissable activities at Victoria Falls and Chobe National Park, including a sunset cruise on the Zambezi River and a walking tour of Victoria Falls to explore its magnitude, grace and beauty; exhilarating game drives and a cruise on the shallow waters of Chobe River to view the wildlife from a different perspective. Read on to discover more.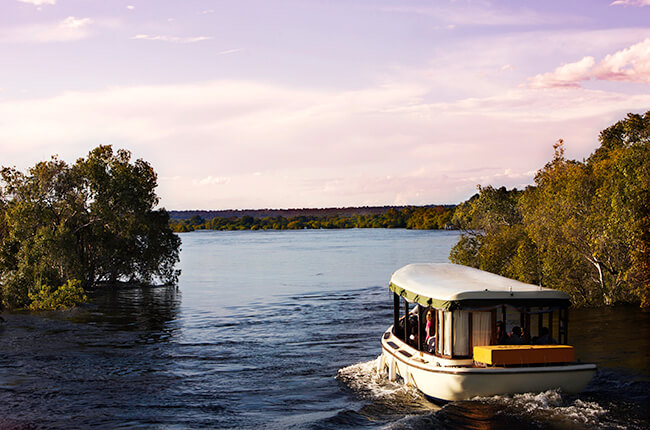 Day 1: Victoria Falls (Zimbabwe), 3 nights
We head to Johannesburg Airport this morning and board our flight to Victoria Falls, Zimbabwe. We will be warmly greeted by our local guide and transferred to our home for the next three nights, the Ilala Lodge Hotel. The hotel's location is just a short walk to the Falls – so close, in fact, that from its lush gardens, guests can see plumes of spray from Victoria Falls. After settling in, we will be taken for a wonderful cruise on the Zambezi River as the sun sets. Dusk is the perfect time to see many species such as hippopotamus and elephants as they play and graze in and around the waters.
Included meals: Breakfast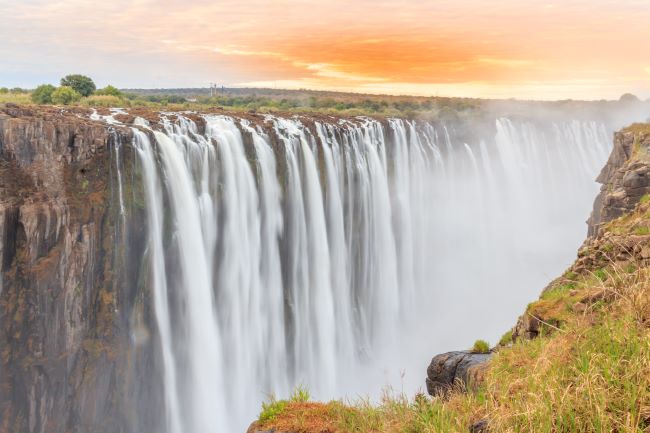 Day 2: Victoria Falls
This morning we get our first close-up sight of Victoria Falls, with a walking tour taking in their magnitude and majesty. Known as 'Mosi-oa-Tunya' or 'The Smoke that Thunders' to the local Kololo tribespeople, but named by David Livingstone in honour of his Queen, Victoria Falls is a truly spectacular natural wonder. We will stop at various vantage points to drink in the sounds and sights as water crashes down and rainbows form in the spray. In this afternoon's free time there is a choice of exciting optional activities; the energetic may enjoy a horseback safari or fishing the Zambezi, or maybe board a scenic helicopter flight for an unforgettable view of the Falls from above.
Included meals: Breakfast and dinner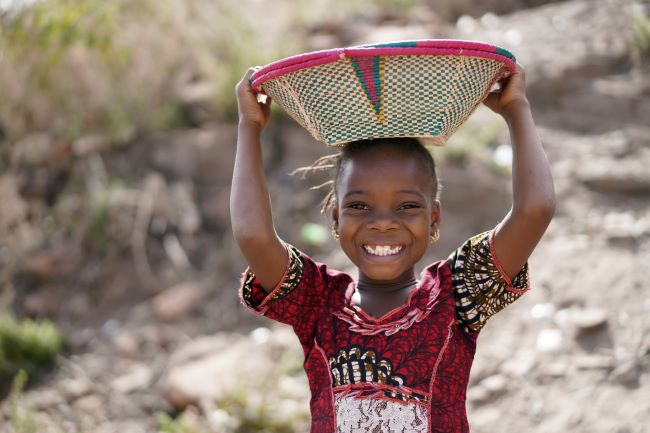 Day 3: Victoria Falls Freedom Day
A Freedom Day in Victoria Falls to spend as you please. For a wonderful insight into Zimbabwean rural life, join our excursion to a local village where we have the privilege of meeting the village chief and learning about the villagers' lives. The tour also includes a visit to some rural homes, and possibly the chance to help in some of the day-to-day chores. Alternatively, relax by the pool at the hotel. Wild animals often graze on the hotel lawns and with luck, guests may also witness elephants feasting on the trees!
Included meals: Breakfast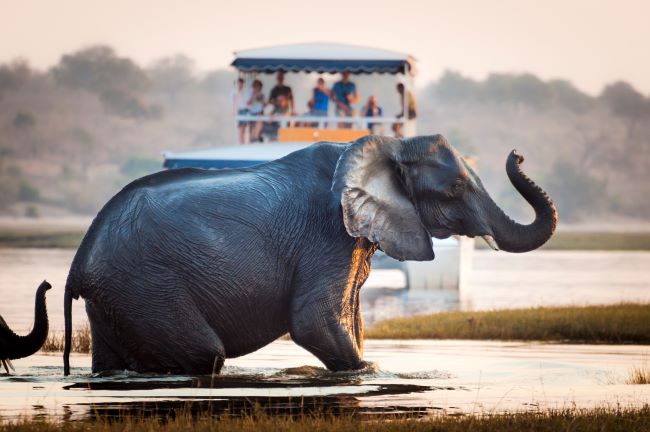 Day 4: Chobe National Park (Botswana), 3 nights
We leave Victoria Falls this morning for our short journey to Botswana. After completing border formalities, we arrive at our hotel in time for lunch. Mowana Safari Lodge has an idyllic location on the banks of the Chobe River, where four African countries; Botswana, Zambia, Namibia and Zimbabwe, meet. Later this afternoon we venture into Chobe National Park for the first time and enjoy a wildlife cruise. The banks of the Chobe River draw animals in their hordes, as they congregate to drink, bathe and play – expect to see hippos, antelope, buffalo and of course elephants, as we cruise gently along the shallow waters with a cool drink to hand.
Included meals: Breakfast, lunch and dinner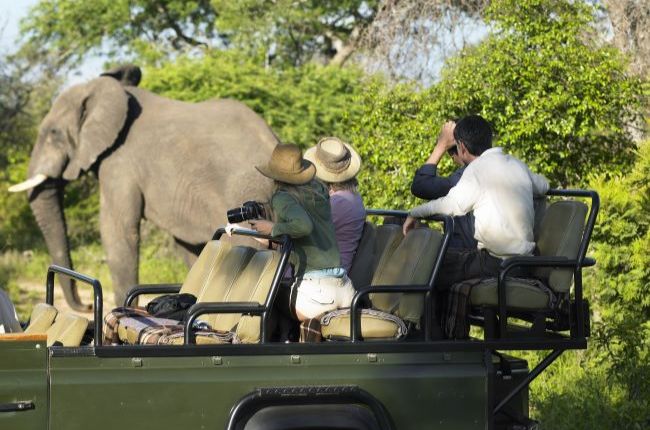 Day 5: Chobe National Park
Early this morning we head out on an exhilarating game drive. Chobe is teeming with wildlife, including many rare or threatened species; look out for the blue wildebeest, Cape buffalo, civet, crocodile, giraffe, hyena, zebra, and much more. After lunch at the hotel, there's time to take it easy and enjoy the lodge's facilities before we take our second game drive of the day. Chobe is also rich in birdlife, boasting more than 450 species of birds, so keep your binoculars ready to spot African marsh harriers, African fish eagles, Crimson-breasted shrikes among many others.
Included meals: Breakfast, lunch and dinner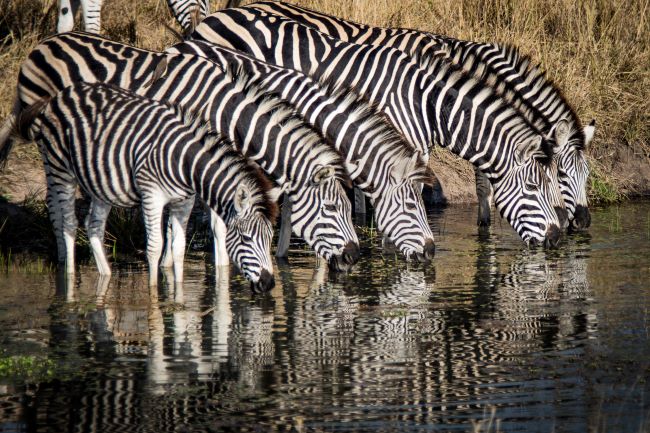 Day 6: Chobe National Park
We leave this morning at leisure for you to enjoy in your own way. There is the option of a further game drive for those who want to tick off more species from their bucket lists! Following lunch at the hotel and a lazy afternoon by the pool, our stay in Chobe National Park draws to a close with a spectacular sunset cruise on the Chobe River. The grassy plains alongside the river teem with grazing wildlife; be sure to look out for lion, leopard, jackal and hyena. As the sounds of an African dusk swell the evening air, the skies are streaked with orange and red as the sun slips below the horizon.
Included meals: Breakfast, lunch and dinner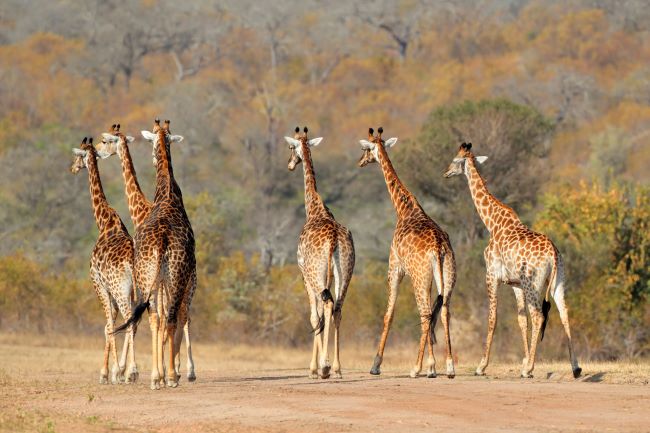 Day 7: Depart Chobe
Sadly, we must leave Botswana and Africa today. After several thrilling weeks, we have travelled far and gathered memories to treasure. In the morning, we make our way back to Victoria Falls Airport in time for our flight to Johannesburg. Our connecting flight to London Heathrow  departs this evening.
Included meals: Breakfast, in-flight dinner and drinks