The Golden Triangle & Ranthambore, 11 days from only £1,595 per person
With so many highlights including the iconic Taj Mahal, Amber Fort and a tiger talk with a naturalist, Distant Journeys' brand new 11 day escorted tour of The Golden Triangle & Ranthambore is a must for anyone wanting to experience India. Read more below.
Itinerary
Day 1: Depart UK
Day 2: Delhi, 2 nights
Day 3: Delhi
Day 4: Agra, Overnight
Day 5: Ranthambore, 2 nights
Day 6: Ranthambore
Day 7: Jaipur, 3 nights
Day 8: Jaipur
Day 9: Jaipur
Day 10: Depart India
Day 11: Arrive UK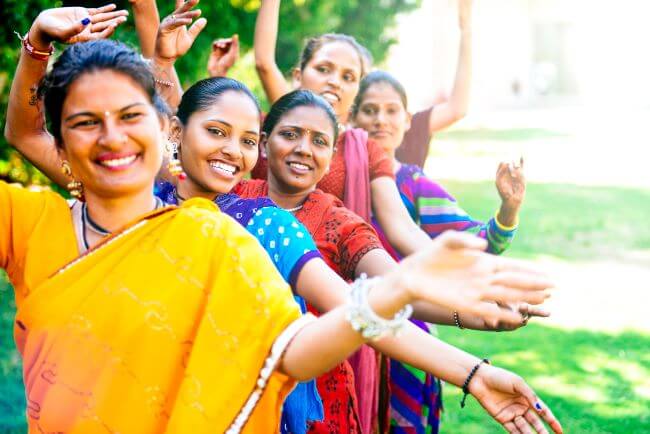 Day 1: Depart UK
Depart with British Airways from London Heathrow. Flights from regional airports may be possible, please call for details.
Included meals: In-flight meals and drinks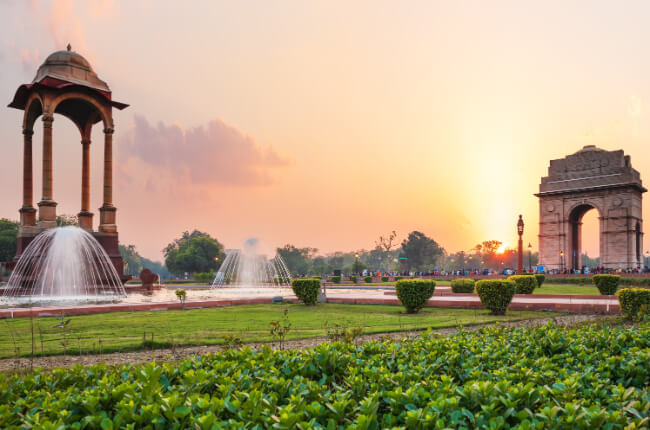 Day 2: Delhi, 2 nights
On arrival into Delhi, we transfer to the delightful Maidens Hotel, a heritage hotel, full of character and charm from a bygone era. In the evening, we meet our Tour Manager and fellow travellers for a welcome drink, where we will have the opportunity to become better acquainted for our adventures ahead. Dinner will follow in the pleasant surroundings of the hotel.
Included meals: In-flight meals and drinks and dinner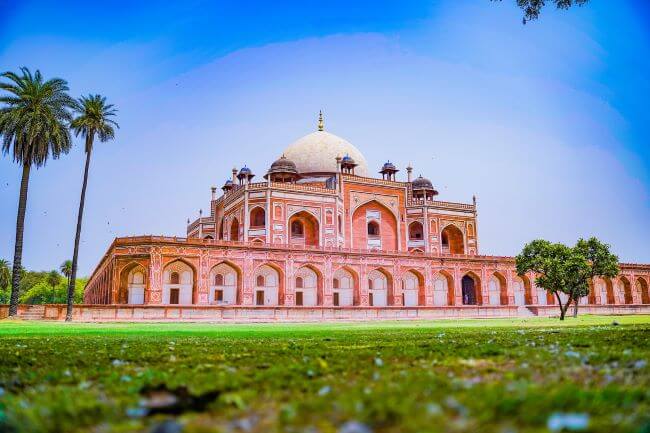 Day 3: Delhi
Delhi, a city combining the very best of old and modern India, is a wonderful introduction to this mesmerising country. Following breakfast this morning, we embark on a fascinating rickshaw ride through Old Delhi, taking in sights as we ride through its streets, including the Red Fort – famed for its opulence, and being the palace of the Mughal Empire in the 1500's. We also visit Jama Masjid, India's largest mosque, as well as the lively old-city market, Chandni Chowk. Later, witness the imposing India Gate and striking Parliament House, and further explore New Delhi. Visits include Qutub Minar, a 13th century red sandstone and white marble minaret measuring 75 metres tall, as well as the UNESCO heritage site, Humayun's Tomb, where the 16th century Mughal Emperor lies. It's an action-packed day, concluding with an evening food walk in Old Delhi, where we shall explore the cultural mesh of flavours and Dilli recipes on offer in its many eateries.
Included meals: Breakfast and dinner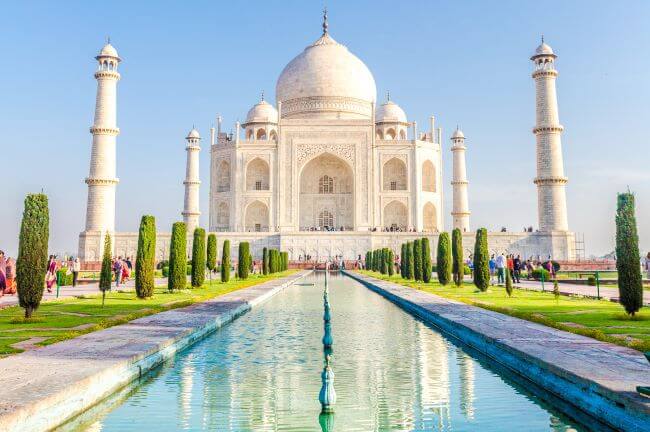 Day 4: Agra, Overnight
This morning, we make our way to the railway station where we board India's historic and first semi-high-speed train, the Gatimaan Express, to Agra. On arrival, we visit Agra Fort, a historical fort which remained the main residence of the Mughal emperors until 1638, before travelling to our hotel, the delightful four-star Agra Trident Hotel. Built in local red stone, reminiscent of the Mughal era, the hotel sits in beautifully landscaped gardens, offering the perfect retreat from the city.
Tour Highlight
This evening, as the sun sets, we venture out to see India's most iconic attraction and testament of love, the Taj Mahal. Commissioned in 1632 by Mughal Emperor Shah Jahan, to house the tomb of his wife, Mumtaz Mahal, this breath-taking complex is said to have been constructed on the banks of Agra's Yamuna River by over 20,000 stone carvers, masons, and artists from across India, Turkey and Iraq. We witness this magnificent monument for a sunset like no other.
Included meals: Breakfast and dinner included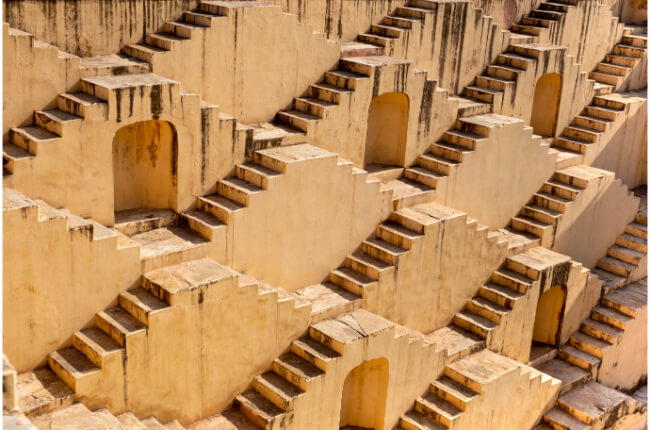 Day 5: Ranthambore, 2 nights
We leave Agra behind and journey to Abhaneri. Unique to India, Chand Baori at Abhaneri is a 13 storey, 1300-year-old stepwell, constructed with mind-blowing geometry and aesthetics. Our next stop is Umaid Lake Palace, a tranquil organic retreat nestled in 20 acres of rustic countryside, where we shall venture out with one of the palace's chefs to pick the fresh vegetables required for the day. We shall turn our hand to cooking local delights in their interactive kitchen, and take lunch in the palace's serene surroundings. Afterwards, we continue to Ranthambore, for our next two nights at the charming Ranthambore Kothi Hotel. Situated on the edge of Rajasthan's premier national park, and surrounded by flourishing green forests, it provides the perfect base from which to explore the park. This evening experience a tiger talk with a local naturalist and learn more about Ranthambore's most famous and imposing inhabitant.
Included meals: Breakfast, lunch and dinner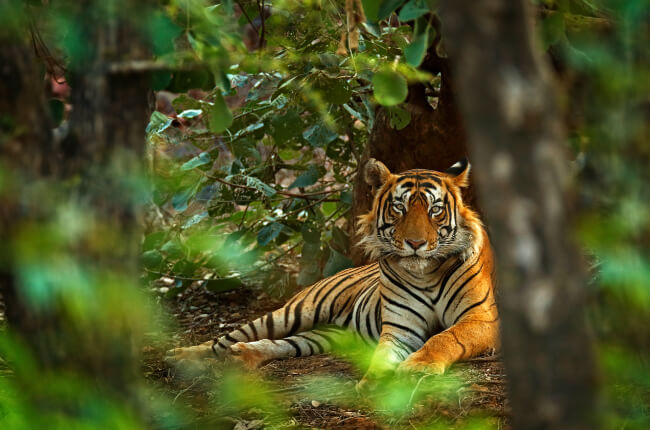 Day 6: Ranthambore
An early start as we journey into Ranthambore National Park, a former private hunting ground of India's great ruler, the Maharaja. The park is famed for its majestic and elusive tigers, and celebrated for its wildlife conservation. Keep an eye out for marsh crocodiles, sloth bears, monkeys, leopards, samba deer, and over 250 bird species – all of which inhabit this incredible part of the world. We'll board our open shared canter vehicle for our first safari, prior to breakfast. We embark on our second safari this afternoon, to explore a different area of the park in our search for the incredible wildlife roaming the lands and waters of this eminent park. Dinner this evening is at our hotel, when we can reflect on the day's adventures.
Included meals: Breakfast, lunch and dinner
Enjoy a leisurely morning at the hotel. Following lunch, we journey to the opulent 'Pink City' of Jaipur, capital of Rajasthan. Our accommodation in Jaipur is the four star Trident Hotel, which boasts breath-taking views of peaceful Mansagar Lake, Jal Mahal (Jaipur's stunning water palace) and the Aravalli Range. The evening is ours to enjoy in the most perfect surroundings.