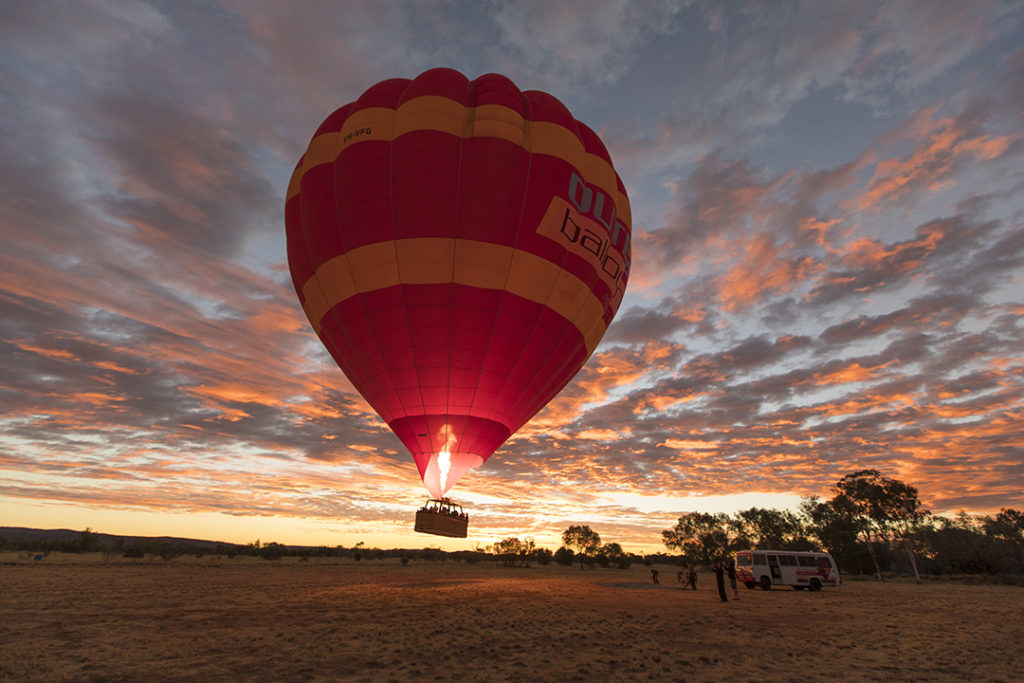 Alice Springs: Hot Air Balloon Flight
Visit Alice Springs and you'll get to enjoy an amazing hot air balloon flight. Get to know your friendly crew as you journey to the launch site in the cool pre-dawn darkness. Then begin the ascent just as the morning light begins to illuminate the rugged MacDonnell Ranges.
Your Alice Springs hot air ballooning activity sees you floating gently across the vast expanse of the Australian Outback. Keep an eye out for native wildlife including the iconic red kangaroo as well as other Alice Springs attractions as the balloon glides across the landscape.
At the balloon landing site there is time to enjoy the desert tranquillity as light refreshments accompanied by Australian sparkling wine and tropical fruit juice are served.
This activity is available on all of our tours to Australia, as well as our Australian combination tours.
Please note: Passengers must be able to climb up and into the basket (there are foot holes) and stand for the duration of the flight (with secure high sides to lean on) as there are no seats in the basket.
Useful Information
Tour Guideline Price:
AUD $305 (30 minutes) / GBP £171
to AUD $395 (60 minutes) / GBP £222
Duration:
4-5 hours (Balloon flight approx.30 minutes or 60 minutes)
Activity Level:
Mild / Moderate
Please note: All optional excursion descriptions represent a typical itinerary and will not necessarily operate exactly as outlined. Distant Journeys reserves the right to change the local operators at short notice if deemed necessary and appropriate.