Christmas & New Year in Australia Tour

27-day Christmas & New Year in Australia starting at £6,995pp
Enjoy your Christmas and New Year celebrations in a country known for its year-round warming sunshine, on Distant Journeys very special 27 day Christmas & New Year in Australia tour.
This unique itinerary has been designed to include not only all of Australia's incredible highlights such as the Great Barrier Reef and Uluru, but also some hidden gems like the amazing wildlife of Kangaroo Island. Over 27 days, we experience the contrast of Australia's modern cities alongside its rugged outback, and discover Australia's diverse culture and traditions.
It goes without saying that both Christmas and New Year will be celebrated in style, with Christmas spent in the lush tropical surroundings of Cairns and New Year's Eve spent experiencing Sydney's iconic firework celebrations. The world-renowned fireworks on Sydney's harbour are truly unforgettable, and our guests with enjoy the perfect position to enjoy this amazing New Year's Eve spectacle – from the comfort of an exclusive dinner cruise on Sydney Harbour!
SPECIAL OFFER: SAVE up to £592 per couple! Book by 28th February 2022 and choose an amazing homebound stopover from only £49 per person.
Christmas & New Year in Australia, 27 days from £6,995 per person
This 27-day escorted holiday to Australia over the Christmas and New Year festive season includes so many highlights along with a special Christmas spent in tropical Cairns and Sydney's iconic New Years Eve firework celebrations.
A shorter 21-day tour departing on 14th December in 2021 & 2022 is also available. Prices from £6,295. Please call for details
Itinerary
Day 1: Depart UK
Day 2: Singapore, 2 nights
Day 3: Singapore
Day 4: Perth, 3 nights
Day 5: Perth
Day 6: Perth
Day 7: Kangaroo Island, 2 nights
Day 8: Kangaroo Island
Day 9: Adelaide, 2 nights
Day 10: Adelaide
Day 11: Melbourne, 3 nights
Day 12: Melbourne
Day 13: Melbourne
Day 14: Alice Springs, 2 nights
Day 15: Alice Springs
Day 16: Uluru, overnight
Day 17: Cairns, 5 nights
Day 18: Cairns
Day 19: Cairns
Day 20: Great Barrier Reef
Day 21: Cairns
Day 22: Sydney, 4 nights
Day 23: Sydney
Day 24: Sydney
Day 25: Sydney
Day 26: Depart Sydney
Day 27: Arrive UK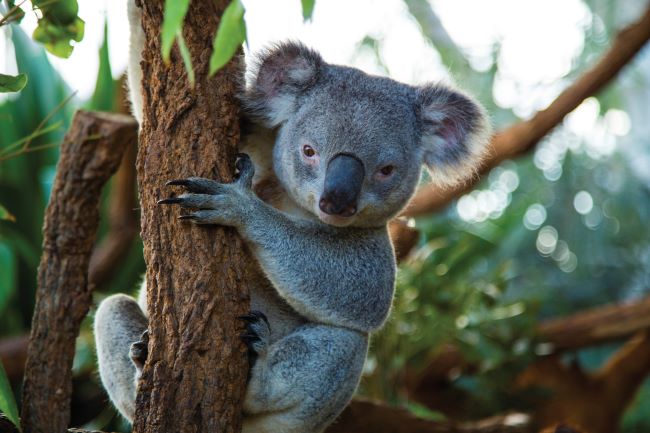 Wednesday 8th December: Depart the UK
Our Christmas adventure begins with a flight with Qantas & Emirates from the airport most convenient to you. Your options are from Birmingham, Glasgow, London Heathrow, Manchester or Newcastle – regardless of your choice, there's no extra cost.
Included meals: In-flight meals and drinks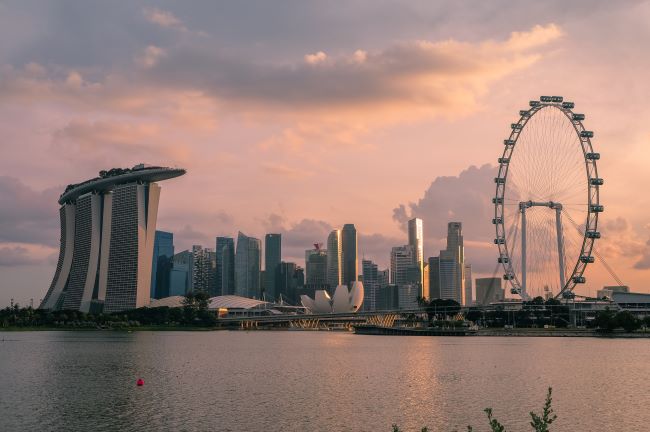 Thursday 9th December: Singapore, 2 nights
The next two days of our itinerary are based on a stopover in Singapore. On arrival into this wonderful city state we will transfer to the four-star Copthorne Kings Hotel, situated close to the banks of the scenic Singapore River and a perfect location from which to explore everything Singapore has to offer.
Included meals: In-flight meals and drinks
Alternative stopovers: Dubai or Perth
We have based days 2-4 of this itinerary on a stopover in Singapore. If you prefer, you may choose to stopover in Dubai or head straight to Perth for an extra two nights before the tour starts, all at no additional cost. Your stopover includes transfers, accommodation, daily breakfast, and if choosing Dubai, a city sightseeing tour. Flight timings will vary. Please speak with one of our personal travel experts for more details.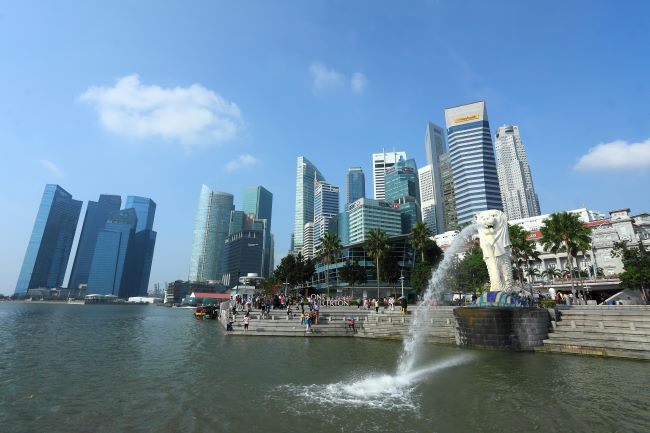 Friday 10th December: Singapore
Singapore is a truly cosmopolitan city whose Chinese, Indian and Malay cultures have over the years blended with Western influences from its colonial past, making it one of the most fascinating destinations in Asia. This morning we head out on a sightseeing tour taking in the main highlights of the city, such as the waterfront Merlion Park, home to the famous Merlion Statue which is a national symbol of Singapore; the various ethnic quarters such as Little India and Chinatown, and the beautiful Botanical Gardens – the first and only tropical botanic gardens on UNESCO's World Heritage list. Our tour ends back at the hotel, and we can relax and enjoy the rest of our day at leisure.  For a quintessentially Singaporean experience, why not treat yourselves to Afternoon Tea at the elegant Raffles Hotel?
Included meals: Breakfast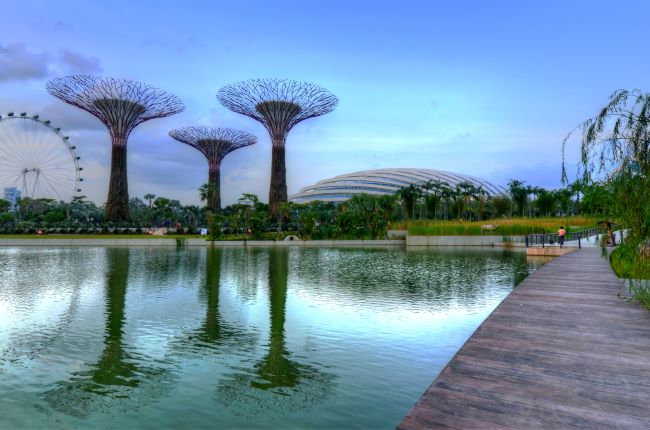 Saturday 11th December: Perth, 3 nights
A day free to spend as we please in Singapore until it's time to head to the airport for our evening flight to Perth, our first stop in Australia. We can recommend some suggestions for your second day in Singapore, such as a visit to the Gardens by the Bay, or a trip to nearby Sentosa Island, with its host of attractions including wildlife parks, cable cars and light shows. Once we arrive in Perth, our Tour Manager will greet us and our coach will whisk us to the Pan Pacific Hotel.
Included meals: Breakfast, in-flight meals and drinks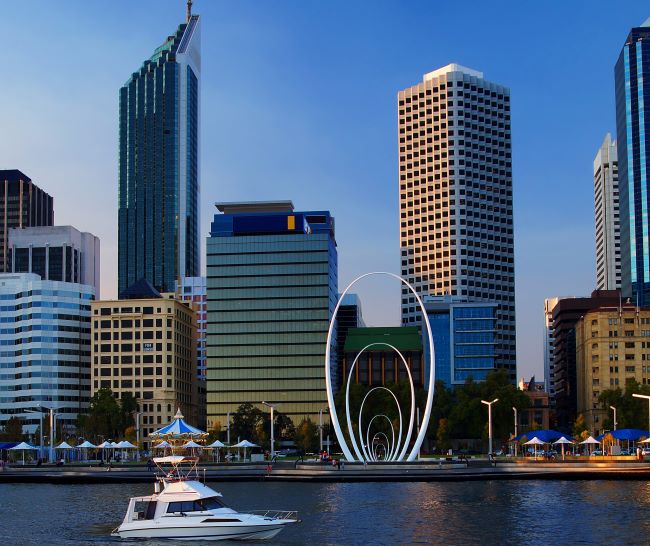 Sunday 12th December: Perth
Perth, in Western Australia, is one of the world's most isolated cities. Our day begins with a sightseeing tour of the city and its surrounding areas. We start at King's Park, which is larger than New York's Central Park and has some 400 hectares of bushland and pretty wildflowers, offering stunning views over the city's skyline. Next, we travel to the nearby port town of Fremantle to visit to the fascinating Shipwreck Galleries. The galleries have hundreds of relics from ships wrecked along the treacherous coastline, including the original timbers from the Batavia, wrecked in 1629. The tour will end with a gentle cruise along the Swan River back to the city centre, passing some jaw-dropping millionaire's mansions along the way.
Included meals: Breakfast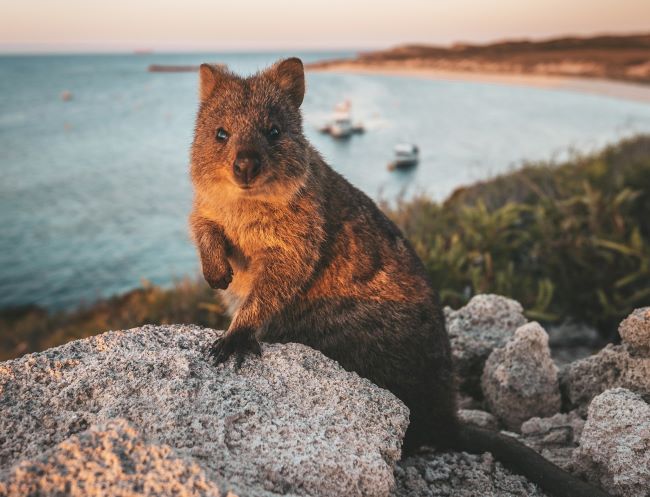 Monday 13th December: Perth Freedom Day
Today is the first of several Freedom Days in Australia, where we can spend the day however we please. Our Distant Journeys Tour Manager will be on hand to offer expert advice and guidance on things to do and recommendations of places to eat. They can also help book additional excursions we may wish to do, including two optional tours to some of the spectacular natural landscapes close to the city.
The first is to Nambung National Park, home to hundreds of striking limestone pillars known as the Pinnacles. It's believed the Pinnacles were created millions of years ago as seashells were broken down into sand and then eroded by water and wind. Alternatively, you can take a trip to Rottnest Island, just a short ferry ride from Perth. A protected nature reserve with a coastline of hidden coves and white sandy beaches, Rottnest is the only place in the world to spot Quokka in their natural habitat. This friendly, wallaby-like marsupial is the world's most photogenic animal and has no fear of humans, so have your camera at the ready!
Included meals: Breakfast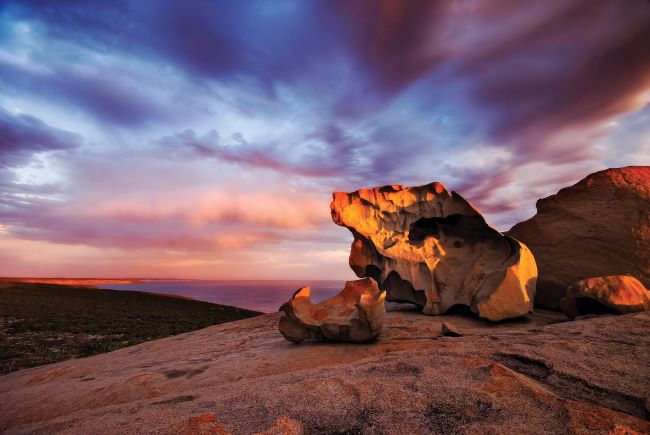 Tuesday 14th December: Kangaroo Island, 2 nights
After breakfast, we leave Perth behind as we fly to Adelaide, capital of South Australia. Upon arrival, we continue by coach to the Fleurieu Peninsula, from where we board a ferry to Penneshaw on Kangaroo Island. Our busy day of travel ends at the Mercure Kangaroo Island Lodge Hotel, located in a prime position in bushland overlooking American River Bay, and our home for the next two nights.
Included meals: Breakfast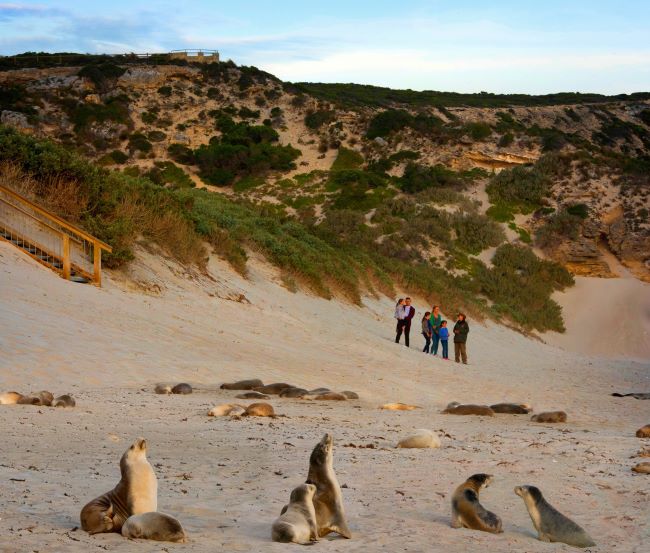 Wednesday 15th December: Kangaroo Island
Tour Highlight
Our full day tour on Kangaroo Island starts with a visit to Seal Bay Conservation Park where we will be taken on a beach walk with an experienced guide and enjoy being among a colony of rare Australian sea lions, watching them play and relax on the beach. After lunch, our afternoon will be spent at the Flinders Chase National Park, home to some of Australia's best-known native wildlife. During our tour of this park, we'll be able to spot wallabies, echidnas, koalas and the kangaroos which give the island its name. We'll also take in some incredible scenery at the Remarkable Rocks, offering spectacular sea views and photo opportunities, and the Admirals Arch boardwalk, where we will head down to the unique rock archway to spot the happy Long-Nosed Fur Seals which call this part of the island home. After a truly unforgettable day on Kangaroo Island, packed with incredible wildlife and scenery, it's time to head back to our hotel for a second night.
Included meals: Breakfast and picnic lunch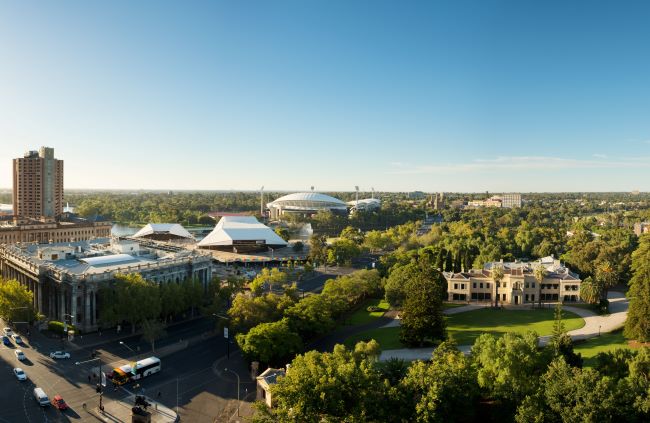 Thursday 16th December: Adelaide, 2 nights
After getting up close to an amazing variety of Australia's wildlife it's time to make our way back to the mainland by ferry. Our journey into Adelaide, includes a visit to the quaint village of Hahndorf, Australia's oldest surviving German settlement with its tree-lined streets and original Fachwerk, timber-framed buildings. Adelaide has a lovely location, surrounded by parkland, rolling hills and the Mount Lofty Range, and during this afternoon's sightseeing tour we will get our first view of Adelaide's pretty streets, grand Victorian buildings and the leafy parks and gardens that encircle the city. Lastly today, we arrive at the Crowne Plaza Hotel, situated just around the corner from Rundle Street, home to Adelaide's best shopping opportunities.
Included meals: Breakfast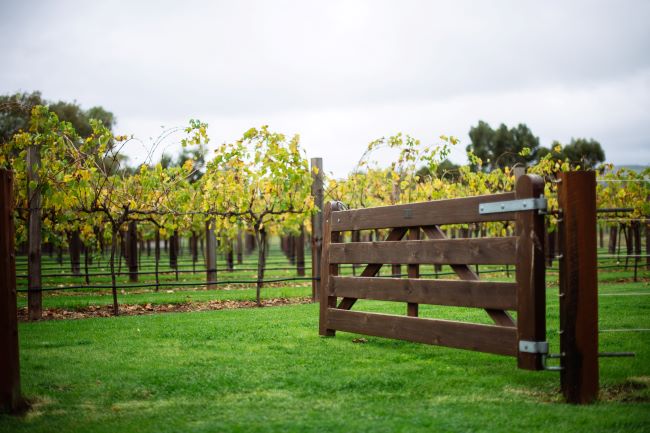 Friday 17th December: Adelaide Freedom Day
Today is a Freedom Day to spend as we please. Lovers of good wine can take an optional tour to the vineyards of the Barossa Valley, with plenty of tastings included. Alternatively, idle away a few hours with a leisurely cruise along the Murray River or just enjoy a stroll around Adelaide.
Included meals: Breakfast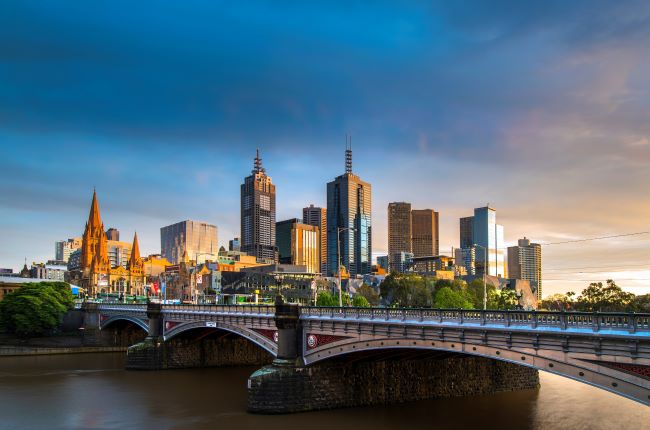 Saturday 18th December: Melbourne, 3 nights
This morning we transfer to the airport for our short flight to Melbourne, the capital of the state of Victoria. It's an elegant and impressive city, as seen in the stunning and extremely well-preserved Victorian architecture of its public buildings and grand houses. On arrival, we'll enjoy all these sights and much more with a tour of the city. Among the places we will visit are the Melbourne Cricket Ground, Treasury Gardens, the Victoria Markets, the Rod Laver Arena (home to tennis' Australian Open every January) and Federation Square. We will also head out of the city centre to see two of Melbourne's waterside suburbs: Port Melbourne and St Kilda. Our hotel for the next three nights is the four-star Pullman on the Park. This contemporary hotel was built on the site of the 1887 Cliveden Mansion, alongside Fitzroy Gardens.
Included meals: Breakfast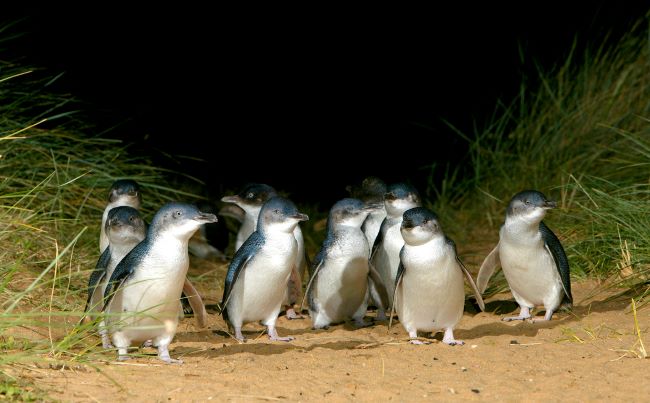 Sunday 19th December: Melbourne Freedom Day
Tour Highlight
Enjoy a Freedom Day in Melbourne, where one of the optional tours on offer is a trip to Phillip Island, home to the world's largest colony of Little Penguins, to view the Penguin Parade. The Little Penguins spend most of their day swimming and foraging at sea, then at dusk they waddle back to their nests on land.  It's a sight not to be missed. Alternatively, take a morning excursion to ride on the Puffing Billy steam train through the Blue Dandenong Ranges, with an Aussie-style elevenses of Bush Billy Tea with lamingtons, Vegemite and crackers served beforehand.
Included meals: Breakfast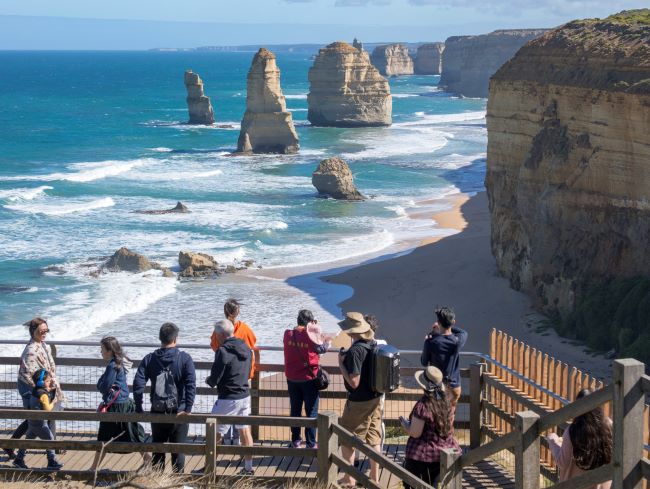 Monday 20th December: Melbourne Freedom Day
Today has also been left free to spend as we please. For those looking to explore the region surrounding Melbourne, there's the opportunity of an optional tour along what consistently features in the Top 10 of the world's greatest scenic coastal drives, the Great Ocean Road.  Departing from Torquay, home to the world-famous Bells Beach, our tour will take us through laid-back beach resorts along Victoria's dramatic coastline to our end destination, the iconic stone monoliths known as the Twelve Apostles. If you're remaining in the city, today is a great opportunity to explore Melbourne's quirky laneways, whose street art provides fabulous photo opportunities.
Included meals: Breakfast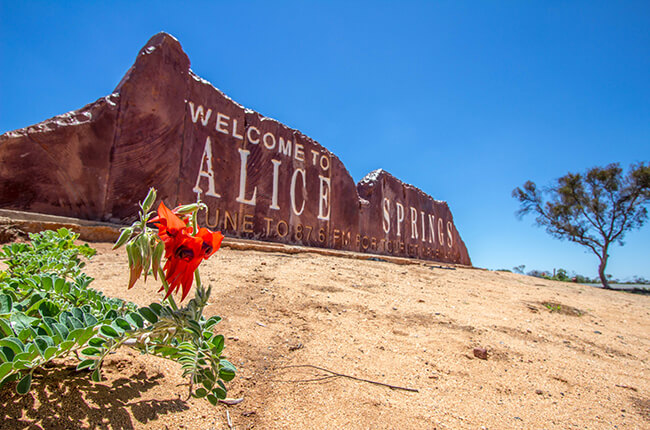 Tuesday 21st December: Alice Springs, 2 nights
Following breakfast this morning, we board our flight to Alice Springs, in Australia's Red Centre, whose red earth and blue skies so typify Outback Australia. On arrival, we enjoy a sightseeing tour, visiting the Old Telegraph Station, the Royal Flying Doctor Service, which has been saving lives in rural and isolated parts of Australia for more than 90 years, and the School of the Air, which provides an education remotely to children living in the most far-flung areas of the Outback. Later, we check in to the DoubleTree by Hilton Hotel, home for the next two nights.
This evening, there's the opportunity to enjoy an authentic Outback bush BBQ. Huddle around a cosy campfire under the desert skies at the traditional cattle camp, whilst tucking into a superb barbecued steak. Enjoy a cold beer or chilled wine from the bar while a bush balladeer sings timeless Australian songs.  Finally, the camp lights are switched off and a knowledgeable star guide will decode the night skies as we bathe in the velvety darkness of an Outback night.
Included meals: Breakfast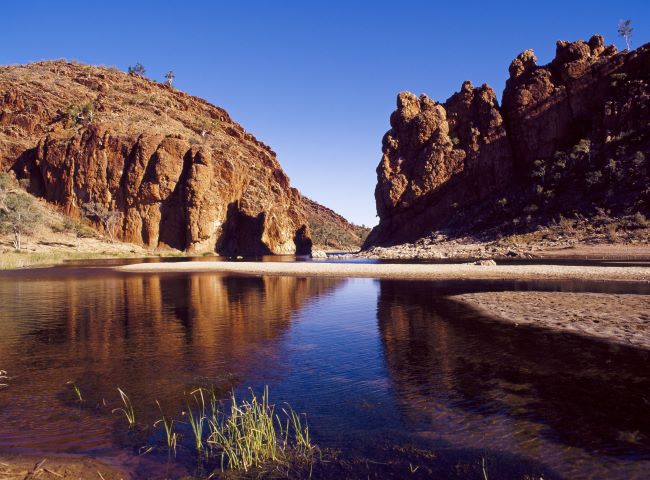 Wednesday 22nd December: Alice Springs Freedom Day
Our day is free to relax or explore as we wish. Choose to join a popular excursion to the Western MacDonnell Ranges; a great opportunity to get a true taste of life in the outback. The full-day tour takes us through the stunning scenery of Simpson's Gap, home to various plants and wildlife, including the black-footed rock-wallaby. The excursion also visits Standley Chasm, one of the 'must see' spectacular geological and cultural icons of Central Australia.
Included meals: Breakfast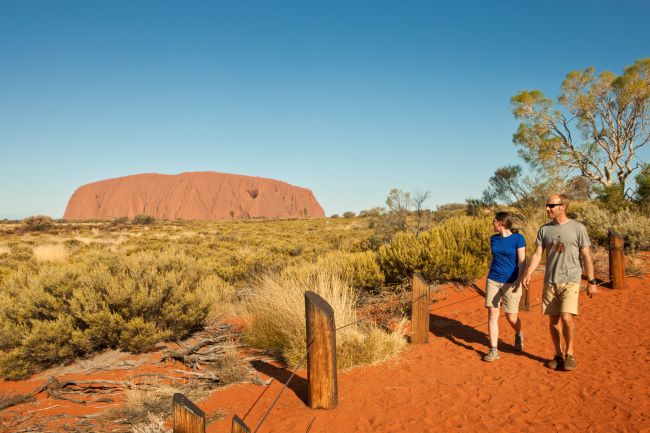 Thursday 23rd December: Uluru, 2 nights
After breakfast we board our coach for the drive along the Stuart and Lasseter Highways to Uluru, formerly known as Ayers Rock. Upon arrival we visit Kata Tjuṯa, also known as the Olgas, a group of large, domed sandstone rock formations. The domes of Kata Tjuta are sacred to the local Anangu Aboriginal people, and are believed to be over 500 million years old.  We then make our way to the Desert Gardens Hotel, our overnight accommodation.
Tour Highlight
After freshening up at the hotel we will be taken to a viewing area to witness the sun setting behind Uluru. Sparkling wine and nibbles will be served whilst you and your travelling companions watch the remarkable changing colours of Uluru as the sun sinks below the horizon.
Included meals: Breakfast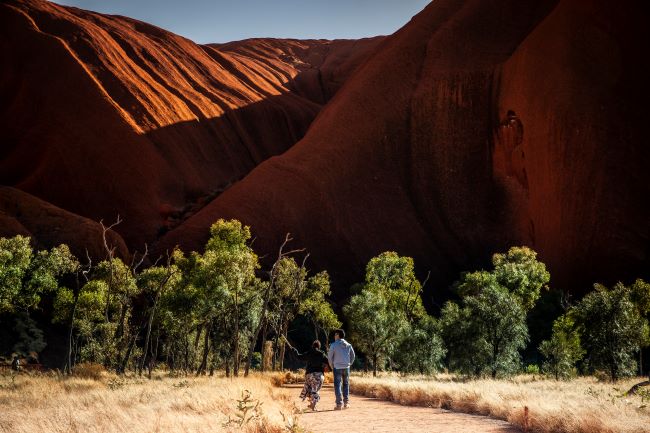 Friday 24th December: Cairns, 5 nights
Wake up on a Christmas Eve like no other as early risers have the option of viewing Uluru at sunrise, for a different perspective on this ancient and sacred monolith. After breakfast, we depart for a tour of the base of Uluru, getting as close as is allowed to the Rock. Learn more about its historical and cultural importance to the indigenous people of this area of Northern Territory. We will then leave the Red Centre behind as we take an afternoon flight to Cairns, in Tropical Far North Queensland. We'll head straight to our hotel, the Hilton Cairns, on arrival. Situated in a prime spot right on Cairns' Esplanade, this superior hotel is our home for the next 5 nights, and the scene of the Christmas festivities to come.
Included meals: Breakfast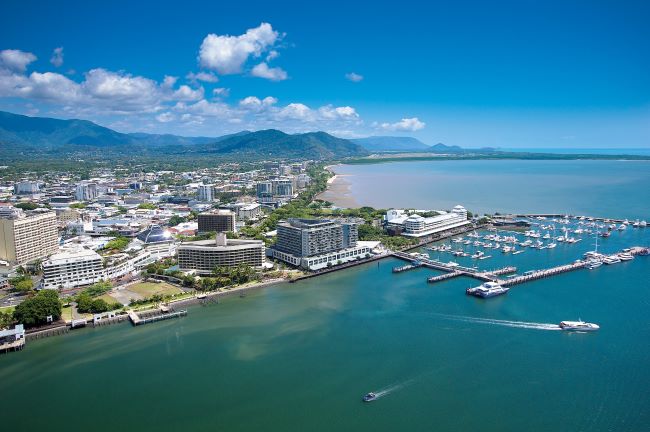 Saturday 25th December, Christmas Day, Cairns
Tour Highlight
Merry Christmas! Begin the day with a hearty breakfast to set you up for the celebrations ahead. Our day is free to spend as we please, perhaps with a stroll along the Esplanade followed by a picnic on the grass in the sunshine or even a swim in Cairns' lagoon pool. This evening we gather in the hotel to enjoy a celebratory Christmas buffet dinner and drinks with our new-found friends.
Included meals: Breakfast and dinner, including selected alcoholic and non-alcoholic drinks.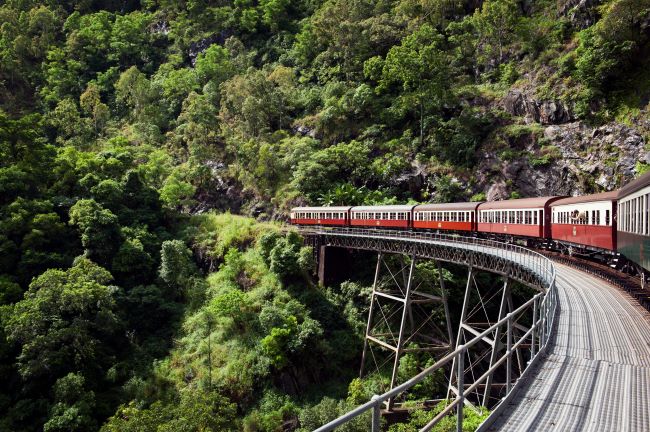 Sunday 26th December: Cairns Freedom Day
Today is another of our Freedom Days to spend however we wish in Cairns, and we are offering a very popular optional excursion to Kuranda, the village in the rainforest. Our tour begins as we travel to Kuranda village via the Skyrail Rainforest Cableway, soaring above the treetops with astounding views over the rainforest. In Kuranda, there are several enjoyable ways to spend the next few hours. Browse the craft markets, visit the butterfly sanctuary or explore the Koala Gardens, where we can even cuddle a Koala if we wish. Kuranda has plenty of laid-back coffee shops with outdoor seating, perfect for indulging in some people-watching along with a flat white and some cake! We will then head back to Cairns on the unique Kuranda Scenic Railway. Passing over 40 bridges and through 15 tunnels, the railway is a feat of engineering and a railway journey to remember.
Included meals: Breakfast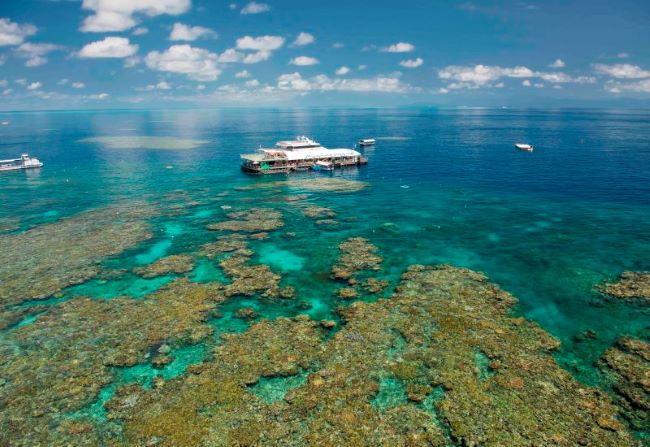 Monday 27th December: Cairns, Great Barrier Reef
Tour Highlight
No holiday to Australia can be complete without a visit to the Great Barrier Reef. A UNESCO World Heritage Site and one of the world's most enduring natural wonders, the Reef's stunningly beautiful coral and colourful marine life is a place like no other. Our exciting excursion to the Great Barrier Reef begins with a journey aboard a high speed catamaran as we zip across the Coral Sea to the Outer Reef.
We spend several hours at the Outer Reef for you to enjoy as you wish. The more active among us can snorkel in the sheltered coral lagoon or, for an additional cost, join the marine biologist on a guided snorkel safari or maybe have a go at scuba diving. There is also the option to see the reef from above on a scenic helicopter flight. Those who would rather not get wet can still experience the underwater world of the reef with a ride in a glass-bottomed boat, or semi-submersible reef viewer. A buffet lunch is served on board the platform.
We return by catamaran to Cairns later in the afternoon, bringing our thrilling Great Barrier Reef day to a close.
Included meals: Breakfast and lunch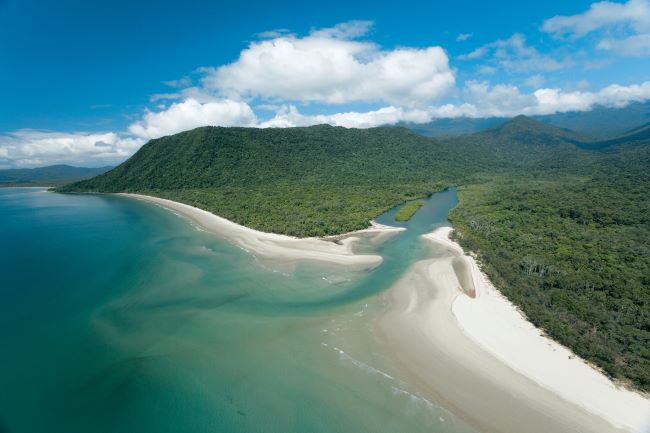 Tuesday 28th December: Cairns Freedom Day
Another Freedom Day in tropical Far North Queensland. For the chance to explore one of the world's most ancient tropical rainforests, dating as far back as 180 million years, come with us on our optional tour to the Daintree Rainforest and Cape Tribulation. During the excursion, we'll see dramatic jungle-clad gorges, wild rivers, and tumbling waterfalls while taking a walk with an Aboriginal guide as well as a cruise to spot saltwater crocodiles. At Cape Tribulation, an isolated headland, stroll on the beach where the rainforest meets the reef.
If you prefer to stay in Cairns today, there's so much to see and do, including numerous shops and art galleries, as well as Cairns' famous Night Markets. Featuring over seventy different shops and stalls selling authentic local crafts and souvenirs, as well as a food court offering street food from around the world, the Night Markets are the perfect place to enjoy dinner and hunt for some souvenirs.
Included meals: Breakfast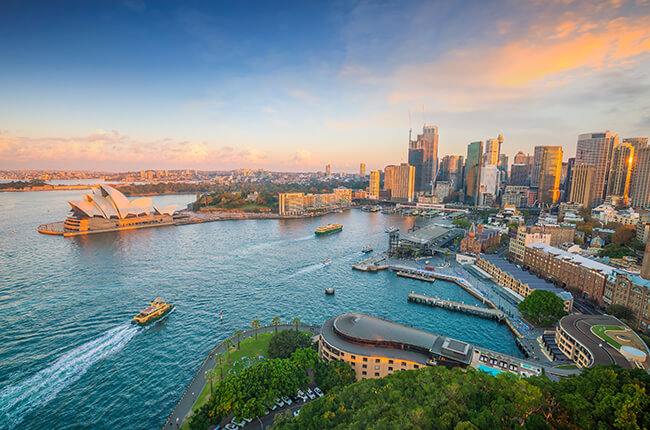 Wednesday 29th December: Sydney, 4 nights
This morning we leave Cairns and fly to Sydney our final port of call on this wonderful tour of Australia, with the promise of an extraordinary New Year's Eve celebration ahead. We will be taken speedily to the Radisson Blu Hotel, an excellent hotel set in an historic building just a short walk from Circular Quay and Sydney Harbour, home to the world-famous Sydney Opera House. The city centre itself is packed with world class restaurants, a lively arts culture and some remarkable museums and galleries. Beyond the harbour and the iconic bridge, however, Sydney has pristine sandy beaches and native bushland, sprawling parks and leafy gardens. Our 4-night stay in Sydney allows us plenty of time to enjoy all that this wonderful city has to offer.
Included meals: Breakfast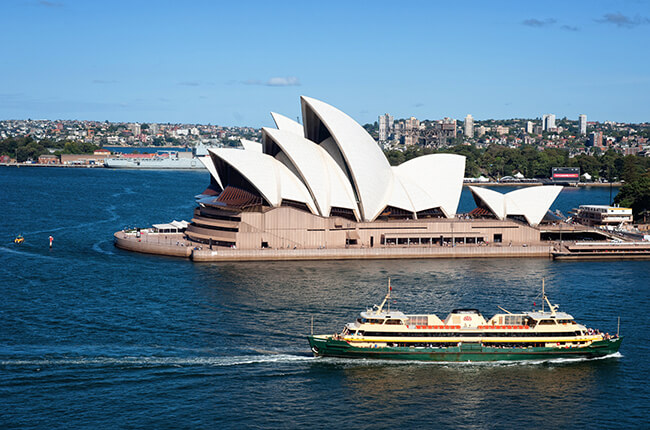 Thursday 30th December: Sydney
Tour Highlight
This morning we will view the most essential sights of Sydney with a comprehensive sightseeing tour and lunch cruise on Sydney Harbour. We begin by travelling through some of the city's coolest inner-city suburbs to the iconic Bondi Beach, with time to enjoy a stroll on its famous golden sands, before passing the beautiful Double Bay and Rushcutters Bay on our way back to the city centre. Our tour will then bring us to Hyde Park, Australia's oldest park, whose 40 acres contain the ANZAC Memorial; Parliament House and Mrs Macquarie's Chair. This unique 'chair' is a Sydney landmark made of exposed sandstone rock, cut into a bench shape by convicts in 1810 as a gift to Governor Macquarie's wife. This location is also the perfect spot for a group photo, with the Opera House and Harbour Bridge behind. The sightseeing tour will then lead us to Circular Quay, where we board the MV Sydney 2000 for our fabulous lunch cruise around stunning Sydney Harbour. The delicious two-course lunch is the perfect accompaniment to the unrivalled views as we cruise past the Opera House; the perfect way to end our first morning in Sydney.  After disembarking, our afternoon is free to spend soaking up the atmosphere around the harbour. Maybe enjoy a tour of the Sydney Opera House, or even take in a show in one of the world's most famous performance venues?
Included meals: Breakfast and lunch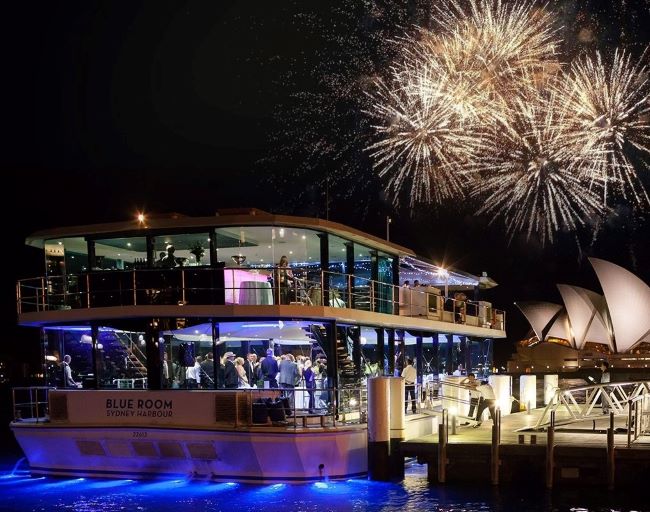 Friday 31st December: New Year's Eve, Sydney
Tour Highlight
The eyes of the world fall on Sydney on New Year's Eve, and today you are among the privileged few who are at the epicentre of the celebrations. Our day is left free, and your Tour Manager will be happy to help and offer their recommendations or make any arrangements for you. This evening, the excitement builds as we make our way to King Street Wharf to board Clear View, our luxury cruise vessel. The glass boat offers amazing 360-degree views around Sydney Harbour and will be positioned in an exclusion zone giving a prime position for viewing the fireworks.  We will be welcomed aboard with a glass of finest Australian sparkling wine, before settling into our reserved seat to be served a fabulous 5-course dinner of restaurant-quality, locally sourced favourites. The conversation and the drinks will flow, and after dinner we'll be entertained by a live band, plus a DJ whose selection of music will be bound to have you up on your feet and dancing the evening away. As midnight strikes, Sydney's annual firework spectacular bursts into life, and we'll truly feel at the heart of the festivities as we view the stunning display from the comfort of our boat. Happy New Year!
Included meals: Breakfast and celebration dinner including selected alcoholic and non-alcoholic drinks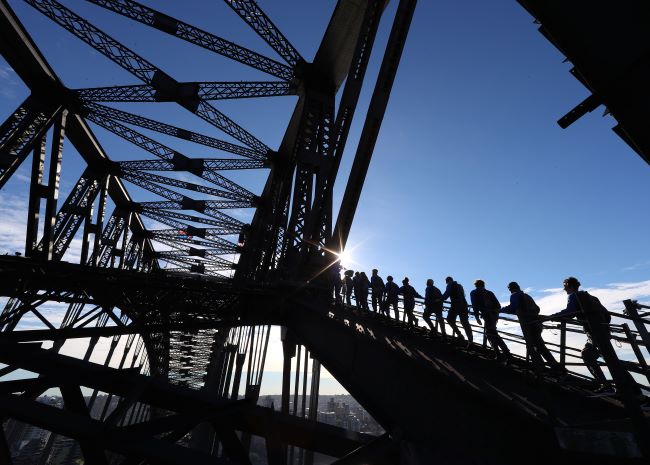 Saturday 1st January: Sydney Freedom Day
Tour Highlight
Welcome to 2022, and a final Freedom Day in Sydney. Shake off the cobwebs with an optional visit to the Ku-rin-gai Chase National Park; just 90 minutes from downtown Sydney, the park encompasses coastline, rainforest, bushland and a portion of the Hawkesbury River.  Or those with a head for heights may want to do the ultimate in New Year's Day walks with a climb of the Sydney Harbour Bridge! However you choose to spend your final full day in Sydney, relax and enjoy it as this wonderful Very Best of Australia tour draws to a close.
Included meals: Breakfast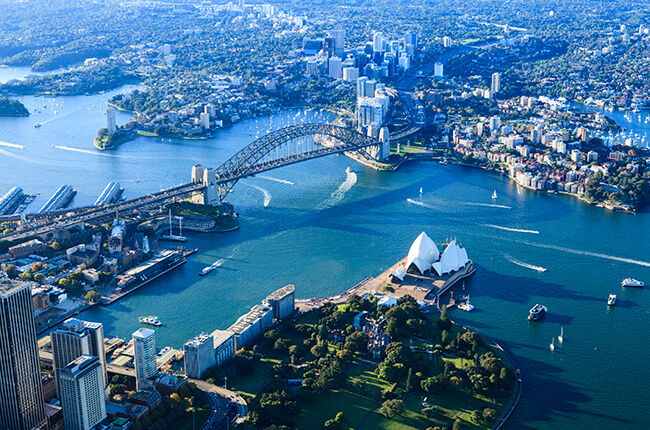 Sunday 2nd January: Depart Sydney
Our last day in Sydney is yours to spend as you please until we leave for the airport with suitcases full of memories: the end of an unforgettable adventure in Australia. Flights to our chosen UK airport all stop in Dubai or Singapore for a change of aircraft before the second leg back home.
Included meals: Breakfast, in-flight meals and drinks
SPECIAL OFFER: SAVE up to £592 per couple!
If you would like to stopover on your way home we have an amazing stopover offer available from £49 per person for a stay in Singapore, Bangkok, Hong Kong, or Dubai. Alternatively, if you prefer, we have a relaxing Bali stopover available from £199 (£398 single occupancy) per person, or a two night stopover on Sentosa Island from £139 (single occupancy £258) per person. All you need to do to take advantage of this amazing offer is book the 2022 tour departure by 28th February 2022.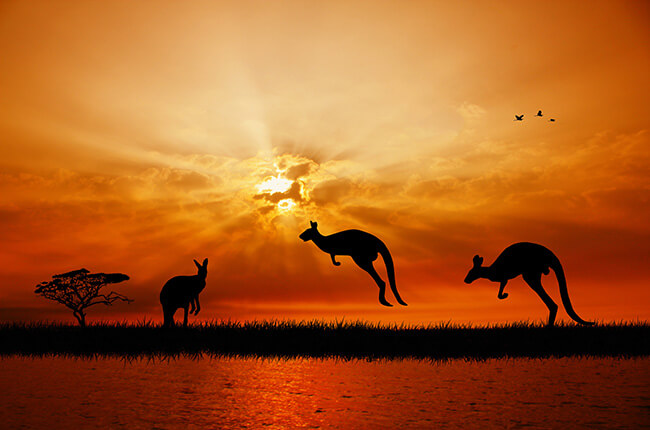 Monday 3rd January: Arrive UK
This morning we arrive back into the UK at our chosen airport: either Birmingham, Glasgow, London Heathrow, Manchester or Newcastle, bringing our unforgettable journey to an end.
Included meals: In-flight meals and drinks
Christmas & New Year in Australia – Departure dates & prices
Don't forget, you can SAVE up to £592 per couple on a homebound stopover. Just make sure you book by 28th February 2022. Choose a two night homebound stopover in Dubai, Hong Kong, Singapore, or Bangkok for only £49 per person (£98 for single occupancy). The stopover includes return airport transfers, two nights in a four star hotel and full daily breakfast. Alternatively, you may consider a relaxing three night stay in Bali for only £199 per person (£398 for single occupancy) or enjoy two nights on Sentosa Island for only £139 (£258 single occupancy) per person.
 Departure date
 Price (pp)
 Availability
 Offer
 2022
 08 December
 £6,995
 ONLY 4 ROOMS LEFT
SAVE up to £592 per couple
A shorter 21-day tour departing on 14th December 2022 is also available. Prices from £6,395. Please call for details
Prices: Prices are per person based on two people sharing a twin or double room.
Single occupancy supplement: £1,595
Deposit: £1,000 per person if travelling in economy class, £1,950 per person if travelling in premium economy, and £3,750 per person for business class.
Visa: To enter Australia, you need an ETA (electronic travel authority).We will obtain this on your behalf and the £25 per person processing fee will be added to your confirmation invoice.
Terms and conditions: Holiday prices are subject to the availability of flights in the lowest fare booking class and may change, however the correct price will always be confirmed before you book. For full terms and conditions see our terms and conditions page.
Exceptional value inclusions
Our escorted holidays to Australia are designed to include must-see sights and memorable experiences in your tour price. And our Christmas & New Year tour is no exception as so much of what you will experience is already included in the price. That's all your scheduled international flights, overseas transfers, expertly chosen hotels, daily breakfast and several other meals too, experienced local Tour Manager and several amazing excursions, already paid for.
Flights with leading scheduled airlines
Return economy class flights
Fly with Qantas & Emirates from London Heathrow, Manchester, Birmingham, Newcastle or Glasgow
All domestic flights within Australia
All airport charges, security charges and any applicable fuel surcharges
UK Air Passenger Duty
Choice of outbound stopover
Two-night outbound stopover; choose from Singapore or Dubai
Alternatively, add two nights to the beginning of your stay in Perth
Carefully selected hotels
Superior and first class hotels in great locations
All hotel porterage
Applicable hotel taxes
Many meals
Daily breakfast, worth £430 per person
Lunch on Kangaroo Island
Buffet lunch on the Great Barrier Reef
Lunch cruise around Sydney Harbour
Incredible festive highlights
Celebratory Christmas dinner and drinks
New Year's Eve dinner cruise, worth £556 per person
Unforgettable experiences
Sightseeing tours in Singapore (or Dubai), Perth, Adelaide, Melbourne, Alice Springs and Sydney
Full day touring Kangaroo Island
Experience Uluru at sunset and sunrise
On the ground
Services of an experienced local Tour Manager
All overseas transfers
Modern, air-conditioned coaches throughout
100% confidence
Your holiday is covered by our Price Promise
Your holiday is fully ATOL protected
Your holiday is covered by our Covid Guarantee
Hand-picked hotels
At distant journeys we understand the importance of a good hotel on a touring holiday and we take great pride in choosing the hotels and accommodation you will be staying in during your Australia group tour. Our Directors personally take charge of finding the hotels that have a great location and are high quality too – the two most important considerations on any touring holiday to Australia. These are the hotels we've chosen for you.
ALL HOTELS
Christmas & New Year in Australia – Freedom Days
We want you to enjoy a good mix of visits to must-see landmarks and leisure time to experience your destinations in a way that suits you. For example, you might like to try an adventurous activity like climbing Sydney Harbour Bridge or a hot air balloon ride over Alice Springs. or if you prefer a more relaxing experience. perhaps take a cruise to the wineries along the lovely Swan River. Thanks to our freedom Days. You'll have the change to choose an experience to enjoy depending on what interest you most.
The majority of the optional excursions will be booked locally with your Tour Manager, but there are some that must be pre-booked before you depart the UK due to limited space and we suggest these are pre- booked at least 3 months prior to departure and no later than 30 days prior.  Any requests later than 30 days will be subject to a 5% surcharge when confirmed. Correct prices will be advised at the time of booking.
Stopover – Freedom Days
If you've taken advantage of one of our two night stopovers on your journey home from Australia you may want to make the most of your short stay in these exciting destinations by taking an optional excursion or two.
After all, who could visit Singapore without a trip to the world-famous and historic Raffles Hotel for afternoon tea or a Singapore Sling? Or if you're in Bangkok, the Grand Palace with its beautiful Temple of the Emerald Buddha is a must-see.  Explore Hong Kong and learn about its fascinating history. In Bali why not take a sunset cruise, or discover the islands beautiful mountainous interior. And if Dubai is where you'll spend the last two nights of your holiday, why not enjoy one of them feasting Bedouin-style on a Desert Safari?
Special Offers
Book now and SAVE up to £592 per couple!
Our most popular Special Offer – a two-night homebound stopover is available for only £49 per person (£98 for single occupancy) – on all our Australia tours departing after September 2022 if you book by 28th February 2022.
There are several options for your £49 stopover – Singapore, Bangkok, Hong Kong or Dubai. Alternatively, you have the option to choose a relaxing three-night beach stay on the wonderful Indonesian island of Bali, for only £199 (£398 for single occupancy) per person or spend two nights on Sentosa Island for only £139 (£258 single occupancy) per person.
These stopovers normally cost as much as £690 per couple for two nights accommodation in a deluxe four star hotel, with full daily breakfast and airport transfers. So it really does pay to book early with Distant Journeys.
Special Offers: terms and conditions
Special Offer is £49pp in twin / double room, £98 for single occupancy and is subject to the availability of flights and accommodation. The Bali stopover is £199 per person (£398 for single occupancy). The Sentosa Island stopover is £139 per person (£258 for single occupancy). The saving of up to £592 per couple is based on the price of the homebound stopover. Available only on departures after September 2022.
---
---
---
---
---
---
---
Customer reviews  
The Christmas & New Year in Australia tour is a new itinerary departing December 2022 and as yet there are no direct reviews for this tour. We suggest in the meantime, to look at the reviews for our Very Best of Australia tour.  We're sure you will be impressed with the service our guests receive and the great reviews they kindly give us!
'Great holiday, we had the freedom to do our own thing when it suited as well as a range of excursions when we needed them. The Ghan train and the Great Barrier Reef experiences were first class' Mr & Mrs Parry, Cheshire
Mr & Mrs Parry, Wonders of Australia
The organisation and skill devoted to making this special was exceptional. From the tour managers down to the coach drivers and the choice of hotels there is really nothing I could fault. One big, perfect adventure from start to finish. Thank you!
Mr & Mrs Waters, Wonders of Australia
Choosing Distant Journeys was the best decision we have ever made. Could they have done any better? Not in our opinion. They are a first class long haul travel company.
Mr & Mrs Bridge, Wonders of Australia
BOOK WITH CONFIDENCE
Award-Winning Holidays
Distant Journeys has won 10 awards in the last five years, at the British Travel Awards, and we have been awarded Feefo's highest Platinum Trusted Rating for customer satisfaction.
Guaranteed Price Promise
Know you are paying the best price for your holiday with our Price Promise. We never offer last minute discounts and we guarantee the earlier you book the better the offer you'll receive.
100% Financial Protection
Book in the confidence your money is 100% safe. All Distant Journeys holidays are fully bonded by the Civil Aviation Authority (ATOL number 10913) or ABTOT (number 5427).
Our Covid Guarantee
For your peace of mind, if Distant Journeys is unable to operate your tour due to Covid-19, you will be given the choice of changing your tour or you may choose to receive a full refund.
ORDER YOUR BROCHURES TODAY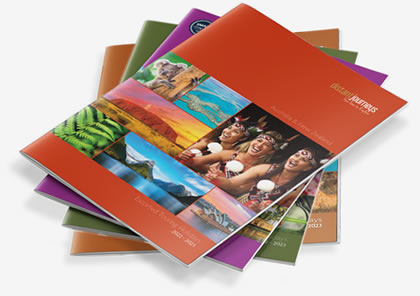 Planning your next holiday? Let Distant Journeys give you some travel inspiration.
There are three easy ways to request your brochure – just click on your preferred option below:
CUSTOMER REVIEWS