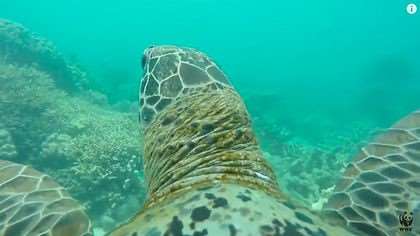 Amazing video reveals the Great Barrier Reef from a turtle's perspective

Amazing video reveals the Great Barrier Reef from a turtle's perspective
The Great Barrier Reef is just one of the many incredible natural wonders you can discover on our amazing Australia tour holidays, and this brand-new video from the World Wildlife Foundation (WWF) shows you just some of the amazing sights you can witness from a unique perspective – through the eyes of one of the reef's many sea creatures, the turtle.

A GoPro camera was strapped to the back of an adult green turtle by conservationists before it took to the water, giving us an astonishingly close-up view of the other wildlife as well as the reef's famous colourful and rocky coral.
Made up of over 2900 individual reefs, as well as 900 islands, the Great Barrier Reef is home to almost 6000 different species of wildlife in total, making it one of the most diverse animal kingdoms in the world. As a result, the Reef, situated in the Coral Sea off the coast of Queensland, has been awarded the status of being a UNESCO World Heritage Site.
Watch the video below:
Image: WWF/YouTube
Save