Ho Chi Minh City, also known as Saigon, is a beautiful city located in the southern part of Vietnam. It's the largest city in Vietnam and also a major financial hub, but it's Ho Chi Minh's captivating history, impressive sights and delicious food that make it a must-visit destination for any traveller.
There are so many things to do in Ho Chi Minh that you'll never run out of activities and experiences to try. Whether you're a history buff, a foodie, or an adventurer, Ho Chi Minh has something for everyone.
Where is Ho Chi Minh City?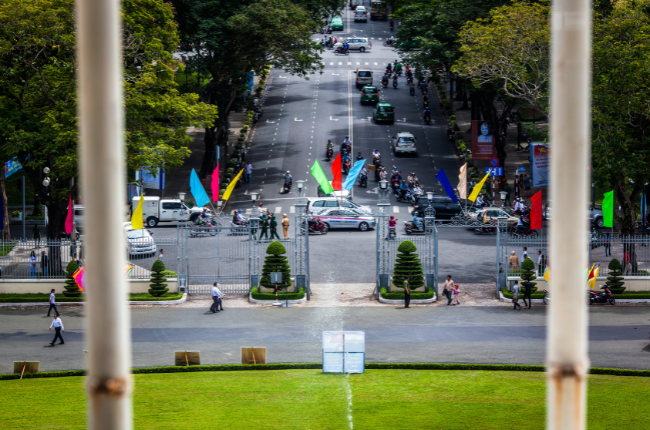 Ho Chi Minh City is located in the southern region of Vietnam on the banks of the Saigon River. During our Highlights of Vietnam Tour, we travel from Hue (the former imperial capital of Vietnam) to reach Ho Chi Minh City. The flight time is less than 2 hours and gives us ample time to enjoy our time in the city, exploring its captivating history and fascinating sights.
Join our Very Best of Vietnam and Cambodia Tour and we'll continue our journey from Ho Chi Minh to travel to Cambodia.
When is the Best Time to Visit Ho Chi Minh?
The best time to visit Ho Chi Minh City is during the dry season, which runs from November to April. During this time of the year, you can expect wonderfully warm weather, plenty of sunshine and little rainfall. The rainy season in Ho Chi Minh runs from June to August, which is why our tours avoid this time of year.
The Best Things to Do in Ho Chi Minh City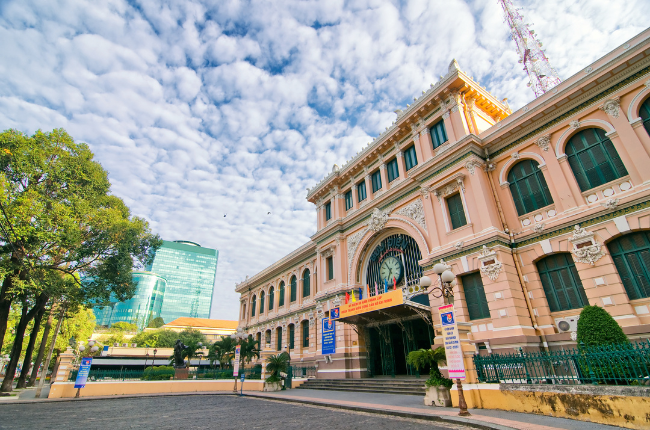 From exploring moving museums that offer a glimpse into the country's turbulent history, to admiring beautiful pagodas that showcase the city's spiritual side, Ho Chi Minh City has something for everyone.
The Top Sights to See in Ho Chi Minh
Here are some of our must-see sights in this vibrant city, many of which are included during our Vietnam tours.
The French Colonial Central Post Office – This iconic building was constructed in the late 19th century and is one of the most well-known landmarks in Ho Chi Minh City. Located in the heart of the city, it's a great starting point for exploring the area. The post office has a beautiful colonial facade, complete with arched windows and a clock tower.
Dong Khoi Street – Stop by this bustling street. Located in the heart of the city, this impressive street cuts through the centre of the historic quarter and is a great place for a stroll. Keep a look out for the enchanting architecture that aligns the street.
Saigon Opera House – Also known as the Municipal Theater, the Saigon Opera House is an architectural gem. Built in 1897, the building boasts a beautiful facade that's reminiscent of the French colonial period. Inside you'll find a grand auditorium that can seat over 470 people.
Saigon River Cruise – Why not take a cruise along the Saigon River? It's a great way to see the city from a different perspective.
Reunification Palace – Formerly known as Independence Palace, this historic building was the site of the end of the Vietnam War when a North Vietnamese tank crashed through the gates in 1975. The building has been preserved as it was during that time, providing visitors with an opportunity to explore the presidential office, living quarters, and war command room.
Tao Dan Park – This peaceful park is located in the centre of Ho Chi Minh City and offers respite from the hustle and bustle of the city. It's a great place to relax and enjoy a spot of people-watching!
Bitexco Financial Tower – This iconic skyscraper is one of the tallest buildings in Ho Chi Minh City and offers stunning views over the city. Take a lift up to the observation deck on the 49th floor and enjoy a drink at the rooftop bar. We recommend visiting in the late afternoon to catch the sunset and avoid the crowds!
People's Committee Building – This historic building serves as the headquarters for the local government and is a beautiful example of French colonial architecture, with a grand facade and clock tower.
Botanical Gardens – The Ho Chi Minh City Botanical Gardens are a great place to escape the city and immerse yourself in nature. The gardens are home to a variety of flora and fauna, including a rare orchid collection.
The Best Temples, Pagodas and Churches to Visit in Ho Chi Minh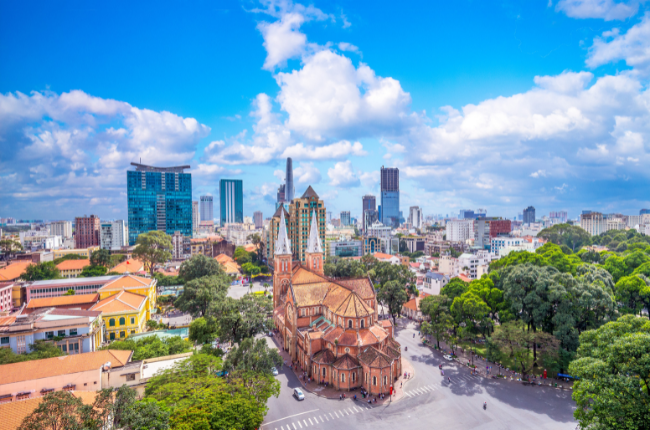 Religion and spirituality are reflected throughout the city thanks to Ho Chi Minh's impressive temples, pagodas and churches. Here are some of our top picks.
Notre Dame Cathedral – This iconic cathedral was built in the late 19th century by French colonists. Its distinctive red brick facade and twin bell towers make it a must-see attraction, which is why it's included in our sightseeing tour.
Giac Lam Pagoda – Dating back to the 18th century, Giac Lam Pagoda is the oldest pagoda in Ho Chi Minh City. It's beautiful architecture and serene atmosphere make it a peaceful escape from the hustle and bustle of the city.
Cao Dai Temple – One of the most unique religious buildings in the city, the Cao Dai Temple is a colourful and ornate temple that combines elements of Taoism, Buddhism, Confucianism and Christianity.
Phoc An Hoi Quan Pagoda – This historic pagoda is located in Ho Chi Minh City's Chinatown and is known for its intricate wood carvings and beautiful decorations.
Jade Emperor Pagoda – This Taoist pagoda was built in the early 20th century and is known for its intricate wood carvings and beautiful statues. It's also home to several resident turtles in the pond outside.
Cha Tam Church – One of the oldest churches in Ho Chi Minh City, Cha Tam was built in the early 19th century by French missionaries. Its beautiful Gothic architecture and stained glass windows make it a popular spot for photography enthusiasts.
The Best Museums in Ho Chi Minh
Head to these museums and gain a captivating insight into Ho Chi Minh's history.
War Remnants Museum – A visit to Ho Chi Minh City is not complete without a trip to the War Remnants Museum, offering a heart-wrenching and moving insight into the horrors of the Vietnam War.
The History Museum – Situated in a beautifully preserved colonial-era building, the History Museum houses an impressive collection of artefacts and exhibits that chronicle the history of Vietnam from prehistoric times to the present day.
The Fine Arts Museum – Located in a grand French colonial building, the Fine Arts Museum showcases a wide range of artwork by Vietnamese artists, including sculptures, ceramics and lacquerware. Definitely one for art enthusiasts!
The Best Restaurants in Ho Chi Minh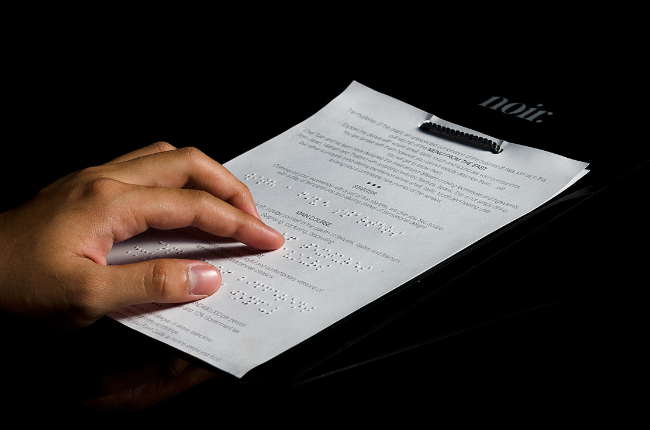 Ho Chi Minh City is a culinary paradise, with a wealth of dining options that cater to every taste and budget.
Noir –

Offering a truly unmissable dining in the dark experience where guests are served a surprise set menu in complete darkness. This sensory adventure is perfect for adventurous foodies and is an unforgettable experience that's available as an optional excursion on our

Vietnam tours.
Hum – This beautiful and affordable restaurant, located just a one-minute walk from the War Remnants Museum, offers a delicious vegetarian menu that even meat lovers will enjoy. The restaurant's signature dish is the Banh Xeo, a crispy pancake filled with fresh veggies and tofu.
Cục Gạch Quán – Housed in a charming old Vietnamese house, the menu features traditional Vietnamese cuisine, with dishes like clay pot fish and grilled pork served with rice noodles. Prices are reasonable too.
Å by Tung – If you're looking for a high-end dining experience, Å by Tung is the place to go. This modern Vietnamese restaurant is helmed by Chef Tung, who has worked in Michelin-starred restaurants in Europe. The menu features beautifully presented dishes that showcase the best of Vietnamese cuisine. Always book ahead.
Shri Restaurant & Lounge – Located on the 23rd floor of the Centec Tower, Shri Restaurant & Lounge offers stunning views over the city skyline. The menu features international fusion cuisine and can be enjoyed on the outdoor terrace.
Day Trips from Ho Chi Minh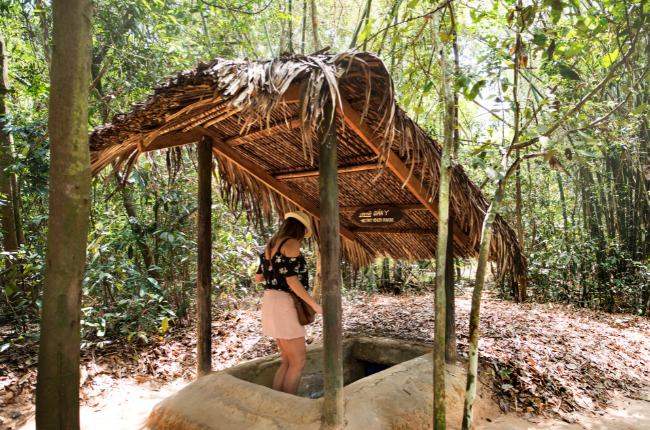 One of the most popular day trips from Ho Chi Minh is the Cu Chi Tunnels, a network of underground tunnels used by the Viet Cong during the Vietnam War. It's an essential experience that provides a glimpse into the life of the soldiers who fought in the war.
A visit to Cu Chi tunnels is included in all of our Vietnam tours. As part of our day, we will also visit the Ho Chi Minh Agricultural Village and take part in a traditional Vietnamese cooking class.
Where to Go From Ho Chi Minh
Ho Chi Minh City is a vibrant destination with something for everyone. Are you ready to explore French colonial architecture, visit stunning temples and pagodas, experience moving museums, and enjoy delicious Vietnamese cuisine? Ho Chi Minh promises an opportunity to create memories that last a lifetime.
Your journey around Vietnam and Asia doesn't have to stop at Ho Chi Minh City. Why not pay a visit to Cambodia and join our Very Best of Vietnam and Cambodia Tour? The Mekong Delta also awaits, with a 3-night holiday extension available.
Did you know we also offer other tours across Asia? Visit our Sri Lanka or India tour pages for more information.