Ha Long Bay is a stunning natural attraction nestled along the coastline of Vietnam, stretching over 1,500 square km. Characterised by its emerald green waters, impressive limestone karsts, and picturesque small islands, the bay is also a UNESCO World Heritage site – making it one of the most popular tourist destinations in the country.
The name "Ha Long" translates to "Descending Dragon" in Vietnamese. According to local legend, the bay was formed by dragons who came down from the mountains and created the islands with their tails!
One of the best ways to explore Ha Long Bay is by cruise, which is why we offer a 2-night cruise during our Highlights of Vietnam Tour and Very Best of Vietnam & Cambodia Tour – aboard the Au Co Cruise.
In this guide, we will delve into the wonders of Ha Long Bay, discovering what it's like to take a cruise and also uncovering some of the best things to do in Ha Long Bay.
What to Expect on a Ha Long Bay Cruise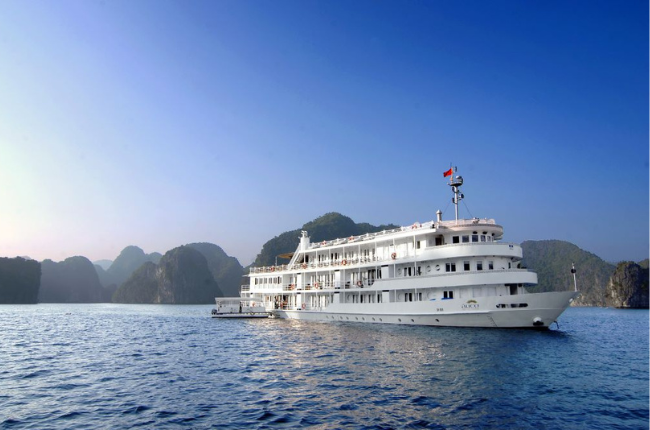 Embark on a cruise aboard the Au Co with Distant Journeys, as we sail the shores of the magnificent Ha Long Bay. Our 3-day, 2-night cruise is a one-of-a-kind experience.
With a maximum of 66 guests, the cruise offers an intimate journey through one of the world's natural wonders. Aboard the ship, spacious cabins with a private balcony await, allowing you to witness the scenery throughout your stay. Before sunset, head up to the sundeck and take in the postcard panoramic views.
Our Ha Long Bay cruise is also inclusive of onboard activities designed to enrich your experience.
Tai Chi Lesson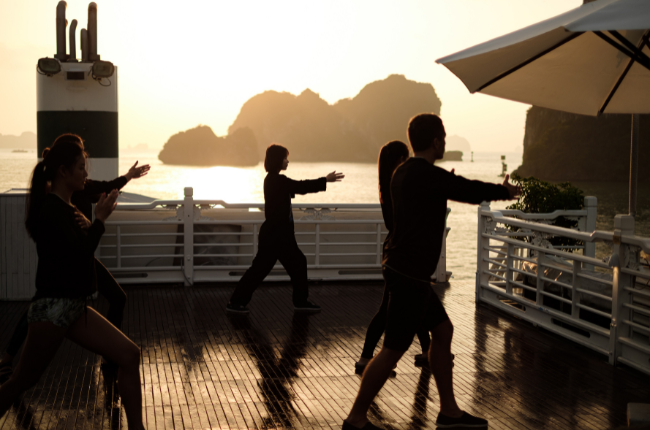 You'll have the opportunity to rejuvenate your mind and body with a Tai Chi class on the sundeck. It's an ideal way to start the day before a busy day of exploration. Engage in this gentle martial art form that promotes stress release and improves strength and flexibility.
Visiting Viet Hai Village
As we reach the shores of Cat Ba Island, an exciting adventure begins with a short bike ride as we make our way to the charming Viet Hai Village. Nestled in the heart of Cat Ba National Park, this picturesque village offers a unique opportunity to immerse ourselves in the authentic community life of this captivating region.
We'll have the chance to witness the stunning natural beauty that surrounds Viet Hai Village. The village itself exudes a tranquil ambience, providing a glimpse into the daily lives and customs of its residents. We'll even meet some of the friendly locals who call this place home.
These experiences are just some of the unforgettable activities and excursions you could enjoy aboard the Au Co with Distant Journeys. There will also be an opportunity to enjoy an ethnic costume show and a traditional tea ceremony on board.
The Best Things to Do in Ha Long Bay
Get Out and Explore
One of the most thrilling aspects of a cruise in Ha Long Bay is truly immersing yourself in the natural beauty of the area. From trekking through lush forests and climbing panoramic viewpoints to navigating tranquil waters, these adventures provide an up-close and personal experience of the bay's breathtaking landscapes. Exploring the wonders of Ha Long Bay through these activities will undoubtedly leave you with unforgettable memories and a deep appreciation for its natural splendour.
Visit Cua Van Floating Village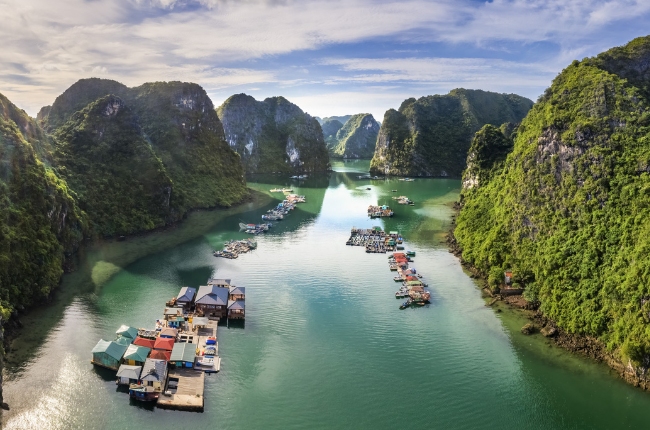 A visit to Cua Van Floating Village is a must for those seeking a unique cultural experience in Ha Long Bay. This charming fishing village is home to a vibrant community of locals who live harmoniously on the water. Take a boat ride through the village, marvel at the stilt houses, and witness the daily routines of the villagers as they go about their lives.
Take a trip to Cat Ba Island
Cat Ba Island and Viet Hai Village are undoubtedly two highlights of our 3-day cruise. Cat Ba is the largest island in Ha Long Bay, offering a treasure trove of natural beauty that is not to be missed.
Visit Lan Ha Bay
Explore Lan Ha Bay's breathtaking beauty by taking a boat tour, kayaking through its calm waters, or simply lounging on a pristine beach. Lan Ha Bay is an idyllic destination for swimming, snorkelling, and other water activities, with its crystal-clear waters teeming with glimpses of marine life.
Explore Trinh Nu Cave & Sung Sot Cave
Ha Long Bay is renowned for its stunning caves, and two notable ones that deserve a visit are Trinh Nu Cave and Sung Sot Cave. Trinh Nu Cave boasts intricate stalactite and stalagmite formations and a serene atmosphere that captivates visitors. Sung Sot Cave is the largest Cave in Ha Long Bay, and its impressive rock formations are lit by multicoloured lights, highlighting its natural beauty.
Discover the Unparalleled Beauty of Ha Long Bay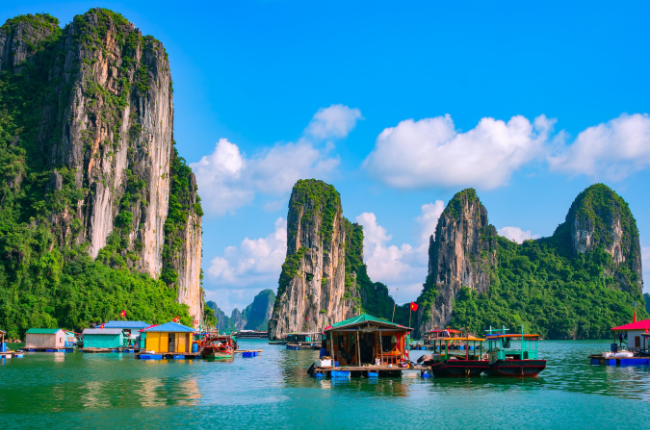 Ready to set sail? Ha Long Bay is an absolute must-see destination when travelling to Vietnam, and embarking on a cruise Is the best way to fully experience its wonders.
With Distant Journeys, you'll have the opportunity to enjoy an unforgettable 2-night cruise aboard the Au Co, a luxurious and intimate ship accommodating just 66 guests.
Our Ha Long Bay Cruise is included in our Highlights of Vietnam and Very Best of Vietnam and Cambodia tours. Many of the once-in-a-lifetime experiences mentioned in this guide are also included, from a trip to Tinh Nu Cave to exploring Cat ba Island.
Don't miss the chance to explore this natural marvel and embark on an extraordinary journey through Ha Long Bay with Distant Journeys.