As the capital city of Cambodia, Phnom Penh is a vibrant and lively metropolis that exudes the charm of old Asia, with remnants of its colonial past still visible throughout. It's a destination that offers a unique and memorable travel experience.
Located on the banks of the Mekong River in southern Cambodia, Phnom Penh has undergone significant transformation in recent years and is popular with travellers from all over the world taking a tour of Cambodia.
In this guide, we will take you on a journey through the best things to do in Phnom Penh, from the must-see historical sites to the hidden gems that only locals know about.
All About The Capital of Cambodia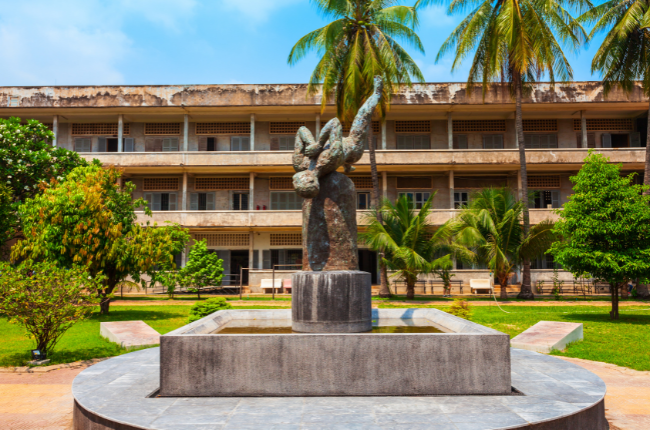 As you explore the city, you will be struck by the mix of ancient and modern architecture, with ornate pagodas and French colonial buildings sitting alongside modern skyscrapers. The streets are alive with the buzz of motorbikes, tuk-tuks, and street vendors selling everything from fresh fruit to handcrafted souvenirs.
Phnom Penh is a city full of contrasts. You can spend your morning exploring the stunning Royal Palace and opulent Silver Pagoda, and your afternoons at the Tuol Sleng Genocide Museum and the Killing Fields, learning about the harrowing yet important history of the Khmer Rouge.
Phnom Penh is a city that has something for everyone and it's a great place to start your Cambodian adventure.
How to Pronounce Phnom Penh?
Although it might seem a little tricky at first, Phnom Penh is pretty simple to pronounce. Phnom Penh is pronounced as "puh-nom pen" – the trick is to emphasise the last syllable "pen".
Khmer is the official language of Cambodia and you can learn some useful phrases in our Cambodia Travel Guide.
Where is Phnom Penh?
Phnom Penh is ideally located in the heart of Cambodia, making it an ideal base for exploring the rest of Cambodia's popular destinations. During our Very Best of Vietnam and Cambodia Tour, we spend one unforgettable night in Phnom Penh before embarking on our next adventure in Siem Reap.
Siem Reap, home to the world-famous Angkor Wat temple complex, is located in the north of Cambodia and is one of the country's most popular destinations.
The Best Things to Do in Phnom Penh
Phnom Penh is a city packed with chilling history and captivating culture, offering visitors plenty to see and experience. From exploring the beautiful temples to learning about the country's harrowing past, there is something for everyone in this exciting city. Here are some of the best things to do in Phnom Penh.
The Royal Palace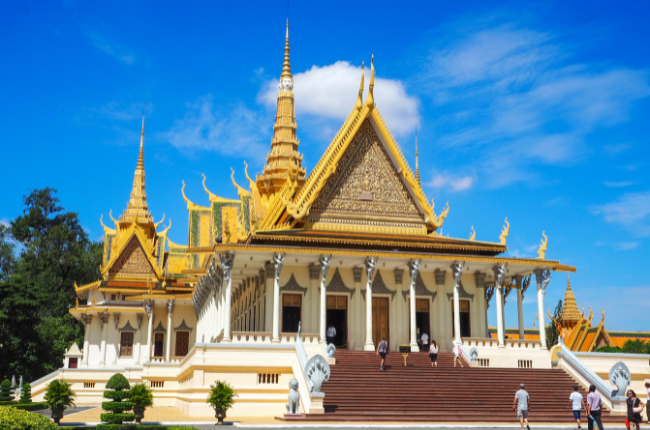 The Royal Palace is one of the most iconic landmarks in Phnom Penh. Located in the heart of the city, the palace is a stunning example of traditional Khmer architecture and houses the official residence of the King of Cambodia. Visitors can explore the palace grounds, admire the intricate design and architecture, and learn about the country's royal history. The Silver Pagoda, located within the palace complex, is a must-see attraction that also features on our tour and boasts an impressive floor made entirely of silver tiles. This is the first stop in Cambodia on our Very Best of Vietnam and Cambodia Tour.
The Killing Fields of Choeung Ek
Located just outside the city, the Killing Fields of Choeung Ek is another site that offers insight into Cambodia's tragic history. This former orchard was turned into a mass grave for thousands of people during the Khmer Rouge regime, and visitors can learn about the events that took place here while paying their respects to the victims.
The Central Market (Phsar Thmey)
For a taste of local life, visitors should head to the Central Market, also known as Phsar Thmey. This bustling market is a great place to shop for souvenirs, sample local cuisine, and soak up the vibrant atmosphere of Phnom Penh.
Tuol Sleng (S-21)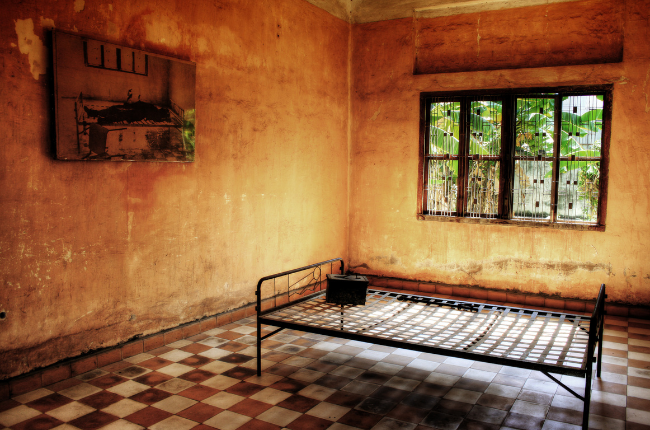 For a sobering glimpse into Cambodia's tragic history, visitors should visit Tuol Sleng, also known as S-21. This former high school was turned into a prison centre during the Khmer Rouge regime, and thousands of people were held and tortured there. Today, the site is a museum that tells the story of Cambodia's dark past and honours the victims that suffered.
National Museum of Cambodia
For those interested in learning more about the country's rich history and culture, the National Museum of Cambodia is a must-visit attraction. The museum houses a vast collection of artefacts and exhibits that showcase Cambodia's ancient and modern history.
The Riverside Area (Sisowath Quay)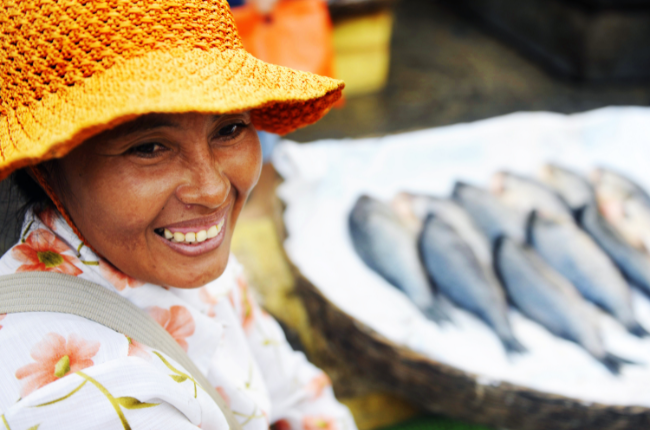 The Riverside Area, also known as Sisowath Quay, is a bustling 3km promenade that runs along the banks of the Mekong River. Visitors can take a leisurely stroll, sample street food, and soak up the vibrant atmosphere of this lively part of the city.
Wat Phnom
Located in the heart of the city, Wat Phnom is the tallest religious structure in Phnom Penh and a must-see attraction. Visitors can climb the steps to the top of the hill to enjoy stunning views of the city and admire the ornate architecture of the temple.
Wat Langka
For a peaceful escape from the hustle and bustle of Phnom Penh, we recommend a trip to Wat Langka. This serene temple is known for its beautiful murals and intricate carvings. It's a great spot to take a break, meditate and enjoy the tranquil surroundings.
Wat Ounalom
As the oldest and most important Buddhist temple in Phnom Penh, Wat Ounalom is a must-see attraction for visitors interested in the country's religious history. The temple houses a collection of ancient Buddhist texts and artefacts, as well as a stupa containing the ashes of the former patriarchs of the Cambodian Buddhist order.
The Best Places to Eat in Phnom Penh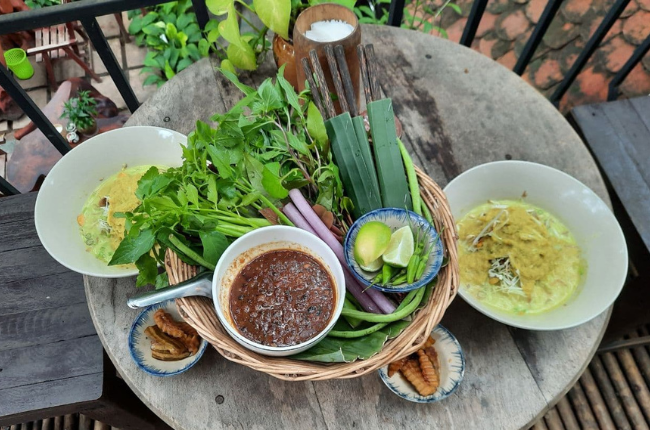 Cambodia's cuisine is as vibrant and diverse as its culture, and Phnom Penh is no exception when it comes to delicious dining options. Here are a few of our favourite places to eat in the city.
Khéma Restaurant Pasteur
Doubling up as a French-style restaurant and delicatessen, Khéma Restaurant Pasteur is a renowned eatery dedicated to serving fine food without any fuss. Expect a cosmopolitan atmosphere, impressive dishes and a surprisingly affordable menu. Their deli also produces a range of fresh bread, cakes and pastries.
La'Baab Restaurant
This trendy restaurant offers a fusion of Cambodian and Western cuisine in a rustic yet cosy setting. From tasty appetisers to delicious main courses, La'Baab is perfect for a romantic dinner or a night out with friends. Expect delicious fish soups, curries and fermented flavours throughout the menu.
La Pergola
At La Pergola, Khmer spices and herbs are combined with French tradition to create an unforgettable culinary experience. We recommend a seat above the Lotus Pond on their open-air terrace. Dinner is served from 6 pm.
The Attic
Located in the attic of a historic colonial building, this elegant bar and restaurant is renowned for its selection of fine dining, unique cocktails and engaging bartenders. If you're looking to create unforgettable memories in Phnom Penh, it's certainly a must-visit.
Learn more about the food and drink scene in Cambodia with our What to Eat in Cambodia Guide.
Experience Phnom Penh and Siem Reap to the fullest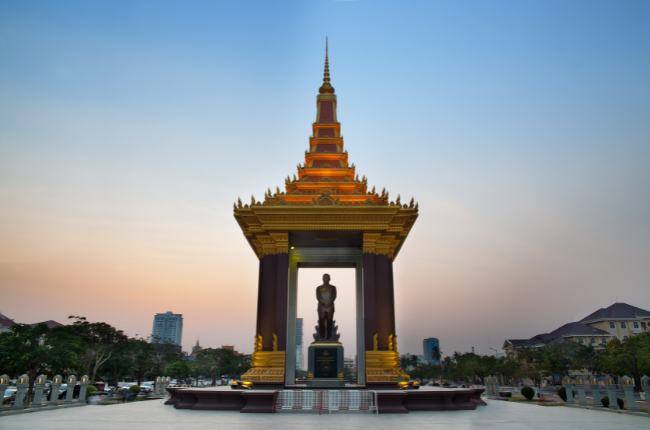 If you're ready to explore all that Phnom Penh has to offer, from the city's colonial past to its modern-day vibrant atmosphere, why not take a tour with Distant Journeys?
There is so much to experience in Phnom Penh, and a great way to see the best of Cambodia is with an expertly-crafted guided tour.
During our Very Best of Vietnam & Cambodia Tour, we spend 1 action-packed day in Phnom Penh before exploring Siem Reap in the northern part of Cambodia. As with all of our tours, many amazing experiences are included throughout – including visits to Tuol Sleng, The Killing Fields and The Royal Palace. You might even choose to embark on a private tour for a more intimate experience.
Learn more by visiting our Vietnam and Cambodia page.