Japan's rich history blends seamlessly with its modern-day infrastructure, making the East Asian country one of the most fascinating destinations in the world for travellers. A plethora of temples, shrines and ancient castles offer a glimpse into the country's captivating past, while a ride on the world's fastest bullet train will transport you to a futuristic land of opportunities.
In our Japan travel guide, we'll explore all there is to know about the Land of The Rising Sun. We'll dive into the must-see attractions and the best time to visit Japan. We'll also help you learn some basic Japanese phrases to try out during your Tour of Japan.
Is Japan Open for Tourism?
As of 11 October 2022, Japan has finally reopened its borders after the coronavirus outbreak and travellers can now enter Japan as they did before the pandemic. We recommend all travellers stay up to date with the Government's guidance when it comes to travelling to Japan, but we've also outlined the current rules below:
Those who are triple vaccinated can enter without presenting a negative PCR test.
Those who are not vaccinated must present a negative PCR result within 72 hours of flying.
Visitors must fill out their information on the MySoS app or website prior to travelling.
For travellers joining Distant Journeys on a Tour of Japan, please get in touch should you have any questions regarding entry requirements.
Mask rules in Japan
There are no rules around wearing masks in Japan. In fact, the Japanese government only ever released guidance on mask wearing relating to coronavirus. However, masks were common practice before the covid-19 outbreak and many locals are still wearing them today to prevent the spread of disease. It's respectful to wear masks on public transport in Japan and indoors where social distancing isn't possible.
When is the Best Time to Visit Japan?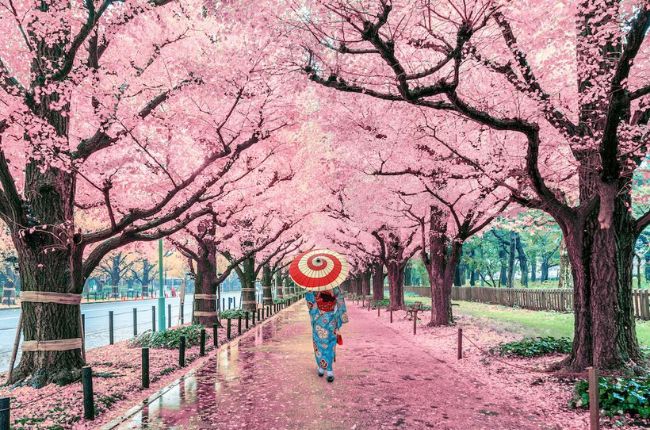 Spring and autumn are widely considered the best times of the year to visit Japan, which is why we operate our tours from March to May and September to October. The mild temperatures of spring and early autumn make it ideal for sightseeing and the crowds are much smaller compared to the summer months.
During spring, Japan is a colourful and vibrant country thanks to its picturesque cherry blossom trees. The best time to see cherry blossom is late March or early April when the sakura is at its peak. The weather in Japan is also mild during the spring months, making it possible to travel with a light jacket.
Come September, flocks of tourists depart Japan after the busy summer months. The summer heat is now just a distant memory and autumnal leaves begin to transform parks into lively shades of red and orange. Autumn truly is a beautiful time of year to visit Japan.
The Best Places to Visit in Japan
From Kyoto to Tokyo, Nara to Osaka, there's an abundance of impressive places and sights to see across Japan. Touring Japan offers the opportunity to explore bustling neighbourhoods from one city to the next, sampling micro cultures and local delicacies along the way.
Three of the best cities to visit in Japan include Tokyo, Kyoto and Osaka – all of which can be enjoyed as part of our 20-day The Very Best of Japan Tour. Popular attractions include Sensoji temple in Tokyo and UNESCO World Heritage Site Kinkaku-Ji Temple in Kyoto. A trip to Japan wouldn't be complete without a once-in-a-lifetime trip to Mount Fuji and its stunning lakes.
To discover Japan's must-see sights and cities further, browse our location guides below:
Basic Japanese Phrases You Need to Know
Exploring Japan can sometimes seem a little daunting for Western visitors due to the language barrier. Although English is widely spoken in Japan, learning a few basic Japanese phrases can really go a long way. Here are a few handy phrases to start with:
Konnichiwa (こんにちは) – Hello
Hai (はい。) – Yes
Lie (いいえ。) – No
Arigatō (ありがとう。) – Thank You
Sumimasen (すみません) – Excuse Me
Ima Nanji Desu ka? (今何時ですか) – What Time Is It Now?
Ohayō Gozaimasu (おはようございます。) – Good Morning
Konbanwa (こんばんは。) – Good Evening
O-yasumi Nasai (おやすみなさい。) – Good Night
Dono Densha? (どの電車?) – Which Train?
Japan Etiquette Rules to be Aware Of
Japan is well-known for its polite culture. The Japanese are incredibly warm and welcoming to tourists, and they do understand that travellers don't always understand etiquette rules. However, much like the language, it's always a good idea to get to grips with the basics before travelling. Here are a few must-know Japanese customs and etiquette rules:
Always be polite and say thank you (Arigatō).
Be quiet on public transport. It's widely considered rude to shout on a quiet train.
Ensure you're never late for a restaurant booking. Punctuality is key in Japan.
Don't ask for off-menu items or to make changes to any dishes in a restaurant.
Always use your chopsticks properly, making sure you never point them at someone else.
Follow water purification rituals when entering Shrines.
Watch out for taxi doors! These are often automatic and your taxi driver will open and close the door for you.
Follow covid mask etiquette. Although not necessary, it's polite to wear a mask in Japan at present.
Bow politely. Bowing is a common greeting across Japan. You can bow to greet, nod, say thank you or apologise to someone. To bow properly, simply bend your head and back in a straight line.
What's the Time Difference Between Japan and the UK?
Japan is 9 hours ahead of the United Kingdom (GMT+9). The time zone in Japan is known as Japan Standard Time.
Are You Ready to Explore Japan?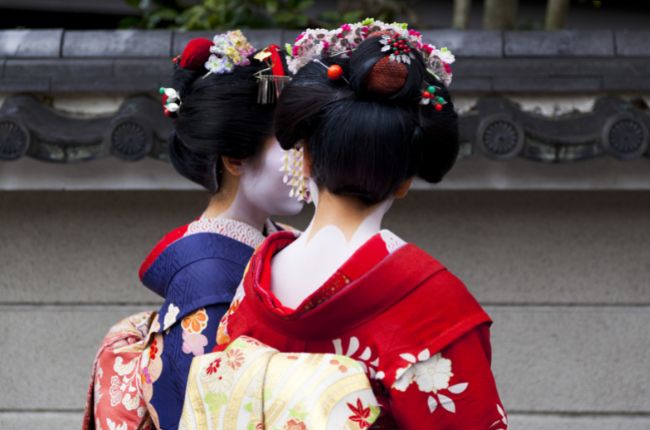 Japan is a country of impressive innovation, culture and passion. One thing for certain is you'll never be short of things to see and do in Japan on your travels. The warm hospitality, friendliness and politeness of the Japanese is also widely recognised, making it a travellers paradise.
If you're ready to explore all that Japan has to offer, why not take a 20-day tour with us at Distant Journeys?
Our guided Japan tours are a great way to explore the country in the safe and knowledgeable hands of a local guide. There are plenty of amazing experiences included too, from sushi making and miso museums to exploring Japan's plethora of UNESCO World Heritage Sites. We'll also ride the Bullet Train, enjoy a traditional Maiko (apprentice geisha) performance and stay at some of the most popular hotels across the country. As with all of our tours, return flights and many meals are included throughout. Book your Very Best of Japan Tour today.