Tokyo is a bustling city of culture, passion and innovation. The Japanese metropolitan capital offers an enchanting adventure for travellers taking a tour of Japan whether you're looking to explore hidden gems or lose yourself in traditional Japanese culture.
When you think of Tokyo, you might picture the city's iconic landmarks, tree-lined streets and world-renowned transport system – but Tokyo has so much more to offer!
In this guide, we'll help you discover the best neighbourhoods to visit in Tokyo, from the colourful Harajuku district to the bustling Shibuya – home of the famous scramble junction.
The Best Neighbourhoods in Tokyo to Visit
Tokyo is renowned for its diverse collection of neighbourhoods. The scenery changes from one district to the next, which is what makes Tokyo so unique. From its traditional neighbourhoods steeped in history to modern-day fashion districts, there really is something for everyone.
Shibuya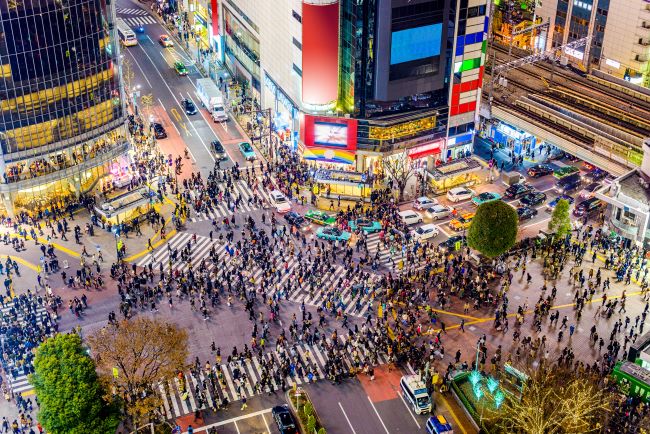 Famous for its scramble junction, the Shibuya Crossing, this neighbourhood is a bustling commercial and financial centre that's a must-visit in Tokyo. There's a real buzz and energy about the area, with a constant flow of people passing through. The Shibuya Crossing junction is actually one of the busiest in the world!
However, there's more to Shibuya than meets the eye. The shopping scene is a fashion-lover's paradise during the day, while the neighbourhood really comes alive at night with its abundance of karaoke bars, theatres and live music venues.
Top attractions: Shibuya Crossing, Shibuya Station and The statue of Hachikō.
Harajuku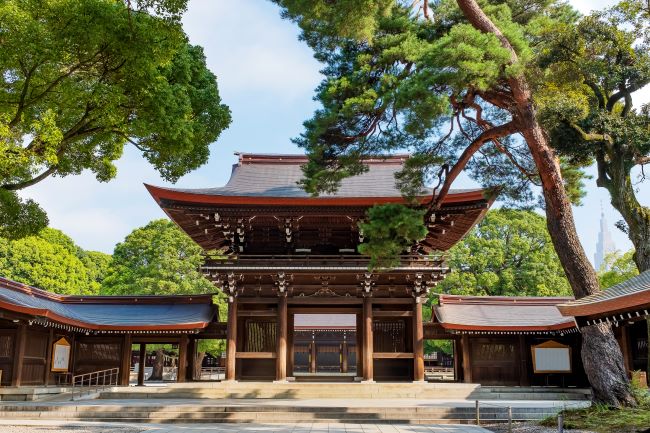 Harajuku is a district within Shibuya that's renowned for its colourful street art, catwalk-like presence and independent vintage clothing. It's also home to the 20th-century shrine, Meiji-jingū – one of Tokyo's most popular attractions – and a number of themed cafes.
Evident from the popular shopping street, Takeshita-dōri, Harajuku has a youthful vibrancy about it. The area is lined with popular fashion retailers from Japan and beyond, nestled amongst the neighbourhood's independent fashion boutiques, making it one of the best places to visit in Tokyo for those who want to shop and be seen.
Top attractions: Meiji Shrine, Yoyogi Park and Takeshita-dōri (Takeshita Street).
Shinjuku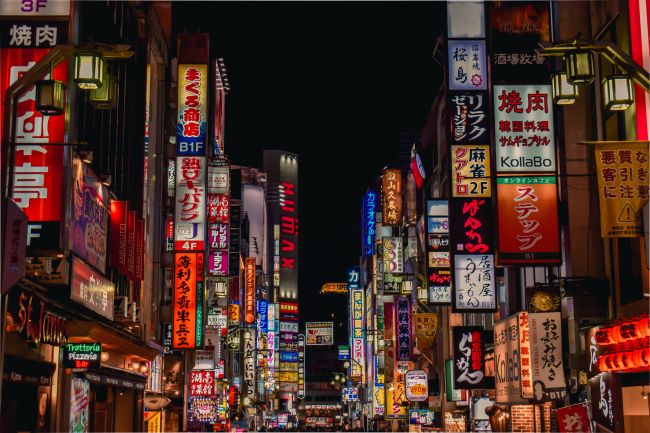 Shinjuku is well known for its restaurants, clubs and bars. In fact, there are over 300 in the district alone! It's also home to the National Stadium, a high-tech area that was built for the 2020 Tokyo Olympics.
Come sunset, Shinjuku transforms into a futuristic city of neon. It's the perfect destination for bar hopping, with bar after bar lining the neon-lit streets. If sampling the local nightlife is your thing, Shinjuku is the place to be.
Top attractions: Tokyo Metropolitan Government Building, Shinjuku Gyoen National Garden and Shinjuku Golden Gai.
Nakameguro
Searching for a sense of calm amongst the hustle and bustle of Tokyo? Nakameguro offers just that. The residential district is renowned for its quiet paths, boutique cafes and hanami (cherry blossom viewing).
In the spring, cherry blossom trees pave the way to indie book shops, art galleries and museums. Tucked away from the main streets, you'll find trendy coffee roasters, craft beer taprooms and gastropubs popular with locals and tourists alike. Nakameguro is the place to be if independent Tokyo sounds like your scene.
Top attractions: Hanami (cherry blossom viewing) and Yūtenji temple.
Monzen-Nakacho
Part of Tokyo's old downtown, Monzen-Nakacho is a hipster's paradise! Think coffee shops, natural wine bars and an abundance of rich history. This quirky neighbourhood is often neglected by the guidebooks, but it offers a real sense of nostalgia with its tiny bars and quaint streets.
You'll find a few pieces of history in the district too, including the Tomioka Hachimangu Shrine which was founded in 1627. The shrine even has a long-established connection to sumo, holding one of Japan's first sumo events!
Top attractions:Blue Bottle Coffee, Fukagawa Fudoson Temple and Tomioka Hachimangu Shrine.
Shimokitazawa
Often dubbed the hip cultural quarter of Tokyo, Shimokitazawa is a neighbourhood renowned for its mural-painted lanes, bohemian clothing stores and craft breweries. Bakeries, bistros and bookstores also line its streets, offering a laid-back yet atmospheric experience.
Shimokitazawa is located in the southwestern corner of the Kitazawa district. The area really comes alive around midday, making it a great place to visit for a late lunch and a spot of vintage shopping.
Top attractions: Honda Gekijō theatre and various vintage shopping streets.
How to Get Around Tokyo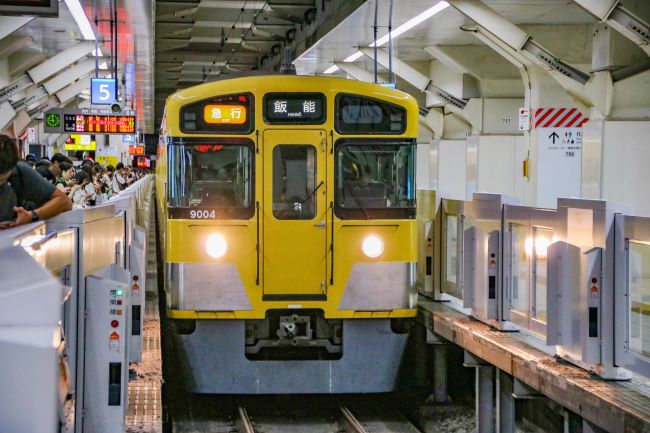 Tokyo is world-renowned for its public transport system, but what's the best way to get around Tokyo and explore the city's diverse neighbourhoods?
For a metropolitan area that spans more than 5000 square miles, Tokyo's public transport system is amongst the cleanest, safest and most reliable in the world. Taxis are known to be expensive, so public transportation is one of the easiest and most affordable ways to get around.
Subway
The subway system has 13 lines in total, making it simple to get around Tokyo. Imagine you're looking to take a 6-mile trip from Shinjuku City to Monzen-Nakacho, this would take around 2 hours to walk. Hop on the Shinjuku Line for a short, 30-minute journey across Tokyo at a cost of just ¥280 – that's less than £1.80 for a journey across the city.
A prepaid Suica or Pasmo card will help you make simple payments and top-ups when using the subway. These travel cards work on all trains, subways and buses across Tokyo and can also be purchased from touch-screen vending machines inside the stations. You can even order a Suica card to pick up at the airport.
You'll need to deposit them with ¥500 to start with, topping up as you travel around.
Train
The most useful train line for travel around Tokyo is the JR Yamanote Line, also known as the Loop Line. The JR Yamanote Line connects most of Tokyo's major hubs (aside from Roppongi and Akasaka). You can use your Suica or Pasmo travel cards to navigate the train network, or if you prefer you can purchase a single fare.
Taxi
Taxis in Tokyo are expensive but incredibly safe and efficient. If you would prefer to travel by taxi, you can flag one down or wait at a taxi rank. It typically costs around ¥3,500 (approx £21) to cross Tokyo in a taxi from Tokyo Station to Shinjuku Station.
Ready to take on Tokyo?
Tokyo is a vast city with so many diverse neighbourhoods just waiting to be explored. If you're thinking about planning a trip to Tokyo, have you considered a Guided Tour of Japan Our guided tour visits Tokyo's most popular attractions, all in the safe and knowledgeable hands of a local guide.
Our 20-day tour of Japan showcases the very best of the country, starting with 3 nights in Tokyo before heading to Lake Yamanaka and 13 other unmissable destinations across Japan. Explore our Very Best of Japan Tour for more details.