Tokyo, the bustling capital of Japan, is a city like no other. The city has a rich history dating back to the Edo period, meaning there are plenty of impressive sights to see. Tokyo is also one of the world's most pioneering cities, developing modern, state-of-the-art facilities for its 13.99 million residents.
There are so many things to see and do in the city, from exploring historical sights to marvelling at modern-day masterpieces. Here are some of our favourite things to do in Tokyo, including experiences not to be missed and must-see sights. You might also like our guide to the best neighbourhoods in Tokyo.
Fun Things to Do in Tokyo: Experiences Not To Miss
When you're visiting a city like Tokyo, there are so many experiences to be had. To help you decide, we've hand-picked some of the best activities to enjoy throughout the year.
Join a Sushi Making Class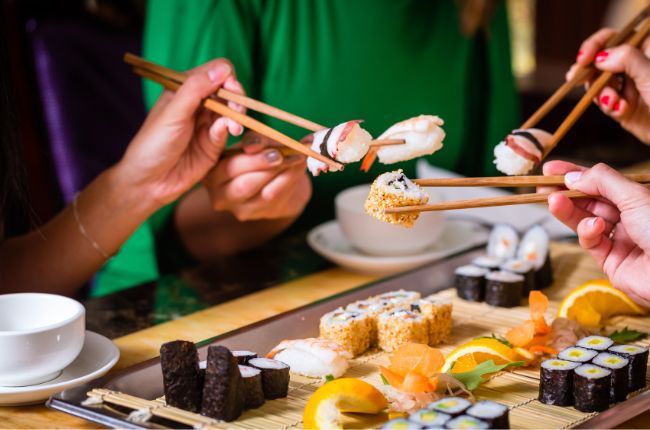 Sushi in Japan was first referenced back in 718. Fast forward to 2022 and sushi is now popular all over the world – but there's nothing like making your own sushi in the city of Tokyo. During our 20-day The Very Best of Japan Tour, we'll visit a local sushi restaurant in Tokyo and learn how to make this famous dish the authentic way.
Watch Sumo Wrestling in Tokyo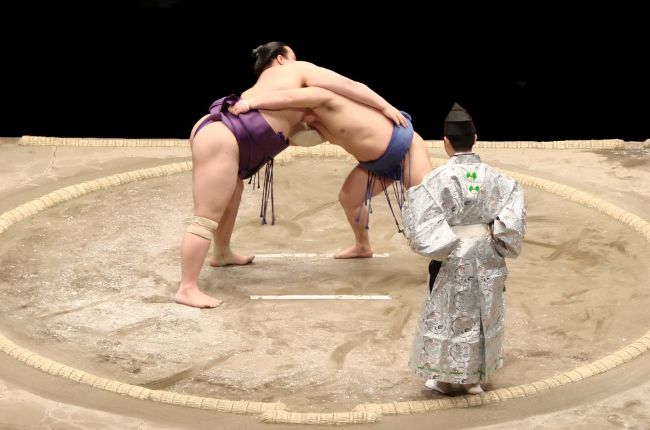 The ancient sport of sumo originated in Japan and is even considered a national sport. Many of its ancient traditions are still preserved today, including the use of salt purification from Shintoism. Tournaments are held throughout January, May and September in Tokyo.
Relax in a Tokyo Sento
A sento is a bathhouse offering a sense of calm amongst Tokyo's constant flurry of activity. Communal bathing is a practice that has been custom in Japan since the Edo period, and there are over 500 sento's across Tokyo offering a completely unique experience.
You can expect communal bathing, hot-water baths and herb-infused tubs – all for a small fee of ¥500 (around £3).
When to See Cherry Blossom Season in Tokyo
If you're visiting Japan in spring then you're in luck! Cherry blossom fever grips Tokyo from late March to early April. You'll have a couple of weeks to experience the magic of cherry blossom season (Sakura) in Tokyo. Cameras at the ready!
Watch a Kabuki Show!
Kabuki is a classical form of dance-drama dating back to 1603 that now holds prestigious UNESCO Cultural Heritage status. There are many places to watch a Kabuki show in Tokyo, including the Kabukiza Theatre and Heisei Nakamuraza Theatre.
The Best Sights to See in Tokyo
Here are some of the most popular sights to see in Tokyo during your trip.
Sensoji Temple
Tokyo is home to hundreds of temples but Sensoji Temple is the oldest in the city. This ancient Buddhist temple is located in the Asakusa district of Tokyo and is an important centre of worship. Its history dates back to 645, over 1400 years ago, and today offers a glimpse into Japan's Buddhist roots.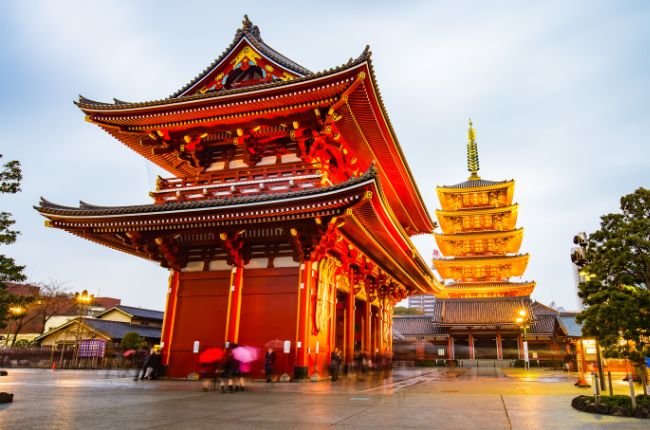 Take in the Views at Tokyo Tower
Inspired by the Eiffel Tower, Tokyo Tower is a bright orange and white structure that was built in 1958. You can climb the tower to visit one of two observation decks, offering panoramic views over the city.
Meiji Jingu Shrine
This impressive Shinto shrine is located in the Shibuya district of Tokyo and is dedicated to Emperor Meiji. At a first glance, it's easy to see why it's one of Tokyo's most popular attractions. Tour the gardens, admire the outstanding architecture and take in a little piece of Shinto history.
Shibuya Crossing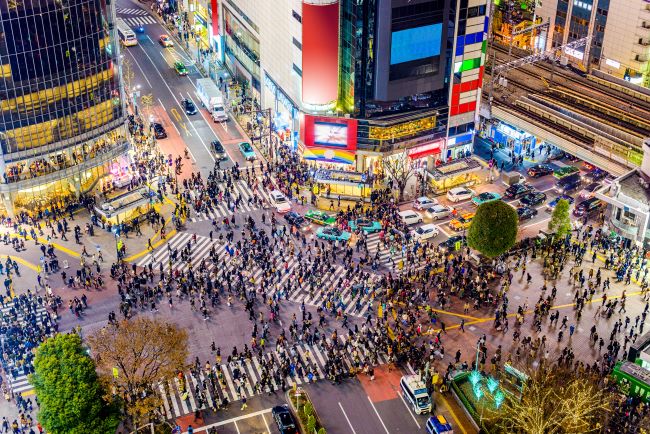 Located in the heart of the Shibuya District, the Shibuya Pedestrian Crossing is well-known around the world. You might even recognise it from a film or two. The busy crossing is one of the best places to absorb the hustle and bustle of Tokyo.
Shinjuku Gyoen National Garden
A serene spot for a stroll and a picnic. After a trip to Shibuya Crossing, you might want to seek out a sense of calm at Shinjuku Gyoen National Garden. The gardens are open to the public, offering beautiful landscaping, paved walkways and over 20,000 cherry blossom trees.
Tokyo National Museum and Ueno Park
Tokyo National Museum is home to a wide variety of Japanese art, from paintings and sculptures to oriental art and historical materials. Often Tokyo's most popular museum, there's also an opportunity to stroll through the beautiful Ueno Park afterwards (an attraction in its own right).
Kyu Asakura House
Kyu Asakura House is a traditional residence located in the heart of Tokyo. The villa is famous for its typical Taisho architecture, traditional room arrangements and picturesque Japanese garden.
Akihabara
An impressive sight to behold! Akihabara is a major shopping and electronic district popular with locals and travellers alike. Experience the very best of Japanese culture, including otaku, anime and manga. There are even a few maid cafes that line the streets of Akihabara.
Some of the Best Bars and Restaurants in Tokyo!
A trip to Tokyo wouldn't be complete without sampling the finest local foods and experiencing the nightlife. Whether you're looking for budget-friendly food or fine dining, here are some of our top picks.
Ise Sueyoshi
Ise Sueyoshi is an extraordinary restaurant famous for its Japanese cuisine. You can expect the finest local and seasonal ingredients to convey the traditional flavours of Japan. There are only 5 seats at the counter and 6 tables in total, so make sure to reserve ahead.
Yakumo Saryo
This traditional teahouse offers a mindful dining experience in the centre of Tokyo. Yakumo Saryo's breakfast menu features a variety of teas, sun-dried fish, rolled omelettes and seasonal wagashi. In the evening, enjoy a seasonal set menu from the chef.
Golden Gai Area
Golden Gai is an area of Shinjuku that's famous for its narrow alleyways, rustic restaurants and cocktail bars. It's an area well worth experiencing, even for a stroll through. The area tends to get busy from 8 pm onwards, with locals and even celebrities frequenting the down-to-earth area.
Azuki to Kouri
Azuki to Kouri is a popular shaved ice bar ideal for anyone with a sweet tooth. The cafe serves famous desserts made from blocks of ice, turning them into sweet and fluffy treats. It truly is a work of art.
New York Bar and Kozue
Located on the 42nd floor of Tokyo's Park Hyatt hotel, this modern bar offers some of the best views over Tokyo. Take in the views over Shinjuku as you sip on a specially made cocktail. You can also enjoy Kozue, a renowned seafood restaurant on the 40th floor.
Explore all that Tokyo has to offer
Tokyo is undoubtedly an impressive city with so many historical and modern-day sights to see. If you're thinking about visiting Japan's capital, why not take a Guided Tour of Japan?
Our guided tours explore some of Tokyo's most popular attractions, with a helping hand from our knowledgeable guides. Many of the amazing experiences mentioned in this article are also included in our 3-day Tokyo trip, including a sushi-making class!
Browse our Very Best of Japan Tour to learn more.