Osaka is Japan's second-largest metropolitan area after Tokyo – but despite its crowds, the city offers a charming and relaxed atmosphere for tourists.
Osaka is renowned for its exciting nightlife, authentic cuisine and warm hospitality. There's plenty to see and do, too! From the picturesque Osaka Castle to the neon lights of Dotombori, here are some of the best things to do in Osaka during your tour of Japan.
What is Osaka known for?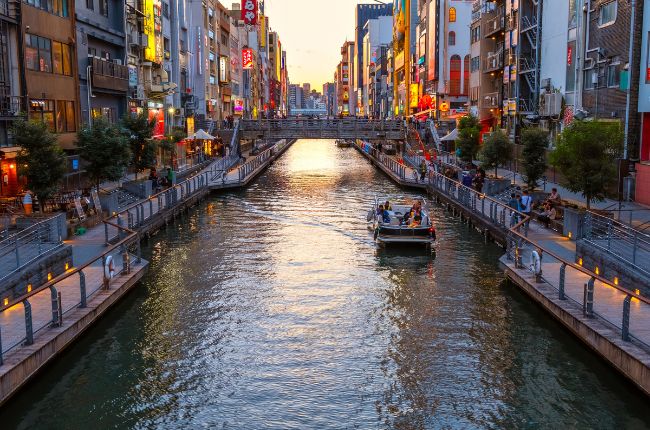 Osaka is perhaps best known for its casual street food scene and its friendly locals. In fact, the city is often noted as Japan's street food capital! The local residents of Osaka really do make eating and drinking in the city an unmissable experience.
It's also a major financial centre and is widely recognised as one of the most cosmopolitan cities in Japan. You'll even find the headquarters for tech giants Panasonic and Sharp located in the city.
Despite its modern and cosmopolitan ambience, Osaka is steeped in history dating back to the 6th century. One of Japan's oldest Buddhist temples, Shitennō-ji, can be found in the centre of O​​saka and is a firm favourite with tourists.
Osaka Famous Foods to Try
Osaka isn't short of mouthwatering foods to enjoy during your trip. To sample Osaka's famous foods, a trip to Dontonbori in the city's Namba district is a must.
Dontonbori is very much a hub for dining and drinking in the city, characterised by its bustling yet eccentric atmosphere, street food stalls and large neon lighting. This must-see area runs along the Dontonbori canal between Dōtonboribashi Bridge and Nipponbashi Bridge, offering a taste of the best street food in Osaka.
Here are a few famous foods to look out for: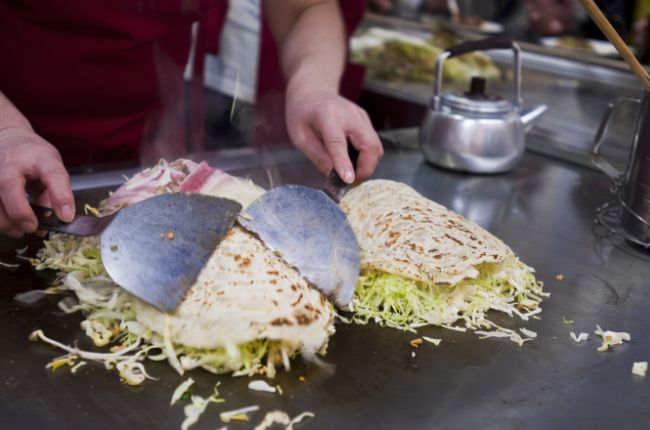 Okonomiyaki – A popular street food that can be described as a savoury pancake. It's made with flour, eggs, shredded cabbage plus a choice of protein and condiments.
Takoyaki – A ball-shaped snack made from wheat flour batter, cooked in a moulded, takoyaki pan. This delicious snack is often filled with octopus, pickled ginger and leftover fried tempura.
Negiyaki – A popular Osaka dish that's also similar to a savoury pancake. Negiyaki is often made from flour, eggs, dashi, yam and green onions.
Kitsune Udon – Picture fresh udon noodles, a clear and flavoursome dashi broth and well-seasoned aburaage tofu – that's Kitsune! This typically hot noodle soup can even be served chilled in the summer months, served with an added touch of dashi sauce.
Kushikatsu – Not to be mistaken for tempura, Kushikatsu is a golden brown skewer made from bite-sized meat or vegetables, coated in a light batter. Common fillings include pork, beef and lotus root.
The Top Places to Visit & Things To Do in Osaka
Aside from exploring the food scene, there are plenty of other things to do in Osaka. Here are some of our top picks.
Take a Day Trip from Osaka to Nara
Nara is a historical city located just outside of Osaka. It was the capital of Japan during the Nara period (710 to 794) and is home to eight spectacular temples, shrines and ruins – most notably Tōdai-ji and Saidai-ji. It's also home to sacred sika deer, who are known to roam through Nara and can often be spotted in Nara Park!
On our Very Best of Japan Tour, we'll explore Tōdai-ji Temple and take a once-in-a-lifetime trip to see sika deer in Nara Park.
Osaka Castle & the Castle Park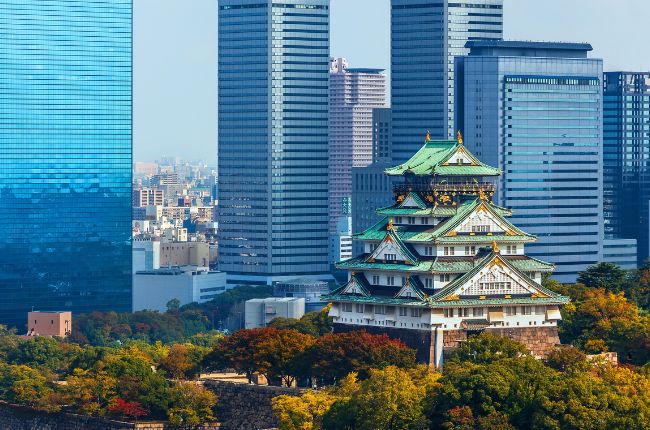 Osaka Castle dates back to 1583. However, the castle has been destroyed and rebuilt over the years, with the most recent renovation taking place in 1931. Despite this, it's one of the most impressive and historical buildings in Osaka, surrounded by a charming moat and beautiful gardens.
Sumiyoshi Shrine
Sumiyoshi Shrine is one of the oldest shrines in Japan, built over 1,800 years ago, and is located in the heart of Osaka. The shrine's serene gardens offer a sense of calm amongst the bustle of the city.
Umeda Sky Building
This soaring skyscraper can be spotted almost everywhere in Osaka. The 173m building has a viewing observatory on the 39th floor, known as the garden observatory, offering a floating garden experience with panoramic views over the city.
Shop in the Shinsaibashi District
Ask a local where they shop and you'll hear Shinsaibashi mentioned every time. This district sells everything you could think of, from handcrafted souvenirs to clothing and homewares. If you're searching for a unique souvenir to remind you of your trip, Shinsaibashi District is a must-visit.
Osaka Aquarium
As one of the largest aquariums in Japan, Osaka Aquarium is well worth a visit during your stay in Osaka. The aquarium offers eight floors of exhibits in total, showcasing sharks, otters, dolphins and turtles.
Abeno Harukas
Abeno Harukas is the tallest building in Osaka standing at an impressive 300m tall. There's a department store, hotel and university campus all located within the multi-purpose complex.
See the Tempozan Ferris Wheel in Osaka Bay
A trip to Osaka wouldn't be complete without paying a visit to Osaka Bay and riding the Tempozan Ferris Wheel. The Ferris Wheel offers spectacular nighttime views over the city.
Shop on Tenjinbashi-suji Shopping Street
Fancy a spot of retail therapy? Tenjinbashi-suji is the place to be. This shopping street holds the prestigious record for the longest shopping street in Japan, stretching over 2km through Osaka. Expect clothing, gifts, homeware and so much more.
Some of the Best Bars and Restaurants in Osaka!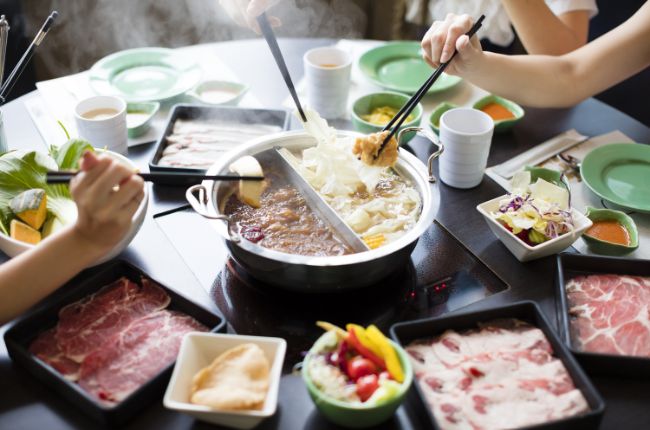 Once you've sampled the best bites in the street food scene, it's time to uncover some of the best restaurants and bars in Osaka. Here are some of our favourites – including fine-dining, mid-range options and affordable eats.
Fujiya 1935 – A Michelin 2-star restaurant in the heart of Osaka. Chef Fujiwara spins seasonal delicacies into delectable creations to really create that wow factor.
Jinsei – A popular, high-end sushi restaurant located in Shinsaibashi. Jinsei is famous for its seasonal food and sushi-shaping techniques.
Kanidouraku Dotombori-Honten – One not to be missed, partly due to the 20-foot crab attached to its exterior, Kanidouraku Dotombori-Honten is a prominent crab restaurant in just a stone's throw from Dotonbori Canal and Ebisu Bridge.
Honkogetsu -​​ With its authentic aesthetic and elegant dishes, Honkogetsu is a traditional restaurant focusing on intricate and elegant Japanese dishes.
Takama – Located just a short walk from Tenjinbashisuji Rokuchome Station, Soba Takama is a soba noodle spot that holds a prestigious Michelin star. In fact, it's one of the most affordable Michelin-starred meals in Osaka.
Yaekatsu – An authentic yet affordable restaurant that's popular for its Kushikatsu. We highly recommend the kabocha squash!
Rock Bar Cherry Bomb – ​​In search of the nightlife scene in Osaka? Rock Bar Cherry Bomb is a small yet atmospheric bar that's renowned for its draft beer and cocktails.
Bar Nayuta – An intimate and relaxed speakeasy with pioneering cocktail creations – what's the catch? There's a hidden entrance! The bar is tucked away near Triangle Park. Lookout for a small symbol above the lift.
See the sights of Osaka
Osaka is a city that has so much to offer, from its sumptuous street food to historical shrines, temples and castles. It's the perfect place to view the sights, sample an array of authentic street food dishes, and explore the city's famed nightlife when the sun goes down.
During our Japan Tours, we spend 2 nights in the city of Osaka. Explore Nara, Japan's first permanent capital, and take a trip to UNESCO World Heritage Site Todaiji Temple. Our guided tours are an incredible way to see Osaka, and the rest of Japan, in the safe hands of our knowledgeable, local guides.