There's no doubting that Australia is a top gourmet destination – producing great food and wine alike. This is one of the many fantastic reasons to take a trip down under, with endless Australian cuisine to try and taste at every stop. As with every country, Australia does have its national favourites that aren't necessarily gourmet, but are worth a try if you get the opportunity.
Part of visiting any foreign country is making the most of the opportunity to experience the culture and history. We like to think that food makes up part of this experience, and our taste buds certainly wouldn't disagree! We've put together a list of six of our favourite alternative Australian foods which you need to sample when taking a tour of Australia. We have tried to throw in a bit for everyone here, so there's everything from savoury foods to chocolaty snacks.
You may or may not have already known where these particular dishes originated from, but we hope you can learn something new and try to give them a taste when you visit Australia. Remember, these meals and snacks are just an added extra to your experience if you decide you would like to try them; the top-notch gourmet dining awaits you first and foremost.
Pie floater
The unforgettable pie floater adopts a dining twist on the traditional Australian meat pie by "floating" it in pea soup (sometimes pea and ham is used). While I think we can all agree it isn't the meal that will win the awards as far as presentation is concerned, the pie floater is a tasty mix of hearty Australian dishes, all in one bowl.
Pavlova
Pavlova is a great example of something that the Australians took and made their own. They used the meringue and went to a whole new level in order to create this delicious dessert. Combined with lashings of whipped cream or ice cream, locals will often try to convince themselves the "pav" is a healthy option because of the substantial layering of fresh fruit that is normally found on top! You can usually find strawberries, grapes, kiwi fruit, oranges and passion fruit combined to make this colourful topping. Of all the food to eat in Australia this is the one that we really enjoy!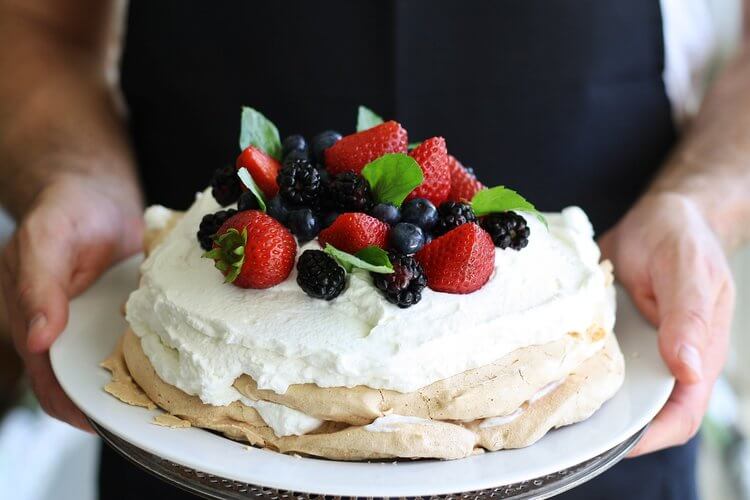 Damper
Damper is a true iconic Australian loaf. Essentially, damper is a heavy soda bread which was traditionally prepared by swagmen and stockmen who travelled to remote areas of the country for weeks or months at a time. The cooking preparation sees the bread baked in the coals or ashes of a campfire, which gives it a scrumptiously and unmistakable smoky flavour.
Vegemite
Much like the marmite we love or hate in the UK, but not quite the same, this was Australia's resourceful use for the excess yeast used by local breweries following the end of World War I (find out more about its history here). Just like Marmite it can be enjoyed on bread, toast, crumpets, English muffins, crackers, and if you really want to try something interesting then you can try it on dry Weetabix. This salty spread is certainly considered as an acquired taste. If you've never tried Vegemite then we suggest spreading it thin just to introduce yourself to this unique flavour. One more thing too, don't ever tell an Aussie it tastes like Marmite!
The mouth-watering Coat of Arms
There are around 20 nations around the world that eat the animal that features on their national emblem. However, there is only one nation that has two animals in its coat of arms and likes to dine on both. While the Indigenous population of Australia have enjoyed kangaroo and emu for many a century, kangaroo only really became a hit in culinary terms across Australia in the 1990s following the detriment farmers suffered through the overpopulation of the 'roo.
With both meats offering richer and leaner alternatives to beef, kangaroo and emu are really worth a try. You'll most commonly find kangaroo used in curries, sausages, stews, pies, and of course 'roo burgers.
Tim Tams
We've added in this chocolaty based biscuit which looks a bit like the penguin bars we have in the UK as a fun Australian snack. The Tim Tam may not look anything out of the ordinary but it boasts the title of the most exported Australian food – at least from mums, dads and other family members at Christmas and birthdays.
You can also give a 'Tim Tam Slam' a whirl if you fancy it. Not quite as brutal as the title may suggest, you bite off a bit of each end of the biscuit and then use it as a straw to drink your tea through – just for a bit of fun of course!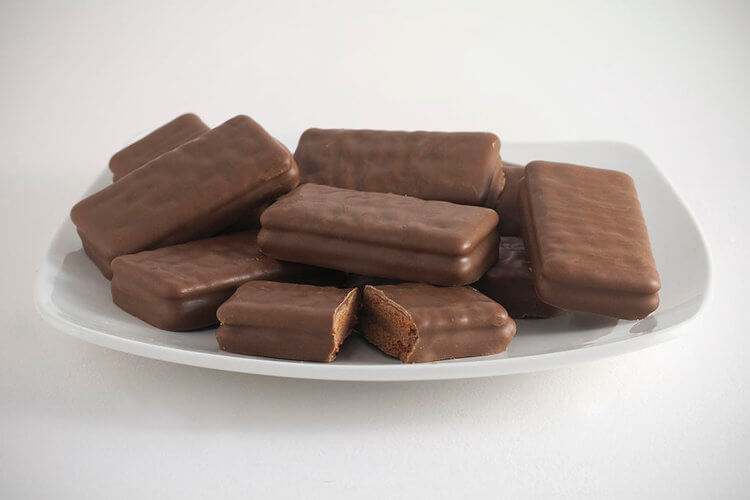 Hopefully now you have a great list of alternative foods to eat in Australia no matter your craving. When taking a trip across this magnificent country there will be both food and drinks to sample at every turn. Why not experience the fascinating coffee culture in Melbourne, a perfect city stop off for any caffeine lovers.
To find out more about Australia and other incredible destinations make sure to follow us on Twitter.
Images by Aline Ponce and Bilby.