Voted as one of the top coffee cities in the world, Melbourne has taken the morning caffeine booster and made it an all-day drink for everyone to enjoy. Now considered the coffee capital of Australia, plenty of people are visiting this wonderful city simply to have a taste and experience what Melbourne does best. When visiting melbourne for the first time, having a taste of the Aussie's favourite drink is certainly a must, especially for any coffee lovers heading down under. Take a look at our top tips below on how to explore the thriving coffee culture in Melbourne…
Where to get your coffee fix?
When setting out to find the best coffee places in Melbourne you will be sure to have plenty of options. With 95% of Australia's coffee shops being independently owned there are lots of unique spots sometimes hidden down small side streets all offering their own café experience. Brother Baba Budan is one of the most well-known coffee shops in Melbourne. Set on Little Bourke Street this spots house coffee is the 'seven seeds blend' which attracts coffee lovers from across the city wishing to have a taste. Proud Mary is a coffee house which places high importance on promoting ethical business between themselves and the coffee farmers. Set in the suburb of Collingwood, a stop off at Proud Mary will also give you a chance to experience Melbourne's fascinating street art.
What to drink?
One thing you will notice when exploring the Melbourne café culture, is that you won't run out of different coffees to order. 87% of Aussies like to ask for a little something extra to make sure they get their perfect cup. Whether you want it skinny, soy, chai, with syrup or with a double shot for the extra caffeine kick, there is no doubt that the baristas of Melbourne will be able to sort you out. An Australian named Alan Preston claims to have invented the iconic "flat white" coffee back in 1985. Although disputed by their Kiwi neighbours, this coffee style is guaranteed to be found in almost every coffee shop across the city.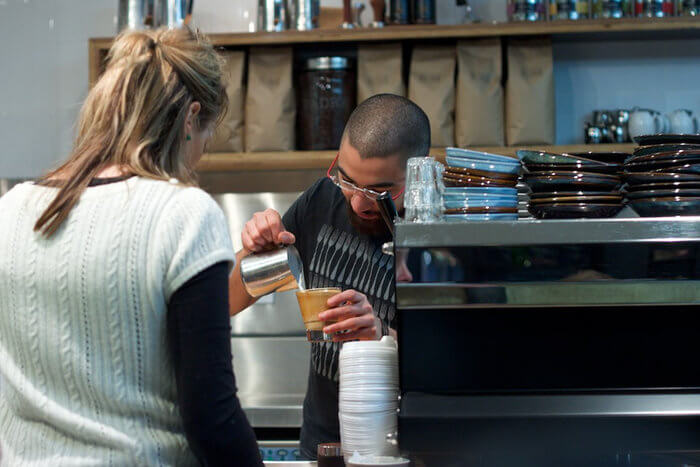 Take a Coffee Tour
If you really want to experience the best coffee in Melbourne then you can always spend a few hours taking a coffee tour around this beautiful city. Whilst wandering around with your barista tour guide you will get the opportunity to visit some of the best cafes in Melbourne, have a taste of a variety of coffee styles and also get the low down on the crop-to-cup story and the history of how Melbourne and Australia has become enamoured with this particular bean. If you don't happen to be a coffee lover, there is still plenty to see and taste with tea, hot chocolate and sweet treats available en route.
Visit Melbourne's International Coffee Expo
Now on its 6th year, the Melbourne International Coffee Expo is undoubtedly the prime spot to immerse yourself in all things coffee. With around 10,000 visitors, this expo showcases baristas, roasters, manufacturers and café owners. Here you can see baristas battle it out in the Australian Coffee Championships, discover the origins of coffee by speaking to growers from over 30 countries and of course have plenty of opportunity to taste. So if you happen to be in the city in March or April, make sure to head along to the expo and you'll be sure to understand just how mad on coffee they really are.
When visiting this great city we are sure it won't take long for you to realise just how important the Melbourne coffee culture really is. Whether you just want to relax with a cup in a small café or tour around tasting the cities favourite blends, we can guarantee it will be a great way to get to know this wonderful place. A trip to Melbourne really wouldn't be complete without tasting their favourite drink, so make sure to grab a cup on your next visit.
Take a look at the tours we offer in Melbourne here.
Images by Katherine Lim and Tristan Kenney via Flickr