Dolphins have always held a unique fascination for us. One of the most intelligent creatures on earth – in fact, some scientists argue the most intelligent, human beings included – they are also one of the most sociable, and for many people swimming alongside them is a lifelong dream. As the experts in Australia, we can make that dream come true. But what are the best locations in Australia to encounter these magnificent creatures?
Perth
Perth is a remarkable city in itself: whilst vibrant and cosmopolitan, it's startlingly isolated, being 1,324 miles from Adelaide, 1,648 miles from Darwin, 1,691 miles from Melbourne and 2,043 miles from Sydney. It's also a great base from which to see bottlenose dolphins, which can sometimes be spotted from shore.
The stunning Shoalwater Islands Marine Park is less than an hour from the city, and Rockingham Wild Encounters are the local experts in dolphin swims. They know exactly where to find dolphins among the Park's countless sheltered bays and beautiful islands: you may even get to see mothers nursing their calves or crafty dolphins using stingrays to catch their supper.
Two hours south of the city and 90 minutes to the north of the lush Margaret River wine region, Koombana is the perfect place to swim with dolphins under the guidance of marine biologists from the Dolphin Discovery Centre. Venturing into open waters, you should attract the attention of playful bottlenose dolphins, who simply love to make new friends.
Melbourne
Melbourne's huge harbour, Port Phillip Bay, is just 90 minutes from the city centre – and is home to some 80 bottlenose dolphins. Two local businesses, Polperro Dolphin Swim and Moonraker Dolphin Swims, offer unforgettable snorkelling experiences where you can encounter both dolphins and Australian fur seals, followed by homemade scones – a long-standing Australian tradition – once you're back on terra firma.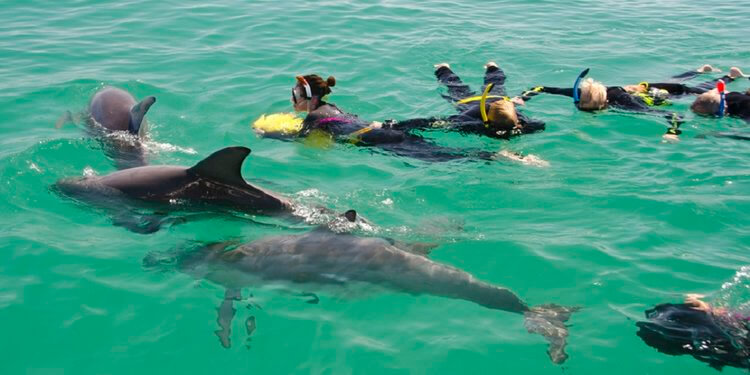 Adelaide
The delightful seaside resort of Glenelg is just 15 minutes from the centre of Adelaide, and it's the starting point for your dolphin adventure. Put on your wetsuit, climb aboard the cruiser Temptation, and you're all ready to go. Holding onto a flotation line, you can simply take it easy and wait for inquisitive, playful dolphins to come to you. (What's more, since thousands of them live in the Gulf St Vincent, you shouldn't have long to wait.)
Sydney
Two and a half hours north of Australia's premier city Sydney, you'll find the water sports mecca of Port Stephens. Travellers from all over the world make the pilgrimage to its 26 magnificent beaches and warm azure waters. It's also the perfect place to encounter dolphins. In most locations, you'll have to wait for dolphins to approach you – but not here. Dolphin Swim Australia offer a unique experience you'll remember for a lifetime: harnessed to a tow rope between the bows of a catamaran, you'll coast gently through the waters, enjoying synchronised swimming with darting and weaving dolphins.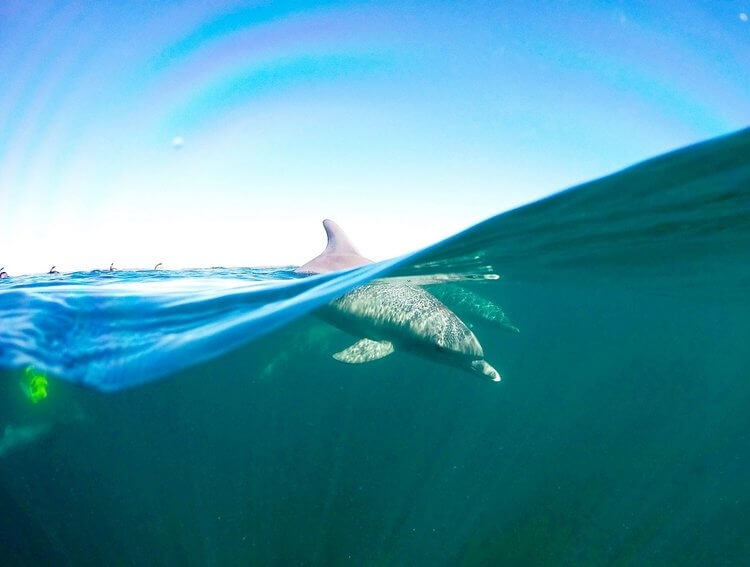 When you're experiencing the ultimate Australian adventure, you simply have to get to know the locals – including the dolphins.
To learn more about Australia's amazing attractions and experiences – please follow us on Facebook