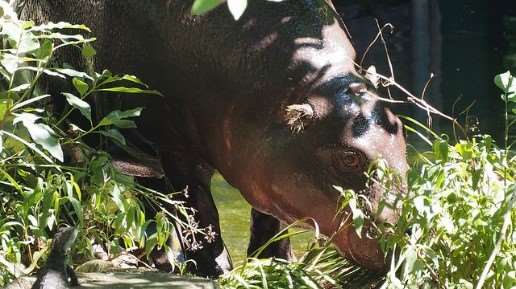 Melbourne Zoo welcomes first baby pygmy hippopotamus for 33 years

Melbourne Zoo welcomes first baby pygmy hippopotamus for 33 years
Zoo keepers at Melbourne Zoo have excitedly welcomed the birth of a baby pygmy hippopotamus last week – the first to have been born at the zoo for over 33 years.
Born to mother Petre on the afternoon of Monday 25th May, the male calf's birth was a complete success, with no complications or health concerns. The calf weighed in at around 5kg, within the healthy weight range for a calf of 3-6kg. Although it is Petre's fourth calf, this one is the first calf she has given birth to in Melbourne Zoo, as she was brought to the zoo from Taronga Zoo in 2012.
Justin Valentine, the zoo's wild sea precinct manager, said that Petre had been attentive and gentle with the calf, and that the zoo had given them time to bond as mother and calf, though they have been monitoring the pair 24 hours a day on CCTV for their safety. He added that the calf has been feeding well, successfully suckling from its mother, and shortly, he will be slowly introduced to water, as baby pygmy hippos can typically swim from birth.
As the calf is doing so well in its progress, it is expected that visitors will be able to see the calf within the next couple of weeks.
Adult pygmy hippopotamuses, when fully grown, can reach around 70-80cm in height, and tend to weigh around 250kg, which is about a quarter of the size of a full-sized hippo.
Watch the video below to see more of the baby pygmy hippo bonding with his mother:
If you'd like to meet the baby pygmy hippopotamus and the other animals at Melbourne Zoo, join us for our unforgettable Distant Journeys Australia touring holidays, which include Melbourne, Sydney, Cairns, Alice Springs and Adelaide tours.
Image: Thomas Williams, available under Creative Commons