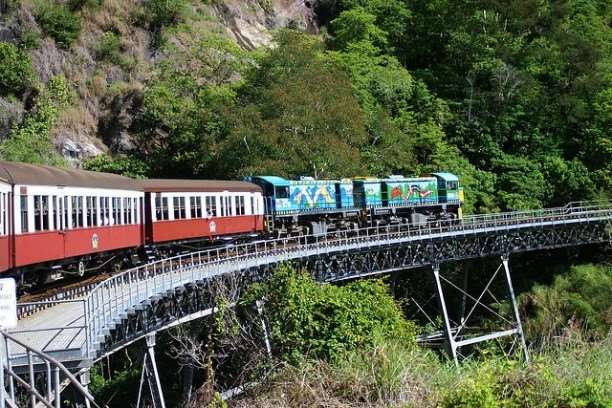 Kuranda Scenic Railway sturdy enough to last another 120 years

Kuranda Scenic Railway sturdy enough to last another 120 years
Exciting news for those who are planning to visit the unique and breath-taking Kuranda Scenic Railway, but can't go just yet – it won't be going anywhere soon, as expert engineers who have examined the entire length of the railway have said that it is sturdy enough to last another 120 years.
The track, which travels through the rainforest between Cairns and Kuranda, had been surveyed last week by a team of geotechnical experts, with every tunnel, bridge and inch of track carefully examined before gaining the seal of approval.
The Kuranda Scenic Railway is one of the most popular tourist attraction in Tropical North Queensland, and has been carrying passengers since 1891, meaning that the railway has already been successfully operating for 120 years.
Snaking its way through the Macalister Range, the railway provides an unforgettable train ride through the treetop canopies, past a number of beautiful trickling waterfalls, between Cairns, a thriving coastal city, and Kuranda, a rainforest village packed with traditional charm.
A ride on the Kuranda Scenic Railway from Kuranda to Cairns is one of the optional Cairns sightseeing tours you'll have the opportunity to experience on a Distant Journeys tour of Australia – visit our website to find out more!
Image: Rob Chandler, available under Creative Commons