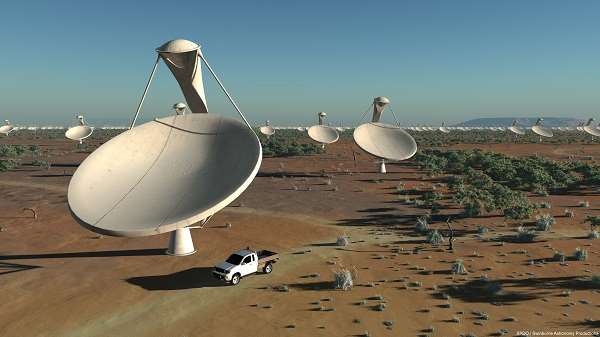 Could New Zealand be set to discover the origins of the universe?

Could New Zealand be set to discover the origins of the universe?
New Zealand has entered into talks with a number of different countries to discuss their role in helping to build the world's biggest radio telescope, which will be used to unlock the secrets to the origins of our universe.
The Square Kilometre Array (SKA) project site is around 370 miles north of Perth, in the Australian outback, and was recently visited by New Zealand scientists.
The Minister of Science and Innovation Steven Joyce has stated that he believes New Zealand should enter treaty discussions with the nine other nations involved in the SKA Project. This includes neighbouring Australia, alongside powerhouse nation China and our very own Britain.
Negotiations will then be underway to decide whether New Zealand will invest in and help build the NZ$2.9 billion telescope. They have already committed NZ$3.2 million during the design phase, but wish to get a better idea of what their contribution to the project will be, and how it will benefit the nation as a whole.
New Zealand technology companies will hold contract talks surrounding their involvement in building the array, where they will then develop the technology to power the radio-telescope. It is believed that this power will need to be a trillion times more than is needed to send man to the moon, and currently does not exist!
Further advancements in renewable power generation and the storing of data will be explored, with New Zealand extremely well placed to contribute to these advancements, due to their strong representation amongst the more than 350 working on the telescope. It is believed that these advancements will give picture quality 50 times greater than that which is currently offered by the Hubble telescope.
Construction is set to begin in 2018, where the most advanced telescope ever built will be used to survey millions of galaxies, and gather vast quantities of new data. A telescope currently at the SKA site has already collected enough data to fill over a million DVD's, and even discovered gas in a galaxy over five billion light years away!
It seems that New Zealand could well be at the forefront of discovering the secrets of the universe, and answering some of the questions surrounding the origins of the universe. If you would like to explore the origins of New Zealand for yourself, our New Zealand holidays offer the perfect opportunity to learn more about the youngest and one of the most exciting countries in the world, so why not book your place with Distant Journeys today?
Photo courtesy of Skaoutreach, under Creative Commons