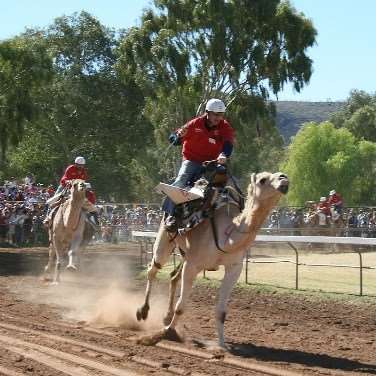 Alice Springs Camel Cup returns for the 45th year running

Alice Springs Camel Cup returns for the 45th year running
This last Saturday has seen one of the region's most unique and celebrated events return to Alice Springs for the 45th year running – the Alice Springs Camel Cup.
Held in the town's Blatherskite Park, over 4000 attended what is known as the 'Melbourne Cup for camels', and includes a number of races, with hordes of camels, and their brave riders, dashing in a 30-second sprint for glory.
For the third year running, Roman Ruma Ruma claimed the overall Cup title. Stabled in Victoria, and fed on a diet of oats and molasses, Roman claimed the title along with his trainer, Peter Hodge, and rider Karen Catto.
The event first took place in 1970, when two members of the Lions club battled it out on the dry riverbed of the Todd River. It soon became a part of the Alice Springs Centenary Year Celebrations, and became a popular event attracting competitors from all over Australia.
The Alice Springs Camel Cup, along with a number of entertaining events taking place in Australia, could be just one of the great things you can experiences as part of the escorted Australia tours organised by Distant Journeys.
Image: Toby Hudson, available under Creative Commons
Save