New Zealand is home to over 15,000km of stunning coastline, and some of the country's very best beaches can be found on North Island. Alongside its national parks, volcanoes and geysers, and cosmopolitan cities, the incredible beaches are part of what makes New Zealand's North Island so unique.
From the surfing capital of New Zealand to beaches with beautiful rock formations and stretches of sand where you can dig your own hot water pool, we bring you some of the very best beaches North Island has to offer. These are truly unmissable sights in New Zealand's North Island for first time visitors – a list of stunning New Zealand beaches that will ensure that the first time you visit the country is not the only time you visit.
Mount Maunganui Beach
Voted as New Zealand's best beach on TripAdvisor for three years in a row, the long stretch of white sand is just one of the main attractions this popular resort has to offer. Set at the end of a peninsula, as well as at the foot of a mountain, Mount Maunganui beach is in a truly unique setting, and mesmerising views over the beach and the ocean can be enjoyed from the summit of Mount Maunganui too. Being a popular resort means there are also plenty of cafes, bars and places to eat along the beachfront.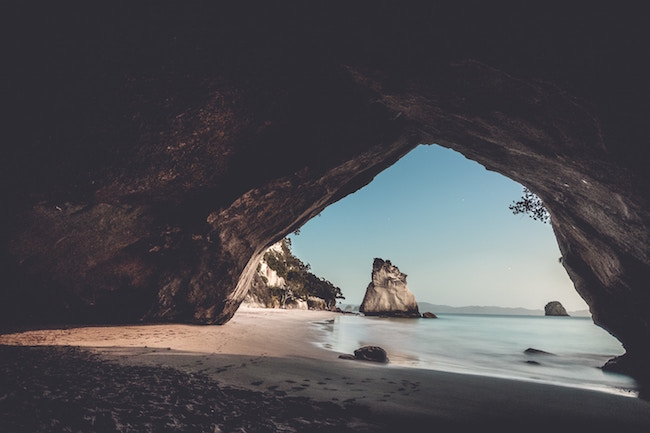 Image by ThatPhotoGuyNL
Cathedral Cove
Cathedral Cove is one of New Zealand's iconic natural landmarks, world-famous for its spectacular rock formations and its enormous archway, completely carved out by nature. Slightly off the beaten track, the cove is an hour's walk from Hahei along a clifftop, before descending down to the cove, but the views are well worth it. You'll be able to see for yourself why this beach is magical enough for the movies, having featured in the popular Chronicles of Narnia films.
Ninety Mile Beach
Another of the many unique North Island beaches you can discover is the Ninety Mile Beach. Despite its name, the beach is actually around 55 miles long rather than 90, but still an enormous stretch of sand. What makes it stand out is that the beach is a registered highway, perfect for those seeking out a coastal drive with a difference. Bus tours run regularly so you can enjoy this unique journey for yourself. This area is also immensely popular for sand dune boarding, especially at the massive dunes of Te Paki Stream.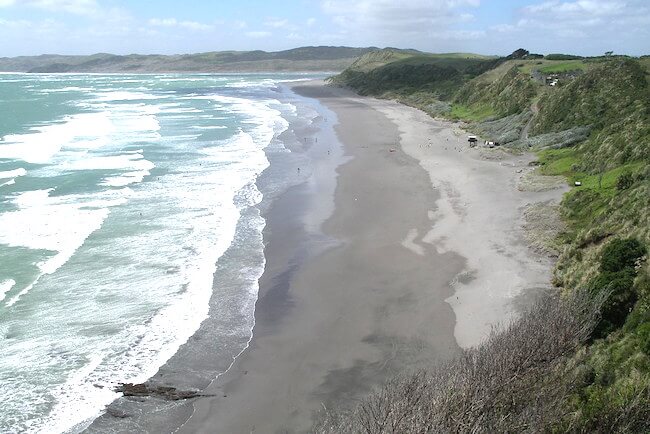 Image by Magalie l'Abbé via Flickr
Ngarunui Beach
If you're after some world-class surfing, head to Ngarunui Beach in Raglan, the surf capital of New Zealand. Its waves are consistent and ideal for beginners as well as the more advanced, and if you'd rather stay on land, it boasts magnificent stretches of dark, almost black sand to sunbathe or enjoy a stroll on.
New Chums Beach
In a secluded spot a 30-minute walk from Whangapoua lies New Chums Beach, a real hidden gem. Of all the North Island beaches, New Chums beach stands out, as it has been recognised as one of the top ten beaches in the world. Completely unspoilt and free from buildings or roads, this beach is a real hidden gem where you can enjoy immense beauty while avoiding the crowds. This golden stretch of sand is surrounded by pohutukawa trees which a variety of birds call home, and if you look out to sea, you may even catch glimpses of dolphins and orcas here.
Hot Water Beach
Hot Water Beach has a special quality that places it firmly among the best beaches on North Island – true to its name, it offers the opportunity to dig your own private hot water pool. Hot water springs run beneath the sand here, and at low tide, when the sand is exposed, you can dig up the sand and create a relaxing pool of hot water.
Matai Bay
A sheltered bay on the edge of the remote Karikari Peninsula, Matai Bay is a picture-perfect beach with white sand, the bluest waters and a backdrop of pohutukawa trees. The views of this crescent-shaped beach are well worth navigating the gravel road that leads here. Its sheltered bay means it's perfect for sunbathing, while the warm waters make it ideal for swimming.
Oke Bay
If you're after an endless selection of stunning North Island beaches, look no further than the Bay of Islands, a beautiful stretch of coastline and cluster of islands. Oke Bay is one of our favourite beaches to visit in the area without having to leave the mainland, close to Rawhiti on the Cape Brett Peninsula. It's an extremely romantic setting for a sunset stroll, and you may even get a visit from pods of dolphins offshore to make your time here even more special. The beach is a great place for a walk, but here you'll also find the start of the Cape Brett walking track, where even more stunning views await for avid hikers.
Discover New Zealand's mesmerising beaches and so much more
North Island's vast and varied coastline means this list is just the beginning of the incredible beaches you could see and visit during a trip to New Zealand. Distant Journeys' escorted tours of New Zealand not only bring you the best of the country's coast on both North and South Island, including the Bay of Islands, but also a whole host of other incredible landscapes spanning mountains, glaciers, lakes, geysers and so much more.
Make your trip to New Zealand a holiday of a lifetime – our escorted tours will ensure you enjoy only the very best of what New Zealand has to offer.