When planning your trip to New Zealand, you'll soon discover that there are two sides to this wonderful country. There is the North Island which features the popular Bay of Islands and Rotorua. Then you have the South Island with other highlights, such as Milford Sound and Franz Josef. There are contrasting, but equally as exciting, experiences that make both worthy of a visit, so make sure you choose a tour of New Zealand that will allow you to explore each. The atmosphere and environment of each island is quite distinctive and unique. So you know what to expect, we've put together some handy information below to show you how each island compares…
The North Island:
The North Island in New Zealand has a much larger population. There are around three times more people in the North than there are in the South. So, if you thrive on a social atmosphere, the North Island is the place to be.
There are so many things you won't want to miss on New Zealand's North Island, including the cosmopolitan city of Auckland, which oozes northern spirit and is home to the iconic Sky Tower and Viaduct Harbour.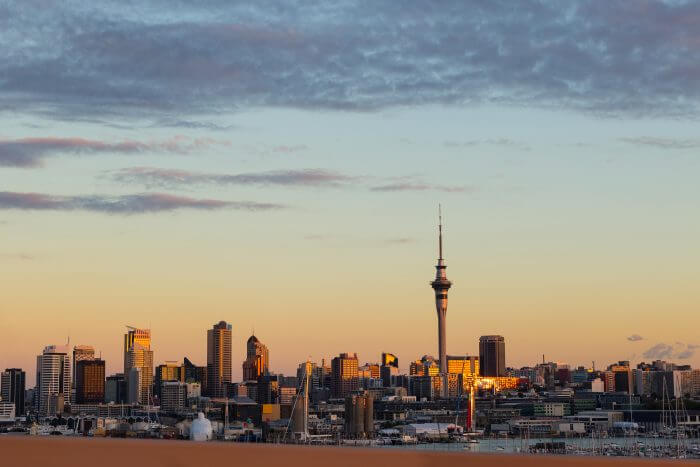 The North Island is much warmer than the South Island so if you would like to sneak in a trip to the beach, do it in the North as it is home to the spectacular Bay of Islands which is described as "paradise" by many of its visitors.
In New Zealand, the North Island has a much stronger Maori presence. So if you're looking to learn a little about the Maori history or culture, we recommend Rotorua in the North Island as you can spend a night there in a traditional Maori village.
The North Island is also famous for its geothermal activity. There are spas with natural hot mud baths and beaches where you can dig up sand and create your own hot pools. This unique feature makes the North Island a highly sought-after destination for relaxation.
The South Island:
Whilst the North Island has more cultural and social activity, the South Island offers more in sights and scenery. So, on your trip to the south, prepare to be amazed by dramatic mountain landscapes such as the Southern Alps. You won't be able to miss Mount Cook which is the range's highest point.
The New Zealand South Island is a great place to explore the country's wildlife, with many opportunities to experience animals on both land and sea. For example, there are many New Zealand South Island tours that will guide you through the renowned Fiordland National Park, where you will find native wildlife roaming free. Here you'll also discover the stunning Milford Sound and Doubtful Sound – breathtaking fiords carved out of glistening glaciers which you can enjoy a relaxing cruise along.
Franz Josef in Tai Poutini National Park is also a remarkable area where you can see moving glaciers. This majestic place provides epic scenes you would only expect to find in a movie, with hiking trails that allow you to explore at your own pace.
On top of this, there is an array of incredible walks in the South where you can discover the land's stunning flora and fauna, with particular favourites being the Milford and Routeburn tracks.
The city of Queenstown has gained the deserving reputation of being the go-to place for adventure. With a world of water sports to air activities to choose from, if you're a thrill seeker, the South Island is the place to be.
With so many contrasts between the two islands, your trip to New Zealand will certainly leave you feeling fulfilled. From hot geothermal spas in the North and icy glaciers in the South, New Zealand will ensure your trip of a lifetime is everything you dreamed of and more.
Save
Save
Save
Save
Save
Save
Save