Located slightly off the beaten track on the western side of New Zealand's South Island, Westland Tai Poutini National Park is a place like no other. You'd probably think it was impossible to visit beaches, rainforests and glaciers all in one morning, or even in one day, but you can do exactly that in Westland National Park.
It's among the top natural reserves and parks in New Zealand, perfect for lovers of outdoor activities and spectacular natural scenery. If you're wondering what to do in Westland National Park during your visit to New Zealand, here are our top recommendations for activities and places to see.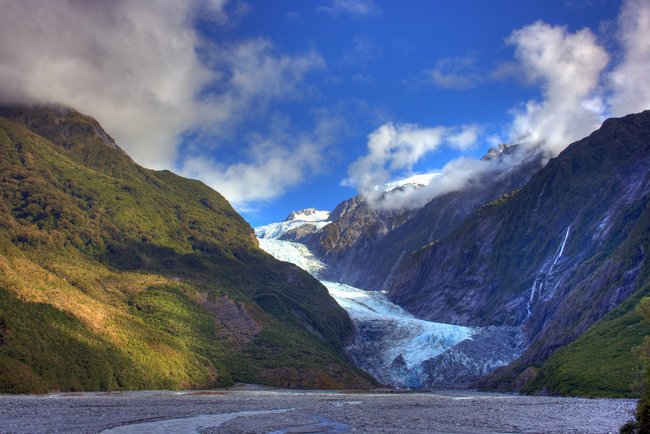 The Franz Josef Glacier
The Franz Josef Glacier is undoubtedly the National Park's biggest attraction, and is one of just two places on earth where you can see an icy glacier descend and transform into dense rainforest.
It's a popular glacier to visit due to its relative ease of access. Being just 250m above sea level, you can take the hike from Franz Josef village up the Glacier Valley Trail to the viewing platform, or even take a hiking tour to venture out onto the ice itself, walking on the almost unreal terrain of icy crevasses. For a real adventure, and to see the glacier in a whole different light, try a Franz Josef flight, where you can soak up the incredible scenery from above, not only of the impressive glacier but also of the nearby Fox Glacier and the surrounding landscapes of the National Park.
If you'd like to find out even more about this marvel of nature, take a look at our Franz Josef facts and figures.
Fox Glacier
Less crowded than its more famous neighbour, the Fox Glacier is just as worthy of a visit. It's equally as accessible as Franz Josef, and just a little taller, at 300m above sea level. Hike the Fox Glacier Valley Trail to reach the glacier terminal and its tremendous views, or for even more rewarding sights, hike the steeper Chalet Lookout Track, with incredible panoramic overhead vistas from the top. The glacier's base is surrounded by thick rainforest, so whichever route you choose, it'll be like walking through two different worlds.
Lake Matheson
Along with the two glaciers, Lake Matheson makes up the trio of attractions visitors flock to in Westland National Park. It's relatively close to Fox Glacier and you can take in enticing views of both by walking a loop track. Reached by a suspension bridge from near Fox Glacier Village, your path surrounded by native trees, the views across Lake Matheson are outstanding, acting as a mirror reflecting the towering Mount Cook (Aoraki) and Mount Tasman.
Okarito
There's more to the National Park than just glaciers – the coastal spot of Okarito is one of New Zealand's little-known gems. Here you'll find a black sand beach, where gold used to wash up, a stunning lagoon, part of a vast wetlands area home to over 70 bird species, and dense forest where you'll find the rarest kiwi species of all, the Okarito Brown Kiwi. The Okarito Trig walkway is a good way to get to know the area, offering mesmerising views not only over Okarito's beach, coastline and forest, but also further up the West Coast and into the Southern Alps.
During your time in this remote section of Westland National Park, you could also get a closer look at the local and diverse birdlife with a wildlife cruise, or for the more active, a gentle kayak through the White Heron Breeding Ground.
Kayak to Lake Mapourika
For a great way to see what the National Park has to offer, try the kayaking route from Franz Josef township to Lake Mapourika, one of our favourite activities in Westland National Park. Paddle through creeks to reach this beautiful lake created by the Franz Josef Glacier, taking in mountain views along the way and the stunning reflections that bounce off the water. You guide will then take you along the narrow estuaries of the Okarito Kiwi Sanctuary and amongst ancient rainforest – a great way to get close to nature, paddling past centuries-old trees and listening to the sound of native birdsong.
Cycling and mountain biking in Westland Tai Poutini National Park
The National Park's glacial landscape has carved out a truly unique and exciting landscape for mountain bikers, with a number of trails to take on. The Fox Glacier and Franz Josef cycleways both climb through rainforest and offer a decent track for beginners and intermediates. Not for the faint-hearted, the Faultline, a trail created by two locals, offers a short (2km) but seriously fun track with plenty of twists, turns and tricky terrain.
Visit the Westland Tai Poutini National Park
Our guided tour to New Zealand from the UK encompasses many of New Zealand's very best sights, and includes 2 nights in Franz Josef in the heart of the Westland National Park. You'll have the opportunity to join us on a walk to see the glacier up close, perhaps even enjoy a scenic flight over Franz Josef, or explore the National Park as you wish, with one of our Freedom Days based in beautiful Franz Josef township.