With dramatic mountain scenery and a variety of slopes to tackle, skiing in New Zealand is an epic experience. July and August are the perfect times to hit the slopes in New Zealand – many mountainous areas are carpeted in snow and the ski season is in full swing. If you're not into skiing, there are also a whole host of other snow activities in New Zealand you can try, from snowboarding to snowshoeing.
If you're planning to visit during the winter months, make the most of your time here and follow our tips for the best snow activities and skiing in New Zealand.
Heli-skiing in Glenorchy
As seen in Lord of the Rings, Glenorchy offers an other-worldly landscape that you should check out whatever time of year you visit. A great way to discover the breathtaking landscape of Glenorchy, heli-skiing is a unique experience where you are transported by helicopter to landscapes so remote no ski lift can reach them. Heli Glenorchy's highly experienced pilots and industry-certified guides will pick the perfect drop-off point for your descent, and then it's just you, the skis and the sheer white slopes on an unforgettable skiing adventure.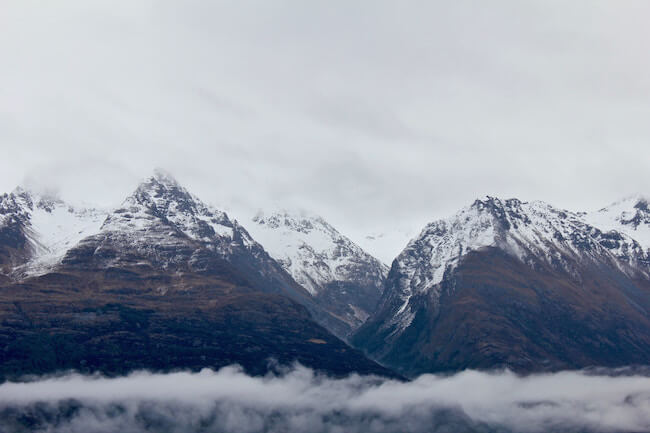 Image by Max Lawton
Skiing and snowboarding at Cardrona
Queenstown is New Zealand's capital of adventure, and skiing is just another of the adventures it offers. Some of the best Queenstown snowboarding and skiing can be found at Cardrona, one of the country's most popular ski resorts. Wide, open slopes mean many of the trails are perfect for both beginners and intermediates, while the more advanced can take on the Tulips and Captain's Area.
Dog-sledding in the Southern Alps
Enjoy a very special snow activity during your time in New Zealand: dog sledding! UnderDog near Cardrona is home to over 40 dogs including Siberian huskies, Alaskan malamutes and traditional Arctic sled dogs. Accompanied by a guide, you can drive your own team and feel the power of a pack of sled dogs as they lead you over breath-taking snowy trails through the peaceful and scenic mountains.
Hit the slopes at Coronet Peak
Another hotspot for Queenstown skiing is Coronet Peak, one of the biggest ski resorts on South Island. Coronet Peak is a huge resort with something for everyone – pistes, slopes and practice areas for all abilities can be found here. The Big Easy is a popular route for beginners, while more advanced skiers will be enticed by the thrilling Exchange Drop, and there are tonnes of other trails in between to try too.
Have a go at snowshoeing
Another popular New Zealand snow activity and a great way to explore off the beaten track is snowshoeing: hiking over snow with the use of special snowshoes. From the Snow Farm near Wanaka, you can hire snowshoes and set off on a number of dedicated snowshoe trails and cross-country trails over snow-covered hills, through alpine meadows and past rock features and trickling streams, taking in some of the very best scenery of the Southern Alps' Pisa range.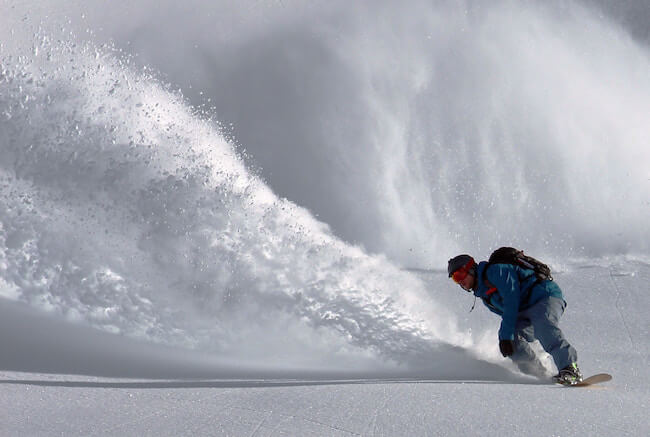 Image by Johannes Waibel
Skiing and snowboarding on North Island at Turoa
Although all of the skiing and snowboarding in New Zealand we've mentioned so far has been on South Island, you can also try these activities at Turoa, just one of two ski resorts on North Island. Here the varied terrain of Mt Ruapehu plays host to a variety of slopes suitable for all abilities. New Zealand's highest chairlift, the High Noon Express, takes skiers 722 metres up ahead of a thrilling and scenic descent with vast, open views of the mountains for miles around. Beginners will love the Alpine Meadow base, whereas advanced skiers and snowboarders can try the numerous gullies, cliffs and natural half pipes on for size.
The ultimate snowmobile adventure
New Zealand's only heli-snowmobile adventure can be found at Queenstown Snowmobiles, where you'll have exclusive access to trails and back country riding in locations so remote they can only be reached by helicopter. The helicopter ride leaving Queenstown is spectacular enough, taking in the Remarkables, the Hector Mountains and the Nevis River Valley before arriving in the Garvie Moutnain Range for your snowmobile adventure. Led by professional guides, you'll ride at speeds of up to 90kph through stunning alpine landscapes, with views over to Mt Cook, Mt Aspiring and beyond.
Fall in love with New Zealand in winter
The sheer array of places you can visit and activities you can take part in is what makes New Zealand one of the best places for a winter trip and a whole host of memorable experiences in the snow. With our organised tours of New Zealand, you'll get to spend some time in adventure capital Queenstown, where many of the ski resorts and snow activities mentioned can be found, perfect for discovering the thrills the country's snowy mountains have to offer. Alongside that, you'll get to enjoy a variety of other unforgettable experiences across New Zealand, from an epic cruise through Milford Sound to discovering the geysers of Rotorua.