New Zealand's North Island has many attractions, possibly too many to fit into just one trip. So if this is your first time touring the magnificent New Zealand, you'll want to make sure that you experience the best bits.
Your New Zealand North Island itinerary should be filled with discovery, adventure and breath-taking views. So to set you on the right path, we've carefully selected a fantastic range of activities and sights you won't want to miss on your travels around the North Island.
Bay of Islands
The Bay of Island is a collection of over 140 islands with a coastline that links to four charming towns: Paihia, Waitangi, Kerikeri and Russell. While the Bay of Islands is on our list of places you must go on your first visit to New Zealand's North Island, there are so many activities to choose from. So what you do is entirely up to you.
From a cruise to the famous "Hole in the Rock" and the excitement of a dolphin watching expedition, to diving to discover shipwrecks, kayaking along the Bays' vast waters, or simply just relaxing on the many beaches, there's something for everyone in the Bay of Islands.
The serene town of Russell, famous for being New Zealand's first permanent European settlement and seaport, is the perfect stop if you require a relaxing day. This seaside town is full of historic buildings and the coast is the best place to enjoy a sailing trip in the Bay of Islands.
Eden Park
Whether you love rugby or not, watching an All Blacks rugby game at Eden Park is quite an experience. The All Blacks fans are arguably the most passionate in the world and treat their national team like royalty. Any tourist stepping into a stadium of loyal supporters will find it hard to not be exhilarated in this exciting atmosphere. But even if you don't get to see a game, a tour of the stadium is a great experience in itself.
Auckland's Sky Walk
The Auckland Sky Walk is a (very) daring way to experience some of Auckland's best city views. Surrounding the outside of the Sky Tower is a 192-meter high platform that is only one meter wide. Its brave visitors are supported solely by a safety harness and can walk around the building while learning about Auckland's history and capturing breath-taking photos of the city's landscapes. Just make sure you don't drop your camera, because it's a long way down!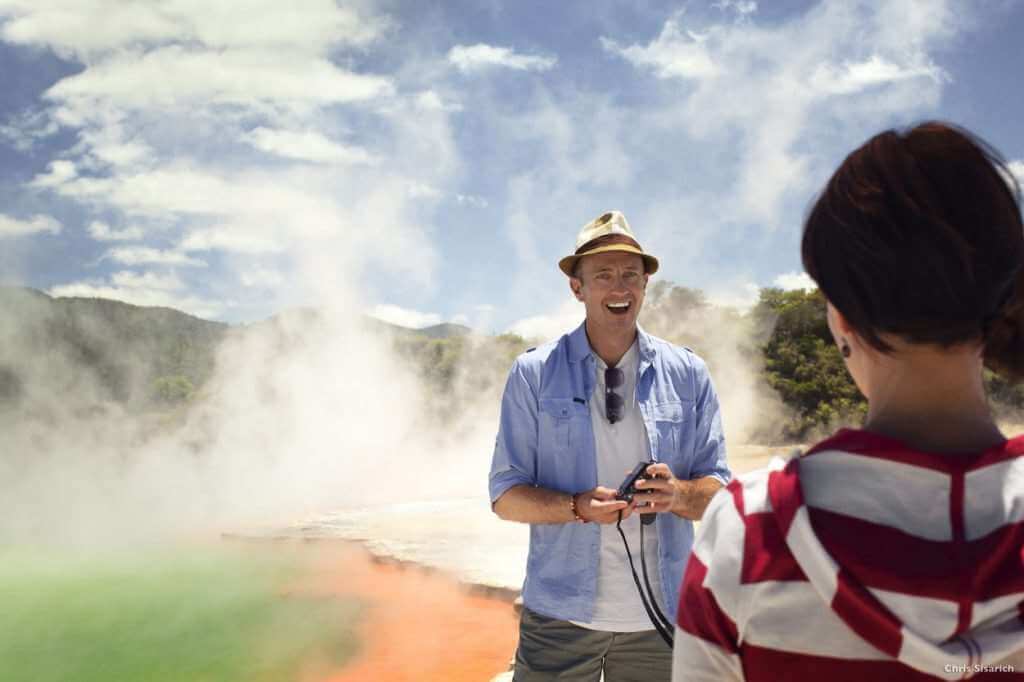 Rotorua
When visiting the town of Rotorua, there are two things you need to do. Firstly, you must stop off at the Polynesian Spa. In a town that gives you geysers fields, mud pools, fumaroles and hot springs, it's unsurprising to hear that their spa has been voted as one of the world's best. Secondly, you must visit the buried village of Te Wairoa. Over a century ago, Mount Terewaka exploded covering the entire village, including the Pink and White Terraces of Lake Rotomahana – a natural wonder the world was sadly denied of. Here you can walk amongst the archaeological site and visit The Buried Museum.
Whangarei Falls
The Whangarei Falls are found just 5km away from Whangarei's city centre and is known for being New Zealand's most stunning waterfall and is any photographer's dream. This 24 metre high waterfall is flowing constantly throughout the year and its surrounding bush area remains tourist friendly. So no matter which season you visit New Zealand in, this natural beauty spot is well worth a visit.
Hawke's Bay Cycle
The cycle tour around Hawke's Bay is very popular and you don't need to be an experienced rider to enjoy the trip. With flat land and a dedicated cycle path along the coast, you can enjoy a leisurely ride while appreciating the stunning scenery. Hawke's Bay is also renowned for its delectable wines, with many of its wineries easily accessible by bike (how can you say no?) Just make sure you don't get too carried away with the wine, or you might find yourself pushing your bike back!
Tamaki Cultural Experience
There are many exciting things to do on New Zealand's North Island, but for a more authentic experience, why not take the time to learn about New Zealand's culture and engage in some of the local traditions? The Tamaki Cultural Experience welcomes tourists into their Maori village, inviting you to embrace their ancient rituals and enjoy their customary song and dance. It's the perfect way to get a real insight into the culture and values of the Maori people.
Finally…
If you're still looking for things to do on New Zealand's North Island, you'll be pleased to know that this list is just the start of all the amazing attractions that await you. Plus, you can rest assured that whatever you decide to do, there is one thing that you can rely on: that you will never forget your time on the North Island.
Save
Save
Save
Save
Save