New Zealand is a remarkable country by any measure, boasting some stunning scenery and a laid-back lifestyle and culture. Its also a place full of wonderful wildlife that you simply can't find anywhere else. So what are the top ten Kiwi animals we think you should meet?
Hector's dolphin
The world's smallest species of dolphin is often to be found darting and gliding in the waves off the shores of South Island. In particular, there are numerous pods in Akaroa Harbour near Christchurch – yet another reason to spend time in this fascinating and cultured city.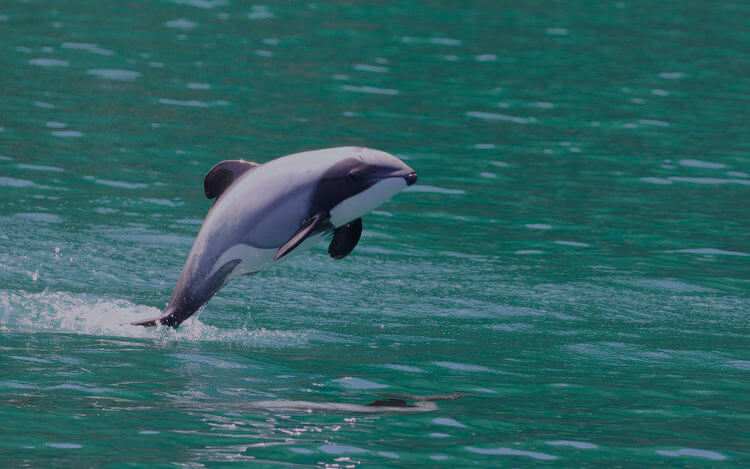 Hooker's sea lion
One of the most endangered sea lion species in the world, the Hooker's sea lion (aka New Zealand sea lion) can be found basking on the shores of the Otago Peninsula near Dunedin and in the Catlins. A sighting of one of these playful giants is sure to be a highlight of any holiday.
Lesser short-tailed bat
Bats, or pekapeka in Māori folklore, are New Zealand's only native land mammal, giving them a unique place in the country's ecosystem. Sadly, these fascinating creatures are in real danger of extinction, and the greater short-tailed bat is already thought to have disappeared. The long-tailed bat is considered "nationally critical" but the short-tailed bat population is recovering in a number of areas, so this is the species you are most likely to encounter.
Hamilton's frog
This is another critically endangered species, with only around 300 left on tiny Stephens Island at the northernmost tip of the Marlborough Sounds in the South Island. But the Hamilton's frog isn't just one of the rarest frogs in the world: it's also very unusual in that it doesn't croak.
Yellow-eyed penguin
New Zealand is home to no fewer than six different species of penguin – this one can be found around Banks Peninsula and Stewart Island in the south east of the country. The yellow-eyed penguin is the largest penguin to breed on the mainland and is a tall, thickset bird that can give a loud cry (but usually chooses to remain silent).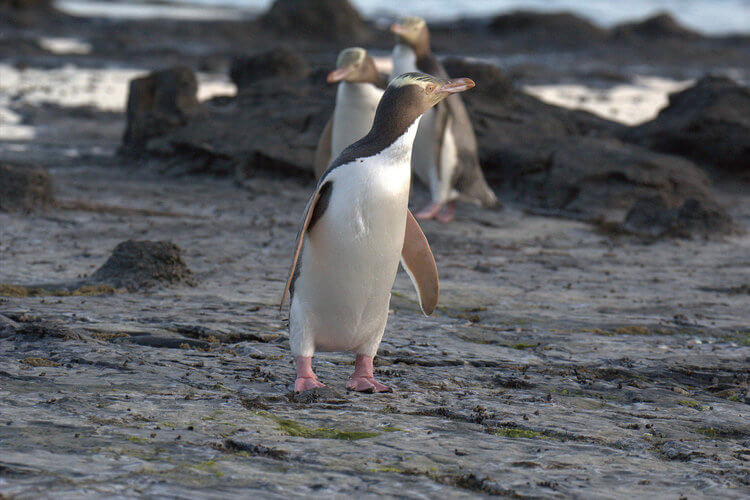 Tuatara
Known as the "living dinosaur", this is the last survivor of a reptile species that flourished 200 million years ago. But don't get visions of velociraptors from Jurassic Park: the tuatara is about two feet long and more closely resembles the kind of dragon you'd keep as a pet. One fascinating fact about this unusual creature is that it has a third eye on the top of its head.
New Zealand fur seal
Once hunted for their lush fur, New Zealand fur seals are now a protected species. They inhabit the coastlines around South Island, and are particularly prolific around Kaikoura, the Catlins and Fiordland National Park, though they can venture as far north as the Bay of Islands in the winter. Similarly, whilst they mostly stick to the coastline, these inquisitive creatures have been known to head inland and occasionally make surprise appearances in locals' gardens.
New Zealand falcon
This magpie-sized raptor is uniquely adapted to hunt within New Zealand's dense forests, though it can also be found in tussocklands and hill country. Although comparatively elusive, these falcons can sometimes be seen swooping and diving after prey or heard uttering their loud, staccato cry of "kek-kek-kek".
Chevron skink
Only found on the magnificent Great Barrier Reef – the world's largest structure made by living organisms, which can be seen from space – and Little Barrier Island, the chevron skink is New Zealand's longest lizard. With some 500 recorded sightings, it's not the easiest animal to encounter but it's certainly a fascinating creature.
Kiwi
Well, we could hardly leave out New Zealand's national bird, could we? Less common than you might expect, the kiwi mostly inhabits heavily forested areas. Living for anything up to 50 years, kiwis are a national treasure (taonga) to the Māori people, who use its feathers for cloaks. Standing up to 18 inches high, the kiwi is a majestic yet flightless bird, whose closest relative is the elephant bird of Madagascar, though emus and cassowaries come from the same broad family.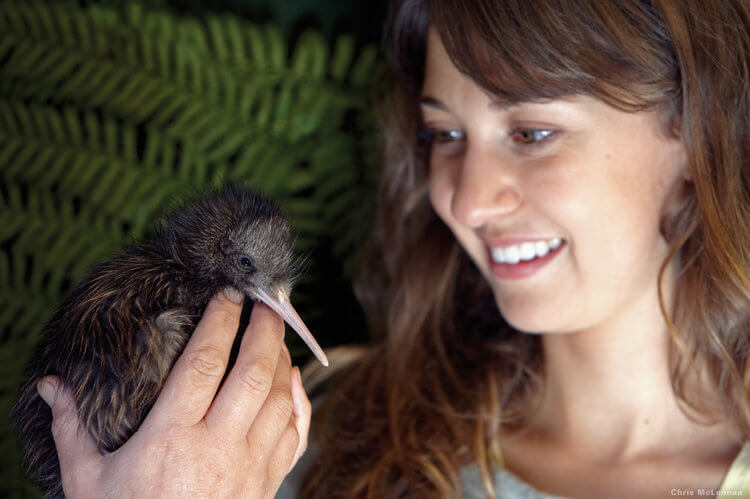 Let us help you discover the unique natural reserves of New Zealand via a tour of the country's many highlights. As you can see, there are some fascinating locals to meet – and plenty to see and do.
Images by Bernard Spragg, Gregory Smith and travelwayoflife via Flickr.