Cambodian food may not be as famous or as recognised as the cuisine of neighbouring countries of Vietnam and Thailand, but that isn't to say it isn't as delicious or packed with diverse flavours. If you're wondering what to eat in Cambodia, there is something that caters to everyone, from flavoursome fish dishes to a variety of fruity and spicy vegetable dishes that will delight vegetarian taste buds.
Like their neighbours, there is a strong street food culture in Cambodia, meaning it's easy to try a variety of the country's signature dishes and eat like the locals do. Here are some of the delectable dishes you simply must try in Cambodia.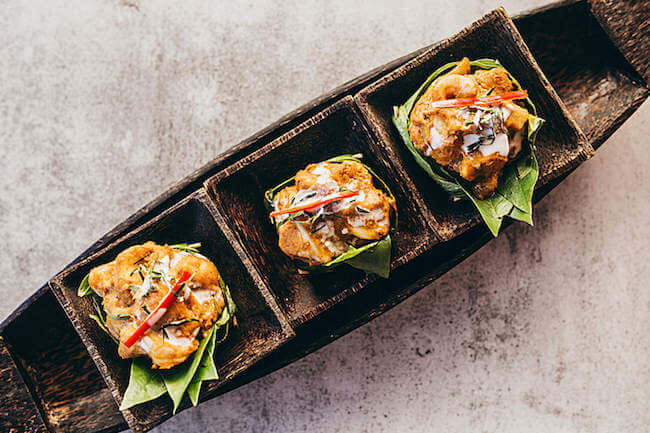 Fish amok
Perhaps Cambodia's most famous food, fish amok is extremely popular and can easily be found in large cities and popular tourist spots. Steamed and served in bowls made from banana leaves, fish amok is a creamy fish curry made from coconut milk, eggs, fish sauce and kroeung: a flavourful paste of spices, kaffir lime, shallots, lemongrass and other ingredients.
Beef loc lac
Fish amok's main competitor for Cambodia's national dish has to be beef loc lac: a fresh, crisp salad topped with stir-fried strips of tender beef. What really makes beef loc lac stand out however is its extra topping of a fried egg and the popping flavour of the dipping sauce, made from lime and Kampot pepper.
Pork and rice
Also known as bai sach chrouk, pork and rice is an extremely popular breakfast food in Cambodia. Thin slices of pork, marinated overnight in garlic and oil, are barbecued and served over rice alongside a garnish of pickled vegetables and sliced cucumbers: a substantial breakfast dish packed with classic Asian flavours.
Kuy teav
Another popular breakfast food to eat in Cambodia is kuy teav, a noodle soup that can easily be found at street food stalls. The base noodle soup consists of a pork or beef broth and rice vermicelli, before a plethora of ingredients are added. These include pork or fish balls, fried shallots, bean sprouts, garlic, chilli paste and aromatic herbs.
Khmer curry
Like in many Asian countries, curry is a popular dish in Cambodia too, but the country puts its own unique stamp on it. Usually milder and sweeter in taste than curries we are typically used to, the flavour of Khmer curry relies on herbs more than spices. As a base, the curry normally features chicken, coconut milk, fish sauce, sweet potato, shallots, garlic, ginger and turmeric. Depending on where you are in the country, as well as the occasion, the curry may feature other ingredients, and is usually served either with rice or a baguette.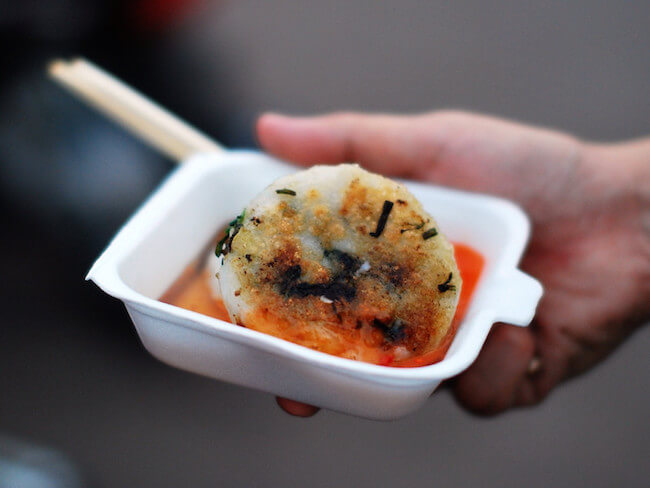 Image by CYL
Street snacks to try in Cambodia
Alongside the more filling breakfast, lunch and dinner staples, there are plenty of tasty snacks to enjoy in Cambodia too, which can easily be picked up on the go from a street food stall. Some of the most popular include chive cakes (num kachay), served with a spicy fish sauce; barbecued beef or pork skewers, paired with a zingy pickled papaya salad; and piping hot steamed pork buns, filled with a mixture of pork and egg.
Sweet treats to sample in Cambodia
Many of Cambodia's most popular foods are savoury, but there are some tasty sweet treats well worth trying too. A much-loved afternoon snack is chek chien: flattened bananas deep-fried in batter and topped with sesame seeds for a nutty taste. Num ansom (sticky rice cakes) are also synonymous with Cambodian cuisine. Sweet versions are flavoured with banana and coconut, while savoury versions feature pork and mung beans.
Pickled fruit is also extremely common, accompanied with a sweet, salty and spicy dipping sauce; it can feature anything from apple to papaya, guava and other more exotic flavours. Sankhya lapov (pumpkin custard) is also a delicious dessert you may find on restaurant menus: a sweet custard steamed inside a pumpkin.
Unusual foods to try in Cambodia
While wandering past Cambodia's street food stalls, you may see some Cambodian snacks and bites to eat that seem a little more unusual to the British palate. Although there are some French influences on Cambodian food, grilled frogs have been enjoyed by Cambodians for hundreds of years, served barbecued on a stick in a garlic and chilli marinade.
For the more adventurous, travellers can also try deep fried scorpion on a stick and even tarantula deep-fried in chilli: crispy on the outside, and warm and juicy on the inside. Locals also love balut, a fertilised duck embryo, which is eaten whole from the shell.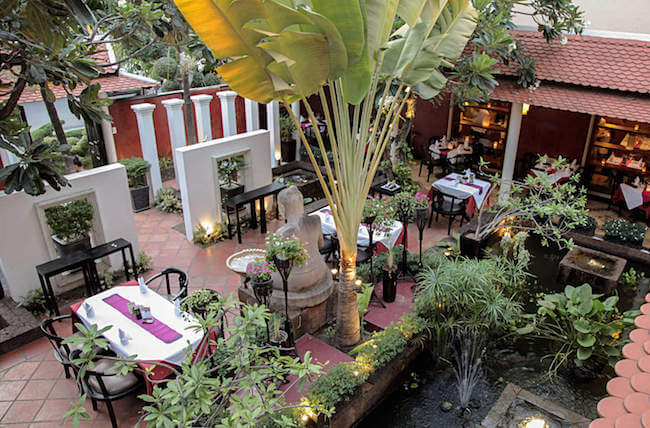 Where to eat in Cambodia
Alongside the thousands of street food stalls you'll find lining the street corners of towns all over the country, there are also plenty of excellent restaurants where you can sit down and savour Cambodia's vibrant and exciting flavours. In Phnom Penh and Siem Reap especially, you'll find some really high-quality restaurants serving dishes packed with authentic Cambodian flavours. If you're in either of these cities, try a visit to some of our favourite places to eat:
Malis Restaurant (Phnom Penh and Siem Reap): a restaurant which strives to put Cambodia on the map as a culinary destination. This high-end restaurant also offers an elegant courtyard setting to dine in.
Mok Mony (Phnom Penh): a popular Khmer and Asian restaurant serving real comfort food and a selection of refreshing drinks.
Romdeng (Phnom Penh): one of four restaurants in Cambodia which trains young promising chefs, Romdeng offers traditional and creative Cambodian dishes in a beautiful colonial building.
Eat your way around Cambodia
With so many unique and inspiring dishes to try, Cambodia is a must-visit destination for any foodie or aspiring chef. On our escorted tour visiting Cambodia, you'll get to visit both Phnom Penh and Siem Reap, both packed with excellent restaurants and home to lively street food cultures. What's more, you'll also get to explore incredible places such as the world-famous temples of Angkor Wat and the impressive Royal Palace.
Featured image by Malis Restaurant