India, a vast nation with a rich history and diverse culture, is the seventh-largest country in the world by land area. Over 1.3 billion people live in India, making it the most populous democracy on earth.
Thanks to its 4000-year-old history, India is home to a number of ancient monuments, buildings and natural wonders. The country also boasts over 40 impressive UNESCO World Heritage Sites, including the Taj Mahal and Agra Fort.
In this guide, we'll explore everything you need to know ahead of your tour of India, including customs, culture and traditions along with the best places and times to visit.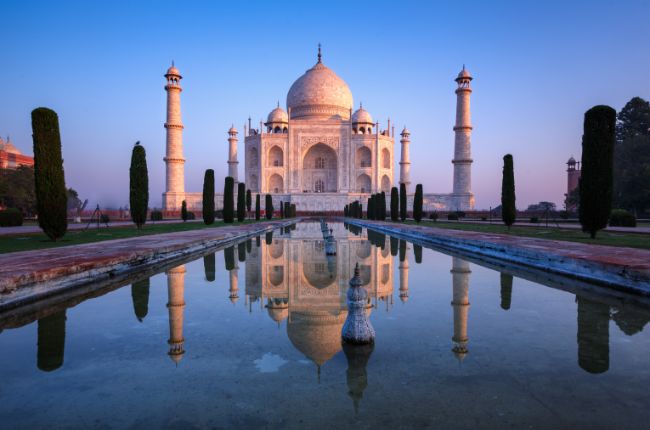 India Travel Requirements
UK travellers visiting India will need a valid tourist visa that can be obtained online through the e-Visa website, or through the Indian embassy in the UK. Tourist visas in India are valid for up to 60 days, but this can be extended by an additional 30 days upon arrival.
You can learn more about obtaining a visa on the gov.uk website. If you're touring India with Distant Journeys, get in touch with our helpful team who will answer any visa questions you might have.
Covid restrictions in India have been eased for the most part, and travellers are no longer required to provide proof of vaccination or a negative PCR test.
Travel Advice for Visiting India
Due to its fascinating history, extensive culture and natural beauty, India is a spectacular place to visit. Below we've outlined a few pieces of travel advice and tips to help you ahead of your visit, so that you can enjoy your stay to the fullest.
Is it Safe to Travel to India?
India is generally a safe destination for travellers, but it's important to be aware of any potential risks ahead of your trip and stay up-to-date with the latest government travel advice.
Women and solo travellers might be more apprehensive about visiting India, particularly alone. Our guided solo tours, such as the Temples, Tigers & Goa tour, offer a great way to safely experience all that India has to offer. Travelling with a group of no more than 19 people, our solo itineraries are designed to allow you to explore India with like-minded travellers and a tour manager, offering plenty of solo opportunities along the way.
What is the
Language of India?
The official language of India is Hindi, which is spoken by around 41% of the population. However, India is a diverse and multilingual country with over 1,600 languages spoken. English is also widely understood and can be used to communicate during your trip. Other languages spoken in India include Bengali, Telugu and Tamil.
If you're taking a guided tour with us, our tour manager will help you easily communicate with the locals during your trip.
What is the Currency of India?
The currency of India is the Indian rupee (INR), often abbreviated as Rs.
You can only bring up to 25,000 Rs into India (that's less than £250) and exchange rates are often hiked up for tourists, so we'd recommend using your debit card to withdraw cash from a local ATM.
What is the Time Difference with India?
India's time zone is India Standard Time (GMT+5:30), meaning the country is 5 hours and 30 minutes ahead of the UK. When Daylight Saving Time comes into effect in summer, this increases to 6 hours and 30 minutes.
What to Know About Eating in India
Eating in India is a wonderful and enjoyable experience with so many local delicacies to try, but there are a few things that travellers should know before dining out in the country.
One of the most important things to note is that India is primarily a vegetarian country. Most of the population is vegetarian, so it is not uncommon to find vegetarian-only restaurants or to be offered a veggie menu when dining out. It is also important to note that most Hindus don't eat beef, so you won't find it served in any Indian restaurants.
When it comes to tasting local delicacies, eating out in India is relatively inexpensive. Street food stalls are ever-present, but we always advise travellers to choose carefully. If you're travelling with us, your local guide will recommend great places to eat – with many dining experiences even included in the cost of your trip.
One of the most important rules to follow during your trip is to never drink tap water. You've probably heard horror stories about Delhi Belly. Tap water in India is notorious for causing sickness among travellers, so always opt for bottled water instead.
When is the Best Time to Visit India?
India has a tropical climate, with hot and humid weather in the south and cooler temperatures in the north. Generally, the best time to visit India is between October and March, when the weather is cool and dry. However, India's landscape is vast with a variety of climates and weather patterns, so it's important to check the forecast ahead of your visit.
If you're planning a trip to India to see some of the festivities, Holi (the Festival of Colours) takes place in March while Diwali (the Festival of Lights) takes place in October/November.
Where is India?
Situated in the heart of South Asia, India is bordered by Pakistan to the west, China and Nepal to the north, Bangladesh to the east, and Sri Lanka off its southern coast. It is also separated from the rest of Asia by the Himalayas and surrounded by the Bay of Bengal, the Arabian Sea and the Indian Ocean.
The flight time from the UK to India is around 9-10 hours if flying direct.
What is India Famous For?
From the snow-capped peaks of the Himalayas in the north to the sun-kissed beaches of the south, India is a diverse and vibrant country famous for its delicious cuisine, rich cultural heritage and colourful festivals.
Throughout our tours, we encapsulate many of India's highlights. You could enjoy a traditional rickshaw ride through Old Delhi, explore the Mughal Emperor's Red Fort, and marvel at the magnificent Taj Mahal. On our 26-day Grand Tour of India, we even take a ride on the UNESCO Toy Train to Shimla and enjoy a wildlife safari at Ranthambore National Park.
What are the Best Places to Visit in India?
From ancient temples and palaces to natural wonders and bustling cities, there is something for everyone visiting India. There are so many vibrant cities and towns just waiting to be explored, each offering its own unique experience. Here are some of our favourite places to visit in India, many of which are included on our tours.
Delhi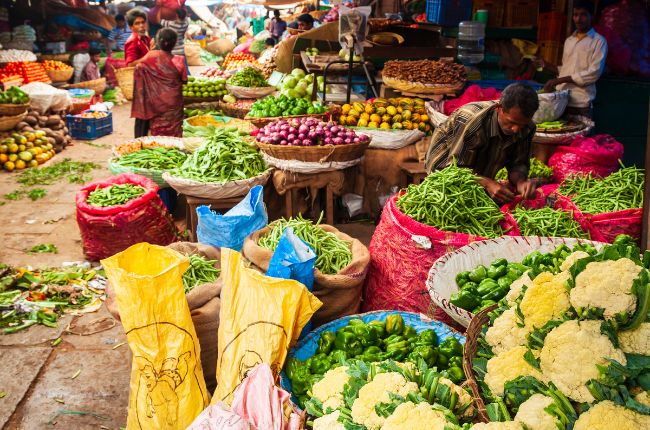 Delhi is the capital city of India and is known for its history, culture, street food and bustling atmosphere. Popular attractions in Delhi include the Red Fort, a 17th-century Mughal fort, and Humayun's Tomb, a UNESCO World Heritage Site that is considered a masterpiece of Mughal architecture. Learn more in our Delhi guide.
Goa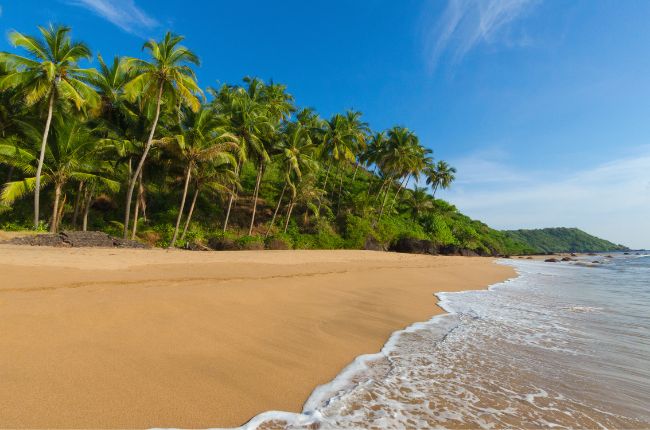 Goa is located on the western coast of India, famed for its beautiful beaches, vibrant nightlife, and Portuguese colonial-influenced architecture. It's also home to some impressive cultural landmarks, such as the Basilica of Bom Jesus, a UNESCO World Heritage Site. Discover more in our Goa travel guide.
Agra
Home to the Taj Mahal, one of the most beautiful landmarks in the world, Agra is undoubtedly a highlight on any tour of India. In addition to the Taj Mahal, Agra is also home to a number of other historical and cultural landmarks, including the Agra Fort, a 16th-century fort that was built by the Mughals. Learn more in our Agra travel guide.
Ranthambore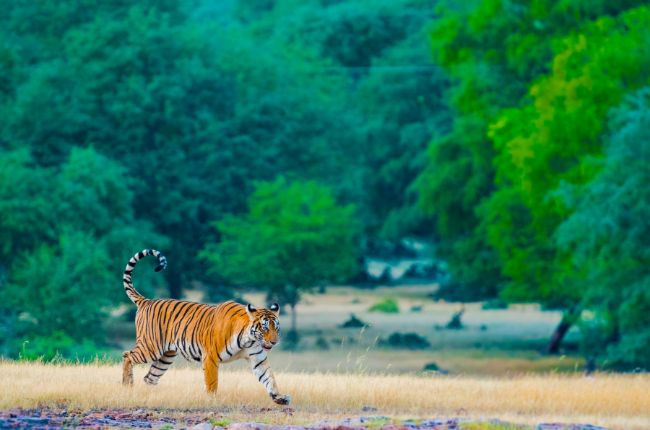 Ranthambore is a national park located in the state of Rajasthan, renowned for its rich biodiversity and opportunities to see a wide range of wildlife, including tigers, leopards, and deer. The park is also home to a number of ancient ruins, including the Ranthambore Fort, which dates back to the 10th century. During our Golden Triangle and Ranthambore Tour, we embark on an incredible safari journey to explore the park's impressive wildlife.
Jaipur
As the capital city of the state of Rajasthan, Jaipur is home to a number of historical landmarks and sights to see, including the Hawa Mahal, a palace that was built in the 18th century and is known for its intricate pink sandstone carvings. In fact, Jaipur gets its name 'The Pink City' from the pink hue present on many sandstone buildings throughout the city. We visit Jaipur on many of our India tours, including The Golden Triangle & Goa Tour.
Mumbai
Mumbai, formerly known as Bombay, is the capital city of the state of Maharashtra. Mumbai is a popular tourist city thanks to its iconic landmarks, lively culture and British connections. The city is perhaps best known for its thriving film industry, Bollywood. You'll also find an array of popular attractions in the city, from the Gateway of India, a towering archway that was built to commemorate the visit of King George V and Queen Mary in 1911, to Mani Bhawan, a remarkable museum dedicated to Gandhi.
Cochin
Cochin, also known as Kochi, is a port city in the Indian state of Kerala. It is the commercial and industrial capital of the state, as well as a major port on the Arabian Sea. Cochin is a city that has been heavily influenced by other nations across the world, from Europe to China. Travellers visiting Cochin might wish to visit popular attractions like Mattancherry Palace and Fort Cochin.
Begin your journey with Distant Journeys
Whether exploring the action-packed Golden Triangle or relaxing on a sunkissed beach in Goa, India is an endlessly interesting country with so many things to see and do. Our guide touches on the highlights, but the truth is there is so much to see in India beyond the must-see attractions and cities.
To experience India's natural beauty and bustling culture to the fullest, we always recommend a guided tour. Our guided tours have been expertly designed to cover every corner of India's cultural, natural and architectural attractions – all in the perfect amount of time.
Browse our tours of India to learn more. Our Grand Tour of India is a great place to start!