Jaipur, the capital of the Indian state of Rajasthan, is a popular destination for tourists visiting India. It is often referred to as "The Pink City" thanks to the charming pink hue of many buildings throughout the old town.
The city blends traditional Indian culture with modernity, offering an unparalleled insight into this beautiful region's rich history and stunning architecture. From the majestic Amber Fort to the impressive Jantar Mantar, you'll never be short of things to do in Jaipur.
In this guide, we've uncovered some of the best places to visit in Jaipur during your tour of India, along with the best times to visit this beautiful city and any must-try restaurants to sample along the way.
What is Jaipur Famous For?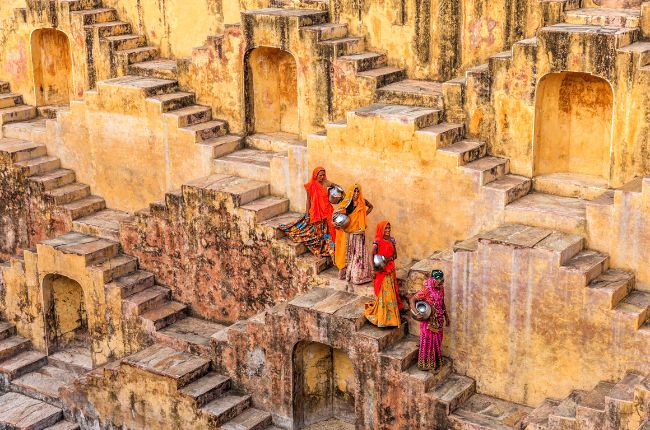 Jaipur is a city famous for its interesting history and fascinating architecture. Its pink architectural delights are one of the first things you'll notice when stepping foot in The Pink City. Many buildings in the old town were painted pink in 1878 in order to welcome the Prince of Wales to Jaipur. Still to this day, the city is famed for its dominant pink hue.
The Pink City also offers an unmissable opportunity to immerse yourself in traditional Rajasthani cuisine, shop for locally-made handicrafts, and experience the vibrant local culture.
Thanks to its wonderful attractions and warm hospitality, Jaipur is a destination included in many of our tours of India. On our 11-day Golden Triangle & Ranthambore tour, for example, you could spend 3 nights in Jaipur to enjoy the many magnificent sites the city has to offer. We'll also explore its rich history, learning about the importance of the royal family and the part they have played in Jaipur's history. We also visit Jaipur on our solo tours.
When is the Best Time to Go to Jaipur?
The spring months of March and April offer mild temperatures and an abundance of festivals to enjoy in Jaipur, including the Elephant Festival, Teej Festival and Holi – one of the most popular festivals in Hinduism also known as the Festival of Colours. When summer comes around, Monsoons can be expected in Jaipur accompanied by very hot temperatures, so many travellers may wish to avoid the city at this time of the year.
Winter and autumn are also popular months to visit, along with spring, thanks to cooler temperatures and less rainfall. Diwali, The Festival of Lights, also takes place in October-November.
The Best Things to Do in Jaipur
From its famous forts to imposing pink buildings, there are plenty of things to see and do in Jaipur. Here are some of our top picks to help you make the most of your trip.
Many of these wonderful attractions are included in our India tour itineraries, including our Golden Triangle & Goa trip. Although many amazing experiences are included, you'll also have plenty of free time to explore Jaipur at your own pace.
Amber Fort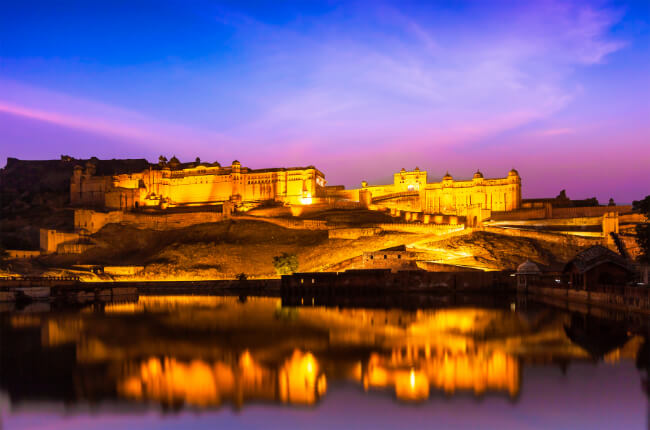 The Amber Fort is a stunning palace complex that blends Hindu and Muslim architecture – and it's also a UNESCO World Heritage Site! Undoubtedly one of Jaipur's most popular sights, this striking fort sits high on a hill overlooking the surrounding landscape.
One of the most famous parts of the Amber Fort is the Hall of Mirrors, the Sheesh Mahal, known for its intricate mirror work and beautiful frescoes. During a tour of the fort, you can expect to learn about its history and architecture, uncovering a few stories about the people who lived and ruled there along the way.
City Palace
The City Palace is an important historical and cultural landmark in Jaipur that's located in the heart of the city. The palace was built by Maharaja Sawai Jai Singh II, the founder of Jaipur, and it was later expanded upon by successive rulers.
The City Palace blends Rajput and Mughal architecture with its collection of impressive buildings, courtyards, and gardens, including the Mubarak Mahal, the Chandra Mahal, and the Shri Govind Dev Temple. The palace also houses a collection of museums offering a glimpse of rare manuscripts and art. Look out for the peacock gates upon arrival, decorated intricately with mosaics made from pieces of coloured glass.
Mubarak Mahal
Mubarak Mahal is one of many palaces located inside the City Palace complex. The palace's architecture is a fusion of Islamic and Rajput styles with arches, domes and minarets. The palace also houses a collection of royal costumes, textiles and other artefacts which gives a glimpse of the opulent lifestyle of the Rajput Maharajas.
Hawa Mahal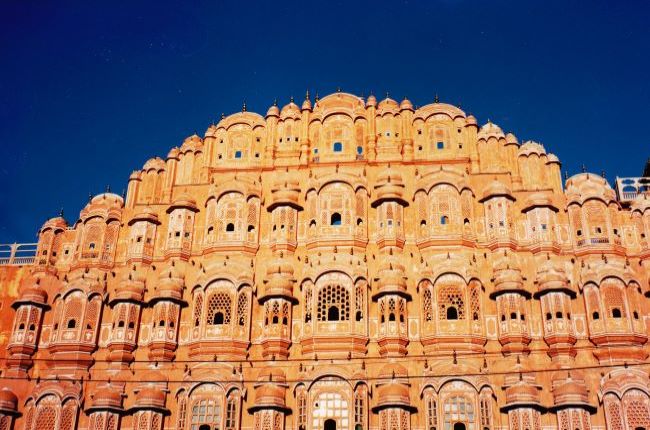 Also nestled within the City Palace complex is Hawa Mahal, a palace designed for the women of the royal court. The palace is known for its unique and distinctive architecture, which features a five-storey pyramid-shaped facade with 953 small windows (or jharokhas) that are decorated with intricate latticework. It truly is a sight to behold.
Jantar Mantar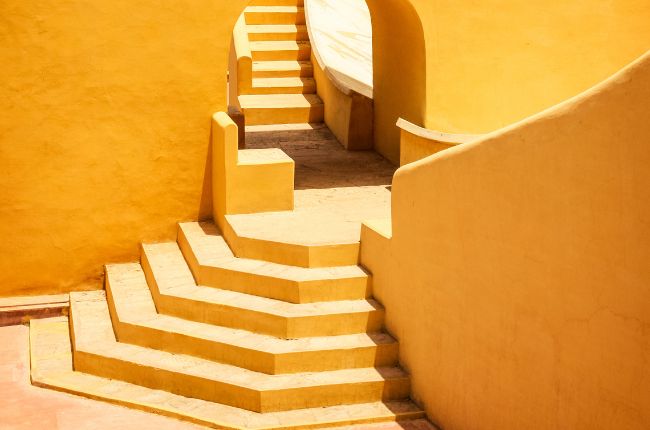 Jantar Mantar is an astronomical observatory that was founded in the early 18th century. Now a UNESCO World Heritage Site, the site is home to 19 astronomical instruments built by Maharaja Sawai Jai Singh II of Jaipur. A highlight of the attraction is Samrat Yantra, the world's biggest and best-preserved stone sundial.
Raj Mandir Palace
Raj Mandir Palace is a grand and opulent cinema theatre known for its Art Deco architecture, a rarity in India. The theatre was built in 1976 and was designed by a famous Indian architect named W. M. Namjoshi. Today, the theatre is widely considered to be an architectural marvel, making it a must-visit destination for tourists and film enthusiasts.
The all-singing, all-dancing theatre regularly screens films in Hindi and other regional languages. It also hosts many concerts, award shows and cultural events. If you're planning on watching a film here during your stay, we recommend a mid-film samosa snack.
Temple of the Sun God (Galtaji Monkey Temple)
A Hindu temple dedicated to the god Surya (Sun), known for its natural spring water and large population of monkeys that inhabit the area.
Royal Gaitor
An impressive tomb site that features many beautiful and historical Maharaja tombs. The complex offers a sense of serenity and reflection amongst the bustle of Jaipur.
Nahargarh Fort (Tiger Fort)
Nahargarh Fort is another impressive fort in Jaipur that was once used as a royal residence. The fort is known for its spectacular views of the city, particularly at sunset.
Jaigarh Fort
Built in the 18th century, this well-preserved fort is known for its canons. In fact, it is even home to the largest cannon on wheels (The Jaivana Cannon) making it a must-visit for those with a keen interest in military history.
Albert Hall Museum (Government Central Museum)
Known to be one of the oldest museums in Rajasthan, The Albert Hall Museum blends Oriental and European architecture and exhibits rare manuscripts, paintings, sculptures and decorative art.
Bapu Bazar
A bustling marketplace in the heart of Jaipur that is home to local crafts and street vendors selling leather, textiles, jewellery and souvenirs.
The Best Restaurants in Jaipur
As the capital of Rajasthan, Jaipur is of course famous for its traditional Rajasthani cuisine – which is characterised by the use of locally-sourced ingredients and a blend of sweet, sour, and spicy flavours. Whether you're looking for a casual street-side eatery or a fine dining experience, Jaipur has it all.
Cinnamon – Jai Mahal Palace
Nestled in the 18-acre grounds of Jai Mahal Palace is Cinnamon, a fine dining pan-Indian restaurant. The head chef has a career spanning over 30 years, evident in Cinnamon's gourmet Indian dishes representing an era of opulence and royalty.
The Verandah
This popular tea lounge is the perfect spot to sit back, relax and enjoy the most authentic dining experience in Jaipur. The cafe offers traditional tea, cocktails and light meals to accompany your drinks.
1135AD
1135AD is a dining room within the Amber Fort, offering opulent Indian dishes in one of the finest settings. Vegetarian and non-vegetarian dishes are clearly labelled on the menu.
Tapri Central
Tapri is another traditional tea house in Jaipur, offering a rustic and antique atmosphere that adds to its charm. Tapri overlooks Central Park, offering impressive views as you sip Chai tea and enjoy a traditional bite to eat.
Chokhi Dhani
Chokhi Dhani is a fine restaurant serving authentic Rajasthani and international cuisine. The restaurant has become so popular that they now have a location in London. However, the dining experience in Jaipur itself is like no other. Expect warm and welcoming hospitality paired with vibrant, authentic dishes.
Ready to explore The Pink City?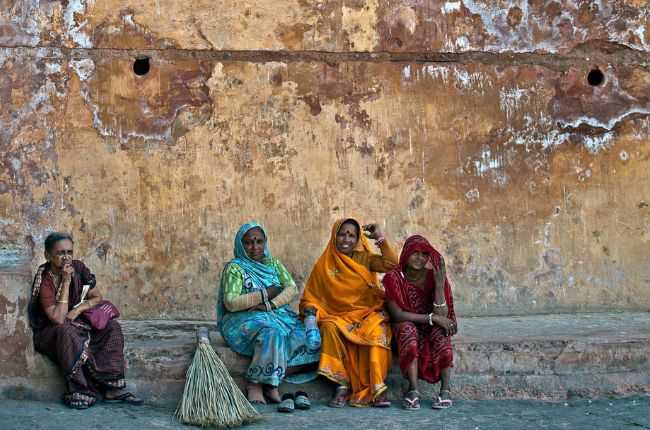 Jaipur is a beautiful and vibrant city that is often a highlight during our tours of India. From the magnificent Amber Fort to the stunning City Palace, there is no shortage of sights to see and things to do in Jaipur.
If you're ready to explore the city's diverse and delicious dining scene, sampling everything from traditional Rajasthani cuisine to modern international fare, then Jaipur is a must-visit during any visit to India.
During our Grand Tour of India, we spend 2 wonderful nights in Jaipur to explore all the city has to offer. There are also unmissable stops at fascinating destinations like Delhi, Shimla, Amritsar, Agra, Ranthambore and Udaipur along the way. Why not join us for a once-in-a-lifetime trip?
We also offer solo tours of India, ideal for free spirits and independently-minded travellers! Browse our Temples & Tigers or our Temples, Tigers & Goa solo tour to learn more.