Famous for its pristine beaches, crystal clear waters and delectable seafood, it's easy to see why Goa is a travellers paradise. This seaside state also offers a glimpse into India's spiritual side, with an abundance of yoga retreats and a fascinating blend of Indian and Portuguese cultures.
If you're searching for the best things to do in Goa, then you're in the right place. In this guide, we've uncovered Goa's must-see sights and hidden gems, including a few famed seafood spots along the way.
Here's your ultimate guide to Goa's best places to visit, many of which are available as part of our India Tours.
Our Favourite Goa Beaches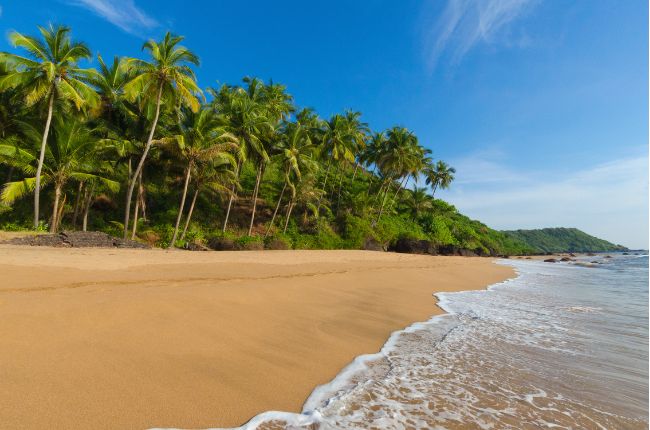 Goa's beaches are undoubtedly one of the area's biggest draws. Goa's pristine coastline stretches along the Arabian sea, offering 104 km of beautifully clear waters, golden sandy beaches and all-year-round sunshine. Every town along the 104 km stretch has developed its own unique sense of community. You'll find backpacker neighbourhoods, isolated retreats and everything in between. Here are a few of our top picks.
Varca Beach
Best for: Isolated relaxation
Vacra is a small seaside resort just north of Cavelossim that stretches for 10km. This quiet resort is the perfect place to escape the crowds, particularly after a busy sightseeing trip around India. There are a few shops and restaurants nearby, but overall Varca is a private paradise that's perfect for sun seekers. We visit Varca on many of our India tours.
Miramar Beach
Best for: Adventure
Located in the Goan capital of Panjim, this urban beach is popular with families, friends and fitness fanatics alike. Miramar is well known for its watersports and adventure, making it the perfect spot for casual thrillseekers.
Candolim Beach
Best for: Atmosphere
Candolim Beach is a lively stretch that's aligned with beach shacks, cafes and restaurants to keep visitors entertained. It's the perfect place to watch the sunset, too.
Agonda Beach
Best for: Watersports
Agonda Beach is a surfers paradise. Its smooth yet consistent waves offer the perfect surf for first-timers and beginners. Aloha Surf India, a local surf school, will help you get the hang of things. Agonda is also a great spot for anyone looking to try their hand at bodyboarding.
Vagator Beach
Best for: Wining, dining and a hint of history
Vagator is a serene yet lively beach that offers the best of both worlds. Sink your feet into its soft, golden sands, or enjoy a short stroll to one of many nearby cafes and restaurants. There are a few popular attractions nearby too, including Chapora fort, built by the Portuguese in the 17th century and offering soothing sea views.
Cavelossim Beach
Best for: Calm waters
Cavelossim is one of Goa's most unique beaches thanks to its contrasting geological features. This postcard-worthy beach boasts white sands with black lava rocks, making it a truly fascinating spot to sit back and relax. Cavelossim's waters are incredibly calm, making it an ideal place for keen swimmers.
The Best Things to Do in Goa
Although famed for its golden sands and soothing waters, Goa has so much more to offer. If you're looking to do a spot of sightseeing during your stay, here are some of the best things to do in Goa.
Bom Jesus Basilica Church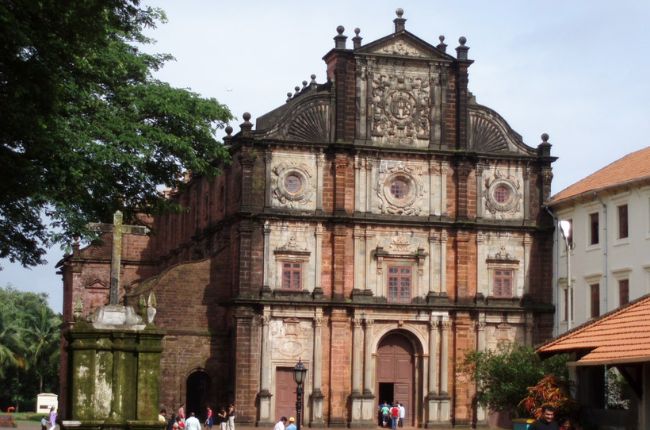 Bom Jesus is India's first minor basilica located in the Konkan region. The basilica is both a pilgrimage centre and a local monument, recognised as a UNESCO World Heritage Site. The church was first built in 1605 and offers a fascinating glimpse of Baroque architecture. We visit this remarkable attraction on our Golden Triangle & Goa tour.
Dudhsagar Falls
Dudhsagar Falls is a four-tiered waterfall located on the Mandovi River. Dudhsagar translates to Sea of Milk in English, evident from its white milky waterfalls, and is Goa's tallest waterfall. The falls are surrounded by lush greenery and can be found just 60 km in-land from Panaji.
Fontainhas
Fontainhas, Goa's Latin Quarter, is a heritage colony famed for its colourful and fascinating sights. Fontinhas was founded in the late 1800s by Antonio Joao de Sequeira, a wealthy Portuguese man that used the land for coconut plantations. Today, Fontainhas is the oldest preserved Portugues quarter in Goa and is a prime example of the fascinating blend of Indian and Portuguese cultures.
Arpora Saturday Night Bazaar
This lively night market showcases local artisan's every Saturday night. The market starts at 4pm and continues well into the early hours of Sunday. Expect live shows, music and local artisans.
Visit a Spice Plantation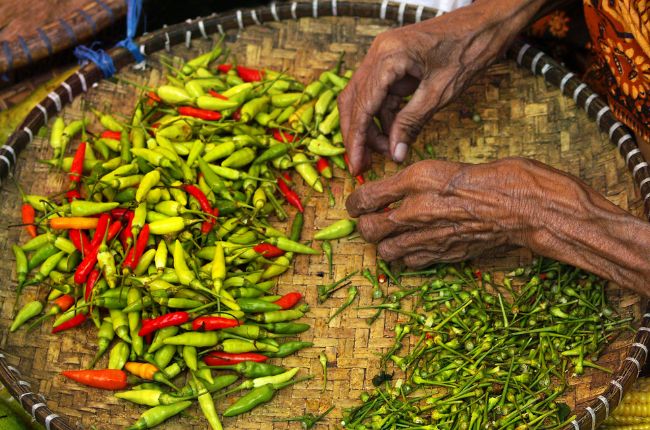 India is undoubtedly a country well-known for its spices. Goa itself offers a fascinating insight into spice plantations, with many plantations offering a taste of the region's Portuguese flair. A visit to a spice plantation is a great way to learn about India's most famous spice exports. We recommend Tropical Spice Plantation or Sahakari Spice Farm in Ponda.
Other must-see sights in Goa include Anjuna Flea Market, Se Cathedral, Bigfoot Cross Museum and Mahadeva Temple, a historic Hindu temple.
Food and Restaurants Not to Miss in Goa
A trip to Goa wouldn't be complete without sampling some of the finest local delicacies. Here are some of our favourite dishes to enjoy and some of our must-visit restaurants.

Goan Cuisine to Try
Goa is renowned for its seafood dishes, but perhaps one of the most interesting culinary delights is its unique blend of Portuguese and Indian flavours. Here are a few Goan favourites to try out during your stay.
Goan Fish Curry. Expect local fish and a perfect blend of spices.
Pork Vindaloo. This local Goan dish was inspired by Portuguese dish Carne de Vinha D'alhos.
Chicken Cafreal. This marinated chicken dish is served with cafreal masala, a super flavoursome green spice.
Chicken Xacuti. A superb blend of spices and coconut gives thai curry a unique taste.
Crab Xec Xec. A must-try, traditional Goan crab curry.
Kingfish Rava Fry. Available in most Goan restaurants, the local Kingfish is a key ingredient to this dish.
Prawn Balchão. A prawn pickle dish that's sweet yet spicy, tangy yet flavoursome. It's often kept for the rainy season when fresh fish isn't available.
The Best Restaurants in Goa
Thinking about sampling the local dining scene in Goa? There are plenty of illustrious restaurants to try out during your stay. Here are 6 of our favourites.
Gunpowder Goa – Located in Assagao, this South Indian restaurant is a modern eatery nestled amongst Goa's greenery. Expect all of your Goan favourites and more.
Bomras – One of Goa's most iconic eateries that has even been recognised by Conde Nast Traveller and Vogue. This popular restaurant in Anjuna blends modern Burmese cuisine with Asian influences.
Vinayak – Vinayak is a family-run restaurant in Assagao that serves fresh and local seafood with an authentic flare. Don't be fooled by its shack-like aesthetic, Vinyak is a true Goan gem.
Mahé – Mahe offers a 19th-century Portho dining experience in Anjuna. Their modern coastal cuisine creates a unique culinary story from where the river meets the sea. We recommend a visit to the Blush bar too.
Venite – Located in Panjim, Venite is famed for its authentic Goan cuisine. Expect local seafood dishes with a Portugues twist.
Fisherman's Wharf – Fisherman's Wharf in Cavelossim is a pioneering modern fusion restaurant. Located on the banks of River Sal, this popular Goan restaurant combines Indian and global flavours for the ultimate culinary experience.
Enjoy Goa's Breathtaking Coastline
It might be one of India's smallest states, but Goa is a destination ideal for those with an appetite for exploration. The region is distinguished for its rich heritage, friendly locals, tropical climate and exotic beaches. The truth is, Goa has something to offer for everyone – whether you're in search of sunshine, culture or adventure.
If you're thinking about taking a tour of India with Distant Journeys, why not extend your trip with 3 nights in Goa? Our Goa extension sees us spend 3 unforgettable nights in Goa, exploring the must-see sights and enjoying the soothing sounds of Goa's tranquil waters.
Some of our India tours also include a trip to Goa, including our Temples, Tigers & Goa Tour. Learn more here.