Delhi, India's official National Capital Territory, is a city that is not to be missed. With a population of over 20 million people, it is a bustling metropolis that is known for its rich history and vibrant culture.
From the towering minarets of the Jama Masjid to the bustling bazaars of Chandni Chowk, there is certainly no shortage of things to do in Delhi. Located in the heart of northern India, this lively city has something for everyone – whether you're interested in exploring its ancient monuments and museums, sampling its delicious cuisine, or simply soaking up the bustling energy of one of the busiest cities in the world.
In this guide, we explore everything you need to know ahead of your tour of India and Delhi, including the best places to visit and unmissable restaurants and cafes.
Where is Delhi?
Delhi is located in northern India, situated on the banks of the Yamuna River and surrounded by the states of Haryana and Uttar Pradesh. Delhi is the capital city of India and is a key hub for business, culture, and politics. It's also a popular tourist destination in its own right, with a rich history and vibrant culture that attracts visitors from all over the world.
From Delhi, it's easy to explore other areas of India, we recommend visiting places such as Agra and Jaipur. Agra, located just a few hours south of Delhi, is perhaps most famous for the Taj Mahal, one of the Seven Wonders of the World. While Jaipur, located in the state of Rajasthan, is known for its stunning palaces and forts.
Whether you want to explore the rich history and culture of India or simply relax and take in the sights, Delhi is the perfect place to begin your journey and is a starting point for many of our tours – including The Golden Triangle & Ranthambore, our solo tour Temples & Tigers,  and  The Grand Tour of India.
When is the Best Time to Visit Delhi?
The Indian capital has a diverse climate with hot summers and cold winters. The summer months in Delhi, from April to June, are typically hot and dry with temperatures reaching up to 45°C. The monsoon season, from July to September, can sometimes bring heavy rainfall to the city.
The autumn and winter months in Delhi are much more pleasant, making the cooler seasons one of the best times to visit Delhi. Many of Delhi's vibrant festivals take place during these months too, such as Diwali (October/November) and Holi (March).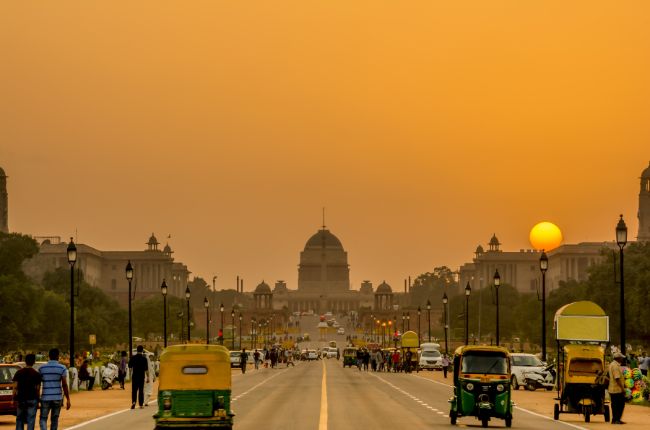 What is Delhi Known for?
Delhi is well-known for its ancient monuments, such as the Red Fort and the Jama Masjid, along with being an ideal place to sample the delicious local cuisine and soak up the bustling energy of the city. Delhi is also home to a number of important museums and galleries, including the National Museum and the Gandhi Smriti, where visitors can learn more about the history and culture of India.
New Delhi is an urban district located in the city of Delhi and is best known as the location of India's national government. It also has vast historical significance, once being home to powerful individuals such as the Pāṇḍavas and the Mughals. The city has many historical monuments and tourist attractions as well as lively marketplaces and great street food. During a tour with Distant Journeys, we can advise on the best places to eat during your trip, helping you enjoy Delhi without any unpleasant surprises.
The Best Things to Do in Delhi
From ancient temples and monuments to bustling bazaars and markets, Delhi is a vibrant and exciting city that is sure to delight visitors of all ages. Here are some of the best things to do in Delhi.
Red Fort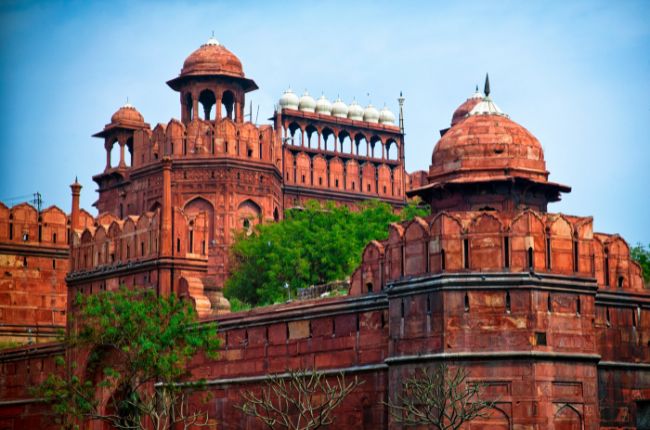 The Red Fort is a beautiful and imposing red sandstone fortress located in Old Delhi. Built in the 17th century by the Mughal emperor Shah Jahan, the Red Fort is a UNESCO World Heritage Site and one of the most iconic landmarks in Delhi. The Red Fort is open to the public every day, except Monday.
Venture inside the Red Fort and you'll have the opportunity to explore a number of fascinating museums and galleries. This impressive fort is also home to a number of beautiful gardens, including the Hayat Bakhsh Bagh and the Moti Masjid, which are well worth exploring.
Jama Masjid
Jama Masjid is a beautiful mosque that was also built in the 17th century by Mughal emperor Shah Jahan. As one of the largest and most impressive mosques in India, Jama Masjid holds prestigious UNESCO World Heritage Site status.
Offering a glimpse of traditional Mughal architecture, Jama Masjid boasts a large central courtyard surrounded by four towering minarets. The mosque can accommodate up to 25,000 worshippers at a time. Visitors are welcome to explore the mosque but are asked to dress modestly and remove their shoes before entering.
Chandi Chowk
As one of the oldest and busiest markets in Delhi, it's easy to see why Chandi Chowk is a popular tourist destination. The market is known for its lively atmosphere. Expect narrow streets and alleyways packed with vendors, selling everything from spices and sweets to clothing and electronics. Chandi Chowk is popular with foodies too, with a wide variety of restaurants and street food vendors offering delicious local cuisine.
India Gate & Parliament House
Often dubbed as two of the most important and popular tourist attractions in Delhi, India Gate and Parliament House offer a fascinating glimpse into the history of this impressive country.
India Gate is a war memorial and a national symbol of sacrifice and patriotism. Built in the early 20th century, the 42-metre-high stone archway that commemorates Indian soldiers. Parliament House is the current seat of the Indian government. The imposing building is personified by its circular shape, central dome and well-manicured gardens. Both India Gate and Parliament House are must-see attractions for anyone visiting Delhi.
Qutub Minar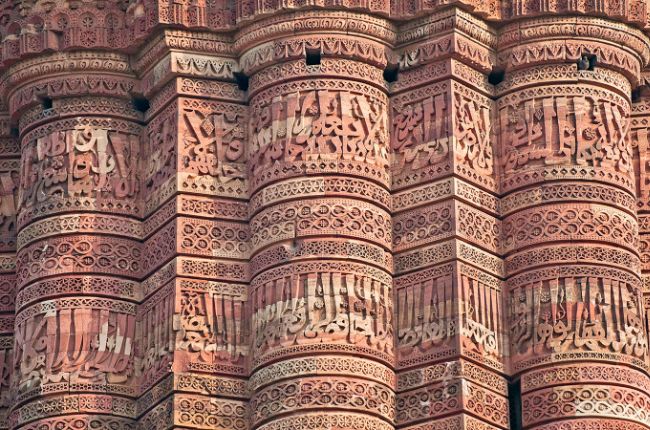 Built in the 13th century, Qutub Minar is a towering minaret in the heart of Delhi. It's one of the most iconic landmarks in the city, reiterated by its UNESCO World Heritage status.
Standing at 72.5 metres tall, Qutub Minar is made of impressive red sandstone and marble, surrounded by a complex of ancient ruins. Visitors can expect to see the Quwwat-ul-Islam Mosque and the Iron Pillar of Delhi alongside the impressive minaret.
Humayun's Tomb
Humayun's Tomb is a beautiful Mughal-style tomb located in the heart of Delhi. Built in the 16th century, the tomb is another impressive UNESCO World Heritage Site in the city. The tomb is known for its striking architecture and intricate carvings, and, of course, for being the final resting place of Mughal emperor Humayun.
Lotus Temple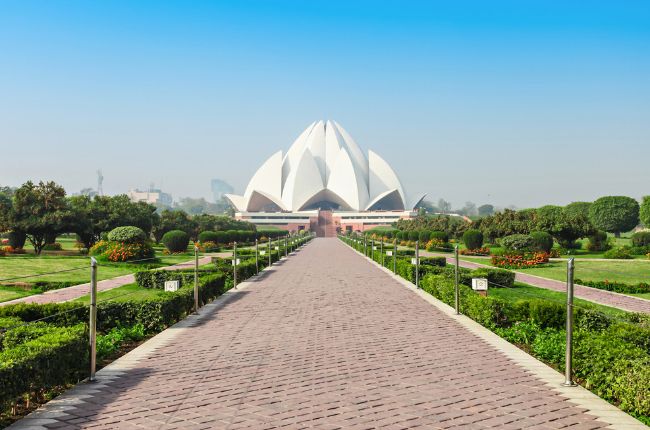 This modern Baha'i House of Worship is admired for its distinctive lotus-shaped design, which symbolises the unity of all nations. The temple is open to people of all faiths and offers a peaceful and contemplative space for prayer and meditation.
If you have even more free time during your trip, we'd also recommend a visit to the following Delhi attractions and highlights:
Shop the stores of Dilli Haat and Baba Kharak Singh Marg.
Pay a visit to Khari Baoli, Asia's largest spice bazaar.
Relax in Sunder Nursery, a beautifully restored park.
Explore Lodi Garden and Mohammed Shah's Tomb.
Visit Gurudwara Bangla Sahib, one of the most prominent Sikh houses of worship.
Listen to Qawwalis at the tomb of Nizam-ud-din-Auliya.
The Best Restaurants and Cafes to try in Delhi
Delhi is a foodies paradise, with a wide variety of delicious restaurants and cafes serving local delicacies. Delhi also has a vibrant chai tea-drinking culture, with many locals and visitors enjoying a cup of chai at one of the city's many cafes and street-side stalls. Chai is an integral part of Indian culture, typically made with black tea, milk, and spices such as cardamom and ginger. This food-lovers paradise is also famed for its vibrant street food scene and popular restaurants. Here are a few of our favourites.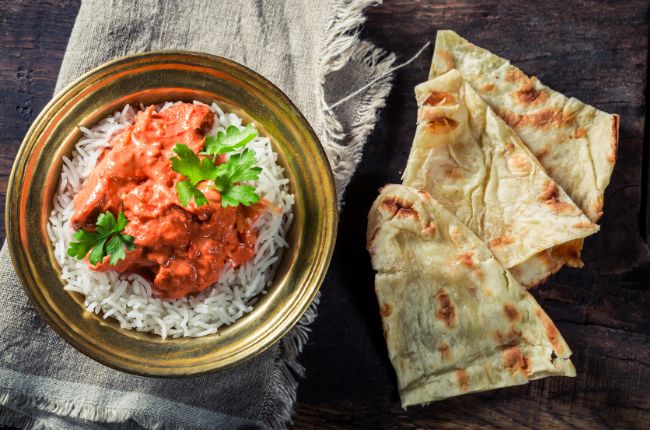 Fabcafe
This picturesque outdoor cafe is located in the 16th-century heritage park, making it the perfect pitstop after a relaxing stroll. The cafe is situated alongside the edge of the lake and offers a minimalist yet warm interior. Expect traditional Indian dishes like Indie Masala Omelette, Coastal Fish Moilee and Jackfruit chapatis. Chai tea of course makes the menu, as does Ganna Juice – a popular health drink.
Perch Wine & Coffee Bar
Located at Khan Market, Perch Wine & Coffee Bar is well-known for its relaxing ambience and beautiful decor. The cafe bar offers a seasonal, European menu with a fascinating Indian twist. You'll find plenty of vegan options here too.
Bukhara
Bukhara, often referred to as one of India's best restaurants, is a traditional restaurant surrounded by stone walls and log tables. Bukhara offers an authentic dining experience in Delhi, with guests invited to use their hands as cutlery isn't provided.
Indian Accent
Upon entering Indian Accent, it's easy to see why this famous restaurant has won numerous awards. Indian Accent showcases the many decadent flavours of Indian cuisine, combining tradition with modern techniques. There's a lunch or dinner menu along with a chef's tasting menu and a 4-course lunch menu. Vegetarian and non-vegetarian dishes are also clearly labelled.
Ready to explore this vibrant and bustling metropolis?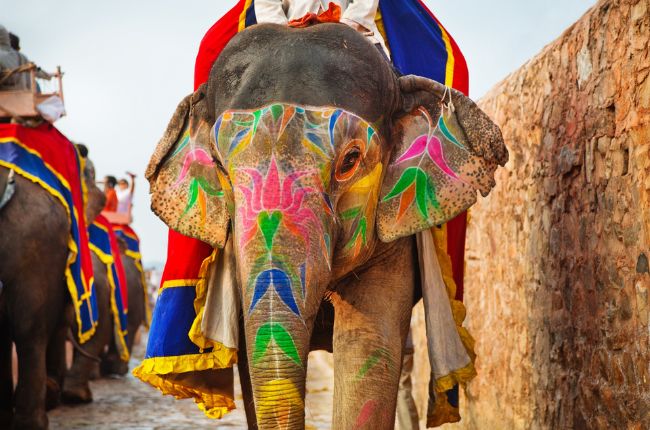 Whether you're a first-time visitor or a seasoned traveller, Delhi is a destination that is sure to impress. From its dining and street food scene to its many impressive sights and monuments, you'll never be short of things to see and do in the city.
If you're thinking about exploring Delhi, why not join one of our award-winning tours of India? Many of our guided tours, including our 26-day Grand Tour of India, begin with 2-3 nights in Delhi. Enjoy an action-packed few days of sightseeing across Old and New Delhi as we explore the lavish Red Fort, visit Jama Masjid and even experience the hustle and bustle of Chandni Chowk. Delhi is the perfect starting point for your journey across India.