The largest National Park in all of Australia, covering 20,000 square kilometres, Kakadu National Park is one of Australia's most spectacular places to visit.
There are several reasons why you should visit Kakadu National Park. With its diverse landscapes ranging from wetlands and forests to gorges and waterfalls, Kakadu is teeming with wildlife. It's also famous for its ancient rock art and Aboriginal heritage. As a result, the National Park has been listed twice as a UNESCO World Heritage Site, for both its natural and cultural significance.
If you're wondering what to do on a trip here, there are a variety of Kakadu tours that will show you the very best the park has to offer. Here are some of our favourite day tours and things to do in Kakadu.
A cultural and scenic tour by 4×4
Starting in the town of Jabiru in the heart of the National Park, experienced guides from Kakadu Cultural Tours will lead you through some of the very best sights in the Arnhem Land region of the park, starting with Cahill's Crossing over the East Alligator River. From the comfortable 4x4s you'll also be able to see the varied landscapes of the Mikkinj Valley, with an array of wildlife to spot, towering sandstone escarpments and a patchwork of billabongs.
You'll also get to enjoy lunch with a view next to the Inkiyu Billabong, as well as a visit either to the Injalak Arts and Crafts Centre, where you can see Aboriginal artists at work, or Cannon Hill, a place sacred to the local indigenous people.
Sugarbag Safaris offer another brilliant 4×4 touring option, with their completely customisable day tours, where the itinerary is arranged to suit your interests. Whether you're looking to do some bird watching, wildlife photography, see some Aboriginal culture, go bushwalking or simply soak up the wild landscapes, they can tailor your day to suit your needs, with a comfortable Toyota Landcruiser on hand to get you from place to place.
To immerse yourself even more in the incredible scenery of the Kakadu National Park, try one of the 4-day or 6-day 4WD safaris from Charter North, which visits even more spectacular spots such as Jim Jim Falls, the Ubirr rock art, Barramundi Creek and the Gunlom infinity pool.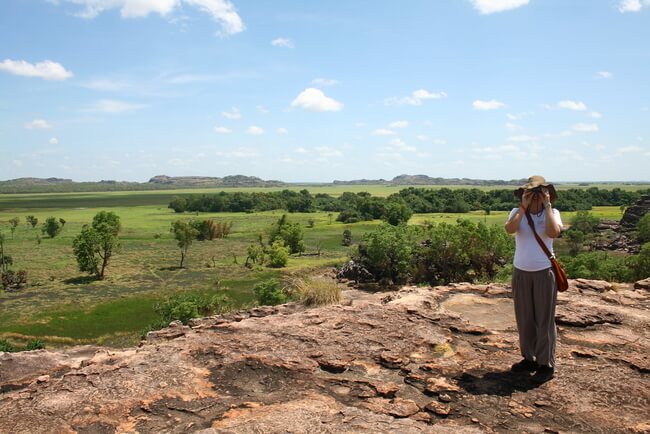 A land, water and air tour: the best of all worlds
Departing from Darwin, this tour visiting Kakadu National Park begins in the air, with views on the outbound flight taking in savannah forest, the Yellow Water Billabong and the South Alligator River. Operated by KakaduAir, this tour continues on dry land with many more fantastic experiences, including immersing yourself in Aboriginal history and culture at the Warradjun Centre, before a cruise on Yellow Water, with the chance to spot crocodiles.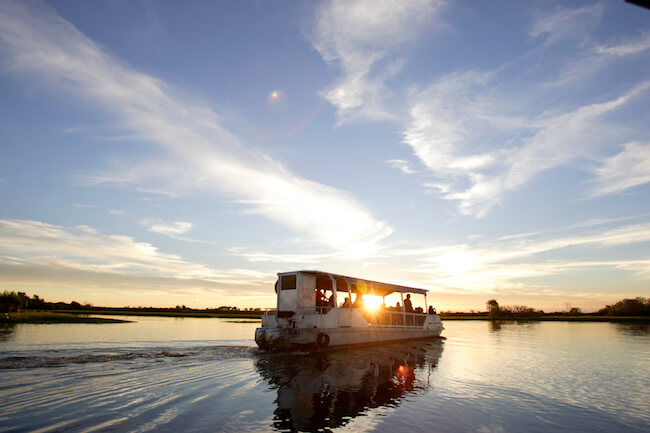 On the return flight, even more incredible sights await you, including the Arnhem Land Plateau, East Alligator River and Mary River National Park. Taking in what the National Park has to offer by land, water and air, this is an experience you'll never forget.
See Kakadu from above
Fly deep into the heart of Kakadu with the excellent helicopter tour provided by Kakadu Tours and Travel. Departing from the Northern Territory capital of Darwin, you'll reach the National Park borders in under an hour, with incredible birds-eye views the entire way. You'll also see places difficult to reach by 4×4 or even on foot, from endless floodplains to 600ft-high sheer escarpments and waterfalls tumbling into enormous rock pools.
Also included in this day tour is a visit to the Injalak Art Centre, as well as lunch in a setting only accessible by helicopter. You can also upgrade your tour to include an extended flight over sights such as Koolpin Gorge, Twin Falls and the hidden Arnhemland Gorges, or a cruise and water safari along the Yellow Water Billabong.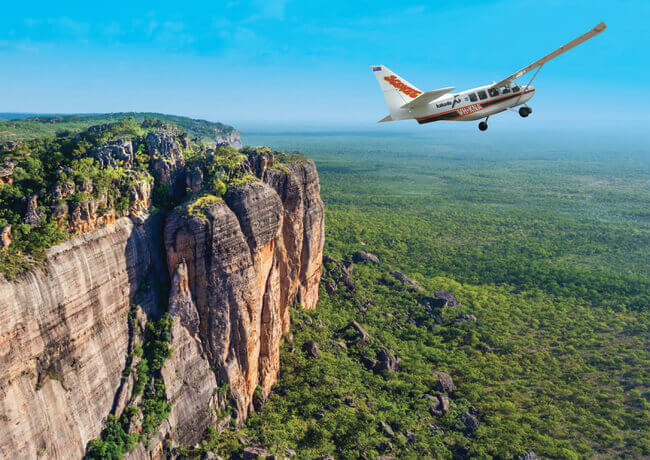 If you'd rather travel by plane, try one of the unforgettable scenic flights offered by Kakadu Air. Complete with expert commentary, the flights run during both the wet and dry season, with the storms of the wet season awakening the dramatic waterfalls.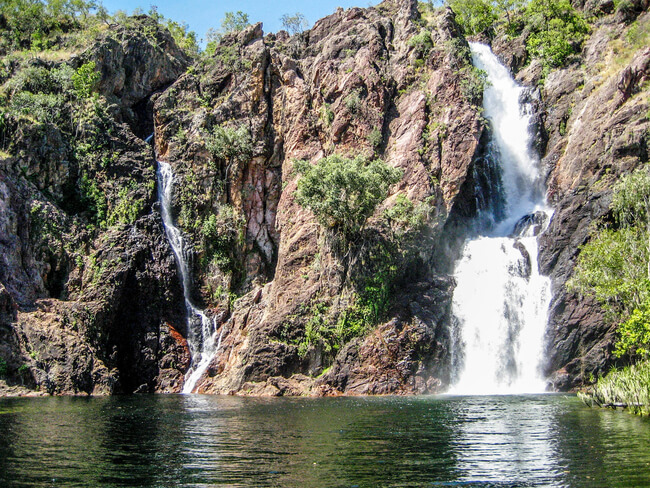 Take in stunning scenery and exceptional birdlife
If birdwatching is your true passion, there's no better place to do it than in the Kakadu National Park. Experience the Wild hopes to share that with its visitors on its birdwatching tours, which cover not only Kakadu National Park but also all over the Northern Territory.
Amongst the wetlands and sandstone escarpments, you'll be able to see a wide variety of birds, several of which can't be seen anywhere else. Amongst the escarpments for instance, you can spot white-lined honeyeaters, banded fruit-doves and chestnut-quilled rock pigeons among others.
Travelling between the top twitching spots in a 4×4, your tour will be lead by a knowledgeable and passionate guide, who will show you not only the birds themselves but also how significant they were to the Aboriginal people over the past few thousand years.
A road trip you'll never forget
This full-day Kakadu adventure tour takes in the ultimate highlights of the National Park, taking in all of its landmark views, from its towering sandstone escarpments to its flood plains, billabongs and monsoon forests.
Along the way, you'll also enjoy scenic views leaving Darwin, including Francis Bay, the Marrakai Wetlands, Adelaide River and the Top End bushlands, with eucalyptus as far as the eye can see. Once you arrive in Kakadu, having taken in all of its amazing landscapes, a short guided walk will lead you to Nourlangie Rock and its famous Aboriginal rock art, dating back thousands of years. You'll also get to enjoy a buffet lunch, cruise along Yellow Water and a cultural experience at the Warradjan Aboriginal Cultural Centre before the beautiful return journey to Darwin.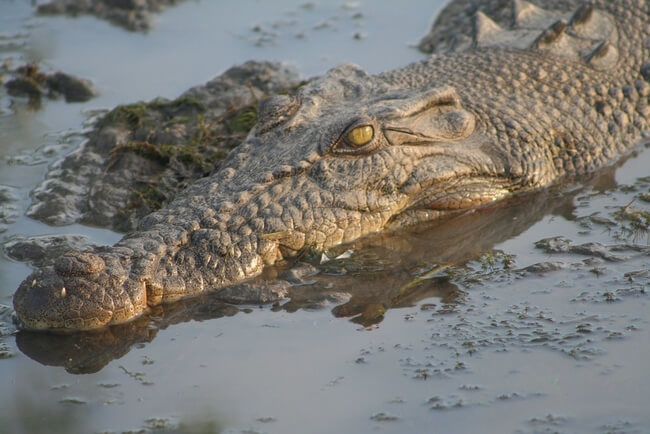 Embark on an adventure of your own in Kakadu National Park
If Kakadu National Park's unique blend of fascinating wildlife, ancient heritage and spectacular landscapes have made you want to see it for real, you'll be able to visit this incredible National Park as part of our Very Best of Australia tour on an optional excursion.
This comprehensive tour of Australia covers not only the country's most famous sights but also many of its hidden gems, with our expert tour guides offering insights into its very best experiences, while still giving you the freedom to explore at your leisure.
Images by Jon Clark, Andrea Castelli, Tehani Schroeder and Stephen Michael Barnett via Flickr.