If you're planning a trip to Cambodia, you're in for an unforgettable experience. This guide will provide you with essential Cambodia travel advice, tips, and information to help you make the most of your visit.
Cambodia is a beautiful and culturally rich country with so much to see and do. From the stunning temples of Angkor to the bustling streets of Phnom Penh, there really is something for everyone.
In this guide, we'll cover everything from the best time to travel to Cambodia to the must-see destinations, along with practical tips on visas, Cambodia's local currency and the language spoken. So, whether you're a first-time visitor taking our Vietnam & Cambodia Tour or a seasoned traveller, our guide has everything you need to know ahead of planning your trip
Where is Cambodia?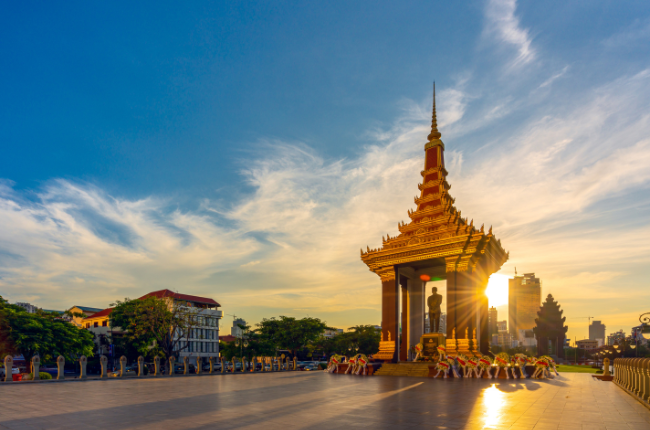 Located in Southeast Asia, Cambodia shares borders with Thailand to the west, Laos to the north, and Vietnam to the east. During our 22-day The Very Best of Vietnam & Cambodia Tour, we immerse ourselves in the magical worlds of Cambodia and Vietnam. Expect exciting adventures, vibrant local markets, breathtaking landscapes, historical gems, and picturesque villages.
If you're travelling to Cambodia from the UK, the flight time is around 15-16 hours with one stopover. The local time zone is Indochina Time, which is 7 hours ahead of the UK.
Travel Advice for Visiting Cambodia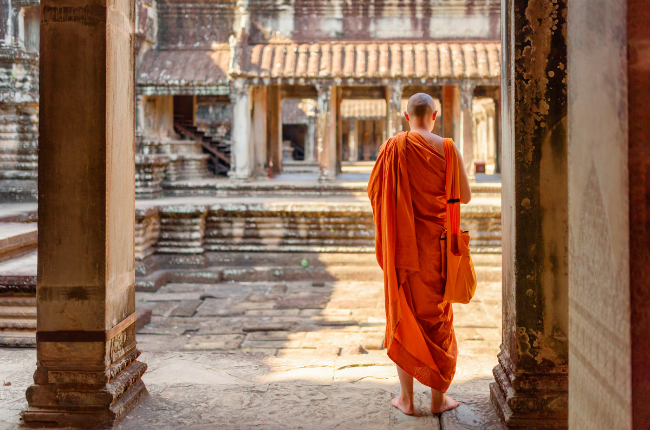 Cambodia is a truly amazing destination offering incredible temples, beautiful beaches, and a rich cultural heritage. Before you pack your bags and set off on your adventure, there are a few things you should know to make the most of your trip.
Our travel experts have answered some of the most common questions people have about travelling to Cambodia. From visa requirements to tackling the language barrier, we've got you covered.
If you're looking for a hassle-free way to experience Cambodia, we highly recommend taking a guided tour. When you travel with Distant Journeys, our team will take care of everything. We'll arrange your flights, transport and hotels alongside building a truly unforgettable itinerary – leaving you free to fully enjoy the sights and sounds of this incredible country.
Is Cambodia Safe to Travel to?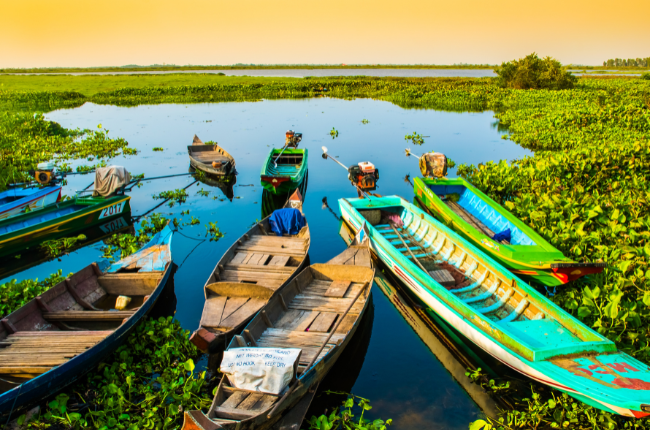 Cambodia is an alluring country that is considered a safe and friendly place to visit, with the locals often going out of their way to help tourists. However, we do recommend you keep an eye on the latest government travel advice ahead of visiting Cambodia.
We also encourage all travellers to respect the local customs and traditions, this includes dressing appropriately when visiting religious sites. If you're travelling with us, your tour guide will keep you in the loop when it comes to any dress-code requirements.
Cambodia Travel Restrictions and Requirements
You'll need to obtain a tourist visa to visit Cambodia for a holiday, and you can apply for this online before travelling or obtain one upon arrival in Cambodia. A visa will cost you around £25-30.
When it comes to vaccinations, there are no COVID-19 vaccination requirements at present, but we do recommend you stay up to date with the latest entry requirements.
What Language is Spoken in Cambodia?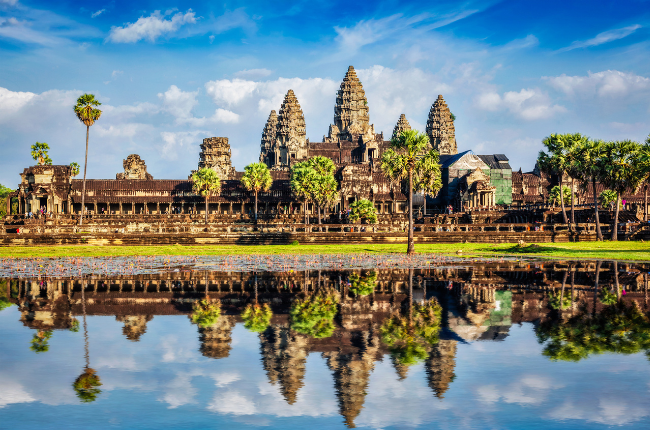 The official language of Cambodia is Khmer, which is spoken by the majority of the population. While English is not widely spoken, it is becoming increasingly popular in tourist destinations and bustling cities.
If you're visiting popular tourist destinations such as Phnom Penh or Siem Reap, you'll find that most people speak English – particularly those in hotels and restaurants. When travelling with us, your dedicated guide will be on-hand to help you tackle any language barriers. However, learning a few key phrases can also go a long way.
Here are a few useful phrases to get you started:
Hello – Chum reap suor (pronounced "chuhm ree-ep soo-ah")
Thank you – Aw kohn (pronounced "aw-koon")
How much does it cost? – Bany tae-a-nai? (pronounced "bah-knee tai-ah-nigh")
I don't understand – Khnyom man mi khnyom t'ei (pronounced "k'nyom man me k'nyom tay")
Good Morning – Arun sok sabay (pronounced "ah-roon sohk sah-bai)
Good Evening – Tiveah suor sdei (pronounced "tee-vee-ah soo-ah sdai")
What is the Currency for Cambodia?
The currency used is the Cambodian riel, but many businesses actually prefer US dollars, especially for larger purchases.
While credit and debit cards are becoming more popular in Cambodia, especially in cities and busy tourist areas, cash is still often preferred. We recommend carrying a small amount of US dollars during your trip.
When is the Best Time to Travel to Cambodia?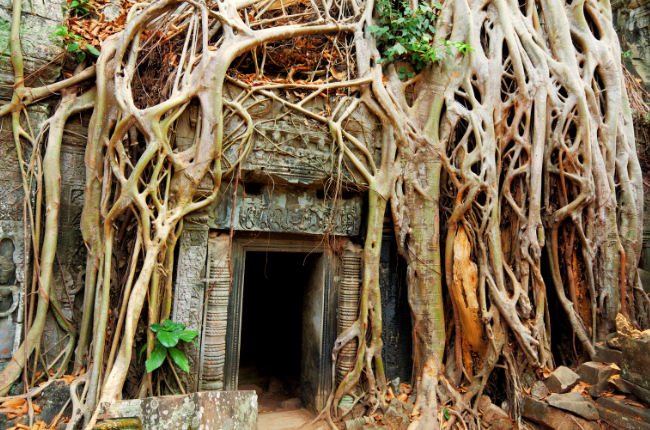 The best time of year to visit Cambodia is from November to March, which falls within the country's dry season – this is when all of our tours take place.
The weather is typically cooler, drier, and more comfortable at this time of the year, with plenty of sunshine and low humidity levels. This makes it an ideal time to explore Cambodia's cultural attractions and historic sites, including the iconic temples of Angkor.
The rainy season in Cambodia runs from May to October. During this time, the weather is often unpredictable and humid, but the rains do bring Cambodia's lush countryside to life.
Immerse Yourself in Ancient and Modern Worlds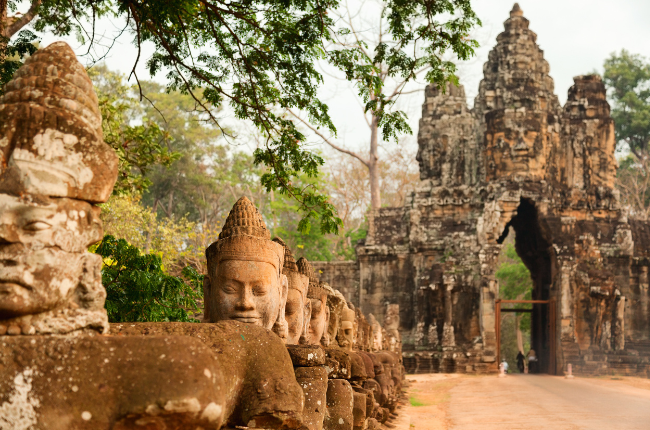 Cambodia, along with Vietnam, embodies the very essence of Indochina. There is so much to see and do in this magnificent region.
These two beautiful countries offer picturesque scenery, delicious food, friendly locals, and an abundance of rich character and traditions just waiting to be explored. Why not join us on a tour of Vietnam and Cambodia?
Our Very Best of Vietnam & Cambodia Tour itinerary has been designed to include a plethora of once-in-a-lifetime experiences. Among these is a very special two-night stay on the awe-inspiring Ha Long Bay in Vietnam, a visit to Cambodia's renowned landmark Angkor Wat, and a delightful three-night cruise along the mighty Mekong, providing a relaxing and unique way to explore the region while travelling between Vietnam and Cambodia.
Like many of our trips, this mesmerising tour is also available as a Private Tour, offering the same carefully planned itinerary with a more intimate experience.