Thanks to its unique climate, New Zealand has become one of the best countries for wine in the world, with Marlborough, Hawke's Bay and the Waipara Valley, among others, being highly renowned wine regions. It's also an up-and-coming foodie destination, offering an abundance of seafood and a host of trendy restaurants popping up in Auckland and Wellington in recent years. New Zealand's street food has also helped place it firmly on the culinary map.
Visiting a food festival in New Zealand has to be one of the best ways to sample the local food and wine during your time there. Bringing together local produce, regional wines and street food prepared right in front of your eyes, New Zealand's food festivals are not to be missed.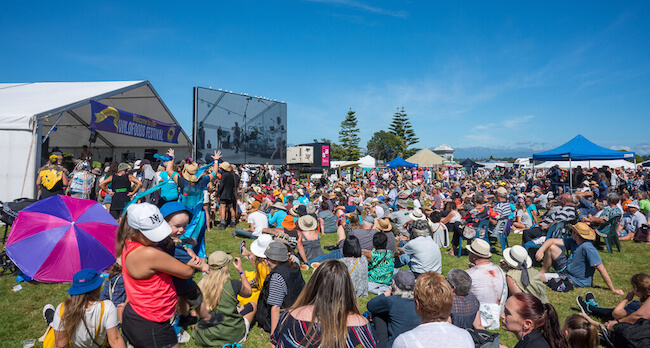 Hokitika Wildfoods Festival
Set on the remote South Island west coast, the Hokitika Wildfoods Festival has recently passed 30 years of bringing New Zealanders an assortment of wild foods, ranging from the classics to the highly unusual. West Coast favourites venison and whitebait can be sampled throughout at more than 50 food stalls, as well as more out-there bites to eat such as mountain oysters and seagull eggs. A must for those who are adventurous with their food, there's bound to be something new to taste for everyone.
Taste of Auckland
New Zealand's largest city hosts one of the liveliest food festivals in New Zealand, Taste of Auckland. Described as 'the foodie's playground', Auckland's finest restaurants descend on the city's iconic waterfront to showcase their signature dishes in dedicated areas such as Spice Alley and Ocean Terrace. More than 80 artisan food and drink producers also hold pop-up stalls at the event, so you can pick up everything from chocolate to cupcakes during your visit, and crowd-pleasing live demonstrations from leading chefs also entertain the crowds.

Whitianga Scallop Festival
The Whitianga Scallop Festival is one of the premier seafood festivals in New Zealand, celebrating the area's marine and culinary heritage. Set alongside the Whitianga marina with the stunning harbour as its backdrop, this festival is a stand-out highlight for anyone visiting this part of North Island. You'll find over 30 different stalls cooking scallops their way, ranging from chowders to fritters and even scallop kebabs and sausages. Combine this with the line-up of talented New Zealand chefs demonstrating their skills live on stage, and you have the perfect New Zealand food festival for anyone who loves their seafood.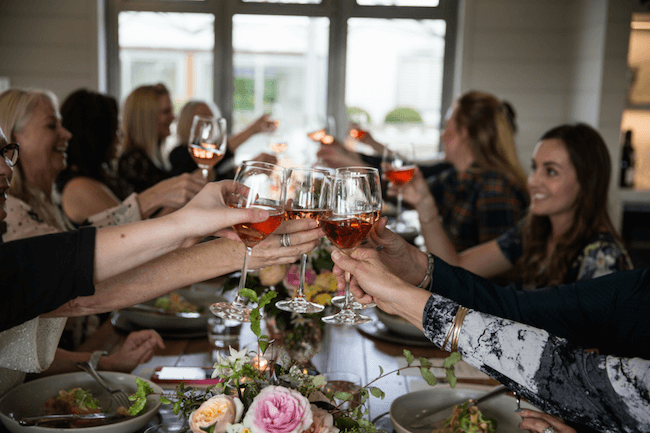 Hawke's Bay F.A.W.C. (Food and Wine Classic)
This food and wine festival has been so well-received that it takes place twice a year. Spread across four weekends in winter, and ten days in summer, the Hawke's Bay Food & Wine Classic offers a varied programme with a host of events unique to the time of year. Chef masterclasses, garden parties, progressive dinners, degustations and picnics amongst the vines are all on the schedule, making the most of the area's premium local produce and fine wines with an assortment of innovative experiences.
Toast Martinborough Wine, Food and Music Festival
Several of the best wineries to visit in New Zealand are based around Martinborough, found in the South Wairarapa region, and during Toast Martinborough, they join forces and open their vineyards to create a unique event, hosting a celebration of wine, food and music. Stroll amongst the vineyards and choose from more than 50 delicious menu items to pair with the selection of wines, ranging from oysters and pork belly to desserts. More than 20 live music acts add to the atmosphere of this boutique food and wine festival.
Marlborough Food & Wine Festival
The Marlborough Food & Wine Festival is among New Zealand's longest running wine festivals. More than 40 Marlborough wine producers exhibit at the festival each year: the perfect opportunity to sample Marlborough's famous Sauvignon Blanc. A stage with live music and a whole range of food stalls, offering everything from burgers to seafood, international dishes and ice cream, also feature at this top-notch celebration of the region's culinary and viticultural heritage.
Taste your way around New Zealand
If New Zealand's exemplary wines and upcoming food scene are on your must-visit list, why not plan a holiday to New Zealand with some of these top food festivals and the country's leading restaurants in mind? Our selection of guided tours in New Zealand visit many of the country's best foodie destinations, with the opportunity to tour award-winning vineyards and visit some of Auckland's world-class restaurants.
Featured image: Hawke's Bay F.A.W.C. (Food and Wine Classic) festival