One of the most picturesque spots on New Zealand's North Island (and there are many) is Lake Taupo, New Zealand's largest lake, often described as an inland sea. One of the must-visit lakes in New Zealand, many visit Lake Taupo for its beauty; it's surrounded by stunning landscapes of all kinds, ranging from snow-topped mountains to ancient forests, towering volcanoes and geothermal valleys.
If you have just a short time in the area and you're wondering what to do in Lake Taupo, it can be difficult to choose, but after many visits to the region, we've put together our favourite Lake Taupo attractions and activities. These experiences give you the opportunity to see Lake Taupo and its surrounding landscapes in all their glory, with a range of activities suitable whatever your interests.
Take a relaxing cruise and see Maori rock carvings
For almost four decades, the Ernest Kemp cruise ship has been operating cruises on Lake Taupo to the lake's famous Maori rock carvings, which are only accessible by boat. These incredible carvings took over four years to sculpt out, and also include two Celtic designs, which represent modern New Zealand's cultural diversity. Live commentary on board will offer you all the information you need to know about the Lake Taupo Maori rock carvings, as well as a complementary brochure. With indoor and outdoor seating, this is one of the best all-weather attractions in Lake Taupo. Wi-Fi, tea, coffee and cookies are all also included in the cruise too for a truly relaxing experience.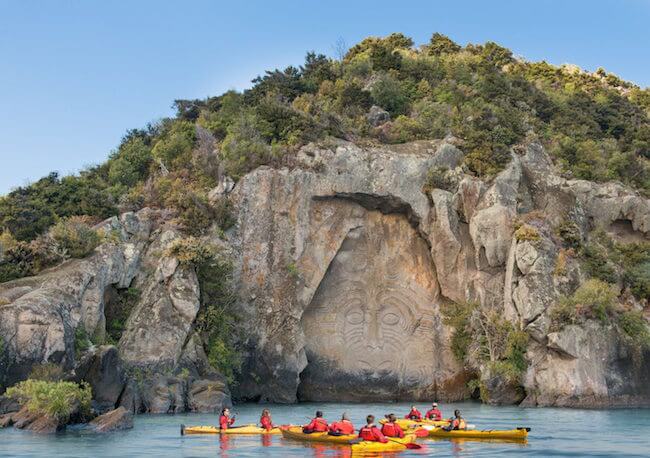 Paddle your way around the lake by kayak
If you'd rather power your own boat and take in Lake Taupo at a slower pace, try one of the excellent tours on offer from Canoe & Kayak. Try the award-winning guided kayak tour to the Maori rock carvings, complete with refreshments and souvenir photos, or discover some of Taupo's best-kept secrets on the Waikato Float Tour. Paddle you way along the Waikato River past swimming spots, islands and nature reserves, with stops to soak in some of the natural hot springs found on route.
Sail around the lake on a pirate ship
Those seeking something a little different to the typical lake cruise will love the opportunity to sail on the pirate-themed Sail Fearless. On board this historic ship, there is a wide range of places you can go. Sail out to the popular Maori rock carvings on one of the daily tours, or you can even book Fearless out for private use. During the Maori rock carving cruises, there's even the chance to man the helm and hoist the sails, and during the summer a stop is made so you can jump off and swim in the still blue waters. Perfect for something more intimate, the private charters mean you can conduct your own sightseeing tour or enjoy a sunset cruise, and choose to either take the reins or sit back with a drink and let the skipper do the work.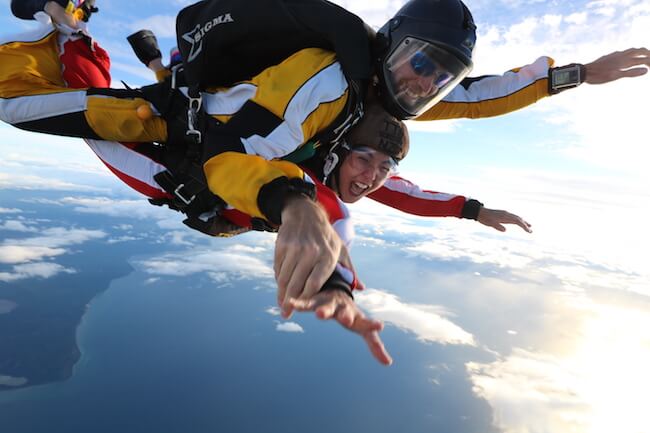 Skydive from above Lake Taupo
For the truly fearless, there's even the opportunity to try sky-diving during your visit to Lake Taupo. It's a must do experience for thrill-seekers, and undoubtedly one of the more adventurous things to do in Lake Taupo. Taupo Tandem Skydiving has been operating for over 25 years, and is New Zealand's original tandem dropzone. Lake Taupo has to be one of the best spots anywhere in the world for skydiving; safely strapped to an experienced skydiver, you'll see the lake in its entirety, as well as majestic volcanoes and shore-to-shore views of North Island during your descent. Choose from four different drop heights, including a daring drop from 18,500 feet: the highest skydive experience in Lake Taupo.
Embark on your own Lake Taupo adventure
Lake Taupo has so much to see from the land, water and air, with so many stunning landscapes surrounding it making it a must-visit. Our New Zealand tour visiting Lake Taupo passes the lake by road and takes in the stunning Huka Falls and gives you the chance to see the very best natural landscapes across the whole of New Zealand. During the tour, you'll be staying in Rotorua (an hour away), where you'll have the freedom to visit Lake Taupo's attractions and see the lake up close for yourself.
Featured image: Canoe & Kayak