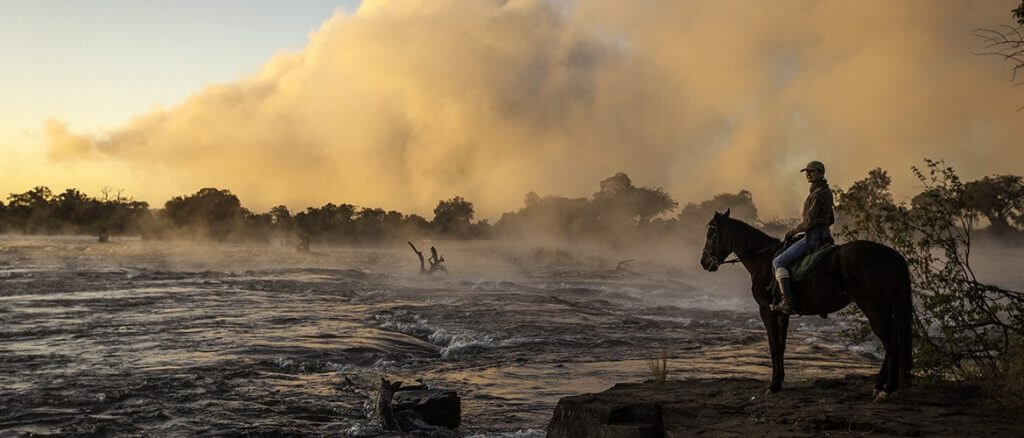 Horse Safari, Victoria Falls
Victoria Falls provides a superb wilderness area, with a rugged and varied terrain for horse riding, with experiences available for all levels of rider.
Whether you're a complete novice or an experienced rider, there's a horse safari to suit everyone. Your ride may involve tracking elephant, buffalo and other game to the shady banks of the Zambezi River, or riding within a few feet of impala or kudu. Every ride gives the potential for amazing safari encounters and one of the best ways to view wild game in Victoria Falls.
All rides are led by fully qualified, licensed guides, accompanied by a back up rider, and throughout the ride the guides will enjoy introducing to us the flora and fauna of the area.
Novice Riders
These shorter trips provide novice riders with an opportunity to enjoy the unique experience of exploring the African bush by horseback. If you have limited riding experience, or have not ridden for some time, but are reasonably fit then this ride is for you. Before beginning the ride, your riding ability will be assessed and you will be given support and guidance as necessary.
Guides accompanying the ride will assist throughout, although you will have to control your own horse. For clients who have done some riding there will be opportunities to trot, or even canter, but only if you are proficient enough to do so. The horses used on a novice ride are quiet and shorter distances are covered.
Experienced Riders
For those people with more extensive riding experience, this tour provides more proficient riders with an opportunity to enjoy the special experience of exploring the African bush.
This experience is a 4 to 4½ hour ride for experienced riders looking to make the most of their opportunity in this stunning location. The guides will take you far into splendid teak forests, Mopani woodland and sub-riverine bush to explore the dramatic scenery above the Batoka Gorge.
Weight Limit
This is your weight in your riding clothes and should include anything else you wish to carry. Guides will carry your water for you.
Novice Rides: 90kg
Experienced Rides: 85kg
Useful Information
Guideline Price:
Novice Riders: US $110 / GBP £88
Experienced Riders: US $154/ GBP £123
Duration:
2.5. hours approx. (novice) 4.5 hours approx. (experienced)
Activity Level:
Moderate
Please note:
There is a weight limit for novice riders of 85kg. Experienced riders may be heavier depending on their riding ability and at the operator's discretion.  Helmets are required.  A selection is provided, or bring your own for the best fit.
Dress code:
Casual
Please note: All optional excursion descriptions represent a typical itinerary and will not necessarily operate exactly as outlined. Distant Journeys reserves the right to change the local operators at short notice if deemed necessary and appropriate.