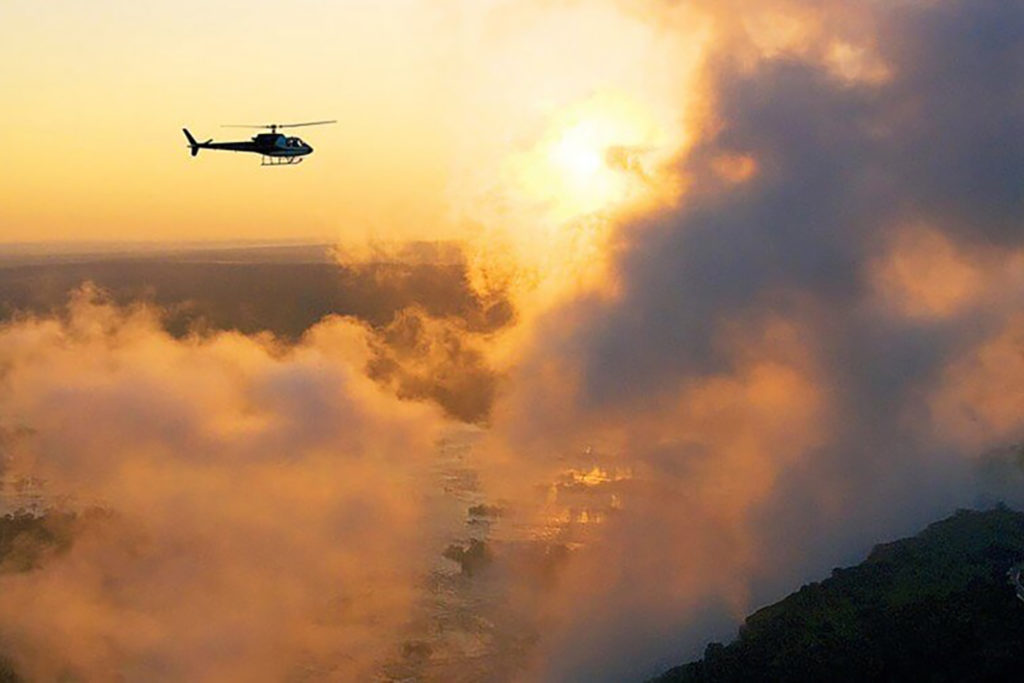 Helicopter Flights over Victoria Falls
The best way to truly appreciate the splendour and scale of the Victoria Falls is to view them from the air. Why not take a scenic helicopter ride and enjoy a breath-taking, birds' eye view of the Falls in all their might? The helicopters have specially designed 'bubble shaped' windows ideal for panoramic viewing and great photo opportunities from all seats.
12/13 Minute 'Flight of Angels'
After taking off, the helicopter turns out towards the awe-inspiring Victoria Falls. Your pilot will fly left and right hand circuits over the Victoria Falls in both directions giving you the best viewing, photographic and filming opportunities. A trip up the Zambezi River and back over the Zambezi National Park will complete your flight.
25 Minute 'Zambezi Spectacular'
After take off, you will fly out over the Victoria Falls where your pilot will fly left and right hand circuits over the Victoria Falls in both directions. Your flight continues downstream over the Batoka Gorge, so you can experience the natural beauty of this magnificent dramatic feature, following the mighty Zambezi as it carves its way between steep cliffs. As you head back you will fly over the upper Zambezi River & the National Park, home to a wide variety of wildlife species. A must for all photography and wildlife enthusiasts!
Useful Information
Guideline Price:
12/13 minute flight US $165.00/ GBP £132
25 minute flight US $299.00 / GBP £239
Duration:
12/13 minutes and 25 minutes
Activity Level:
Moderate
Please note: All optional excursion descriptions represent a typical itinerary and will not necessarily operate exactly as outlined. Distant Journeys reserves the right to change the local operators at short notice if deemed necessary and appropriate.