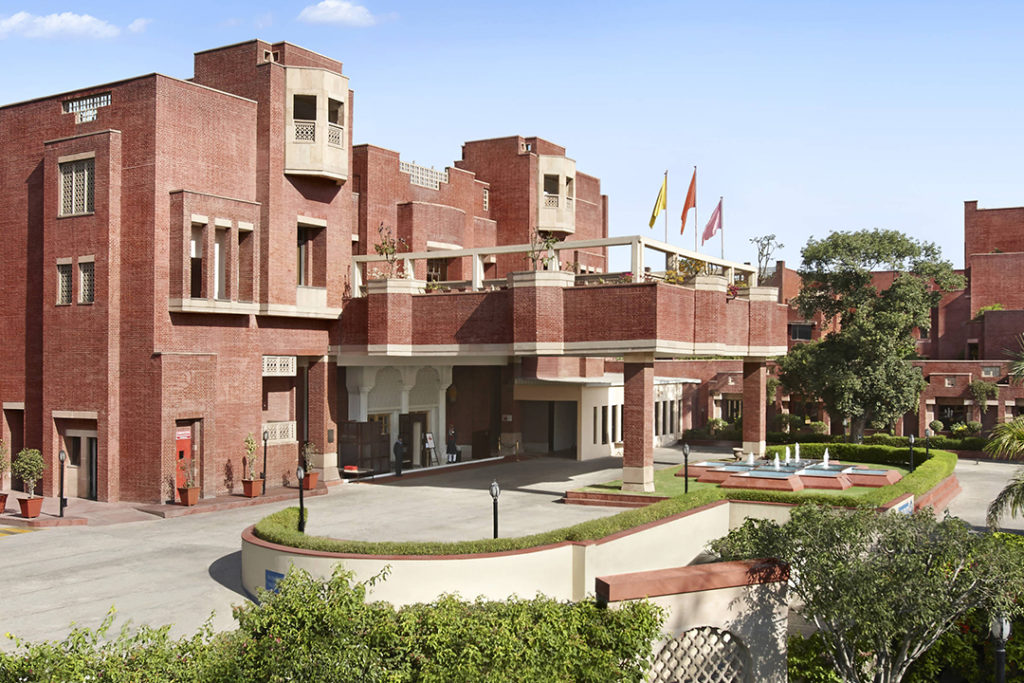 ITC Rajputana Hotel in Jaipur

Official rating


Distant Journeys rating
ITC Raiputana Hotel prides itself on offering the type of hospitality and service in luxury surroundings, which reflect the spirit of Rajasthan and its royalty. For example, the design of the hotel was developed to echo the region's traditional havelis. Think red bricks rising to all different levels, long grand corridors, secluded but stunning courtyards and simplified lattice work – all of which recall Rajasthani architecture. Pair this with a modern, contemporary and uncluttered approach to the décor, and you have one of Jaipur's finest hotels, underpinned by the spirit of Rajasthan.
Your stay
Matching the grandeur of the ITC Raiputana Hotel itself, each room is a pleasure to stay in and won't disappoint. No matter which room you rest your head in, it will have, a spacious bathroom, a refreshment centre, safety locker for your valuables and a well designated sitting area for when you simply want to relax and put your feet up.
To help make your stay that little more special, the ITC Raiputana Hotel also has its very own Signature Royal Spa, where all manner of treatments are available to help you feel completely relaxed and refreshed. There's also a salon, should you need a little pampering during your stay. Then there's the serene swimming pools which are extremely inviting on those hot days. Or, should you want to work out while you're away, you can always make the most of the hotel's well-equipped, high-tech gym.
Dining at Peshawri
The award-winning Peshawri restaurant brings you an authentic taste of the most fascinating flavours from the North-West frontier. Think barbecued specialities, baked Indian breads, a lavish spread of delicious meat and vegetarian kebabs, all prepared while you watch in the open kitchen, allowing the most delicious aromas to tease your taste buds. .
Dining at Sheesh Mahal
If you'd like a lighter meal, you can find contemporary finger food to pair with plenty of delicious mocktails and cocktails at the Sheesh Mahal. You have a great choice of top international branded beverages to choose from, plus you can explore the ITC vintage selection from the barrel of 1975. On top of your lovely choice of food and drink, your surroundings are spectacular too, with thousands of tiny mirrors embedding the walls, making the room sparkle