Auckland, in New Zealand's North Island, is the country's largest and most cosmopolitan city, including the biggest Polynesian population in the world. It's a truly fascinating place to visit, with a wealth of free attractions – and a glorious cityscape surrounded by the Pacific Ocean, verdant rainforest and dozens of dormant volcanoes. Here are the places from which you can see the city at its very best.
The Sky Tower
The highest man-made structure in New Zealand is the obvious place to begin – yet it's surprising how many Auckland natives have never made the trip to its awesome observation decks. By day or night, the 360-degree views will take your breath away – on a clear day you can see for more than 50 miles.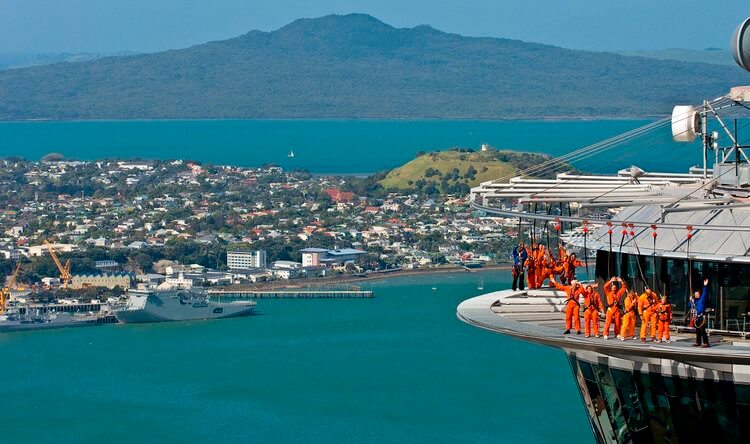 Mount Eden Lookout
In contrast, Mount Eden is Auckland's highest natural point, lying two and a half miles from the city centre. Once you reach the top of this inactive volcano, you will clearly be able to see the crater – a remarkable experience in itself. More importantly, you will get an incredible panorama of the entire city, plus bragging rights that you've climbed a volcano.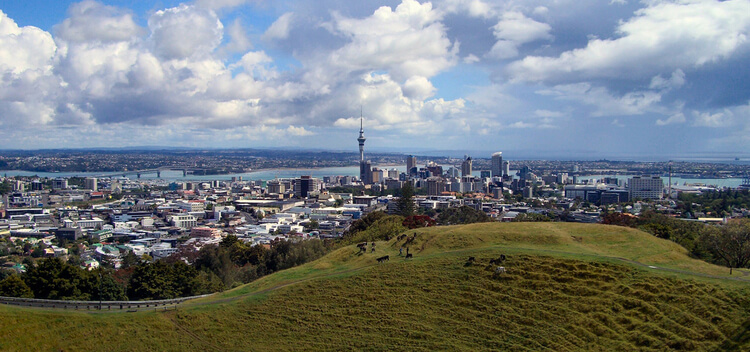 Stokes Point Reserve
Situated directly under the north side of the harbour bridge, this is a great location from which to take stunning photographs of the bay – especially at night. The area was painstakingly restored into parkland over a decade, at a cost of $2.5 million, and it is a lovely and unusual spot to kill some time. A word of warning, however – because of its location, Stokes Point Reserve is notoriously windy, so be sure to wrap up well.
Rangitoto
Can't get enough of climbing volcanoes? Here's another for you. It's a little more out-of-the-way, necessitating a ferry trip followed by a hike of at least two hours to one of the summits – but the magnificent views of Waitematā Harbour and the Central Business District will more than make up for it. Besides, if there's one thing more impressive than having climbed a volcano, it's having climbed two.
Lion Rock, Piha
Lion Rock has to be seen to be believed – the eroded neck of a volcano, appearing completely out of place on an otherwise flat sandy beach. Sadly, a rockfall means it is now impossible to climb to the top, but you should easily be able to make it 30 yards up. Your reward will be some of the finest views of the city.
Achilles Point Lookout
One of the most famous vantage points in Auckland, the viewing platform at Achilles Point Lookout stretches out over the cliffs above Ladies Bay in St Heliers. It's a must-see destination for every visitor to the city – not just for its commanding vista of Auckland Harbour and the Hauraki Gulf but also for its historically significant Māori carvings, which honour their most venerated chiefs.
Mount Victoria
Mount Victoria, also known as Takarunga, is one of the most famous landmarks in Devonport – a delightful 12-minute ferry ride from downtown Auckland. Despite its imposing height, it's easily accessible by foot and you should be able to reach the summit within 10 to 20 minutes. Whilst you're in Devonport, don't forget to take in the charming high street, which features numerous small boutiques and cosy cafés, with a completely different feel from the imposing arcades of Auckland.
Distant Journeys are the specialists in travel Down Under, and our escorted holidays to New Zealand will bring you the very best that the country has to offer. Whatever you need to know about this remarkably beautiful country, please feel free to ask.
Images by Tim Sheerman-Chase and russellstreet via Flickr.