Three hours' drive or a 35-minute flight north of Auckland, the Bay of Islands is a subtropical paradise encompassing 144 islands as well as numerous charming villages including Kerikeri, Russell, Paihia and Opua. A mecca for water sports lovers, the Bay of Islands attracts visitors from all over the world to marvel at its stunning scenery. But this isn't just a place to see and be seen: there's plenty to do here as well.
Sail on a tall ship
The R Tucker Thompson is a magnificent tall ship that operates as a social enterprise – all profits from its summer sailings are used to fund youth development voyages in winter. Based on the historic halibut schooners of the North West American Coast, the ship is stylish and speedy, combining the best of modern and traditional craftsmanship. We can't think of a more memorable way to explore this magnificent part of New Zealand.
Marvel at Haruru Falls
In Māori, 'haruru' means big noise, and this spectacular horseshoe-shaped waterfall will give you quite a rush. Back in the nineteenth century, more than 100 Māori villages lined the river's banks, and native people believe that a taniwha (water monster) lives in the lagoon below the Falls. We can't guarantee that you will see a taniwha, but we are confident that Haruru Falls will take your breath away.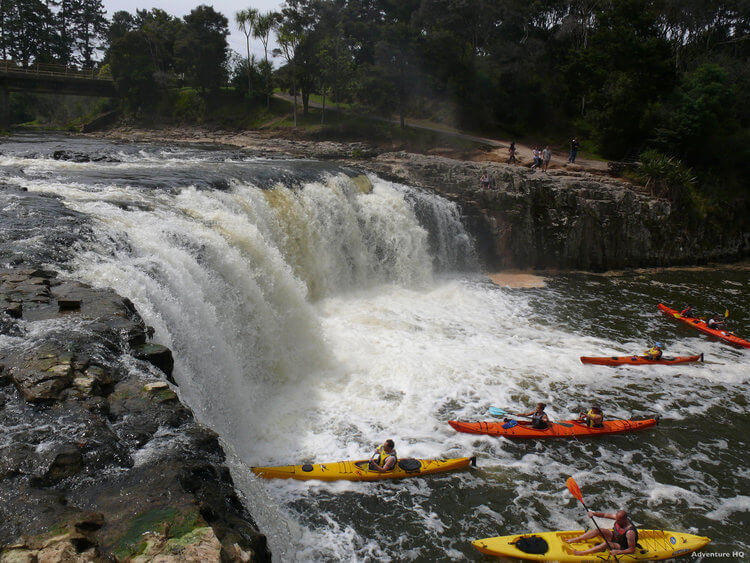 Enjoy a squawk or two at The Parrot Place
We love an attraction whose name describes exactly what it does – and The Parrot Place has parrots, parrots and more parrots. In fact, it has some 300 birds from all round the world, and their rainbow-hued plumage is simply spectacular. Even if you don't consider yourself a bird lover, these playful, inquisitive, roguish creatures are bound to win you over.
Learn about the history of the Kerikeri Mission Station
Founded in 1819, the Kerikeri Mission Station has a unique place in Kiwi history – it was one of the first locations where the Māori invited newcomers to live among them. Once an oasis of calm amid widespread tribal warfare, the Mission House is a remarkable place to visit today. Set on a tranquil riverside, it's the perfect spot for an absorbing guided tour, as well as home to the oldest building in New Zealand, Kemp House.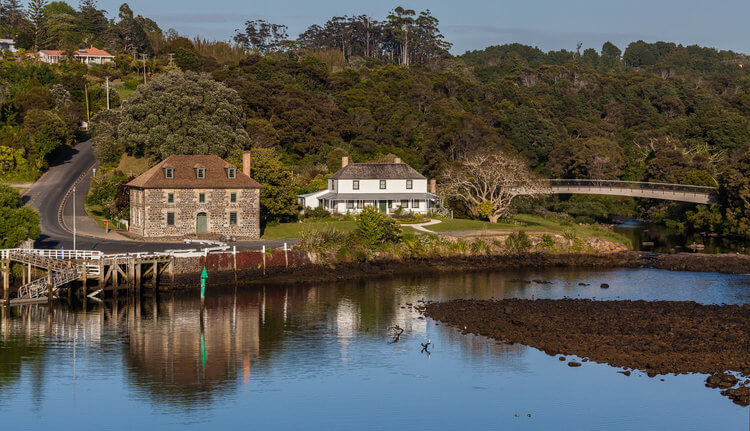 Commune with nature at the Aroha Island Eco Park
This private island in the heart of the Bay, linked to the mainland via a causeway, is an unspoilt haven for all kinds of plants and birds, including the elusive North Island Brown Kiwi. During your stay, you can stroll the beach, take a kayak along the inlet, enjoy peaceful picnics and discover rare birds – it's the ultimate getaway from twenty-first century life.
Swap four wheels for two at Waitangi Mountain Bike Park
If you like a ride with a view, you're going to love Waitangi Mountain Bike Park. You can choose from 30 bike trails of varying difficulty, taking in everything from downhill riding to jump trails and cross-country excursions. Whichever you choose, you will find the scenery as exhilarating as the ride itself.
Let your cares drift away on Oneroa Bay
The Bay of Islands is world-famous for its breathtaking beaches and panoramic views, so where better to end our whistle-stop tour of its numerous attractions? One of the most beautiful subtropical beaches you'll find anywhere in the world, Oneroa Bay is a place to reflect, relax and chill on sun-drenched golden sands.
If you're taking an unforgettable escorted holiday of New Zealand, make the most of every second and add these top activities to your Bay of Islands bucket list.
Image by russellstreet via Flickr.