India's Golden Triangle is a 3-stop tour, available as part of our India tours, that incorporates the beautiful cities of Delhi, Agra and Jaipur. The Golden Triangle is a great way to experience some of India's most impressive cultural gems. Enjoy a fascinating rickshaw ride through Old Delhi, marvel at the impressive Agra Fort built in the 1500s, and immerse yourself in the magnificent sights of picturesque Pink City.
In this guide, we take a look at everything you need to know ahead of visiting the Golden Triangle, including how long it takes to explore and the must-see sights during your trip.
What is the Golden Triangle?
The Golden Triangle is a popular tourist route in India that connects the cities of Delhi, Agra, Ranthambore and Jaipur. Spanning multiple states, the Golden Triangle is a great way to get acquainted with the varying cultures and customs of north India.
Each city on the tour has its own unique story to tell. Marvel at architectural masterpieces and faded opulence as you enjoy a heritage tour of India's Golden Triangle. One thing's for sure, you'll never be short of impressive sights to behold.
How long does it take to do the Golden Triangle?
There are many highlights to see on a tour of the Golden Triangle, you can experience everything during an 11-day trip. At Distant Journeys, we have expertly crafted our tours so that you can experience all that the Golden Triangle has to offer – in the perfect amount of time!
Our 11-day tour of The Golden Triangle & Ranthambore was designed to give travellers 9 impressive days exploring the Golden Triangle, complete with a trip to Ranthambore. While our 14-day Golden Triangle & Goa tour boasts a similar time frame in The Golden Triangle, followed by a relaxing retreat in Goa.
Highlights not to miss on a Golden Triangle holiday
If you choose to explore the Golden Triangle with us, we'll experience all that this beautiful region has to offer. Here are a few trip highlights.
Delhi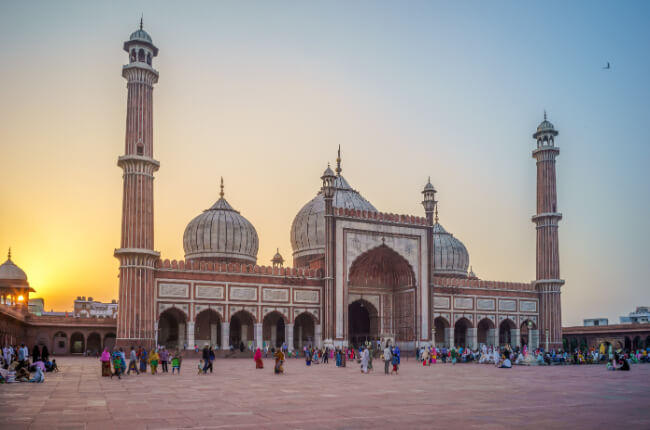 Deli is the home of India's national government and is a city of great historical significance. It was once home to the Mughal emperors and still, to this day, many of its historical monuments are still intact. Delhi also offers a lively atmosphere, with plenty of great street food options across the city.
Our trip highlights include:
The Red Fort – An opulent palace from the Mughal Empire.
Jama Masjid – One of the largest mosques in India.
Chandni Chowk – Delhi's impressive wholesale market.
India Gate & Parliament House – The seat of parliament.
Qutub Minar – A 72.5 metre tall victory tower.
Humayun's Tomb – The first garden-tomb on the Indian subcontinent.
Gatimaan Express to Agra – Finally, board India's historic and first semi-high-speed train as we journey to Agra.
Agra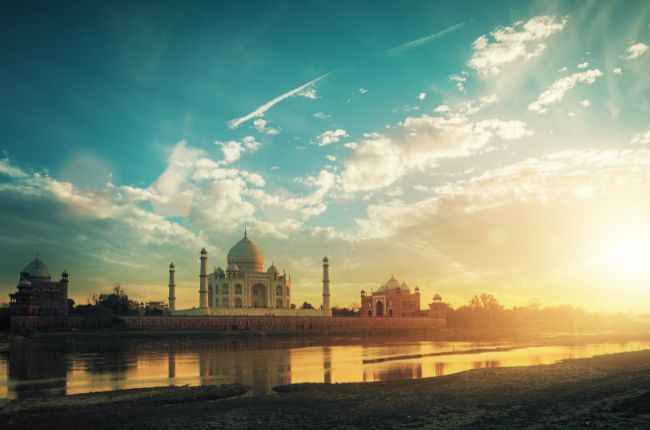 Agra is a city famous for its Mughal architecture, but it's perhaps best known for being home to one of the Seven Wonders of the World – the distinguished Taj Mahal.
Agra's highlights include:
Agra Fort – Our first stop in the city is this historical fort that was once the main resilience of the Mughal emperors.
Taj Mahal – This one certainly needs an explanation. Join us as we take in this breath-taking masterpiece at sunset.
Jaipur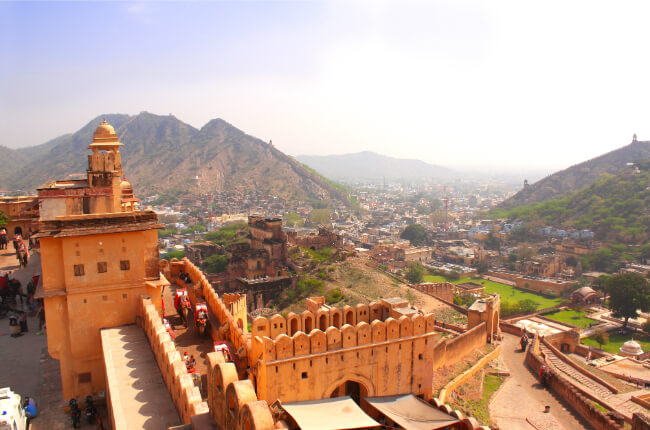 Jaipur is the largest city within the Indian state of Rajasthan. It's commonly referred to as The Pink City thanks to its brightly coloured architecture. Jaipur is home to some impressive sights, including a UNESCO World Heritage Site.
Jaipur's highlights include:
City Palace – Established at the same time as the city of Jaipur, the City Palace represents a blend of Rajput and Mughal architecture.
Amber Fort – An impressively artistic fort overlooking Maota Lake. The fort holds prestigious UNESCO World Heritage status.
Jantar Mantar – This astronomical observatory is thought to have been built by the enlightened ruler Sawai Jai Singh II in 1729.
Hawa Mahal – An impressive pink sandstone palace that was completed in 1799.
Traverse the Golden Triangle with Distant Journeys
Ready to explore all 3 corners of the Golden Triangle? From Delhi to Agra, journeying on to Jaipur, and exploring Ranthambore National Park, The Golden Triangle is undoubtedly one of the best ways to experience the many flavours of India.
Take a tour of the Golden Triangle with us and we'll encounter many amazing experiences throughout our trip – and in the perfect amount of time.
Our local tour guides, and expert tour managers, are here to make your trip to the Golden Triangle a memorable one. If you're ready to see the sights, explore our India tours and Golden Triangle holidays to get started.