The type of holiday you're looking for will determine what time of the year is best for you to visit New Zealand – because just as all tour holidays to New Zealand are different, so are the seasons. So, we've put together a quick guide to the country's seasons to help you decide when you'd like to make your trip down under.
Summer
Late December through to late March in Great Britain is when it's summer in New Zealand. With so many Brits leaving behind frosty mornings in search of sun, it's no wonder these months are a popular time to visit.
Subtropical surroundings on the North Island are made possible with picture perfect weather and impressive highs, sometimes reaching over 30°C. If it's a beach holiday you're looking for, the Bay of Islands has plenty of sandy beaches for you to sun yourself on. Whereas on the South Island, the coastal spectacular of Milford Sound becomes a haven for hikers, with breathtaking views enticing people to discover more. Or dip your toes into the crystal clear waters of Lake Wakatipu in Queenstown.
Autumn
Come late summer and early autumn, you welcome the best of both worlds and both islands. The summer visitors have upped and left, the North Island is still beautifully sunny and the South Island welcomes a magical autumnal glow. Autumn includes late March to late June, so it's the perfect time to see out the summer and experience the fantastic fall.
At the South Island, the small area of Arrowtown is a seasonal masterpiece that proudly welcomes the wash of autumn colours. The hillsides become a blaze of rich red and yellow fall foliage that makes your hiking all the more magical. Visiting New Zealand in April, especially the midweeks, is the best time to appreciate this phenomena.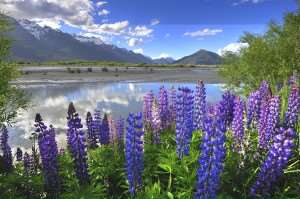 Winter
For all avid skiers, the best time to visit New Zealand is during the British summer of July and August. We recommend hitting the slopes of Central Plateau in the North Island of Queenstown. After a great run, hang up your boots and continue exploring this winter wonderland of warm and welcoming restaurants and stylish boutique shops.
If it's not all about the skiing, then visiting New Zealand in June lets you enjoy the infamous Queenstown Winter Festival. Celebrate the arrival of winter with this ten-day extravaganza of outrageous fun from family street parties to majestic firework displays.
Wellington is the cosmopolitan capital of New Zealand and really comes to life at night. Whilst here, make sure to pop down to Cuba Street, registered as an Historical Area and the country's coolest street, this inner slice of bohemia is at its best in winter and is packed with eclectic art galleries and bluesy buskers.
Spring
However, if you want to truly appreciate nature in all her untampered-with glory, the best time to visit New Zealand is arguably during its spring. Spreading across September, October and November you can leisurely explore New Zealand's unspoilt beauty at this more laidback time of year.
During spring, the South Island, specifically Christchurch, becomes a symphony of colour with warmer sunny days, beautiful flowers in bloom and gardens of ripening fruit dripping from the trees. Enjoy a Canterbury garden tour, immersing yourself in the plentiful pastures of daffodils and lupins that wash the countryside. Or even visit newly born lambs when hiking along Mount Roy in Wanaka, bringing bountiful photo opportunities to all nature-loving photographers.
For a more hands on experience when visiting New Zealand in November, take a trip up to the northern edge of the Mackenzie Basin to find Lake Tekapo. With spring welcoming longer sunny days you can satisfy your adventurous spirit by kayaking, cycling, boating and even horse-trekking with the dramatic backdrop of the Southern Alps.
And finally, if that wasn't enough, New Zealand in September is optimal stargazing season. With cooler nights during spring it's the perfect time to head to astronomical observatory Mount John. Here you can experience the Southern Lights, the Southern Hemisphere's multi-coloured midnight light show.
This spiritual experience and the breathtakingly beautiful countryside makes the season of spring this author's favourite time to visit New Zealand.
Photocredit: Rob Suisted
Save