To quote Andy Williams, it's the most wonderful time of the year, with Christmas just a few short weeks away. While we're donning our Christmas jumpers and there's a chance of a white Christmas here in the UK, Christmas in New Zealand falls in the midst of summer, meaning that New Zealand Christmas traditions are quite different to ours. So how does New Zealand celebrate Christmas? Read on to find out about the most important New Zealand Christmas traditions and events.
Christmas in the great outdoors
With Christmas Day in New Zealand falling in the middle of summer, New Zealanders will traditionally spend the day enjoying the glorious sunshine, either camping in one of the country's beautiful National Parks or having a barbecue on the beach or in the garden. A New Zealand Christmas dinner typically includes meat such as ham or even venison cooked on the barbecue, as well as shrimps, fish or whitebait fritters. After gathering for the family feast, Christmas lunch is normally followed by fun and games such as cricket, rugby or surfing.
Eating hangi
Maori culture has also had its impact on how the New Zealand Christmas holiday is celebrated, and across New Zealand, Christmas dinner will revolve around the traditional Maori hangi. This involves roasting meats in a hangi, a pit created in the ground, and sharing it with a big group of family members and friends. At the Waitangi Treaty Grounds, you can enjoy a traditional hangi dinner and see how it is prepared right in front of your eyes: a Maori tradition not to be missed. The experience also includes a traditional Maori performance which is sure to take your breath away.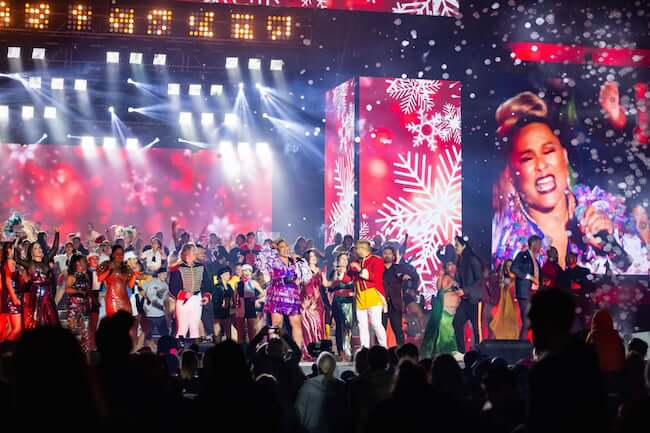 Coca-Cola Christmas in the Park
During the Christmas season, Coca-Cola hosts a series of free concerts in city parks across New Zealand, with the largest Coca-Cola Christmas in the Park events being in Auckland and Christchurch. Drawing crowds of over 100,000, choirs, singers and dancers take to the stage to sing popular hits, Christmas songs and songs from the movies. At the end of the evening, the event is brought to close with a spectacular fireworks finale: the perfect way to start your Christmas with a bang.
Bring Christmas to life with beautiful orchestra music
Sometimes all you need to get into the Christmas spirit is some wonderful festive music, and what better way to see it performed than by a world-class orchestra? At Auckland's Holy Trinity Cathedral, the Auckland Philharmonia Orchestra put on some special Christmas shows every year, featuring much-loved Christmas carols and pieces of festive classical music. Accompanied by opera singers and choirs, this is a very special Christmas performance, set in one of the city's most magical settings.
Catch a Christmas classic live on stage
A Christmas Carol is one of the best-loved Christmas stories of all times, adapted for stage and TV hundreds of times over. See it in a whole new light with a unique performance at the Court Theatre in Christchurch. With just two performers and one pianist, the Court Jesters tell this classic tale with a lot of help and participation from the audience, meaning every performance is different. A classic tale with a humorous twist, this is a brilliant night out for anyone spending the festive period in Christchurch.
Boxing Day at the races
The New Zealand Christmas holiday isn't completely over after Christmas Day. For many, Boxing Day is also a day to relax and spend time together, and the SkyCity Boxing Day Races have become a firm Boxing Day fixture. Each year, thousands don their finest frocks and descend on the Ellerslie Racecourse in Auckland for one of the biggest days on the Auckland social calendar. The fashions are just as important as the races themselves here, and a day at the races here offers an all-day party in the sunshine.
Spend Christmas in New Zealand
If you'd like to experience the festive season in New Zealand, our escorted tours of New Zealand with UK departures include dates over the Christmas period, so you can enjoy the magic of the holidays during your visit. Not only will you get to experience Christmas in New Zealand, but you'll also get to take in New Zealand's spectacular culture and landscapes, and take part in some unforgettable activities that can't be bettered anywhere else.