A breath-taking fjord in the south-west of New Zealand's South Island, Milford Sound is an unmissable place to visit in New Zealand, with its stunning landscapes including the Mitre Peak mountain, rainforests, and plummeting waterfalls.
Whether you're visiting Milford Sound on a day trip or staying for longer, there are several things to do in Milford Sound that give you a chance to appreciate its scenery from up close, as well as the variety of local wildlife. Discover the Eighth Wonder of the World, Milford Sound, with some of our favourite Milford Sound activities, including cruises, tours and more.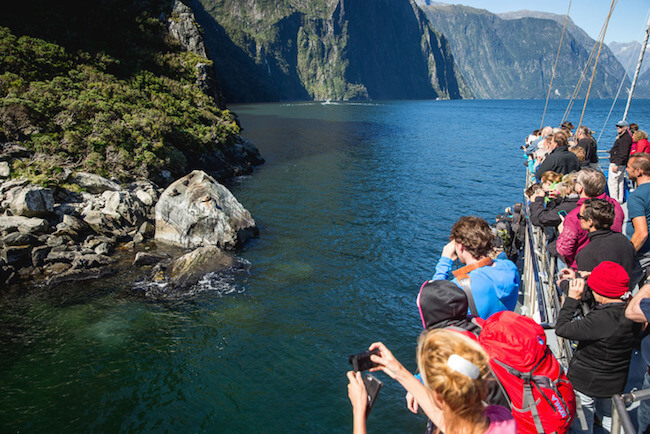 Glide across the water on a scenic Milford Sound boat cruise
Enjoy a 360-degree view of the Sound from the water on this spectacular Milford Sound cruise from Real Journeys, on board a boat built specially to maximise your viewing experience. All around you, you'll be able to take in the enormous waterfalls, sheer cliffs, miles of rainforest and glaciers in the distance. You might even be fortunate enough to cruise past a colony of basking seals, or spot a pod of dolphins leaping out of the water. Commentary is also provided so you won't end up missing out on any of the highlights.
Paddle your way around with a Milford Sound kayak experience
If you're not one to just sit back and watch the scenery go by, immerse yourself in Milford Sound's incredible surroundings with a Milford Sound kayak tour. On this five-hour kayak tour with Go Orange, you'll paddle past mighty mountains and waterfalls, before stopping for lunch on a secluded beach and sailing back to base. You don't even need to have any kayaking experience for this adventure, and your experienced guides will be there every step of the way to lead you on an incredible journey by kayak through Milford Sound.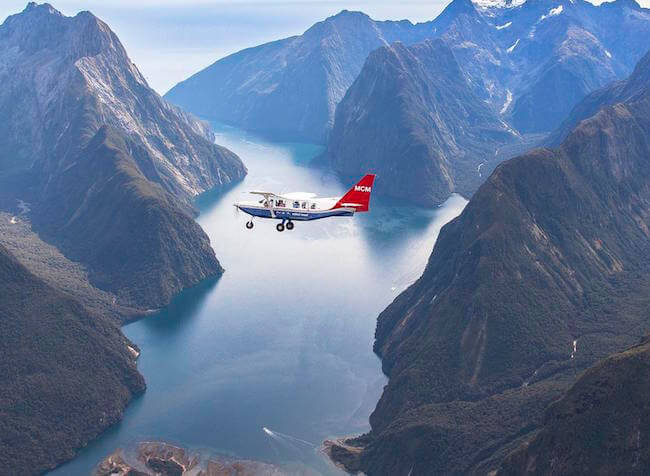 See Milford Sound from above on a scenic flight
Milford Sound is just as incredible from above as when you're on it, with Milford Sound flight tours from Milford Flights the chance to admire the area from above. Taking off from Queenstown, you'll soar above the rugged backcountry of Central Otago and the tranquil Lake Wakatipu before discovering the stunning beauty of Milford Sound and the surrounding Fiordland National Park.
Cascading waterfalls tumble down towering peaks covering in moss and ferns, with the peaceful waters of Milford Sound at their heart. The vistas don't end there – you'll also soak up the sights of the snow-topped Southern Alps and the Sutherland Falls before touching ground again at Queenstown Airport.
Treat yourself to a Milford Sound helicopter tour
Milford Sound helicopter tours from Aspiring Helicopters offer the ultimate aerial experience. Not only will you be able to discover Milford Sound in comfort and style, but you'll also be able to land on a glacier and admire the views all around you: something that can only be done by helicopter.
As well as Milford Sound and Fiordland's famous waterfalls, rainforest and mountains, you'll also fly over Mount Aspiring Nation Park, the Shotover Valley and Lake Lochnagar, with far-reaching views extending as far as the Tasman Sea. In addition to admiring the astounding views from atop a glacier, you'll also land in Milford Sound to soak up the panoramas from ground level.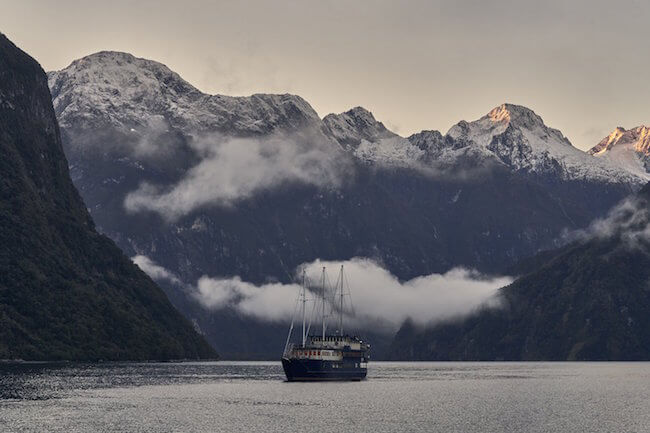 Enjoy a night on the Sound with an overnight cruise
Watch the sun set and rise in one of the most beautiful places on Earth with the unforgettable Milford Mariner Cruise from Real Journeys. Your time on the Milford Mariner overnight cruise begins by gently cruising over Milford Sound while a specialist nature guide explains the history and geology of the area, as well as pointing out dolphins and penguins if you're lucky enough to see them.
After dropping anchor in a sheltered cove, you have the option to relax on deck or take out a small boat, paddle in a kayak or even have a refreshing swim. You'll sit down to a fully-loaded carvery buffet before retiring to your private cabin, ready for the epic sunrise the next morning. After dawn arrives on Milford Sound, you'll be able to tuck into a hearty breakfast before discovering even more of the fjord.
Explore Milford Sound on foot
Retrace the footsteps of early explorers by following the Milford Track, a world-class walking route. Measuring over 50 kilometres long, this one-way route is one of the best ways to see Milford Sound and the surrounding Fiordland National Park. Along the way, you'll walk through ancient rainforest, past cascading waterfalls and along valleys carved out by glaciers.
Several photo opportunities await, looking over the valleys from Mackinnon Pass, or from the many bridges crossing the emerald waters of the Clinton River. You can also take a short excursion from the track to the jaw-dropping Sutherland Falls, which is almost 600m high.
Witness Milford Sound beneath the surface
Milford Sound offers some incredible views above the water, but there's also the chance to marvel at what lies beneath with a Cruise & Underwater Observatory experience from Southern Discoveries: one of our favourite Milford Sound activities.
After cruising amongst majestic fjords and waterfalls, you'll arrive at Harrison Cove, home to New Zealand's only floating underwater observatory. Descend down the spiral staircase and see the colourful sea creatures swimming by, as well as the rare black coral vital to the ecosystem. A guide will also be on hand to tell you about all of the incredible marine life and landscapes you'll get to see.
See Milford Sound up close
With so many unforgettable adventures lying in wait, Milford Sound is a must-visit destination that really does offer something for everyone. Discover Milford Sound on this tour of New Zealand, where you'll not only get to enjoy an incredible Milford Sound cruise, but you'll also get to fall in love with several other highlights of New Zealand, such as the hot springs and mud pools of Rotorua, the magical Bay of Islands, and a city tour of Auckland.