Welcome to our Hanoi travel guide, where we uncover the rich tapestry of culture, history, and adventure awaiting you in Vietnam's vibrant capital city.
Known for its intriguing blend of ancient traditions and modern sensibilities, Hanoi invites you to explore its maze of lively streets, sample mouthwatering cuisine, and immerse yourself in its fascinating history.
As you navigate the bustling streets of the Old Quarter, discover hidden gems nestled within historic temples and pagodas, or take a leisurely stroll around the peaceful Hoan Kiem Lake, you'll soon understand why Hanoi has captured the hearts of travellers from around the world.
In this guide, we'll dive into the best things to do in Hanoi, helping you create memories that last a lifetime during a tour of Vietnam.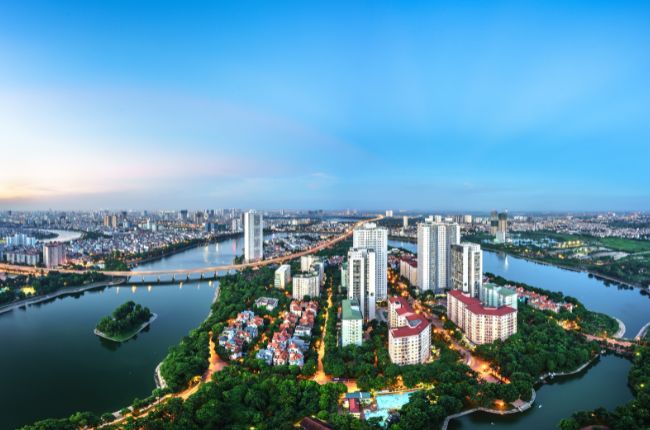 Where is Hanoi?
Hanoi, the capital city of Vietnam, is located in the northern region of the country, near the banks of the Red River. Serving as the political and cultural heart of Vietnam, Hanoi is steeped in history and tradition, while also embracing the modern developments of a rapidly growing nation.
A flight from the UK to Hanoi takes around 15-16 hours, with regular flights departing from London Heathrow and Manchester with Singapore Airlines. At Distant Journeys, we can also arrange Emirates flights via Dubai from Heathrow, Gatwick, Manchester, Birmingham, Newcastle and Glasgow, as part of our tour packages to Vietnam.
Hanoi serves as an excellent starting point for exploring some of Vietnam's most popular destinations. Ha Long Bay, one of Vietnam's most popular attractions and a UNESCO World Heritage site, is located a few hours away and is the next stop from Hanoi on our Highlights of Vietnam Tour.
When is the Best Time to Visit Hanoi?
The best time to visit Hanoi is from November to March when the Vietnamese city enjoys pleasant weather. The temperature at this time of the year can range from 15°C to 20°C, making it an ideal season for sightseeing. This is also when our Vietnam and Cambodia Tours take place, during which we'll spend 3 nights in Hanoi.
Hanoi experiences hot and wet summers from May to September, with humid temperatures often exceeding 32°C, so many travellers prefer to avoid the city at this time of the year. If you're travelling to Hanoi in November, you might also be lucky enough to experience the biennial Hanoi International Film Festival, a celebration of cinema, arts and culture in Vietnam.
The Best Things to Do in Hanoi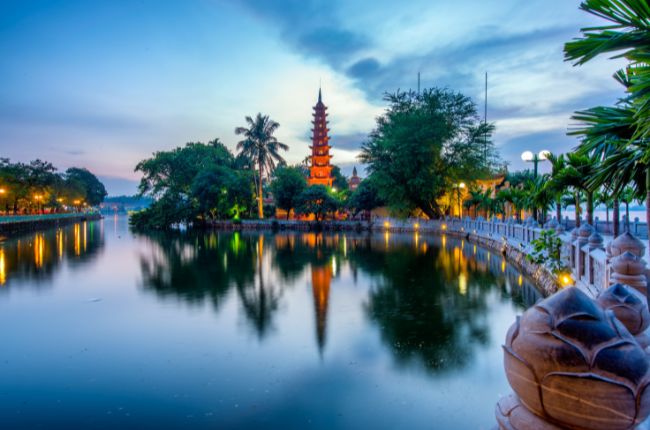 As the cultural and historical hub of Vietnam, this captivating city offers a myriad of unforgettable experiences and attractions. From the impressive collections in its famous museums to the serene beauty of its ancient pagodas, Hanoi is a treasure trove of remarkable sights, sounds, and flavours waiting to be discovered.
In this section, we'll guide you through our selection of Hanoi's must-see attractions (many of which are included in our Tours of Vietnam), ensuring that you make the most of your time in this enchanting city.
The Top Sights to See in Hanoi
Embark on a captivating journey as you visit Vietnam's must-see attractions.
The Old Quarter – A bustling and vibrant area at the heart of Hanoi, The Old Quarter is an unmissable destination. Steeped in history, this maze-like network of narrow streets and alleyways dates back over a thousand years, showcasing the unique blend of traditional Vietnamese architecture and French colonial influences.
Ho Chi Minh Mausoleum – A monumental landmark dedicated to the memory of the beloved Vietnamese leader Ho Chi Minh (Uncle Ho). This impressive structure stands as a symbol of national pride and reverence for the founding father of modern Vietnam.
Lotte Tower Observation Deck – Located on the 65th floor of the iconic Lotte Center Hanoi, the deck offers a breathtaking panoramic view of the city's skyline.
Imperial Citadel – A UNESCO World Heritage Site that offers a fascinating insight into Hanoi's complex history and cultural heritage.
St Joseph Cathedral – A striking neo-Gothic edifice Cathedral located in Hanoi's Old Quarter that offers a sense of calm amongst Hanoi's bustling streets.
Train Street – A unique and narrow urban passageway where daily life unfolds just inches from the active railway tracks.
Hoa Lo Prison – Known infamously as the "Hanoi Hilton," Hoa La is a fascinating historical site that once housed Vietnamese revolutionaries and American prisoners of war.
Hoan Kiem Lake – One of Hanoi's most beautiful attractions. The lake is the perfect place for a leisurely stroll. It also houses the iconic Turtle Tower and Ngoc Son Temple.
The Best Temples & Pagodas to Visit in Hanoi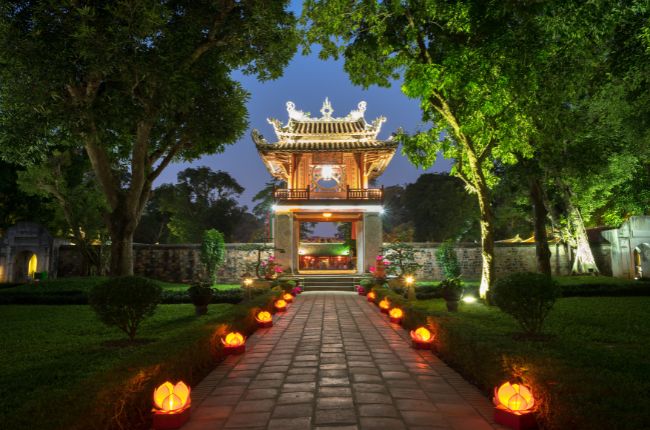 Hanoi's numerous temples and pagodas are scattered throughout the city and serve as serene sanctuaries of spirituality and tradition.
Temple of Literature – Founded in 1070 as a Confucian temple and Vietnam's first national university, the temple is an exquisite example of traditional Vietnamese architecture.
The One Pillar Pagoda – A unique and iconic wooden structure built in 1049. Standing on a single stone pillar in the heart of Hanoi, look out for the lotus flower rising from the water.
Bach Ma Temple – Believed to be the oldest temple in Hanoi, Bach Ma is a sacred sanctuary dedicated to the White Horse deity and boasts impressive architecture.
Museums to Visit in Hanoi
A trip to Hanoi wouldn't be complete without a visit to one of the city's most famous museums. During our Highlights of Vietnam Tour, we visit the impressive Ethnology Museum, a fascinating stop that showcases the rich diversity and heritage of Vietnam's 54 ethnic groups.
Other must-see museums in Hanoi include:
National Museum of Vietnamese History
Vietnamese Women's Museum
Fine Arts Museum of Vietnam
Military History Museum
Cultural Experiences Not to Miss in Hanoi
Delve into the heart of this vibrant city with these popular cultural experiences, all of which are available in our tours of Vietnam.
Ride on a Cyclo – Embark on a nostalgic ride through Hanoi's bustling streets on a cyclo, a traditional Vietnamese rickshaw that offers a unique perspective of the city. A regular highlight!
Experience a Traditional Water Puppet Show – A mesmerising performance art form that has its roots in ancient Vietnamese folklore, bringing to life captivating stories and legends through skilful puppetry.
Experiencing Tea Culture – A delightful journey into the heart of Vietnam's cherished customs and traditions. With tea houses dotted throughout the city, you can enjoy a relaxing cup of tea while absorbing the serene atmosphere and deep-rooted history associated with Vietnam's tea culture. When you travel with Distant Journeys, exploring local tea culture is an optional activity during one of our Freedom Days. You'll even have the opportunity to meet a former winner of the Tea Masters Cup.
Eating in Hanoi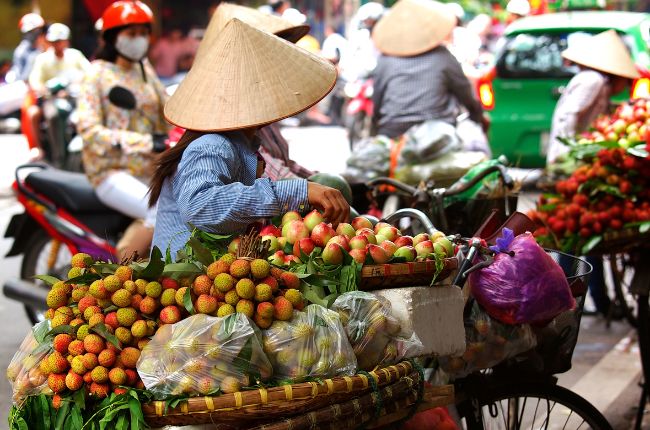 Prepare to embark on a mouth-watering culinary adventure that will tantalise your tastebuds and leave you craving more. The food in Vietnam is truly not to be missed, and Hanoi boasts an extraordinary array of delicious dining experiences.
Hanoi Street Food to Try
Hanoi's street food scene offers a delightful fusion of flavours that will captivate your senses. As you wander the city's bustling streets, keep an eye out for these iconic dishes.
Egg Coffee – A delicious Hanoian twist on a classic beverage, egg coffee features a creamy blend of egg yolk, sugar, and condensed milk, whipped into a frothy and rich Vietnamese coffee.
Banh Mi – Testament to Vietnam's French colonial past, Banh Mi is a scrumptious baguette sandwich filled with a variety of flavorful ingredients, such as grilled meats, pickled vegetables and fresh herbs.
Bun Cha – A Hanoi speciality, Bun Cha consists of succulent grilled pork served with rice noodles, and fresh herbs, complete with a tangy dipping sauce.
Pho Bo – Vietnam's most iconic dish, Pho Bo is a fragrant beef noodle soup that combines tender slices of beef, rice noodles, and a rich, aromatic broth, garnished with fresh herbs and spices.
Cha Ca – A beloved Hanoian dish, Cha Ca features tender, marinated fish pieces grilled to perfection.
Banh Com – A delightful dessert made from green rice flakes. This sweet and chewy treat is often filled with a mixture of mung bean paste and coconut shavings.
The Best Restaurants in Hanoi
While Hanoi's street food scene is undoubtedly a must-try, the city also boasts an impressive array of restaurants. From upscale fine dining to cosy local eateries, here are some of our top picks.
Cloud Nine – Located on the 9th floor of the Lotte Center Hanoi, Cloud Nine offers a breathtaking dining experience with beautiful views of the city's skyline. The menu features a delectable mix of international and Vietnamese dishes, complemented by an extensive wine list and an elegant atmosphere.
Quan An Ngon – Combining street food with a single venue, Quan An Ngon offers the chance to sample a wide array of Vietnamese street food eats in one, open-air setting.
La Verticale – Set in a beautifully restored colonial-era villa, this impressive restaurant offers an exquisite fusion of French and Vietnamese flavours. It's the perfect place for a special occasion.
Era Restaurant – Expect authentic Vietnamese dishes in a warm, inviting atmosphere. Era's menu highlights Hanoi's culinary heritage with signature dishes like Cha Ca La Vong and Bun Cha.
Essence – A cosy, family-owned restaurant that prides itself on offering exceptional Vietnamese and Asian fusion dishes made with fresh, local ingredients. The intimate atmosphere and carefully crafted menu make it an ideal spot for a memorable meal in Hanoi.
Possible Day Trips From Hanoi
Venturing beyond the bustling streets of Hanoi, you'll find a treasure trove of natural and cultural wonders just waiting to be explored. With a variety of day trips easily accessible from the city, you can immerse yourself in Vietnam's diverse landscapes and rich history.
Ninh Binh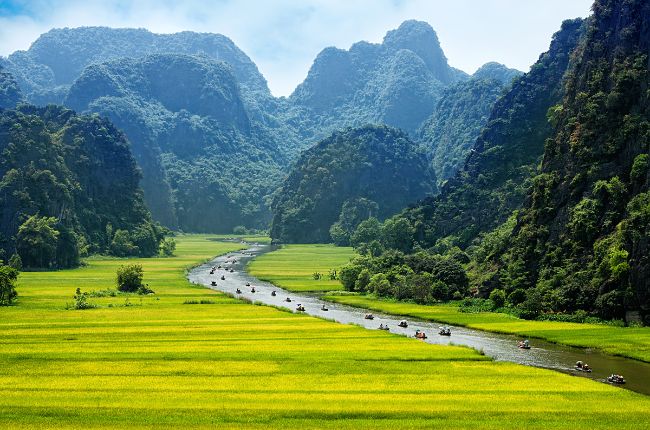 A perfect day trip from Hanoi is Ninh Binh, a hidden gem boasting mesmerising landscapes and serene waterways. A visit to Ninh Binh offers the opportunity to explore ancient temples, such as Bai Dinh and Bich Dong, and to take a leisurely boat ride through the captivating Trang An Grottoes or the picturesque Tam Coc river. Ninh Binh is an unmissable destination for anyone seeking a serene escape from the city.
We also offer Freedom Days throughout this tour, with a selection of additional excursions (including Ninh Binh) to choose from.
Uncover the heart of Vietnam
Hanoi, the vibrant capital of Vietnam, undoubtedly offers a wealth of unforgettable experiences.
As you explore the city's iconic landmarks with Distant Journeys, immersing yourself in the local culture and indulging in its diverse culinary offerings, you'll discover the captivating spirit of Hanoi. Venture beyond the city on memorable day trips to breathtaking destinations such as Ninh Binh, and create a tailor-made adventure thanks to our Freedom Days.
To begin your Vietnam Journey, explore our carefully-curated Vietnam tours. Our popular, 15-day Highlights of Vietnam Tour starts from just £2,945 per person!