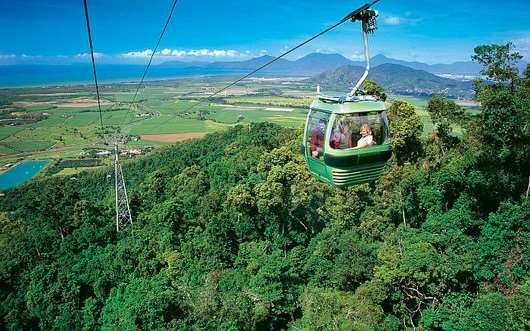 Everything you need to know about the Skyrail Rainforest Cableway – a unique rainforest experience

Everything you need to know about the Skyrail Rainforest Cableway – a unique rainforest experience
As part of an optional excursion offered as part of Distant Journeys' Australia escorted tours, you will have the chance to visit the tropical rainforest, where you can also enjoy an incredible once-in-a-lifetime adventure aboard the Skyrail Rainforest Cableway, which links the rainforest village of Kuranda to the coastal city of Cairns.
In a world first, the Skyrail allows you to take in the stunning views of the rainforest in a way you've never seen before – from above. As you glide over the canopy, looking below down on the majestic tall trees, you can witness the diversity of life thriving underneath.
Spanning over 7.5km of pristine rainforest, you'll have the opportunity to learn about one of the most naturally diverse environments on earth, which is also listed as a World Heritage Site. You'll travel just metres above the canopy, giving you expansive yet close-up views of the rainforest below, as well as panoramic views of the surrounding tropical region and the waters of the Coral Sea.
The Skyrail also alights at two mid-stations in the heart of the rainforest, Red Peak and Barron Falls, where scenic lookouts and boardwalks above the forest allow you to take in the stunning views of your surroundings at a slower pace.
Having been voted as Australia's Best Major Tourist Attraction, you will be sure to have an unforgettable experience on board the Skyrail!
Image: Louise Marshall (available under Creative Commons)
Save