Sydney is one of the world's top city destinations, and as the largest city in Australia, has plenty of iconic landmarks and amazing places to visit. A city of exceptional culture, visitors also flock to what's become known as 'the Harbour City' for its unforgettable sights, shopping, excellent restaurants and the stunning natural landscapes that surround the city, ranging from sandy beaches to mountains.
If you're visiting for the first time, read on for our advice on what to visit in Sydney: the top attractions that simply shouldn't be missed. Follow our tips and you'll be guaranteed an exceptional holiday in Australia!
Sydney Opera House
No visit to Sydney is complete without seeing its best-known landmark, the Sydney Opera House. Overlooking Sydney's equally as beautiful harbour, the Opera House was completed back in 1973, heralded as a marvel of architecture. A photo with the Sydney Opera House as your backdrop will be impossible to resist! You can even see this iconic building – in addition to the Harbour Bridge – from the water with a scenic cruise around the harbour, which you can enjoy as part of our tours.
The Sydney Opera House is also the place to get your culture fix, offering not just opera performances but a variety of events offering everything from live music to theatre and art. To get a real glimpse into the inner workings of this unique venue, take a behind-the-scenes tour.
Blue Mountains
A recognised World Heritage Area located around 90 minutes outside of Sydney, the Blue Mountains is a day trip from Sydney not to be missed. A visit to this spectacular and diverse natural landscape offers breath-taking vistas over deep valleys and gorges, lush bushland and dramatic mountains.
Another wonderful excursion we offer on our tours during our time in Sydney, we offer our travellers the chance to see some of the most incredible locations throughout the Blue Mountains, from the iconic Three Sisters to the clifftop Blue Mountains Botanic Gardens, the sandstone escarpments of the Grose Valley, the pretty mountain village of Leura and the jaw-dropping Wentworth Falls.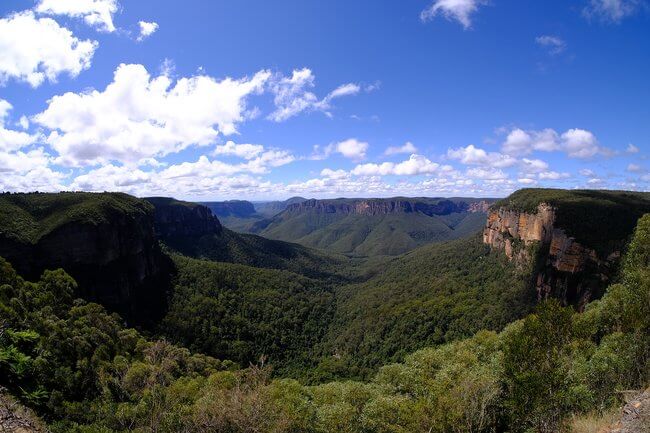 Bondi Beach
Sydney has several wonderful sandy beaches within its city limits, but Bondi Beach earns its place as one of the best attractions in Sydney thanks to its truly unique atmosphere. It's the best place you can go to get a taste of Aussie beach life; you can relax on its golden sands, paddle out into its famous surf or head to one of its beachside cafes for a spot of people watching.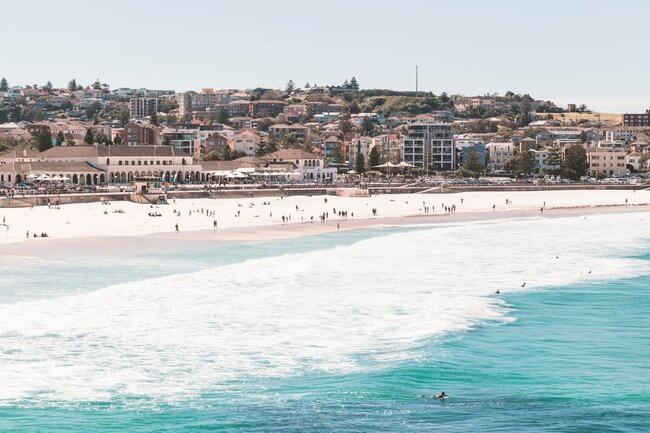 Royal Botanic Gardens
A short walk from the Harbour, the Royal Botanic Gardens is another of the best places to visit in Sydney: a tranquil oasis in a lively city. It's completely free to enter, and is a botanic paradise, with thousands of plant species to admire and wildlife including colourful birds, water dragons and fruit bats.
The gardens also offer an Aboriginal Heritage Tour three times a week which is well worth taking part in, where you can learn more about how the traditional use of the plants that feature in the gardens and sample some bush food.
Sydney Harbour Bridge
Another iconic sight to see while you're visiting Sydney Harbour, the Sydney Harbour Bridge is the world's largest steel arch bridge, nicknamed 'The Coathanger' by locals. Alongside the Opera House, it's one of those instantly recognisable Australian landmarks.
Whether you choose to admire it from a distance, sail beneath it or even climb its metal structure, don't miss the Harbour Bridge on your Sydney attractions itinerary. The climb is a once-in-a-lifetime experience where you can head up the famous arches step by step, with magnificent views of the harbour and the city from the top.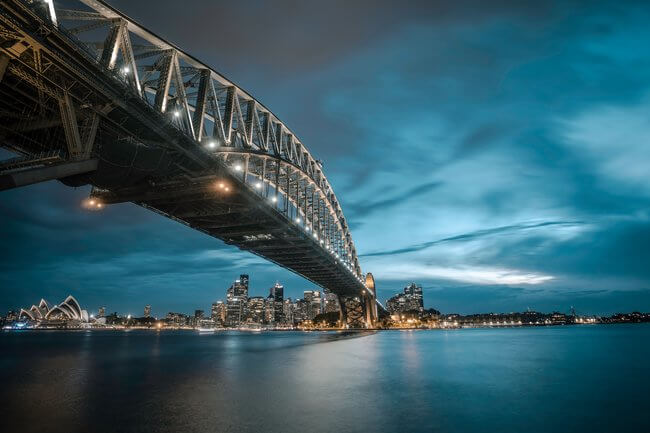 For even more inspiration, you can also check out our list of the top 10 things to do in Sydney.
Images by Dan Freeman, Michael Amadeus and Raj Eiamworakul via Unsplash and Hans Braxmeier via Pixabay.