A lakeside town and region on New Zealand's North Island, Rotorua is one of the most romantic places in New Zealand, famed for its geothermal pools and hot springs. The geothermal pools in Rotorua are great to visit at any time of year, with the incredible geothermal landscapes and geysers offering endless photo opportunities. Their naturally warm waters are also perfect for relaxing in and letting all of your stresses slip away. If you're looking to enjoy the Rotorua hot springs experience for yourself, read on to find out more about the best geothermal pools in Rotorua.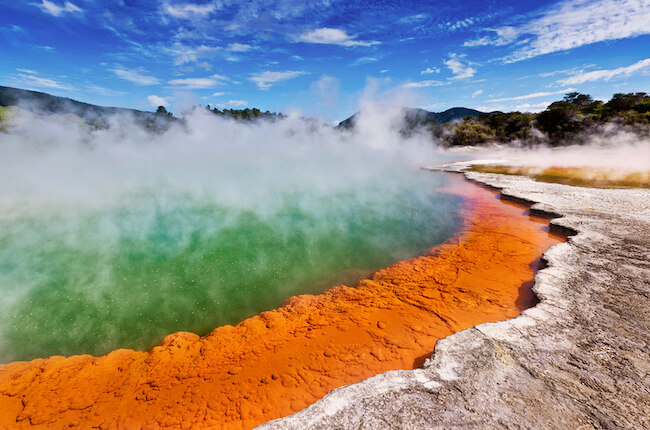 Wai-O-Tapu
Nicknamed the Thermal Wonderland, the Rotorua hot pools of Wai-O-Tapu are home to one of the most colourful and diverse geothermal parks in New Zealand. Wai-O-Tapu also features the largest mud pool in New Zealand, once a large mud volcano, which became the mud pool you see today after erosion destroyed it in the 1920s. The jewel in Wai-O-Tapu's crown is the Lady Knox Geyser, a magnificent geyser which erupts daily, shooting water over 10 metres into the air.
Waikite Valley Thermal Pools
Experience the 'living waters' of the largest geothermal water source in New Zealand, the Te Manaroa Spring, at the Waikite Valley Thermal Pools. Located 25 minutes outside of Rotorua, Waikite Valley offers a variety of pools to soak in where you can enjoy total rejuvenation and relaxation. There's the original Settlers Pool, featuring a series of cascades, the Sit and Soak pool overlooking the steamy valley, the tranquil garden pool, the Pergola pool overlooking the Otamakore Stream and numerous outdoor tubs. Four private pools are also available, where bathers can choose their perfect temperature and enjoy a soothing soak.
Those looking to explore the Waikite Valley can follow the Eco Trail and learn about the geothermal area, leading you to the Te Manaroa Spring.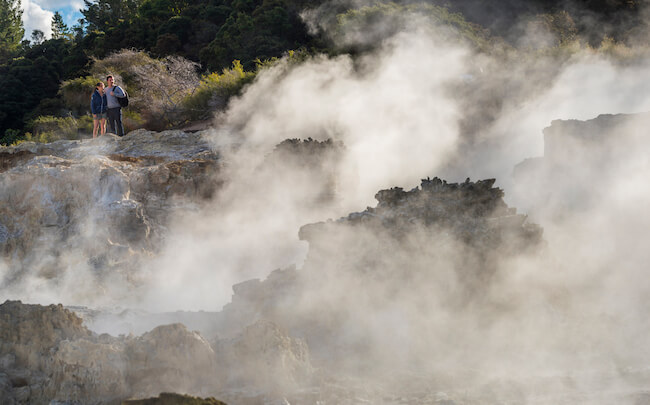 Hell's Gate
The sacred Maori site of Hell's Gate is home to some of New Zealand's very best hot springs. Offering over 50 acres of mud pools, geysers and hot springs, these Rotorua thermal springs have been around for more than 800 years, and offer a variety of experiences. Take a guided or self-guided tour through the geothermal reserve, try your hand at Maori carving, bathe your feet in a healing mud pool, soak in the sulphur spas and cool plunge pools or sink into a relaxing mud bath.
Whakarewarewa
Nestled within a traditional Maori village is Whakarewarewa: a bustling hub of geothermal activity. Also know as a Living Thermal Village, Whakarewarewa boasts an incredible 500 of Rotorua's hot springs and hot pools. The beauty of this remote geothermal site has to be seen to be believed – the hot springs are surrounded by native bush land and spectacular scenery, where you can also embark on a variety of pretty nature walks.
Maori cultural performances and traditional hangi cuisine cooked in the bubbling waters only add to the unique experience offered at Whakarewarewa's geothermal pools in Rotorua.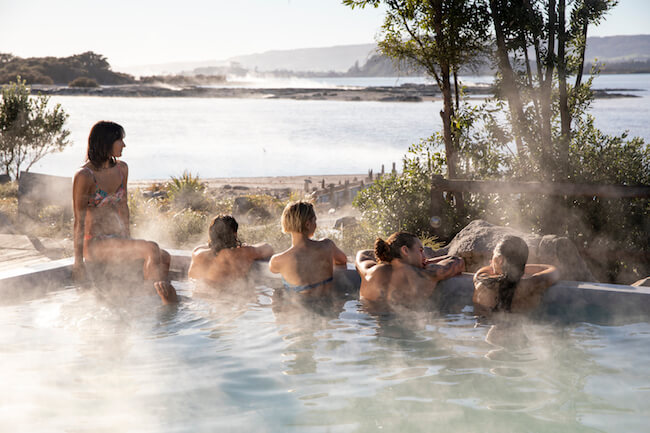 Polynesian Spa
New Zealand's original geothermal spa experience, the Polynesian Spa in Rotorua offers both acidic and alkaline natural springs and a number of spa therapies. At the Deluxe Lake Spa, lounge on geothermal recliners in one of five hot pools. Over at the Pavilion Pools, you can even have a swim, soak in the pools or take a rejuvenating reflexology walk. For something a little more intimate, private pools with sky views or lake views are also available. After your relaxing soak, you can also enjoy a variety of massages, facials and geothermal mud therapies.
Waimangu
Waimangu offers not only some of the best hot springs in Rotorua but also a fascinating history. In 1886, Mount Tarawera erupted, causing much destruction, and buried what was then known as the Eighth Wonder of the World: the Pink and White Terraces. Today in Waimangu, also known as "black water" in Maori, you'll find numerous craters filled with thermal water and some of Rotorua's youngest hot pools. As well as walking around this volcanic valley, you can also take a cruise around Lake Rotomahana and take in even more of the stunning scenery.
Blue Baths
If you're looking to relax in Rotorua's famed hot springs without leaving the town itself, head to the Blue Baths in Government Gardens, housed in a beautiful heritage bath-house. These three Rotorua thermal pools include both the original Juvenile Pool, with a bathing temperature of 30°C, and the two hot soak pools, with warm and soothing temperatures between 37°C and 42°C.
Experience Rotorua and the rest of New Zealand
If you're looking to visit Rotorua's amazing geothermal reserves and geysers, and even enjoy a soak in its hot springs or mud pools, you can discover Rotorua and more with our guided tour of New Zealand. As well as soaking up Rotorua's unique geothermal landscape, you'll see a whole host of other remarkable scenery, including the fjords of Milford Sound and the Franz Josef Glacier.
Featured image courtesy of Wai-O-Tapu