The beautiful area of Rotorua, incorporating lakes, pools, hot springs and traditional towns, is one of New Zealand's most romantic destinations, and should be on everyone's list when exploring North Island.
Hundreds of sulphurous pools, a trademark of the area, decorate the landscape, although they also play a role in Rotorua's distinctive smell. The sulphurous smell is a by-product of the area's thermal activity and an initial surprise when you first arrive, but you'll soon be used to it and quickly able to appreciate the area's amazing natural beauty, experiences and culture instead.
Romantic Rotorua: enchanting experiences and things to do
Rotorua lives up to its name as one of New Zealand's most romantic destinations thanks to the several incredible beauty spots it has to offer. Martin Lobb, the director of Rotorua's Polynesian Spa, says: "People are always amazed by the vista of the lakes, the geothermal pools – there are just hundreds of things you can do as a couple which are wonderfully romantic."
Te Puia
Te Puia is perhaps the most popular destination, home to the famous geyser Pohūtu (Big Splash), which erupts up to 20 times a day, with water gushing up to 30 metres in the air. You'll also see its neighbouring geyser, Prince of Wales' Feathers, erupting just before. Daily tours include these famous geysers as well as boiling mud pools, a recreated precolonial village, a kiwi enclosure, carved meeting house and traditional cultural performances.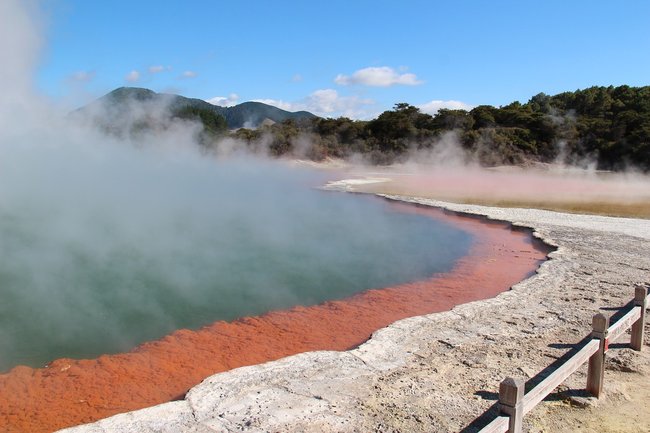 Lake Tarawera
One of the many beautiful lakes in the Rotorua area, this is perhaps one of the most special, backed by Mount Tarawera, heated pools, lakeside tracks and tumbling waterfalls, such as the 65m-high Bay of Plenty. It's also home to Hot Water Beach, where you can dig your own hot water pool in the sand.
Whakarewarewa
For a more authentic experience of the area, head to Whakarewarewa, where local Tūhourangi and Ngāti Wāhiao people have lived for centuries. Local-led tours will offer you insights into their customs and ways of life as you pass steaming mud pools, geysers and silica terraces. There's also the chance to purchase traditional arts and crafts, and learn about local crafts such as weaving, tattooing and carving.
Hamarana Springs
Just a fifteen-minute drive from Rotorua city is the deepest natural spring on North Island, Hamarana Springs. Spring water travels underground for an astounding 70 years before rising up through 15 metres of volcanic rock at Hamarana itself, into the stream, which flows down to Lake Rotorua. A 45-minute circular walk takes you around the spring through beautiful Redwood forest, or you could even try stand-up paddle-boarding along the stream.
For more on the natural pools of this area, have a look at this guide, which looks at even more of Rotorua's thermal pools and springs.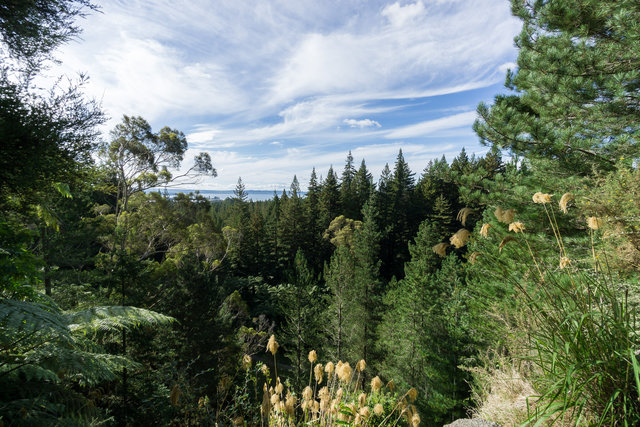 The romantic legend of Rotorua
Thousands of people get married with Rorotua as their backdrop, and it's not just because of the scenery, but also because of the story of Hinemoa and Tutanekai, one of the most romantic in Maori folklore.
Falling in love after meeting at tribal gatherings, the pair were forbidden to be together, as Hinemoa was the daughter of a local chief, and Tutanekai wasn't seen as worthy of her. Guided by the sound of Tutanekai's flute, Hinemoa began to swim regularly across Lake Rotorua to see him, bringing the pair together, who would eventually marry.
Wedding planner and Maori priest Darren Brown says of the story:
"Because of Tutanekai and Hinemoa we believe the seeds of romance are planted here on the shore of Lake Rotorua. How could this place no be romantic when it has a history like that behind it, and Tutanekai and Hinemoa's descendants still live in the area."
See Rotorua on your New Zealand adventure
Experience this amazing area of New Zealand, nicknamed New Zealand's Lake District, and so much more with our tours to Rotorua New Zealand.
Our tours include two nights in Rotorua, where we visit Rotorua's Bath House and Te Puia, as well as enjoying traditional Maori performances and a buffet dinner. There are also optional activities such as flying over Mount Tarawera, a relaxing afternoon at the Polynesian Spa, or the chance to simply explore the area as you please.
Images by Nydegger René via Pixabay, Sandra Vallaure via Flickr and David Kleu via Unsplash.